Healthy Pumpkin Spice Latte (Low Calories, Vegan)
This healthy pumpkin spice latte is a copycat of the famous Starbucks pumpkin spice latte, but healthier made plant-based with no dairy or refined sugar.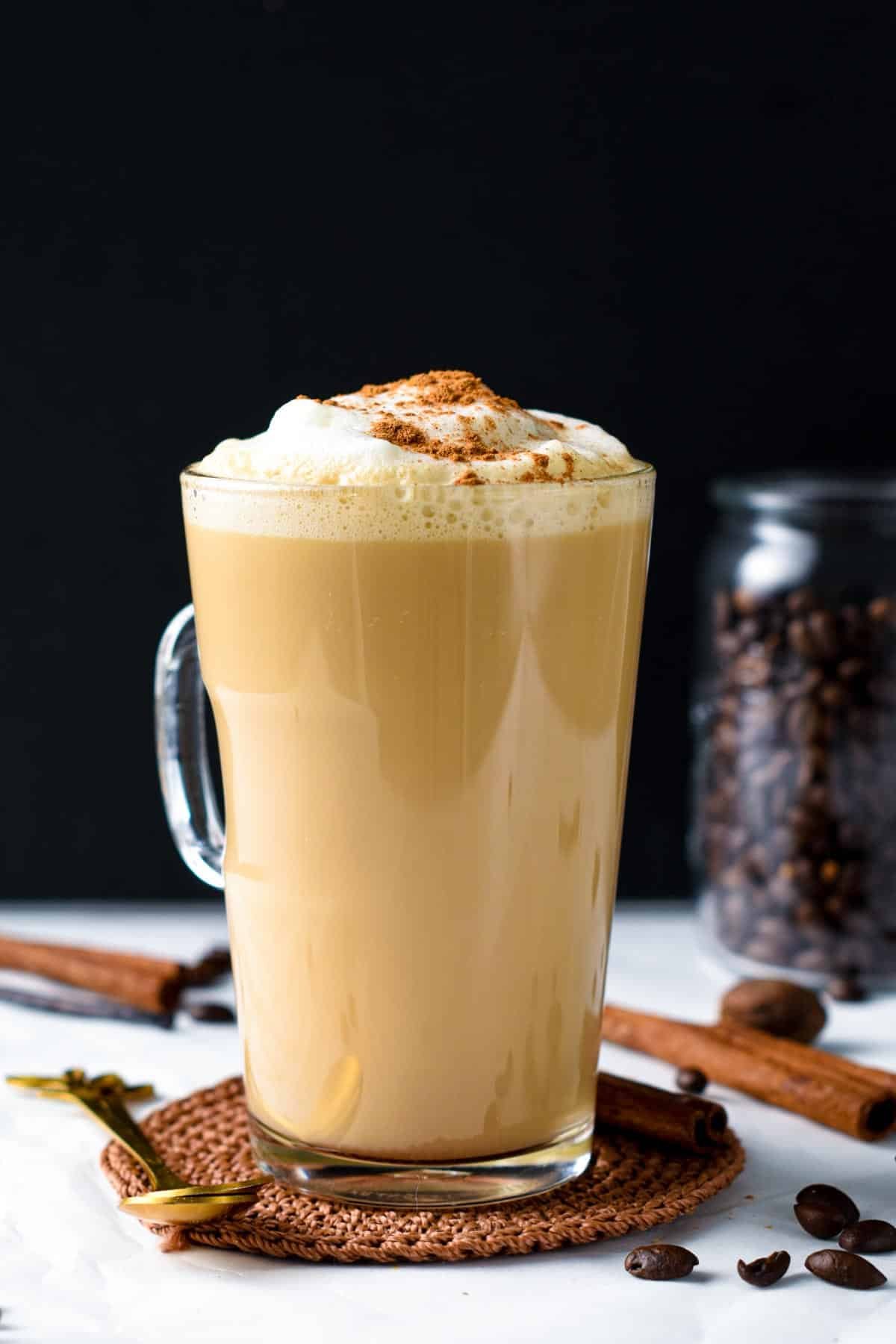 When the Fall season hits, we all crave one of these delicious flavorsome warm coffee with pumpkin spiced milk.
But if you want to save some dollars and add a clean eating twist to your drink, try my vegan pumpkin spice latte version.
Why You'll Love This Latte
This healthy latte recipe is naturally:
Dairy-Free
Refined Sugar-Free with low-carb, sugar-free options to cut the grams of sugar per serving to the minimum.
Nut-Free
Gluten-Free
How To Make Healthy Pumpkin Spice Latte
It's very simple to make a healthier pumpkin spice latte at home. But then, the definition of "healthy" is very different for everyone.
For some healthy is sugar-free or low-carb for some, it's low-fat or low-calories.
So below I am going to list all the possibilities to make a healthy pumpkin spice latte, whether you are on a low-calorie deficit or low-carb diet because I like everyone to enjoy food based on their lifestyle.
Overall, the recipe stays vegan and dairy-free because to me it's the healthier way to serve any recipe.
Ingredients
All you need to make a healthy pumpkin latte are:
Pumpkin Puree – I am using homemade pumpkin puree. I always have leftovers from previous recipes like my pumpkin pancakes, so it's perfect for this drink. Homemade pumpkin puree is not healthier than canned pumpkin puree if you wonder. Because most canned pumpkin puree in the US contains just pumpkin with no sugar and no additive. It's not the same as pumpkin pie filling that contains sugar. If you don't want to make pumpkin puree, choose canned pumpkin puree and check the ingredient list for no added sugar or preservatives.
Strong Brewed Coffee – I am using either a French press or Nespresso machine, both works very well as soon as you use the strongest coffee ground you have to ensure a strong coffee flavor in the latte. In fact, lattes are pretty diluted by milk, so if your coffee strength is low, the flavor will be more like milk with a coffee flavor.
Plant-Based Milk – of course, you can use any non-dairy milk, as soon as it's unsweetened milk the drink will stay on the healthy side – low-carb and low-calories. Of course, some dairy-free milk is higher in fat than soy milk, but if you want more protein that's a good option too. For nonfat milk, go for almond milk or hemp milk.
Vanilla Extract
Sweetener – That's where you need to pick wisely. If you are just after unrefined sugar, then pick maple syrup which tastes amazing in a latte. Or, for sugar-free keto pumpkin latte pick erythritol or sugar-free syrup.
Pumpkin Pie Spices – or simply make your own by mixing cinnamon, nutmeg, and ginger or ground cloves.
Picking The Ingredients
As mentioned above, based on your definition of healthy, pick the wise ingredients for you.
If you mind sugar, pick sugar-free sweetener or syrup.
For low-fat or low-calories – pick a zero-calorie sweetener like erythritol and low-fat milk like almond milk.
For a vegan pumpkin spice latte – pick maple syrup and creamy plant-based milk like oat milk or coconut milk. I keep saying it, but the coconut pumpkin combo is the best!
Overall stay away from barista carton milk that contains added thickener, sugar, and preservative.
They do froth better, but you don't need to froth milk for the basic pumpkin latte recipes, so it's no use to buy this milk.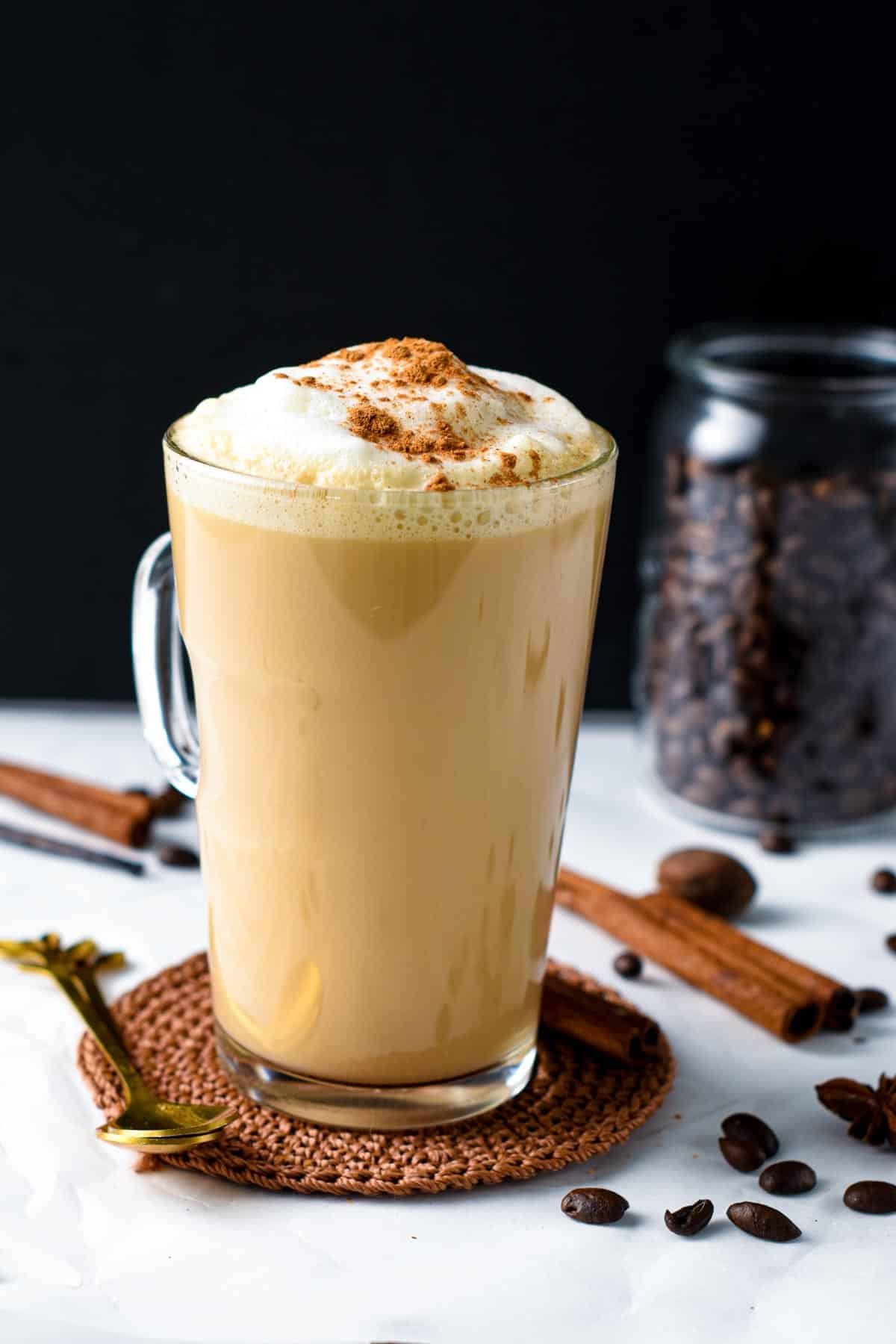 Preparing Strong Coffee
The first step is to brew some strong coffee.
Using An Espresso Machine
Pick a capsule with a strength of 12 and press twice on the espresso button or lungo button to brew about 1/2 cup of coffee.
Using A French Press
For this option pick coffee beans that are ground and with a strength of 5 – the max.
Place the ground in the press, top with boiled water, stir wait 5 minutes for the coffee to infuse.
Then, press gently to brew and set aside 1/2 cup in a tall coffee mug.
Pumpkin Milk Mixture
I learned with time that the best way to make fragrant pumpkin milk is to cook the pumpkin pie spices with pumpkin puree.
In a non-stick saucepan, add pumpkin puree and spices and stir and cook for 30 seconds to 1 minute over low-medium heat.
This slightly roasts the spices and delivers the best flavor.
Now, add sweetener and milk – coconut milk or homemade almond milk, or oat milk.
Whisk and cook until just warm not boiling.
Remove from heat and stir in vanilla extract.
Assembling The Pumpkin Coffee Drink
Pour the warm pumpkin milk on top of the warm brewed coffee.
To serve in a healthy way, skip the whipped cream and opt for froth milk.
In a milk frother add soy milk or almond milk some brands froth better than others.
Froth, scoop out the foam formed on the top, and top up your pumpkin spice latte recipe with the foam and a pinch of pumpkin spice.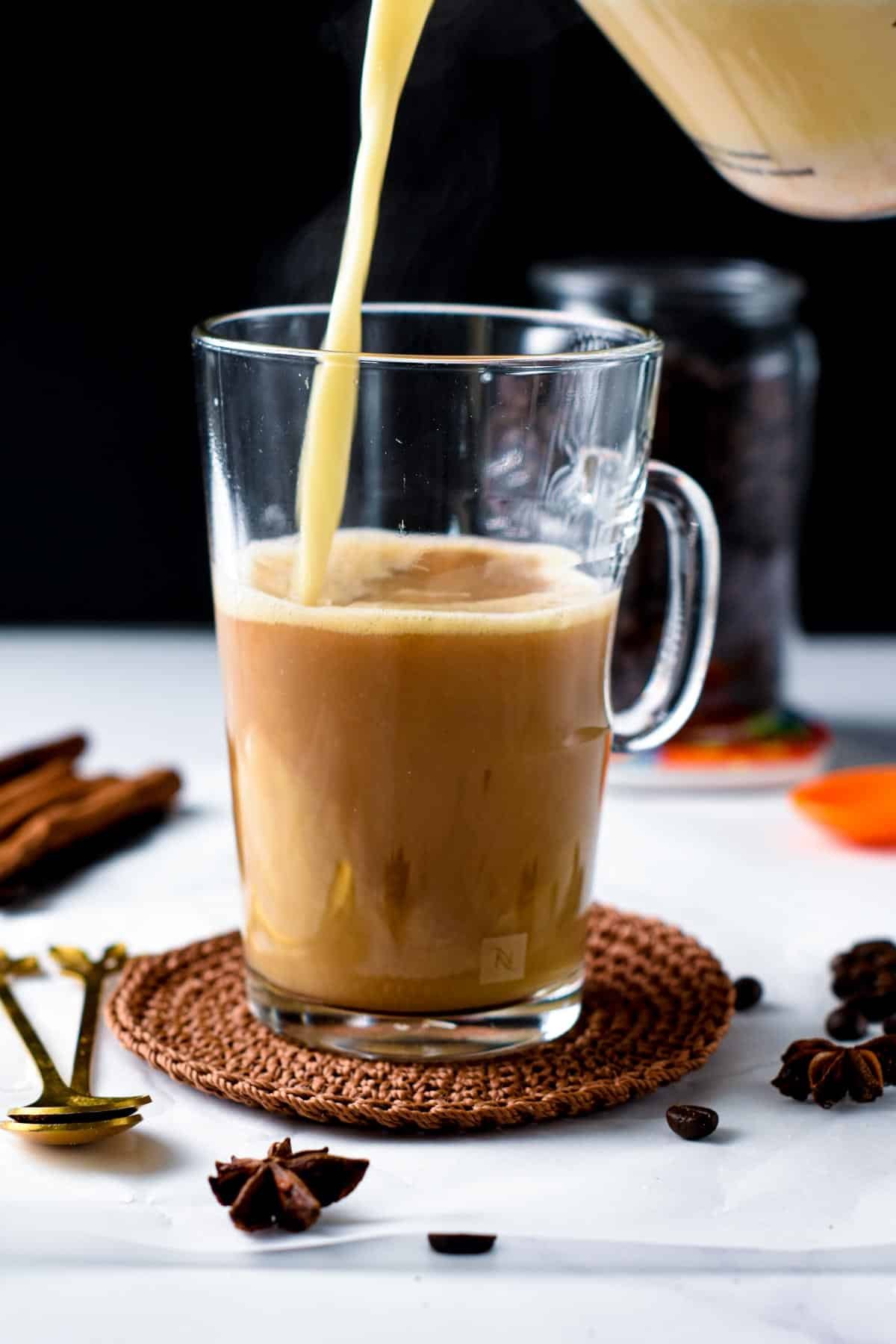 Step-By-Step Video
Allergy Swaps
If you have some food allergies but still want to make this recipe, I listed some options below:
Low-carb keto-friendly – Pumpkin used in small amounts won't turn your coffee into a high-carb drink so don't fear the pumpkin puree. The issue with lattes is the sweetener that is pure sugar. So on a keto diet or if you are diabetic, replace the maple syrup with 1 or 2 tablespoons of allulose or erythritol and stir in black brewed coffee before adding milk to dissolve.
Nut-free – There are many nut-free milk options that make delicious creamy lattes including hemp milk, oat milk, or coconut milk. The last option has a strong coconut flavor, but it actually tastes amazing with pumpkin spices.
Did you try this healthy homemade pumpkin spice latte? If you also think it's way better than your local coffee shop then leave a review or comment below.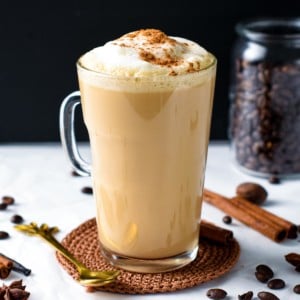 Healthy Pumpkin Spice Latte
This healthy pumpkin spice latte is a copycat of the famous Starbucks pumpkin spice latte but healthier made plant-based with no dairy or refined sugar.
Pin
Print
Review
Save
Saved Recipes
Shop My Tools
Instructions
In a saucepan, over medium heat, whisk the pumpkin puree and spices: cinnamon, nutmeg, and cloves. Stir and cook for 30 seconds until fragrant then add non-dairy milk and maple syrup. Cook until hot but not boiling.

Remove from heat and stir in vanilla.

Brew strong coffee and place half a cup in each coffee mug. Top up each mug with 1 cup of the prepared hot pumpkin milk.

Serve with froth oat milk or vegan whipped cream and a pinch of extra cinnamon or ready-made pumpkin spices.
Notes
Note 1: Any non-dairy unsweetened milk works. Note 2: You can use sugar-free erythritol for a low-carb low-calorie option.
Share on Facebook
Pin Recipe
Nutrition
Serving:
1
latte
|
Calories:
78.3
kcal
|
Carbohydrates:
10.2
g
|
Protein:
1.6
g
|
Fat:
3.2
g
|
Saturated Fat:
0.1
g
|
Polyunsaturated Fat:
1.5
g
|
Monounsaturated Fat:
1.5
g
|
Sodium:
328.8
mg
|
Potassium:
104.1
mg
|
Fiber:
1.6
g
|
Sugar:
7.3
g
|
Vitamin A:
3502.9
IU
|
Vitamin C:
1
mg
|
Calcium:
321.9
mg
|
Iron:
0.4
mg
|
Magnesium:
10.2
mg
|
Phosphorus:
10.6
mg
|
Zinc:
0.1
mg