These vegan blondies are chewy, gooey vanilla bars filled with chocolate chips and crispy edges.
Plus, these vegan blondies are also nut-free and easy to make gluten-free if desired.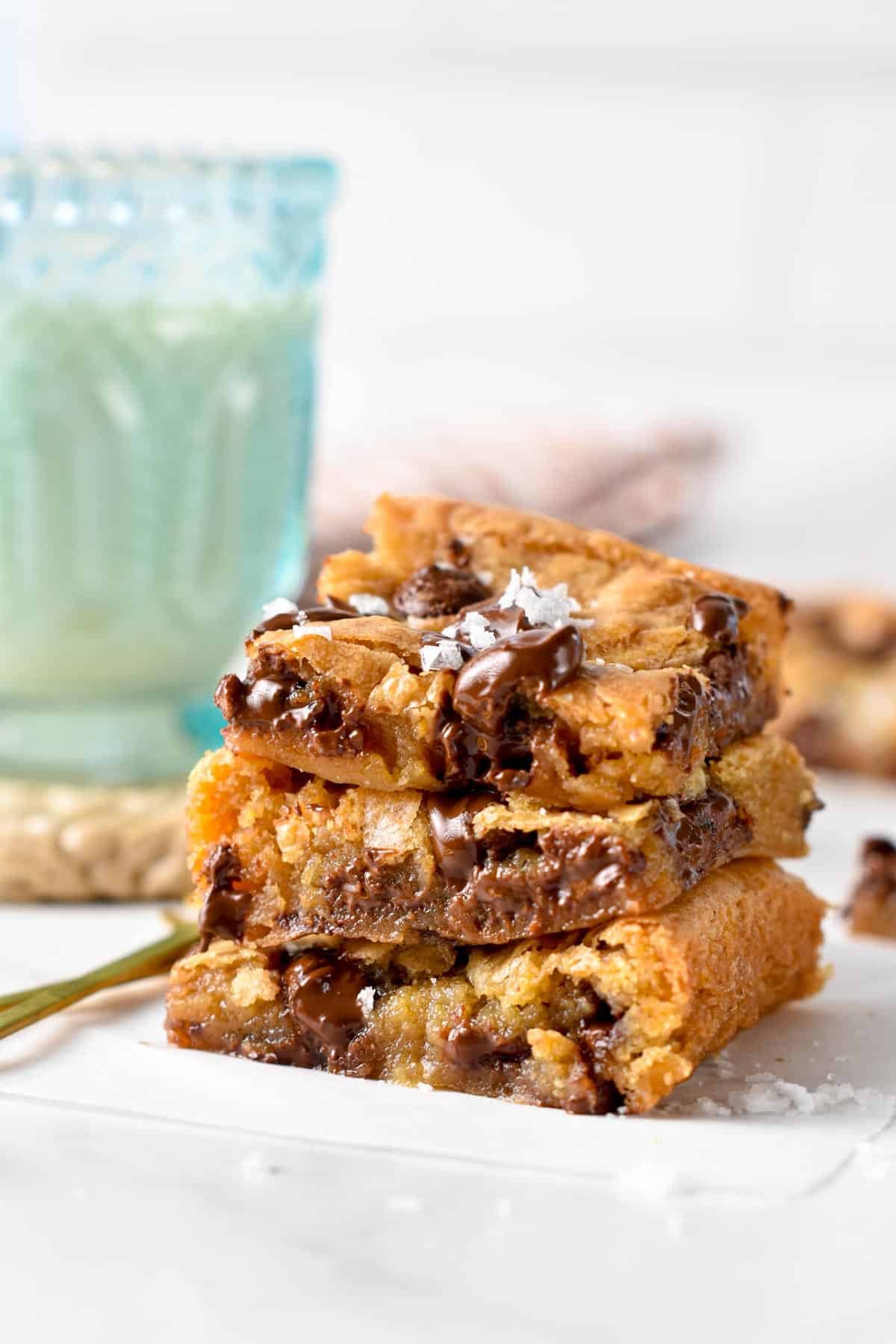 You know my passion for vegan desserts and vegan baking recipes. I recently shared a healthier blondies recipe, my chickpea blondies, made from canned chickpeas.
Today, it's a much more decadent version with an authentic blondie flavor and texture made from the most simple plant-based ingredients.
Are Classic Blondies Vegan?
No, classic blondies contain eggs and butter and, most of the time, milk or white chocolate chips.
Therefore, it's a vegetarian dessert but not a vegan-friendly treat.
How To Make Vegan Blondies
It's very simple to make these gooey, egg-free blondies in less than 30 minutes.
Ingredients
You only need a few simple ingredients to whip up a batch of vegan blondies.
All-Purpose Flour or white spelt flour. If gluten-free, try an all-purpose gluten-free flour blend containing added xanthan gum for best results and texture. However, keep in mind that flour substitutions change the blondies' texture. Gluten-free flour provides a dense and gummy texture.
Flax Egg– A flax egg is made by combining ground flaxseeds and water. I recommend golden flax meal. It has a light color and is low in flavor compared to brown flax meal, which has a slightly fishy butter taste.
Salt – Only if your vegan butter is unsalted.
Vegan Butter – unsalted.
White Sugar – You can also use unrefined cane sugar or erythritol for a sugar-free alternative.
Brown Sugar or coconut sugar for a healthy alternative.
Baking Powder
Vanilla Extract
Dark Chocolate Chips
It only takes a few simple steps to follow to make the best egg-free blondies.
Making A Flax Egg
First, in a small bowl, whisk the ground flaxseeds and lukewarm water.
Set it aside for 5 to 10 minutes or until gooey like an egg.
Melting Butter And Sugars
Pour the vegan butter into a small saucepan, bring it over medium-low heat, and melt the plant-based butter, stirring once in a while.
If you like brown butter flavors in your blondies, keep cooking the butter until it changes color and gets a bit darker.
Next, stir in the brown sugar and sugar and cook for a few minutes until the sugar melts.
Making The Batter
Remove from the heat and stir in the remaining wet ingredients: flax egg and vanilla extract.
Transfer the mixture into a mixing bowl and add the dry ingredients: all purpose flour, baking powder, and salt.
The batter should be thick and elastic with a lovely golden color. Don't overmix the batter or the blondies turns out gummy.
Refrigerating The Batter
At this point the batter is still slightly warm. As a result, if you add the chocolate chips now they will melt and disappear in the dough.
That's why you must refrigerate the blondie dough for at least 10 minutes or until cold to the touch.
Fold the chocolate chips into the cold batter and stir to evenly combine them in the batter.
Baking Blondies
Preheat the oven to 350°F (180°C).
Line a 8-inch x 8-inch square pan with parchment paper. Slightly oil paper with cooking spray or coconut oil.
Pour the blondie dough into the pan and spread it evenly.
Bake the blondies on the center rack of the oven until they are set on top but still gooey in the center. It takes between 15 and 20 minutes max.
Let them cool completely on a cooling rack before slicing. As they cool, the blondies firm up, their top and edges turn crispy, and the center becomes chewy.
Storage Instructions
This vegan blondie recipe can be stored in an airtight container placed in the fridge for up to 6 days.
You can freeze leftover blondies in zip-lock bags and thaw them at room temperature the day before.
Flavors
You can use this recipe to create a combination of blondies flavors. To do so, swap the dark chocolate chips for:
Raspberries and vegan white chocolate chips
Chopped walnuts or pecans
Vegan oat milk chocolate chips
Or, drizzle some peanut butter on top of the blondies before baking for a peanut butter flavor.
Allergy Swaps
Below are my suggested ingredient substitution options in case you are allergic to what is used in this recipe.
Vegan Butter – You can use unsalted margarine with great results. However, coconut oil or vegetable oils won't work.
Sugar-Free – You can use sugar-free natural crystal sweeteners, like erythritol to replace the white sugar and brown erythritol to replace the brown sugar.
Gluten-Free – Try an all-purpose 1:1 gluten-free flour to substitute all-purpose flour. Also, make sure the baking powder you use is wheat free. Otherwise, swap for half the amount of baking soda.
Ground Flaxseeds Swap – You can replace the flax egg with a chia egg – use the same method by replacing ground flaxseeds for ground chia seed. Or, use a store-bought egg replacer.
Frequently Asked Questions
I answered all your common questions about baking vegan blondies.
Can I Use Coconut Oil?
No, you must use plant-based butter or margarine for this recipe or the texture will be extremely oily.
Can I Skip Chocolate Chips?
You can use fruits in blondies like fresh or frozen raspberries, chopped nuts like walnuts, pecans, or even vegan white chocolate chips if preferred.
Can I Add Cocoa Powder?
No, cocoa powder is high in fiber and will soak up all the liquid in this recipe. Try one of my vegan brownie recipes below for chocolate brownie versions of this recipe.
What's The Difference Between Brownies And Blondies?
A blondie is a vanilla version of a brownie. It has the same gooey, chewy texture in the center with crispy edges but not cocoa powder.
More Vegan Blondie And Brownie Recipes
Blondies and brownies are the same in texture. So here are some more recipes for you to bake.
Have you baked a batch of these easy vegan blondies? Share a common or review below to let me know how it turned out.
Vegan Blondies
These vegan blondies are chewy, gooey vanilla bars filled with chocolate chips and crispy edges. Plus, these vegan blondies are also nut-free and easy to make gluten-free if desired.
Pin
Print
Review
Instructions
In a small bowl, whisk the ground flaxseeds and lukewarm water. Set aside 10 minutes until a gooey and egg-like texture forms.

In a non-stick saucepan, over low-medium heat, melt the butter.

Str in the sugar and brown sugar and stir and cook for 1 minute or until the sugar melts.

Remove from the heat and stir in the vanilla extract and flax egg.

Transfer the mixture into a large bowl.

Stir in the flour, salt, and baking powder until a thick, golden batter forms. The batter is slightly lukewarm, so don't stir the chocolate chips now, or they will melt.

Refrigerate the batter for 10 minutes to slightly cool it down.

Preheat the oven to 350°F (180°C). Line an 8-inch x 8-inch baking sheet with parchment paper. Slightly oil paper with oil spray.

Remove the bowl from the fridge, fold in the dark chocolate chips, and stir to incorporate.

Transfer the blondie batter to the prepared baking pan and bake in the center rack of the oven for 15-18 minutes.

Bake until the blondies are golden brown and crackle on top but are still gooey in the middle.

Cool down for 30 minutes on a cooling rack before slicing. As it cools, the sides get crispy and harden.
Storage
Store for up to 5 days in an airtight container in the fridge.
Share on Facebook
Pin Recipe
Nutrition
Serving:
1
blondie
|
Calories:
179.9
kcal
|
Carbohydrates:
26.7
g
|
Protein:
0.9
g
|
Fat:
8
g
|
Saturated Fat:
3.2
g
|
Polyunsaturated Fat:
1.4
g
|
Monounsaturated Fat:
1.9
g
|
Trans Fat:
0.03
g
|
Sodium:
111.3
mg
|
Potassium:
60.2
mg
|
Fiber:
0.3
g
|
Sugar:
19.6
g
|
Vitamin A:
267.3
IU
|
Vitamin C:
0.003
mg
|
Calcium:
33.7
mg
|
Iron:
0.5
mg
|
Magnesium:
4.5
mg
|
Phosphorus:
17.4
mg
|
Zinc:
0.1
mg