Cinnamon Roll Protein Shake (22g Protein)
This Cinnamon Roll Protein Shake is the most delicious on-the-go breakfast for fixing your cinnamon roll craving in less than 2 minutes!
Plus, this is also a vegan protein shake, 100% dairy-free and loaded with 22 grams of plant-based proteins to keep you full for hours!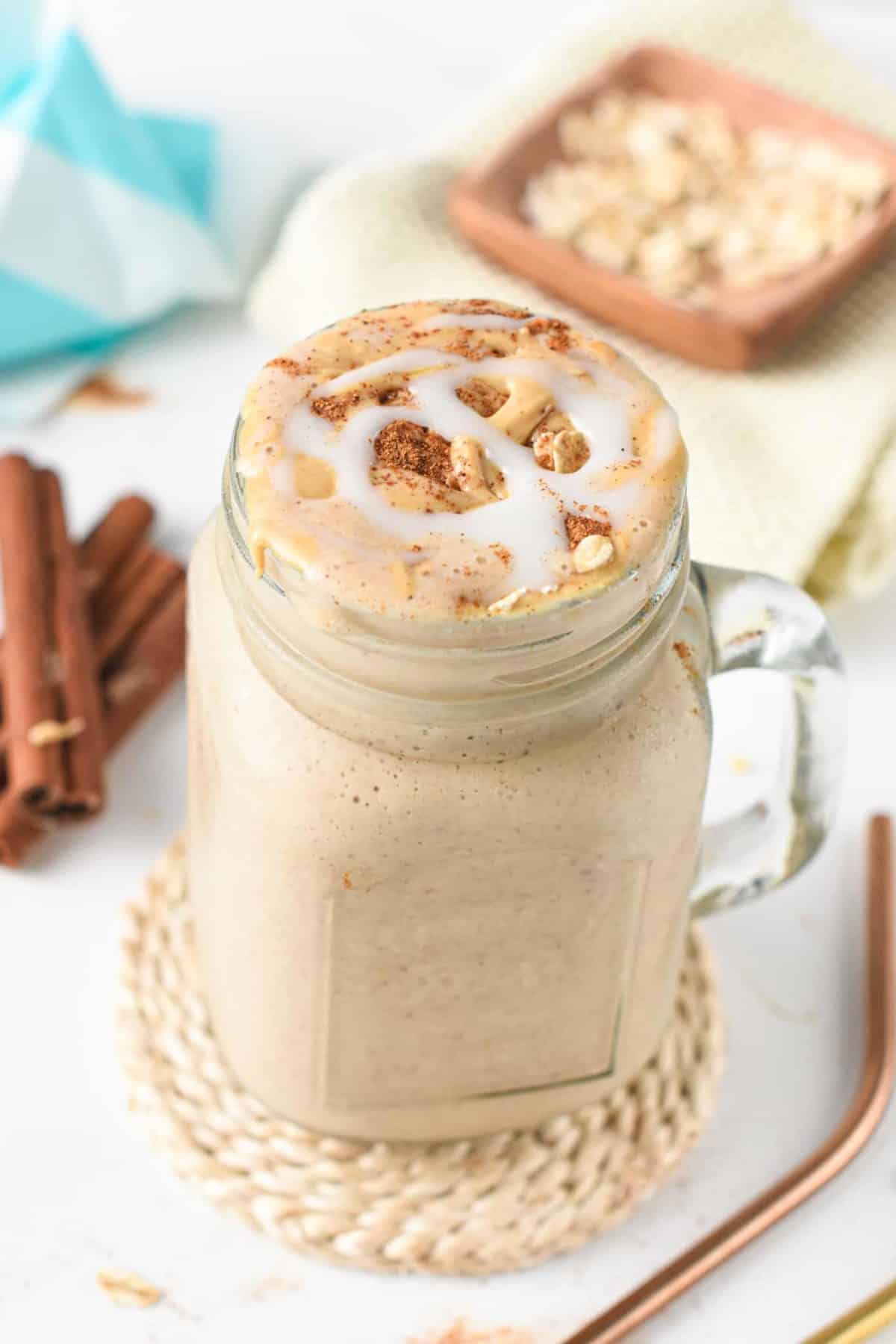 We love high-protein vegan recipes to start the day. Protein is a key nutrient in your diet and even more important if you work out in the morning.
What's Cinnamon Roll Protein Shake?
This protein shake is a great option as a healthy post-workout breakfast to refresh, rehydrate and feed your muscles with slow-release carbs and proteins.
Plus, this cinnamon roll flavor protein shake is like having dessert for breakfast, so it's a real treat.
It's the best way to get all your vegan cinnamon roll recipe needs into a fresh drink!
How To Make Cinnamon Roll Protein Shake
Protein shakes are pretty easy to make in a blender, but let me share with you how to create a super creamy cinnamon protein shake.
Ingredients
Vanilla protein powder – choose any brand you love. We tested with a peanut protein powder, and pea protein powder, and both are delicious in this recipe. We didn't try whey protein powder in this recipe, though. Only vegan protein powders have been tested.
Unsweetened almond milk – you can also use other non-dairy milk, but almond milk is pretty bland in flavor, so it doesn't alter the flavor of your shake. Other options are oat milk or coconut milk, but they add some flavor.
Cashew butter – this is the magic ingredient that gives this protein shake a cinnamon roll flavor! You can use other nut butter, but like plant-based milk, they add a flavor to the shake that will cover the cinnamon flavor.
Frozen banana – don't add too much banana, or it will taste more like a banana shake. However, frozen banana is great to add a smooth, creamy texture. You can swap them for frozen cauliflower rice for a low-carb option.
Ice cubes
Ground cinnamon – feel free to add more if you love the flavor stronger.
Blending
To make this protein shake, nothing very complicated. Just throw all your ingredients into the blender and blend until creamy and smooth.
Adjusting
Depending on the protein powder you used and the milk, the texture can be very different. You can adjust the protein shake to make it to your taste by adding more:
Milk – to thin out the texture.
Ice cubes – for a frothier texture.
Frozen banana – for a creamier texture.
Rolled oats – for a creamier texture and stronger pastry/cake flavor.
Protein Shake Toppings
Now, let's see how to serve this simple cinnamon shake to enhance your cinnamon roll flavor.
The best toppings are:
A drizzle of cashew butter
A pinch of ground cinnamon
A drizzle of homemade vegan royal icing recipe – if you don't feel like preparing a large batch, simply whisk 1 tablespoon of icing sugar with a few drops of cold water. Stir until runny and shiny.
Varying The Flavors
You can change the flavor of this protein shake by adding some delicious healthy ingredients to the blender, including:
Peanut butter – add 1 or 2 teaspoons for a peanut butter flavor.
Maple syrup – to boost the sweetness or use a sugar-free sweetener for a low-carb option.
Greens – add some fresh spinach, kale, or avocado for a boost of vitamins and healthy fats.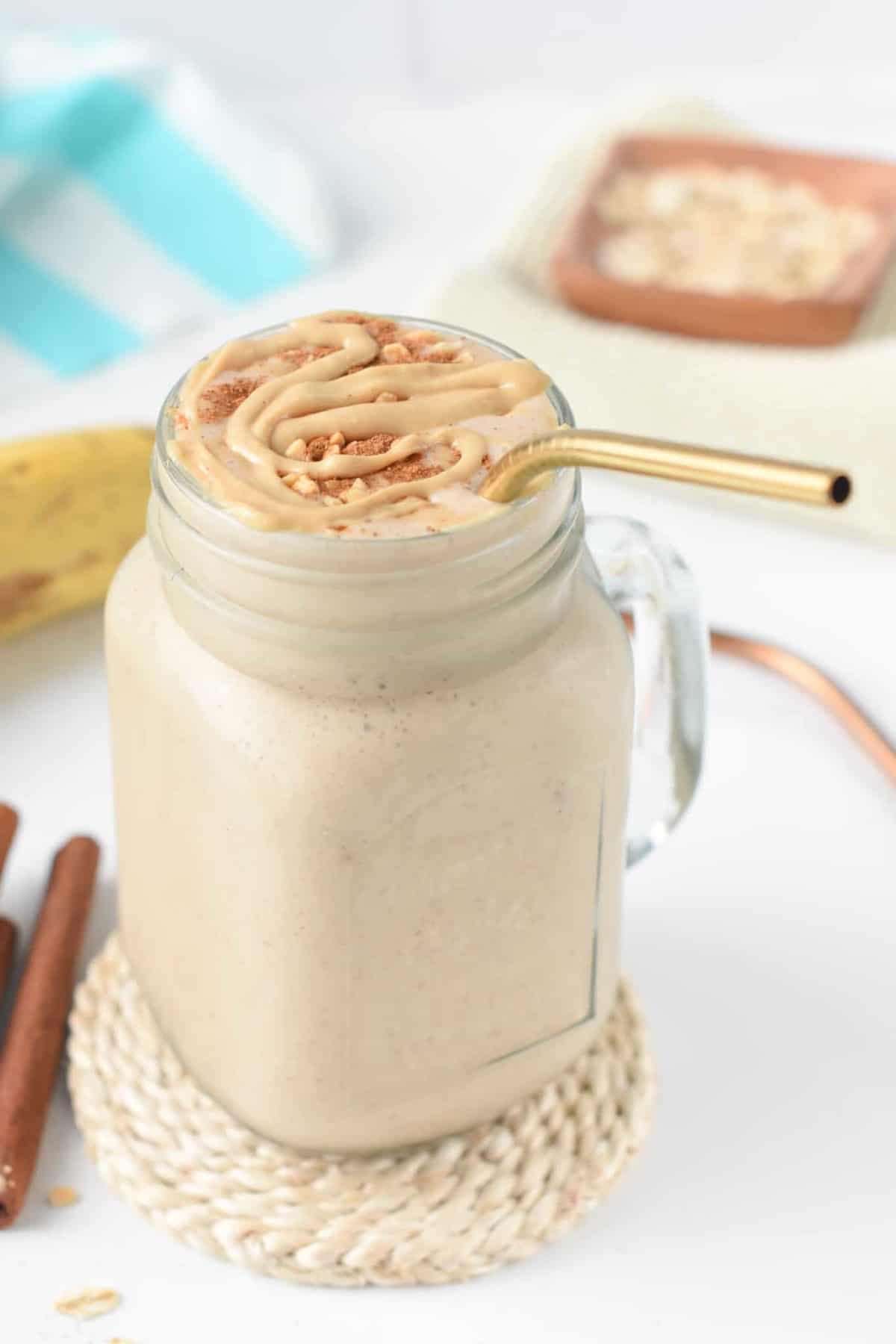 Allergy Swaps
You can adapt this recipe to make it:
Gluten-free – choose a gluten-free certified rolled oats brand or swap for quinoa flakes or millet flakes.
Sugar-free – replace the banana with frozen cauliflower rice or frozen zucchini. These two vegetables are low in net carbs and make the protein shake creamy like frozen bananas without the added sugar.
Frequently Asked Questions
Can I Make Protein Shakes Taste Better?
To make your shake taste better, it's recommended to blend the powder with other flavorsome ingredients that will mask the protein powder flavor and add texture to the shake.
Frozen fruits – berries, bananas.
Spices – pumpkin spice blend, cinnamon, cocoa powder.
Sweetener – maple syrup or brown rice syrup.
Cereals – add oats, millet, and quinoa to add a cake flavor to the shake.
Nut butter – peanut butter or almond butter adds creaminess and delicious nutty flavors.
Nuts – add some cashews or almonds for a nutty flavor and healthy fats.
Natural extract – add some vanilla extract, caramel, or coconut extract.
Also, note that if you don't like the flavor of your protein shake, it's probably because you don't like the flavor of the protein source you bought – hemp protein has a strong flavor, for example, compared to pea protein powder or almond protein powder.
Try different brands and sources until you find your favorite.
More High-Protein Recipes
Below I listed my favorite vegan high-protein recipes for you to try:
Have you made this protein shake recipe? Share a comment or review below to connect with us!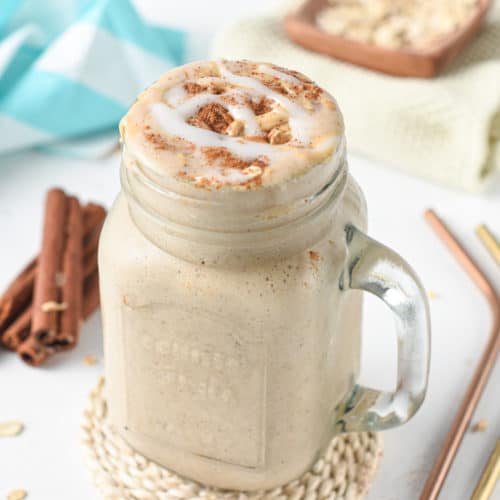 Cinnamon Roll Protein Shake
This Cinnamon Roll Protein Shake is the most delicious breakfast on the go to fix your cinnamon roll craving in less than 2 minutes! Plus, this is also a vegan protein shake, 100% dairy-free and loaded with 22g of plant-based proteins to keep you full for hours!
Pin
Print
Review
Servings: 1 shake
Calories: 274.6 kcal
Instructions
In a blender, add all the ingredients: vanilla protein powder, frozen banana (or frozen cauliflower rice), cashew butter, oats, almond milk, cinnamon, 1/2 cup of ice cubes, and sweetener if desired.

Blend on the high-speed setting until creamy and smooth.
Adjust to taste
Add more ice cubes, 2-3 at a time, for a frothier texture or more almond milk, 2-3 tablespoons at once, for a runnier shake. Always blend at high speed for 20 seconds after any adjustment you make.

You can also add more cinnamon, 1/4 teaspoon extra at a time to your liking.
Serving
Serve with a drizzle of fresh cashew butter, rolled oats, chopped peanuts, or a teaspoon of homemade royal icing.
Share on Facebook
Pin Recipe
Nutrition
Serving: 1shake | Calories: 274.6kcal | Carbohydrates: 32.4g | Protein: 22.2g | Fat: 7.7g | Saturated Fat: 1.3g | Polyunsaturated Fat: 2g | Monounsaturated Fat: 3g | Cholesterol: 61.5mg | Sodium: 410.7mg | Potassium: 378.1mg | Fiber: 3.4g | Sugar: 16.4g | Vitamin A: 38.2IU | Vitamin C: 4.5mg | Calcium: 498.4mg | Iron: 0.7mg | Magnesium: 46.7mg | Phosphorus: 120mg | Zinc: 0.6mg