These easy Coconut Energy Balls are the best healthy pre-workout snack recipe to eat before a morning workout and fill your body with healthy slow-release carbs.
Plus, these energy balls are also vegan, gluten-free, and keto-friendly.
We love no-bake coconut recipes – no bake bounty bars, no-bake coconut bars, or raw Samoa bars, we can't get enough coconut treats!
So here's the new addition to our collection of energy balls recipes, some delicious tropical coconut balls.
What Are Coconut Energy Balls?
These vegan coconut energy balls are delicious no-bake energy bites perfect as a healthy snacking option any time of the day.
This is a great recipe for cardio lovers. It fills you up with slow-release carbs and keeps your energy steady during the day.
They are naturally:
Gluten-free
Vegan
Keto-friendly – these contain no high-carb dried fruits like Medjool dates. As a result, they are low in carbs and keto-friendly.
How To Make Coconut Energy Balls
It's so easy to make these Coconut Bliss Balls that you won't buy any energy balls from the grocery store after trying this recipe.
All you need to make them are a food processor and a few simple ingredients.
Ingredients
The ingredients you need are:
Unsweetened desiccated coconut – opt for ultra-fine dry coconut threads instead of shredded coconut that would make the energy balls dry.
Quick oats or almond flour
Coconut nectar or maple syrup
Coconut milk
Coconut water
Natural coconut extract
Processing Dry Ingredients
First, add quick-cooking oats and unsweetened desiccated coconut to the bowl of a food processor.
Using the S blade attachment, process on the high-speed setting until the ingredients turn into fine powder – almost like flour.
It can take about 1 minute to achieve this texture. If needed, stop the food processor scraping down the sides and repeating until the texture is very fine.
Now, add the liquid ingredients: coconut milk, coconut nectar, coconut water, and coconut extract.
Process on high speed again until the batter comes together into a sticky ball – it can take up to 1 minute. If too dry, add more coconut water gradually, about 1 teaspoon at a time.
As before, you may have to stop the food processor every 20 seconds, scrape down the sides of the bowl with a silicone spatula, and repeat.
This technique ensures that all ingredients are well processed by the blade of your food processor.
Adjusting The Batter
Give the batter a taste, and try to squeeze it between your hand. It should be sticky and hold well when you apply a little pressure on it.
If too dry, add more coconut water or water.
If too wet, add more desiccated coconut.
Always process on high speed for at least 30 seconds after every adjustment made.
Forming Energy Balls
Now, scoop out about 1tablespoon of coconut mixture and roll it into a ball.
Roll each ball into the fine desiccated coconut to stick around the ball.
Set aside the coconut energy balls on a plate covered with parchment paper and repeat the steps above with the remaining batter
You should be able to form 18 energy bites.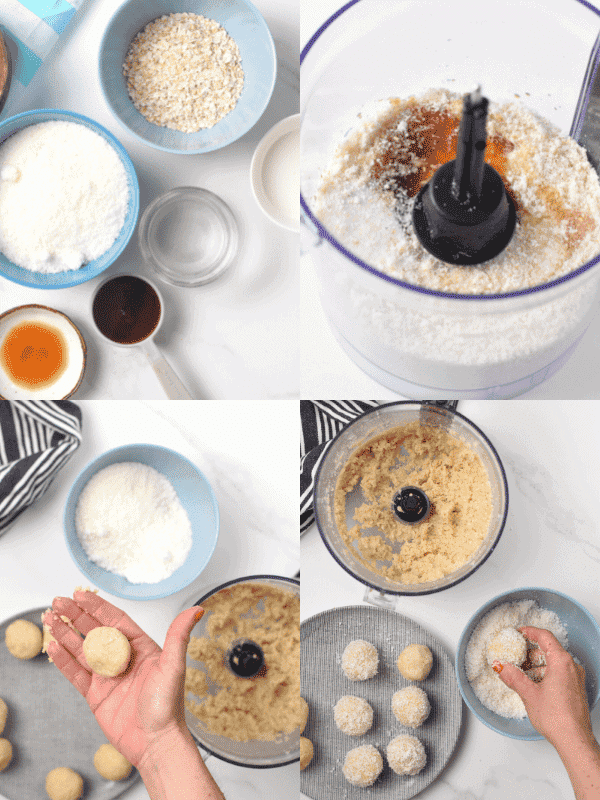 Protein Balls Add-Ons
You can make protein balls with this recipe by adding a boost of protein and healthy fats using some additional ingredients.
For example, adding 1-2 tablespoons of the ingredients below in the batter will up the protein:
Hemp seeds
Chia seeds
Sunflower seeds
Pea protein powder – some coconut-flavored powders add a delicious coconut flavor. But if using them, you may want to skip the coconut extract in the recipe to avoid an overpowering coconut flavor!
Peanut butter – this is a delicious addition to making coconut peanut butter energy balls.
Keep in mind that adding dry ingredients like seeds or protein powder into the recipe dries out the batter.
As a result, you may need to add liquid to the batter to bring the ingredients together.
If you add peanut butter or almond butter, the opposite happens, and you may need to add more shredded coconut to dry out the batter.
Flavors Ideas
You can also add some other ingredients to this recipe to create a range of coconut balls flavors.
For example, stirring 1-2 tablespoons of mini chocolate chips or cocoa powder adds a delicious coconut chocolate flavor to the balls.
You can also swap the coconut extract for an almond extract to make coconut almond energy balls or use blanched almonds instead of cashews.
Keto Energy Ball Option
You can make some adjustments to this recipe to make it low-carb and sugar-free.
For example, you can:
Swap quick oats for almond flour.
Swap coconut nectar for a sugar-free monk fruit syrup.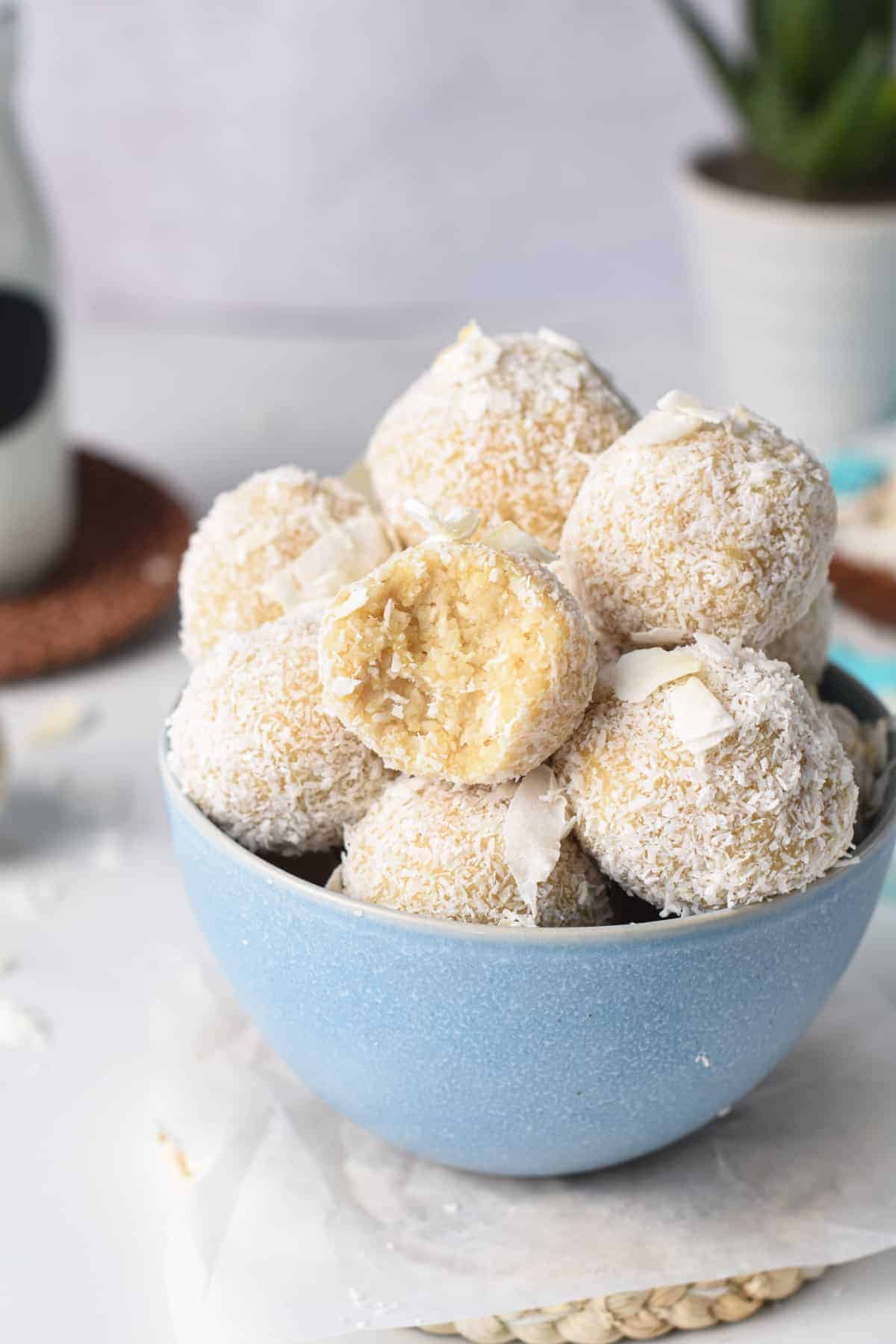 Storage
You can keep these energy balls in an airtight container in the fridge for up to 1 week.
Or, you can freeze the coconut balls in zip lock bags and thaw for 3 hours at room temperature before eating.
More Energy Balls Recipes
Below I listed some other delicious and easy energy bites recipes for you to try:
Have you made these coconut balls? Share a review or comment below to connect with me,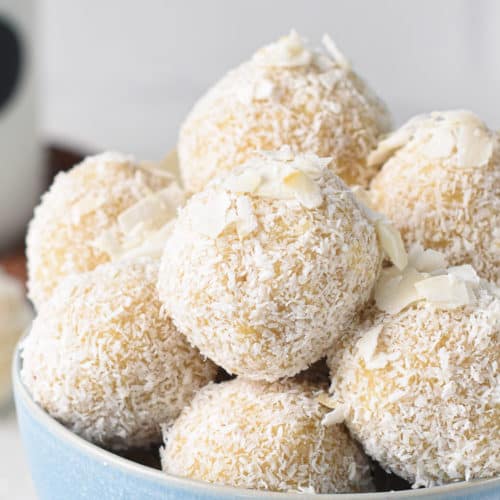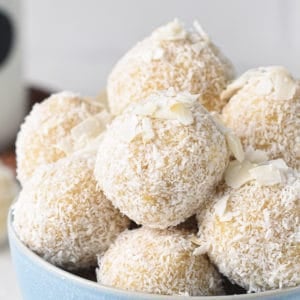 Coconut Energy Balls
These Healthy Coconut Energy Balls are full of plant-based protein and fiber for a quick healthy snack.
Pin
Print
Review
Servings: 18 balls
Calories: 78.9 kcal
Ingredients
To coat the energy balls
Instructions
In a food processor, using the S blade attachment, add the quick oats and unsweetened desiccated coconut, and blend on the high-speed setting until pulsed into a fine flour/meal.

Add in coconut nectar, coconut milk, coconut water, and coconut extract if used.

Blend again on the high-speed setting until it forms a sticky dough that comes together.

If the dough is too wet, add more coconut, 2 tablespoons at a time, blend on the high-speed setting after adding. If the dough is too dry, add 1 tablespoon cold water at a time, blend and repeat if needed.

Scoop out one tablespoon of batter, roll into balls between your hands, then roll into the desiccated coconut to coat.

Place the balls on a plate covered with parchment while you roll the remaining batter into energy balls.
Storage
Store energy balls in the fridge in an airtight container for up to 1 week.

Store in the freezer for up to 3 months and thaw at room temperature.
Equipment
Share on Facebook
Pin Recipe
Nutrition
Serving: 1ball | Calories: 78.9kcal | Carbohydrates: 5.5g | Protein: 1g | Fat: 6.4g | Saturated Fat: 5.6g | Polyunsaturated Fat: 0.1g | Monounsaturated Fat: 0.3g | Sodium: 8.6mg | Potassium: 64.2mg | Fiber: 1.6g | Sugar: 2.1g | Vitamin C: 0.2mg | Calcium: 4.1mg | Iron: 0.5mg | Magnesium: 15.5mg | Phosphorus: 31.2mg | Zinc: 0.3mg