These peanut butter banana oat balls with chocolate chips are healthy breakfast on the go or post-workout energy bites to refuel with healthy carbs and plant-based protein.
Bonus, these are vegan, refined sugar-free, and dairy-free.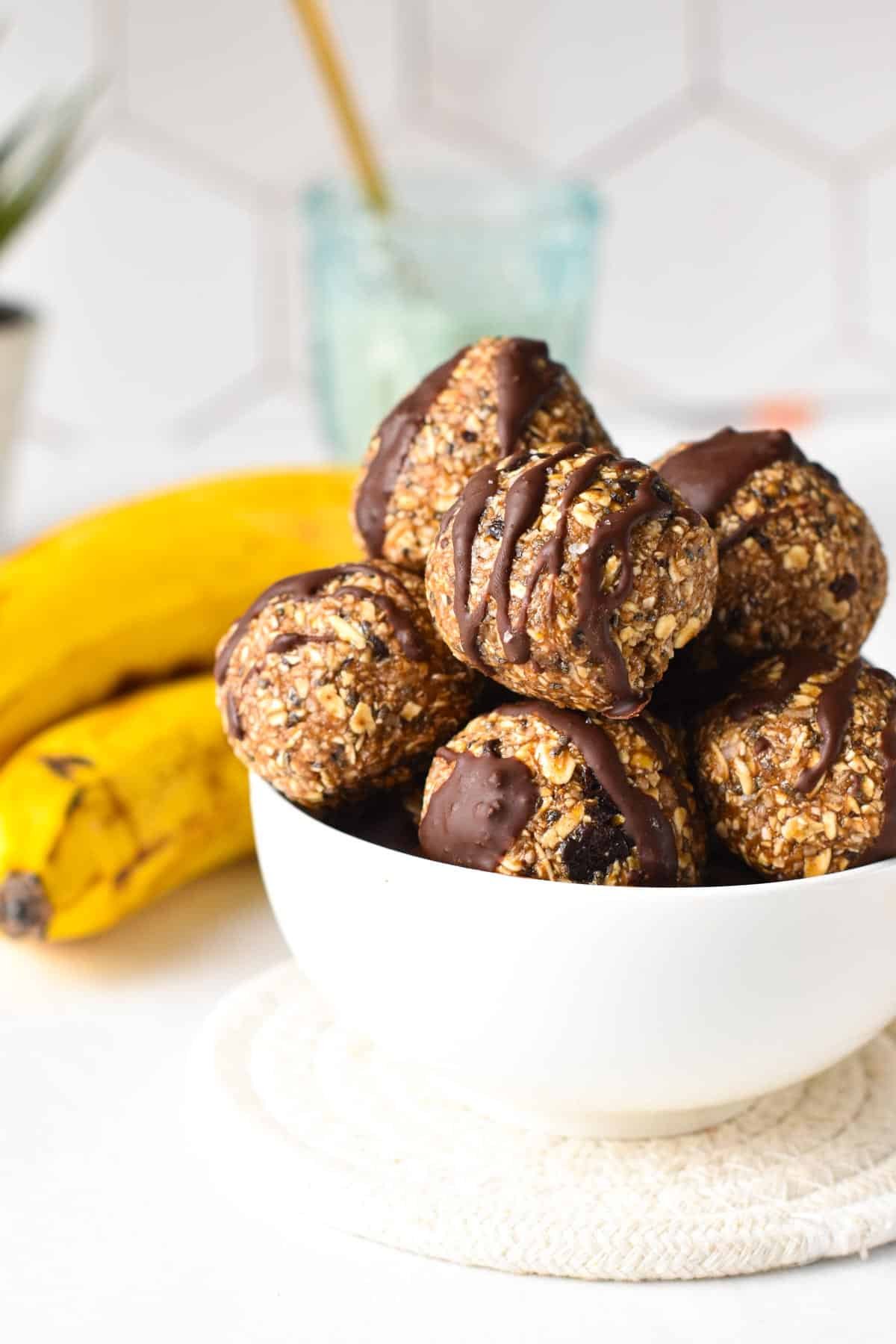 What Are Banana Energy Bites?
Banana energy balls or energy bites are golf-sized no-bake energy bites made of healthy grains, nuts, and seeds to bring all the important nutrients to your morning in a bite-sized sweet ball.
They are sweetened with mashed banana and maple syrup and no refined sugar.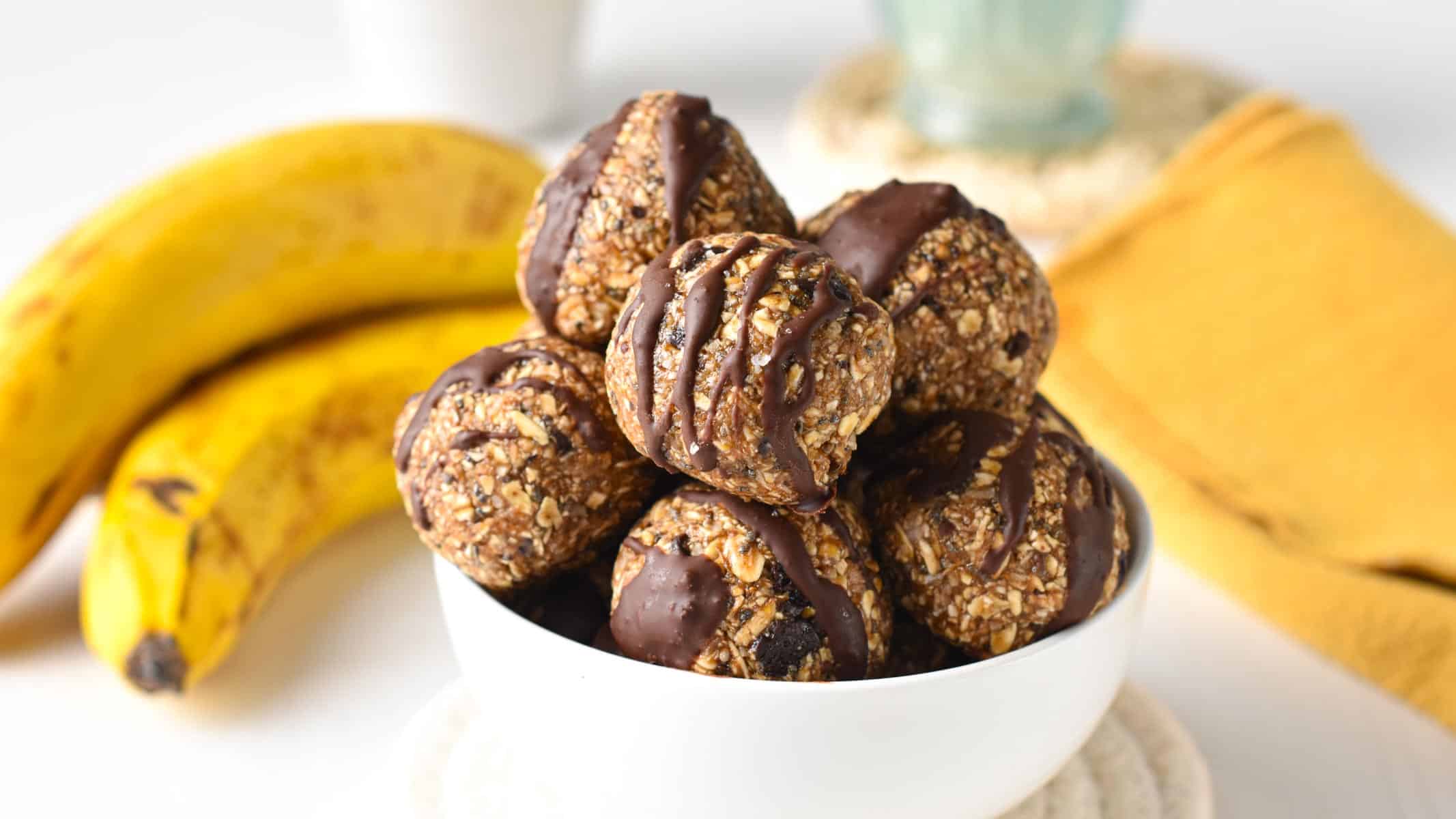 How To Make Banana Oat Balls
These banana chocolate energy balls are very easy to make with a few healthy, wholesome pantry ingredients.
Ingredients
All you need to make banana energy bites are:
Ripe Banana – peel and mash the bananas and measure the amount called by the recipe. Not all the bananas have the same size, so to avoid a too-wet or too-dry batter, it's better to measure the amount of mashed bananas before adding them to the recipe.
Old-Fashioned Rolled Oats – we used gluten-free certified oats.
Flaxseed Meal – this adds healthy omega 3 to your banana energy balls.
Chia Seeds
Pecans or walnuts or shredded coconut
Peanut Butter or almond butter – if you pick natural peanut butter (with only peanuts), you're certain that it'll be vegan peanut butter.
Cinnamon
Vanilla Extract
Salt
Mini Chocolate Chips
Maple Syrup
Preparation
First, peel the banana and place it in a mixing bowl. Mash the banana with a fork and measure the amount the recipe requires.
In a food processor, add the mashed banana with all the remaining ingredients except the dark chocolate chips.
Using the knife attachment, process the ingredients together until it forms an evenly combined sticky banana oatmeal dough.
Add the mini chocolate chips and pulse a few times to incorporate.
Making Banana Oatmeal Energy Bites
Use a small cookie dough scoop to form bite-size balls and make peanut butter banana oat balls.
Lightly oil your hands with coconut oil, and roll the batter between your hand to form a ball.
Place each ball onto a plate covered with parchment paper. Repeat until all the dough is rolled into peanut butter banana energy bites.
Place the banana oat balls in the fridge for 30 minutes to firm up. Drizzle melted dark chocolate on top of the banana energy bites to decorate.
Storing Banana Energy Balls
These healthy protein balls store for up to 7 days in an airtight container in the fridge.
You can also store the balls in the freezer and thaw them in the fridge the day before or 3 hours before eating at room temperature.
Creating Different Flavors
You can use this peanut butter banana energy ball recipe to create a range of healthy snacks. Some flavor ideas are:
Chocolate Banana Energy Bites – add 1 tablespoon of unsweetened cocoa powder to the blender or chocolate protein powder.
White Chocolate And Cranberry – Replace the chocolate chips with half the quantity of vegan white chocolate chips and cranberries.
Seeds – Replace dark chocolate chips with a combo of hemp seeds, chia seeds, and pumpkin seeds.
Allergy Swaps
Below are some ingredient substitutions option for this energy bites recipe.
Nut-Free – Use shredded coconut instead of nuts and replace peanut butter with sunflower seed butter or tahini.
Chia-Seed-Free – Swap for more flax meal, the same amount.
Gluten-Free – Use a gluten-free certified oat brand.
Frequently Asked Questions
Can I add protein powder to the recipe?
Yes, you can add protein powder to up the protein content of these healthy energy bites.
However, adding protein powder dries out the dough, so add the protein powder one tablespoon at a time in the blender.
The dough should be slightly sticky, still moist, and not dry or crumbly.
Why is the batter sticky?
The dough can be very sticky for many reasons. It could be that you added too much mashed banana or over-processed the rolled oats.
Over-processing the oats creates fine flour, and the dough becomes sticky.
Place the dough in the fridge for 10 minutes to give the fibers time to absorb the moisture in the batter.
If the dough is still too sticky to roll between your hands, fold an extra 1/4 cup of rolled oats in the batter.
Also, always grease your hands with melted coconut oil to roll energy balls to prevent the dough from sticking to your fingers.
More Energy Balls Recipes
I love to create a range of energy balls for breakfast or pre-workout to quickly fuel on slow carbs before a run.
Below I posted our favorite energy balls recipe for you to try:
Have you made these energy balls with bananas? Share a review or comment below. I love to hear your feedback on my recipes.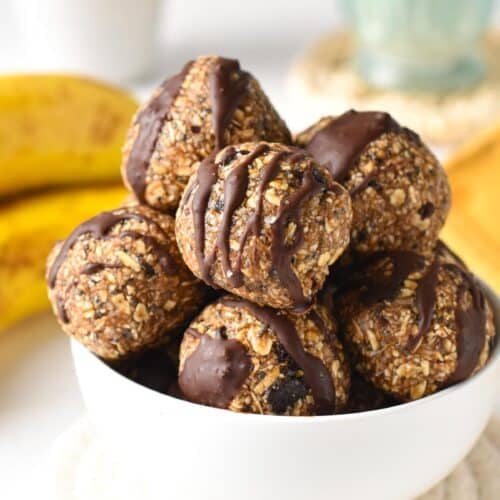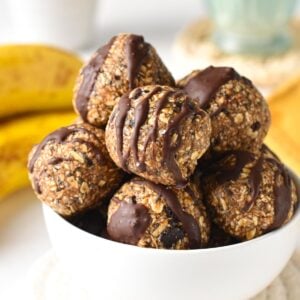 Banana Oat Balls
These Banana Oat Balls are delicious energy balls with banana bread falvors and packed with nutrients dense nuts, seeds and wholegrains
Pin
Print
Review
Servings: 16 energy balls
Calories: 148.8 kcal
Instructions
Peel, mash the bananas, and measure 1/2 cup. It's important to be precise, or the batter will be too wet if you add too much banana.

In a food processor, add all the ingredients, except the chocolate chips: rolled oats, coconut, chia seeds flaxseed meal, mashed banana, peanut butter maple syrup, cinnamon, vanilla extract, and salt Process on high speed for 45-60 seconds just enough to bring ingredients together into a sticky dough.

Transfer the dough to a bowl. If the dough is too sticky, fold in an extra 1/4 cup rolled oats as well. The dough should be easy to roll into a ball, not runny or too wet.

Fold in chocolate chips. Set aside in the fridge for 10 minutes.

Slightly oil hands with coconut oil to prevent the batter from sticking to your hands. Roll one tablespoon of batter into a ball and repeat until you have made 12 energy balls.

Place the energy balls on a plate covered with parchment paper.
Storage
Refrigerate for up to 7 days in an airtight container or freeze and thaw at room temperature 3 hours before eating.
Share on Facebook
Pin Recipe
Nutrition
Serving: 1ball | Calories: 148.8kcal | Carbohydrates: 16.2g | Protein: 3.9g | Fat: 8.2g | Saturated Fat: 1.9g | Polyunsaturated Fat: 3.3g | Monounsaturated Fat: 2.5g | Trans Fat: 0.003g | Cholesterol: 0.1mg | Sodium: 61.9mg | Potassium: 159.4mg | Fiber: 2.9g | Sugar: 5.6g | Vitamin A: 7.6IU | Vitamin B12: 0.01µg | Vitamin C: 0.7mg | Calcium: 32mg | Iron: 1.3mg | Magnesium: 48.6mg | Phosphorus: 103.7mg | Zinc: 0.9mg