These Nut-Free Energy Balls are easy, healthy, and quick snacks to fix your sweet cravings and bring fiber and proteins to your day.
Plus, these no-bake energy bites take under 20 minutes to make and are allergy-friendly, vegan, and dairy-free.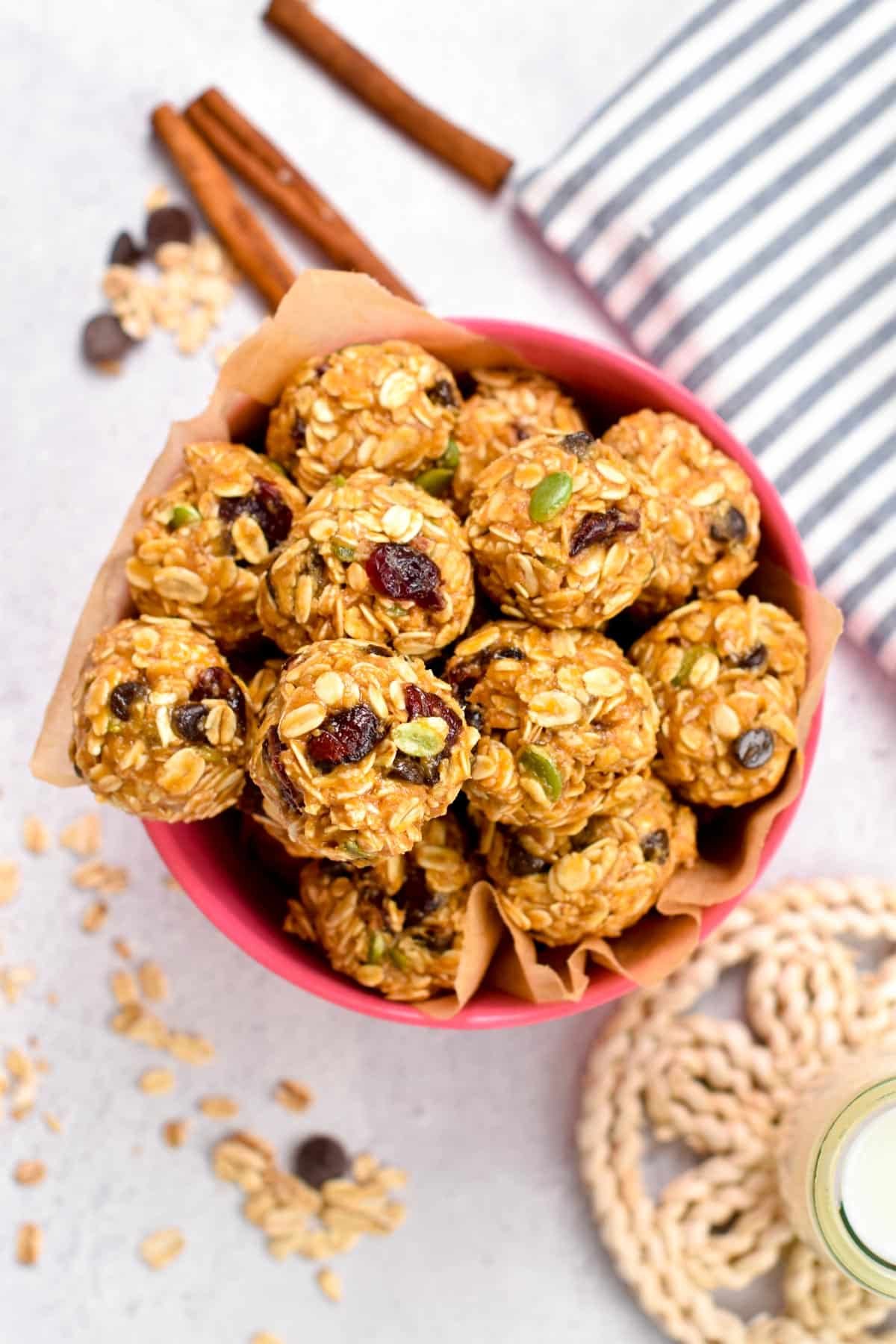 If you often make lunchboxes for your kids to bring to school, you know the importance of healthy snacks. These Nut-Free Energy Balls are the best and they fit are great if your school have a nut-free policy.
They are packed with a blend of healthy fats, proteins, and fiber from plant-based ingredients that kids love.
Plus, they are very versatile, and you can create a range of flavors and textures by changing just a few ingredients.
So let me share how to make this easy healthy nut free snack.
How To Make Nut-Free Energy Balls
It's so easy to whip up a batch of these healthy snacks. You don't even need a food processor, or fancy kitchen tools, just a bowl and a few ingredients.
Ingredients
Here's the list of basic ingredients you need to make these no-bake nut-free balls:
Natural Sunflower Seed Butter – You need sunflower seed butter with no added sugar, no added oil, or salt. Tahini works as well to make nut-free energy bites, but it adds a lightly bitter flavor.
Old-Fashioned Rolled Oats or quick oats. If you don't want to add ground flaxseeds in the next step, then use quick oats. It has a thinner texture and it holds into balls without the flaxseeds.
Ground Flaxseeds, ground chia seeds, or oat flour.
Maple Syrup or any liquid sweetener you love, like agave syrup, coconut nectar, or sugar-free syrup such as monk fruit syrup.
Mix-In – You can add any seeds like pumpkin seeds, hemp heart, or shredded coconut. Or try adding dried fruits like cranberries or chopped Medjool dates for a boost of sweetness.
Sea Salt – If sunflower seed butter is unsalted.
Mini Chocolate Chips
Preparation
In a mixing bowl, add all the dry ingredients: oats, salt, and flax meal. Stir to combine evenly.
Next, stir in the maple syrup and fresh drippy natural sunflower seed butter. If your sunflower seed butter is too firm, microwave it with the maple syrup in a separate glass bowl for 30 seconds.
Stir until smooth then incorporate with oat.
Finally, fold in the mix-in – I use dark chocolate chips, dried cranberries, and pumpkin seeds.
Stir and press to coat all dry ingredients nicely with the wet ingredients. The dough shouldn't be too wet. It should be dense, thick, and sticky.
Refrigerate the mixture for 20 minutes before rolling it into balls. This is optional, but it makes it easier to form balls.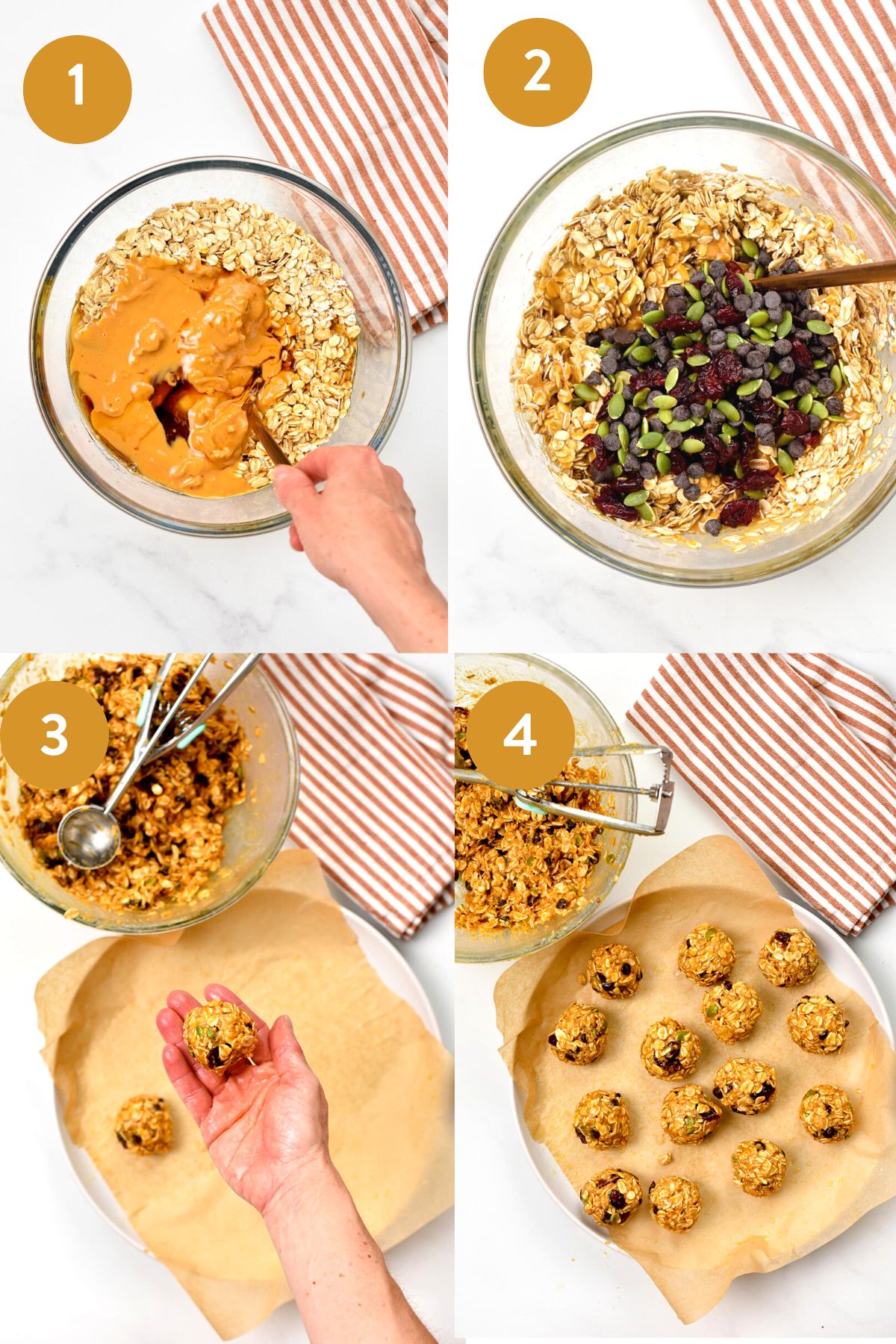 Rolling Into Balls
Before you roll the oatmeal mixture, prepare a plate covered with parchment paper. Or a sealed container that fits all the batter for storing in the fridge for later.
Also, rub your hands with some coconut oil because the batter of this energy ball recipe is a bit sticky.
Scoop some mixture using an ice cream scoop and release it into your hand. Roll into a ball and place on a plate covered with parchment paper
Repeat until no more oatmeal mixture is left. You should form about 20 no-bake oatmeal balls, depending on their size.
Storage Instructions
These Nut-Free Energy Balls store very well in the fridge – for about one week in a sealed glass container.
You can freeze this healthy nut-free snack and simply thaw a ball at room temperature for 3 hours before eating or overnight in the fridge.
Serving
These Nut-Free Energy Balls are great after or before a cardio workout to give quick energy to your muscles.
Or, you can use them as in a kid's lunch box. If your school has a nut-free policy, look at my allergy swap options below.
Allergy Swaps
This recipe is easy to adapt to any dietary requirement:
Gluten-Free – to make this recipe vegan and gluten-free, pick a gluten-free oat brand.
Sugar-Free – Replace the maple syrup with sugar-free maple syrup made from Monk fruit. It adds fiber to the recipe, so it dries out the mixture quickly. As a result, you may need a bit more syrup to combine the ingredients. Also, skip the dried fruits and use nuts, seeds, or sugar-free chocolate chips.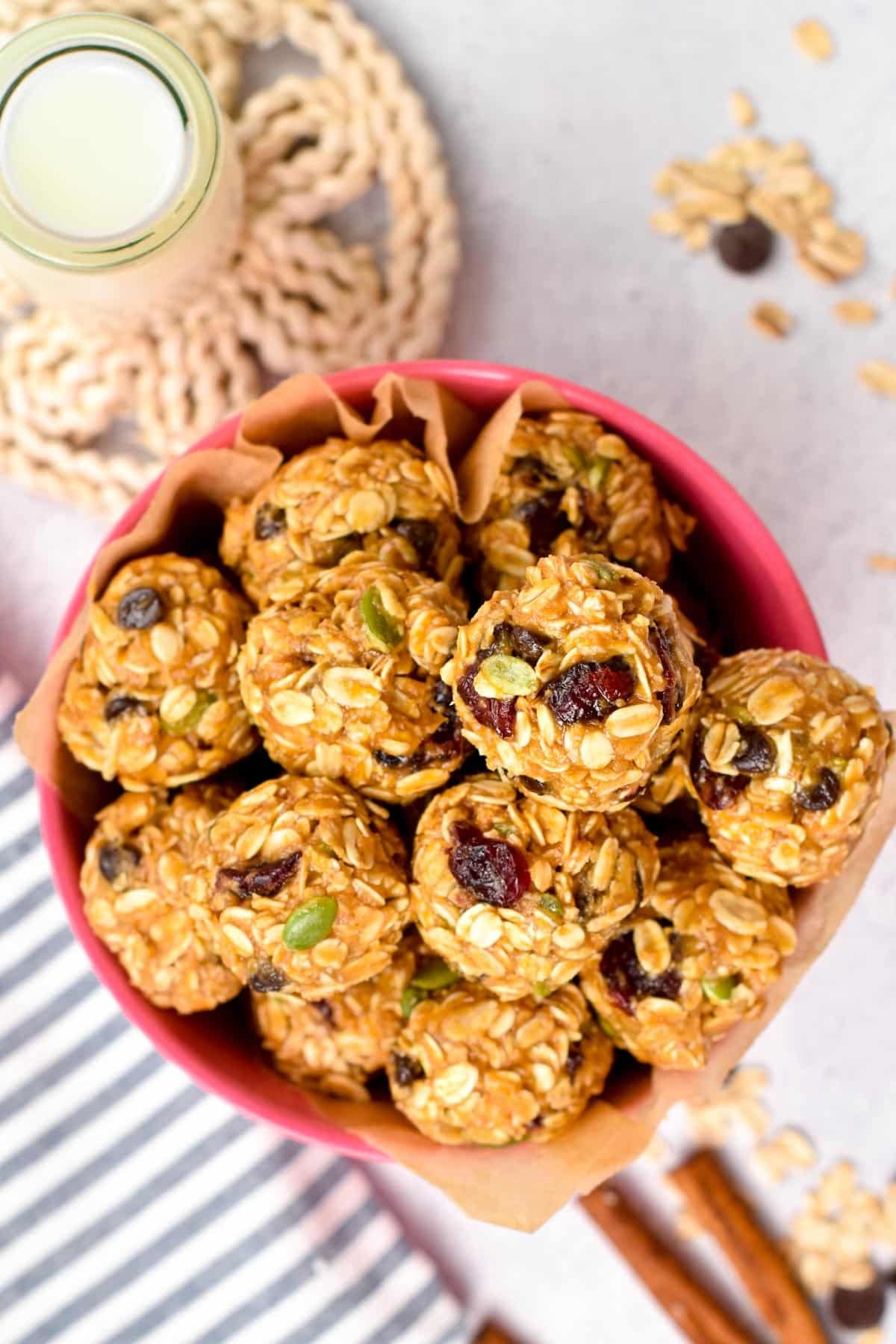 Flavoring Ideas
You can create a range of different no-bake oat balls with this recipe.
You can change the seed butter to tahini, pumpkin seed butter or chickpea spread
Next, change the mix-ins. Below are my favorite combinations:
Dark chocolate chips and shredded coconut
Trail mix flavor – Dark chocolate chips, dried cranberries, and pumpkin seeds.
Dried banana chip pieces and hemp heart.
Freeze dried raspberries and white chocolate chips.
Frequently Asked Questions
Below are my answers to your most common questions about these oatmeal balls.
What is a healthy snack without nuts?
Nut-free snacks include fruits and plant-based yogurt, vegetables stick like carrots and hummus, or grain and seed-based recipes. For example, you can spread sunflower seed butter on a piece of whole grain bread and add banana slices.
Are Energy Balls Actually Healthy?
No-bake energy balls are packed with nutrients: mostly fiber, proteins, and healthy fats from ground flaxseeds, oats, and sunflower seed butter.
It means that their high fiber and protein content keeps you full very quickly, and they are perfect for fixing a sweet craving or refueling energy after a workout.
Plus, they are naturally refined-sugar-free and small, so you can control servings.
What can I snack on instead of nuts?
You can make a nut-free trail mix, and combine your favorite seeds to bring the same healthy fats to your body as nuts do. Try a combo of sunflower seeds, pumpkin seeds with dried apricot, cranberries, chocolate chips, and a few pretzels!
Can I eat raw oats in energy balls?
It's absolutely safe to eat raw oats, unsoaked and uncooked. Some people may find it harder to digest so you can lightly toast rolled oats at 350F( 180C) on a lined baking sheet for 5 minutes. Cool down, then use it in the energy bite recipe.
More Healthy Oat Recipes
Oats are the cereal of the future since they are better for the planet and high in fiber and proteins to keep your energy levels stable throughout the day.
Here are some more oat recipes for you: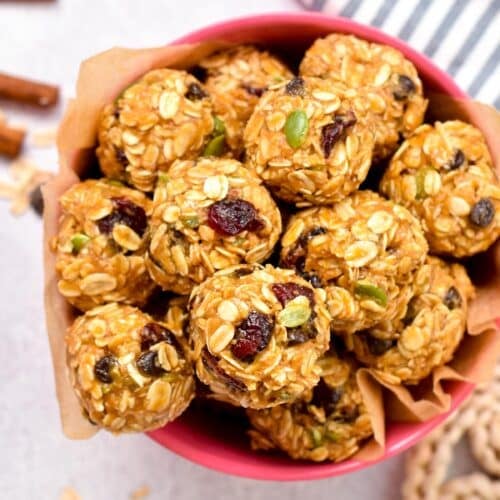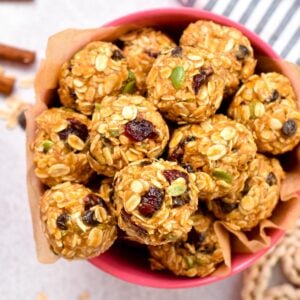 Nut-Free Energy Balls
These Nut-Free Energy Balls are easy, healthy, and quick snacks to fix your sweet cravings and bring healthy fiber and protein to your day.
Pin
Print
Review
Servings: 20 balls
Calories: 156.8 kcal
Ingredients
Mix ins – 1/2 cup of any of the below
Instructions
In a large bowl, add oats, ground flaxseeds, and sea salt. Stir to combine.

Stir in sunflower seed butter, maple syrup, and vanilla extract and stir very well to bring all the ingredients together into a sticky dough.

Fold in any mix-in you love – I used dark chocolate chips, dried cranberries, and pumpkin seeds. Stir to incorporate. The batter should be thick, sticky, and easy to shape into balls. If too dry, you can add 1-2 tablespoons of water.

Refrigerate the batter for 10 minutes. It makes it easier to roll.

Slightly oil your hands with coconut oil, scoop out a tablespoon of dough, and roll into a ball.

Place the oatmeal balls on a plate covered with parchment paper and repeat the rolling process until no more batter is left.

Place the nut-free oatmeal balls in the fridge to firm up.
Storage
Store for up to 1 week in a sealed container in the fridge or freeze for later and thaw 1 hour at room temperature before serving.
Share on Facebook
Pin Recipe
Nutrition
Serving: 1Ball | Calories: 156.8kcal | Carbohydrates: 17.1g | Protein: 4.5g | Fat: 8.4g | Saturated Fat: 1.3g | Polyunsaturated Fat: 0.8g | Monounsaturated Fat: 0.6g | Trans Fat: 0.001g | Cholesterol: 0.04mg | Sodium: 31.5mg | Potassium: 93mg | Fiber: 1.6g | Sugar: 5.4g | Vitamin A: 8.4IU | Vitamin B12: 0.004µg | Vitamin C: 0.6mg | Calcium: 34.3mg | Iron: 1.4mg | Magnesium: 77.2mg | Phosphorus: 161.1mg | Zinc: 1.3mg