Lemon Energy Balls (4g Protein)
These Lemon Energy Balls are soft, melt-in-your-mouth healthy no-bake energy bites with a refreshing coconut lemon flavor.
Plus, these energy balls contain 3.6 grams of protein, and they are perfect as a post-workout protein snack!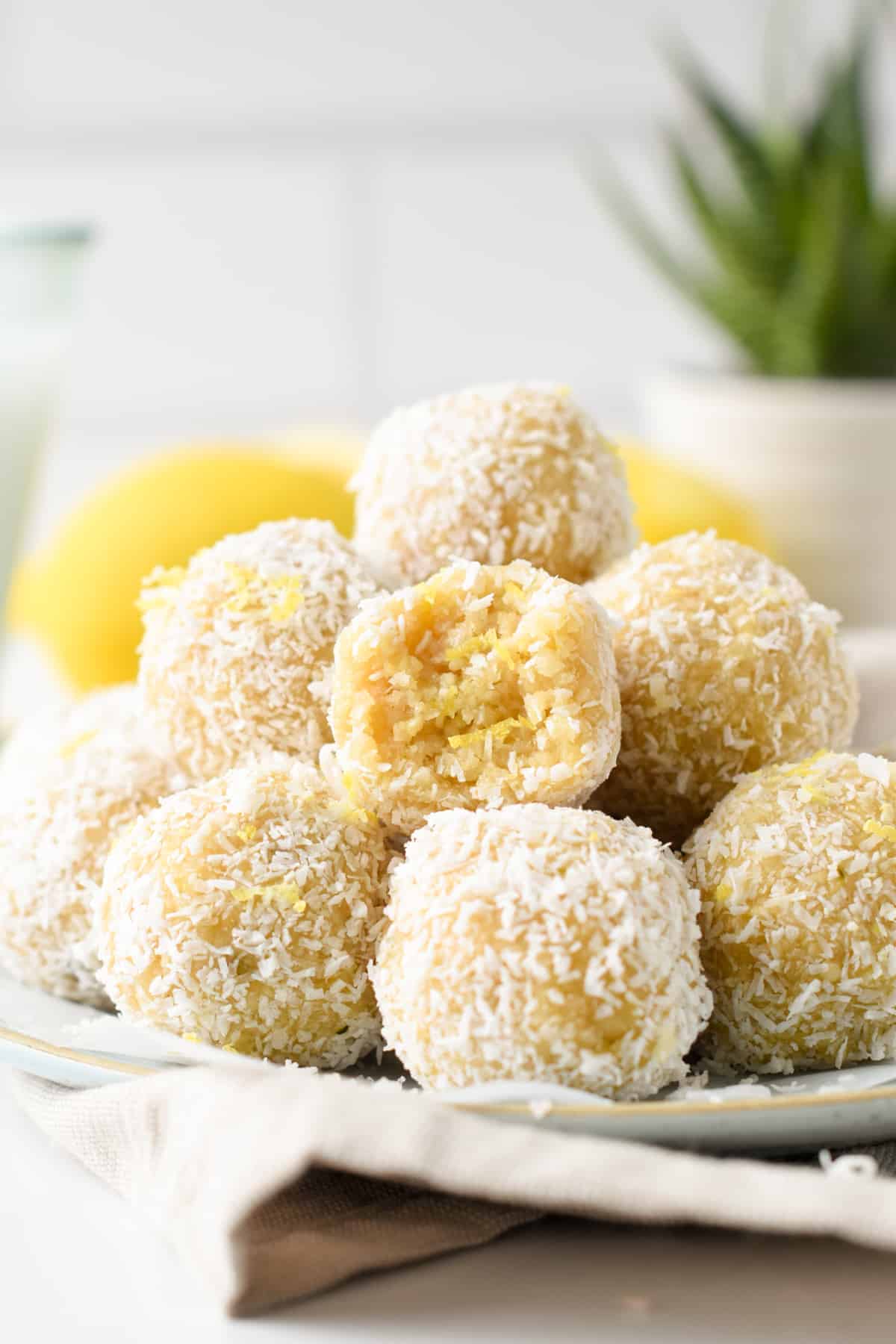 I have shared so many energy balls and bites recipes lately, and there's a reason why I love these bite-sized foods so much.
They taste delicious, and they are fulfilling, perfect as a nourishing sweet snack any time of the day.
So this lemon bliss ball recipe with cashew and coconut is for the lemon lover, perfect for welcoming spring and refreshing.
Plus, these energy balls are:
Low-carb Keto-friendly – Medjool-dates free!
Oat-free – paleo and grain-free.
Gluten-free
No added sugar needed
How To Make Lemon Energy Balls
Ingredients
All you need to make these delicious lemon bites are:
Cashews – roasted or unroasted. This is up to you. Roasted cashews have more flavors and add a darker color to the balls.
Coconut nectar or maple syrup or any liquid sweetener you love, like sugar-free maple-flavored syrup for a low-carb option. I like coconut nectar with the lemon juice flavor, it tastes delicious, and coconut sugar has fewer carbs.
Unsweetened shredded coconut or unsweetened desiccated coconut.
Fresh lemon juice
Lemon zest – make sure you use organic, untreated lemons to avoid added chemicals in this raw dessert recipe.
Seeds of choice – totally optional, but this adds nutrients and crunchy texture. My favorite additions are hemp seeds or chia seeds to add healthy fats and fulfilling proteins and fiber.
Blending
You need a food processor to make these energy ball recipes. Place the cashews and desiccated coconut in the food processor bowl along with the S blade attachment.
Blend on the high-speed setting to blend the nuts and coconut into fine ground.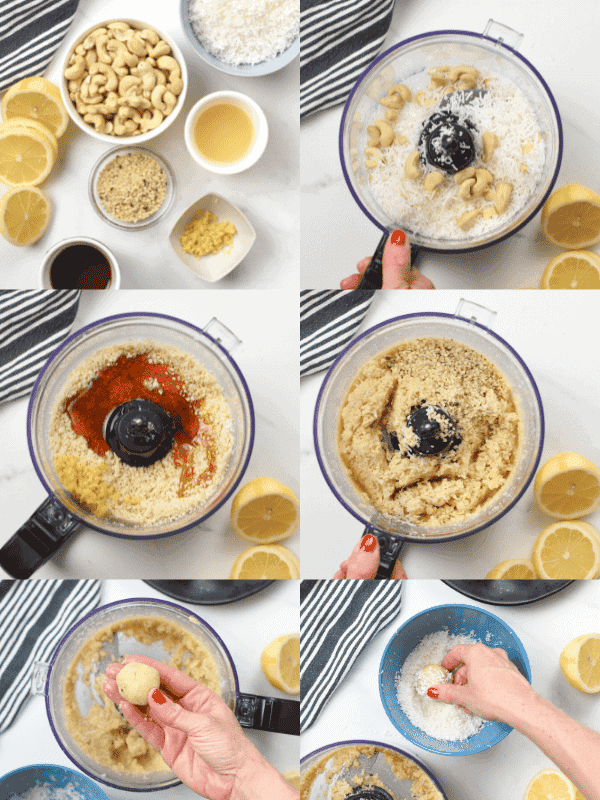 Stirring In Liquid
Now, stir in the liquid ingredients: lemon juice, and sweetener, and blend again to form a sticky dough that easily sticks together when pressed in your hands.
If too dry, add 1-2 tablespoons of water or if too wet, add more coconut. Always blend for 30 seconds on the high-speed setting after each addition.
Add-ons
Now that the batter is ready, feel free to add seeds or chocolate chips.
Fold them in the food processor and pulse in 10-second bursts to incorporate.
Adjusting The Batter
The most common issue with energy balls recipes is the texture.
Sometimes the batter is too wet – this happens mostly if you add too much liquid or the dry ingredients are not blended into a fine powder and can't absorb the liquid evenly.
Or, the batter is dry and won't stick together – it means that you miss some liquid in the recipe or the dry ingredients are too dry – like if you used defatted shredded coconut.
Follow the tips below to adjust the batter.
Dry batter – add 1 tablespoon of cold water at a time, process on the high-speed setting to incorporate, and add more if needed.
Wet batter – add more coconut, 2 tablespoons at a time. Process on the high-speed setting after each addition.
Rolling Into Balls
Scoop out 1-2 tablespoons of batter and roll between your hands to form energy balls.
Place the energy balls in a bowl filled with unsweetened desiccated coconut and roll the ball in the coconut to coat the sides.
Place the lemon energy bites on a baking sheet covered with parchment paper.
Repeat these steps with the remaining batter until no batter is left.
Storage
These coconut lemon energy bites can be stored for up to 1 week in a sealed box in the fridge or for up to 3 months in the freezer.
You can remove the balls from the freezer a few hours before eating or thaw them overnight at room temperature.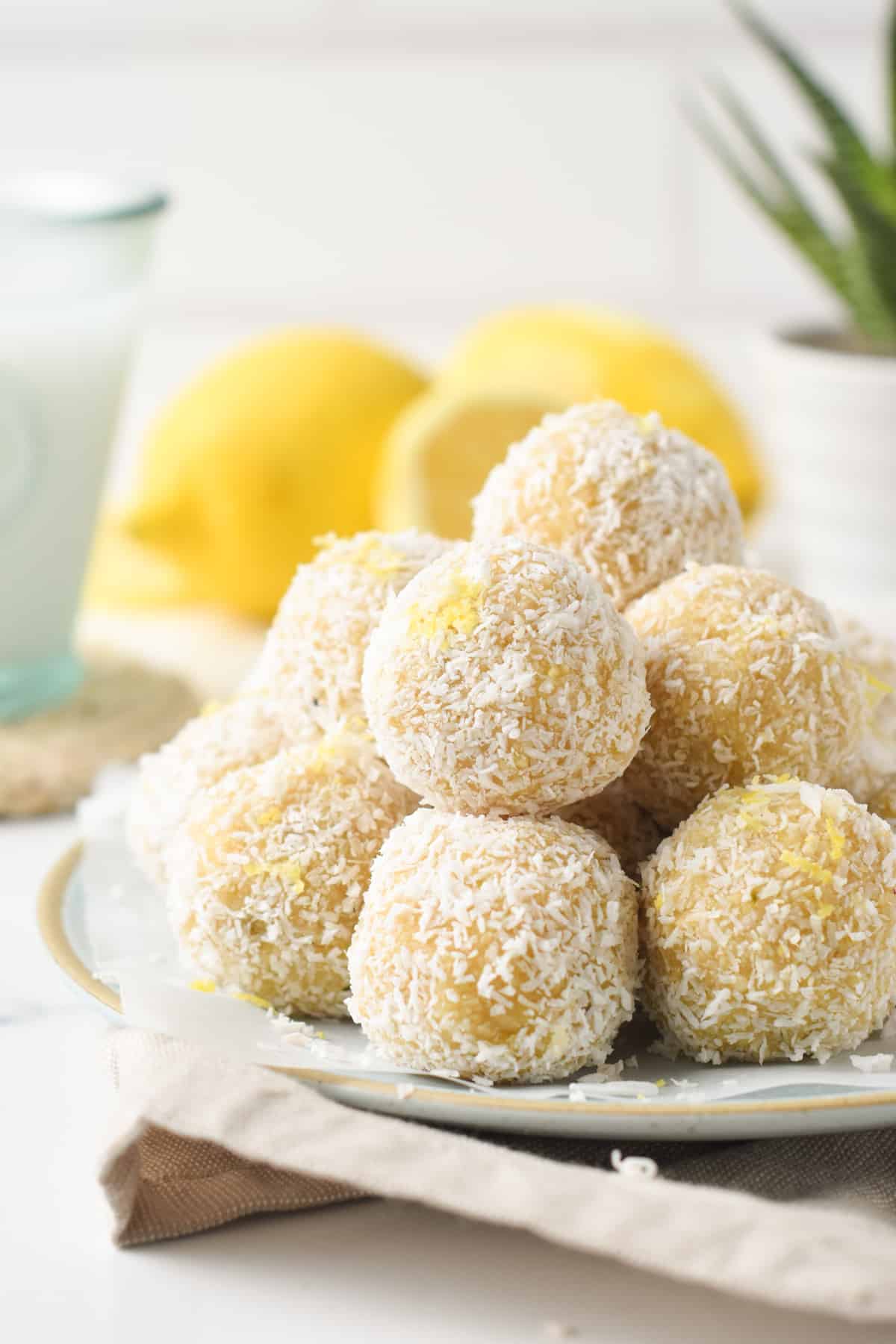 Swaps
Below I listed some options to replace some of the ingredients in the recipe if needed.
Cashews – other nuts like macadamia or skinless almonds work well in the recipe.
Lemon juice – you can use water, coconut water, and orange juice to create a range of energy ball flavors using the same recipe.
Seeds – you don't have to add seeds. You can skip these or replace them with chopped peanuts or chocolate chips.

Frequently Asked Questions
Do I Need A Food Processor For This Recipe?
Yes, the recipe is complicated to make in a blender, even in a powerful Vitamix blender, because the jug is narrow, and the nuts get stuck easily.
I highly recommend a food processor to pulse and combine cashews and coconut evenly.
Can I Make Sugar-free Keto energy balls?
Yes, you can swap the sweetener with a sugar-free liquid sweetener made of monk fruit. To reduce the carbs even more, swap the cashews for macadamia nuts.
Should I Soak The nuts first?
You can soak the cashew nuts in warm water or cold water overnight to activate nuts.
This makes the nuts softer and easier to blend but is not essential. The recipe works very well with unsoaked nuts as soon as your blender is powerful.
More Energy Ball Recipes
Below are more delicious vegan energy balls recipes for you to try.
Have you made these lemon coconut balls? Leave a comment or review below to let me know how it went!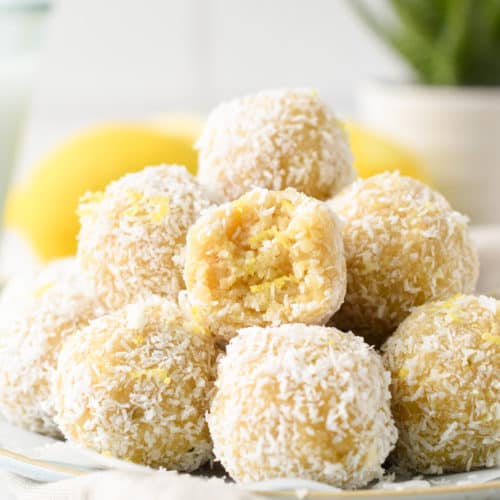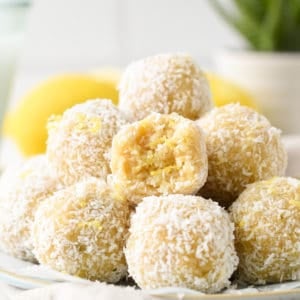 Lemon Energy Balls
An easy oat-free lemon energy balls recipe made with cashews and coconut for a delicious, refreshing snack.
Pin
Print
Review
Servings: 18 balls
Calories: 118.7 kcal
Ingredients
To coat the energy balls
Instructions
In a food processor, using the S blade attachment, add the cashews, unsweetened shredded coconut, and blend on high speed until pulse until a meal.

Add in maple syrup, lemon juice, lemon zest.

Blend again on the high-speed setting until it forms a sticky dough that comes together.

Stir in the seeds of choice and pulse to incorporate. If the dough is too wet, add more coconut, 2 tablespoons at a time, blend on the high-speed setting after adding. If the dough is too dry, add 1 tablespoon cold water at a time, blend and repeat if needed.

Scoop out one tablespoon of batter, roll into balls between your hands, then roll into the desiccated coconut to coat.

Store the balls on a plate covered with parchment while you roll the remaining batter into energy balls.

Store energy balls in the fridge in an airtight container for up to 1 week.
Storage
Store in the freezer for up to 3 months and thaw at room temperature.
Share on Facebook
Pin Recipe
Nutrition
Serving: 1ball | Calories: 118.7kcal | Carbohydrates: 6.6g | Protein: 2.6g | Fat: 9.9g | Saturated Fat: 5.9g | Polyunsaturated Fat: 1.2g | Monounsaturated Fat: 2.1g | Sodium: 8.5mg | Potassium: 102.5mg | Fiber: 1.9g | Sugar: 2.6g | Vitamin A: 9.2IU | Vitamin C: 2.3mg | Calcium: 8.5mg | Iron: 1mg | Magnesium: 29.6mg | Phosphorus: 80.8mg | Zinc: 0.6mg