These Banana Protein Balls are a healthy homemade protein snack to fix your sweet tooth and fill you with proteins.
They taste like banana bread with crunchy bits and pieces of oats and chocolate that are absolutely irresistible.
I love making protein snacks, like my no-bake cookie dough protein bars. But protein bars are often too big for a small snack.
That's why I love making a batch of these vegan, gluten-free protein balls sometimes.
How To Make Banana Protein Balls
This energy balls recipe with protein powder is very easy to make with a food processor and within less than 20 minutes.
Ingredients
All you need to make these peanut butter banana energy balls are:
Banana – I highly recommend you mash and measure the amount of banana with precision so you don't have to adjust the batter later.
Old-Fashioned Rolled Oats or quick oats.
Walnuts, almonds, or pecans.
Ground Flaxseeds – I like to use ground golden flaxseed because it has no bitter or fishy taste compared to brown flax meal.
Chia Seeds
Vanilla Protein Powder – I am using a pea protein powder made with just 3 ingredients: pea protein, natural vanilla flavor, and natural sweetener. You should use a clean protein powder for the best results in this recipe.
Peanut Butter or almond butter
Maple Syrup, agave syrup, or rice syrup.
Cinnamon
Salt
Dark Chocolate Chips – Mini dark chocolate chips make the rolling process easier. If the chips are too big, the batter is difficult to roll.
Preparation
Before you start, cover a large baking sheet or plate with parchment paper. This is where you are going to place the banana protein balls later.
Since this will be put in the fridge, selecting a plate or sheet that fits the fridge size is better.
Then, peel the ripe banana and mash it with a fork. Pack the banana puree in a measuring cup to measure the amount required by the recipe.
This is a great way to get the recipe right, as bananas differ in size, and too much banana makes the batter too wet and difficult to roll.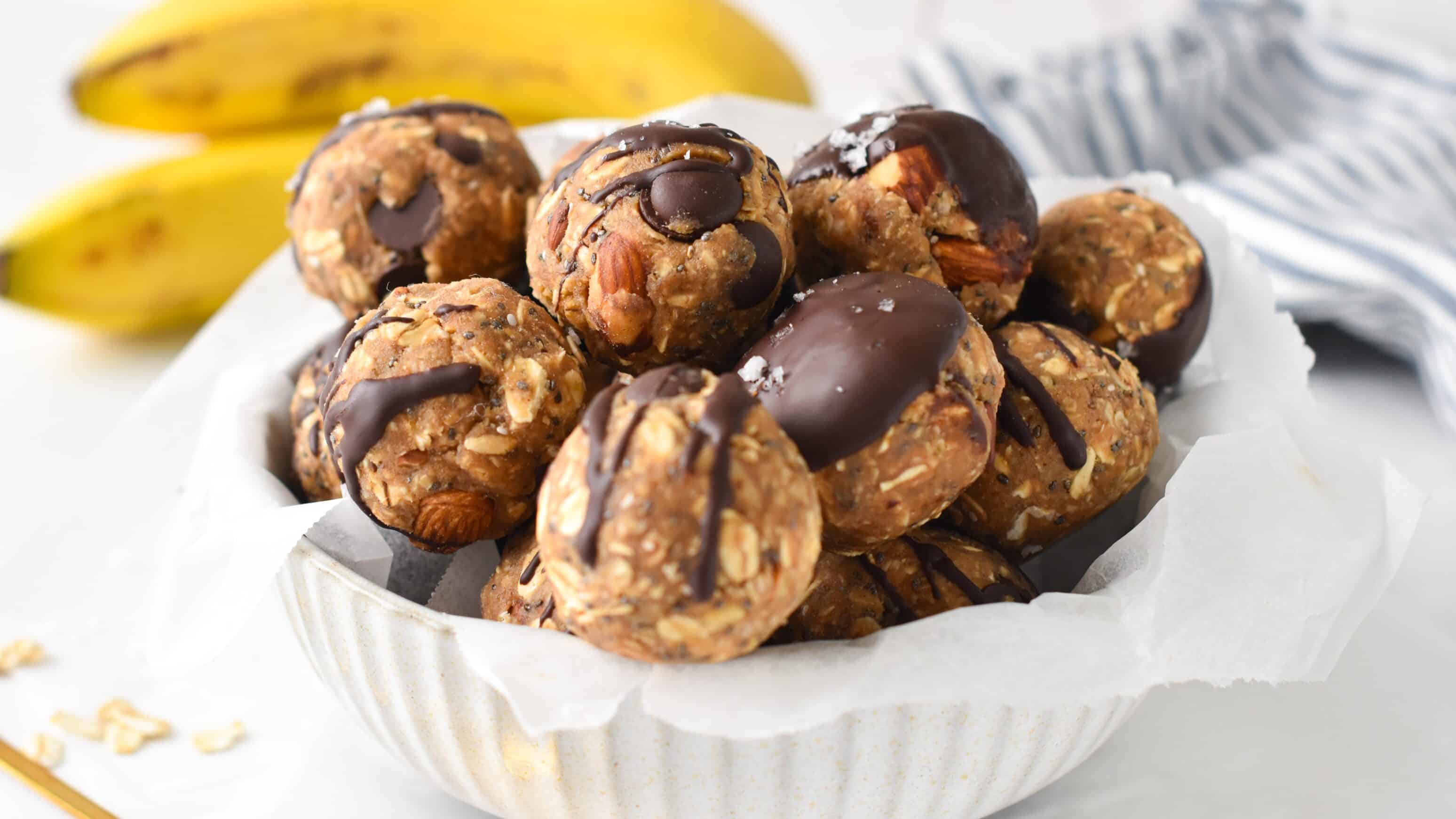 Processing
In a food processor, add oats, nuts, mashed bananas, ground flaxseeds, chia seeds, vanilla protein powder, cinnamon, peanut butter, maple syrup, and salt.
Blend on high speed until it forms a sticky batter that you can easily squeeze to form balls.
Add the mini chocolate chips and pulse a few times to incorporate.
Without A Food Processor
If you don't have a food processor, I recommend you replace oats with quick oats. It has a thinner texture and will stick together easily if you combine all ingredients in a large bowl.
Also, make sure you chop the walnuts finely. Since the food processor is not used, the nuts won't be chopped, and you don't want big pieces in the balls. Or the batter break when you try to roll it.
Adjusting The Mixture
Sometimes, energy ball batter can be too dry or too wet.
This happens especially when you use a protein powder that is highly liquid absorbent and differs from brand to brand.
If the batter is too dry, add water or almond milk to combine the ingredients. If too wet, add more flax meal or oats, and process to incorporate.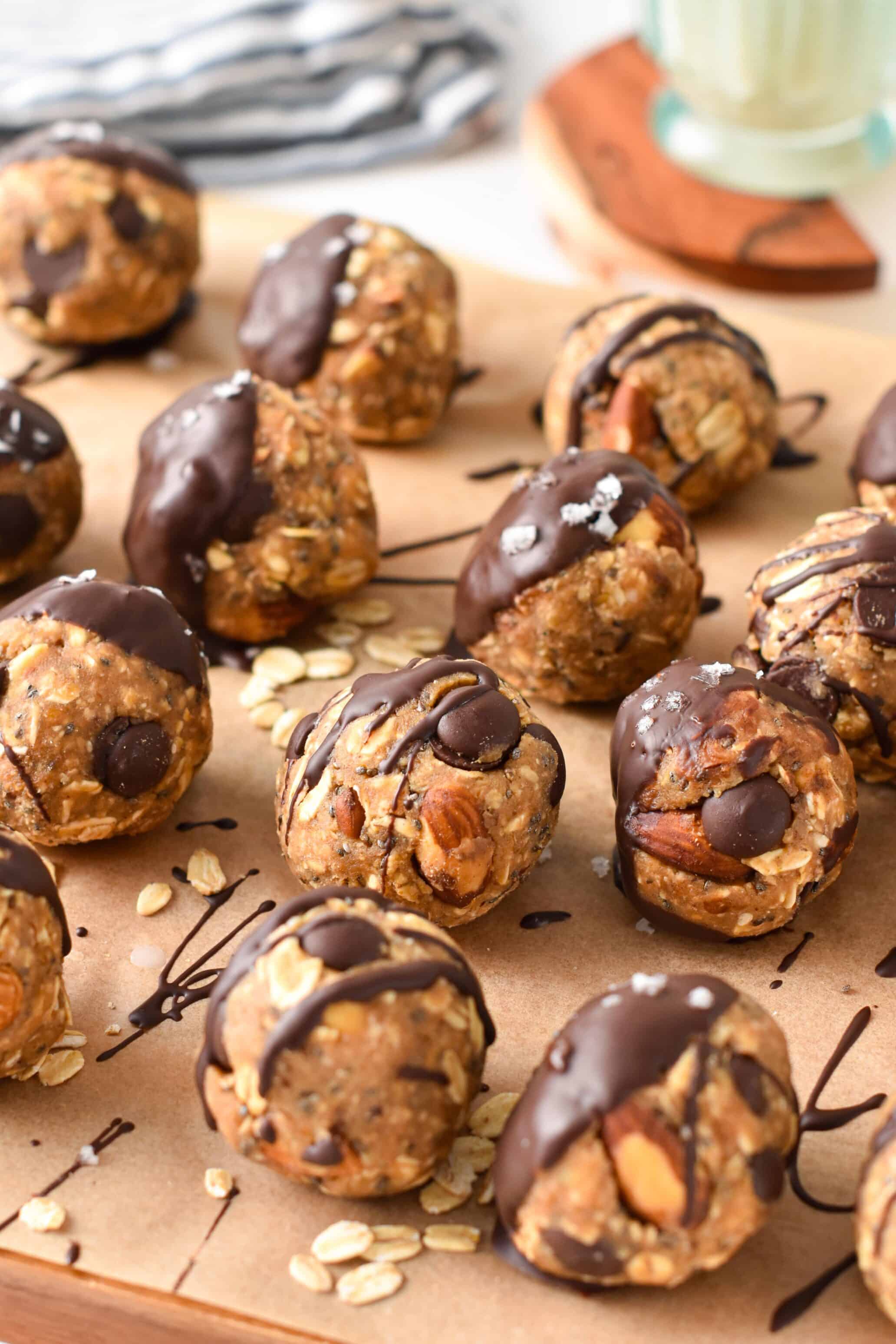 Roll Into Protein Balls
Then, use a small cookie dough scoop to grab some batter. Wet your hand with water or coconut oil to prevent the batter from sticking to your fingers.
Next, roll the batter between your hand into small balls.
Place the protein balls on the prepared plate or baking sheet and repeat until all the batter has been turned into balls.
Place the plate with the protein banana energy balls in the fridge for at least 30 minutes to set.
Decorating
You don't have to decorate your protein balls, but I like to drizzle melted dark chocolate on top for a boost of sweetness or half dip the balls into melted chocolate.
You can also simply roll the balls into desiccated coconut or keep them plain.
Storage Instructions
These banana protein balls are such a healthy snack to meal prep a week of snacks pre- or post-workouts.
Place your protein balls in an airtight container in the refrigerator and store them for up to 6 days.
Or, place the protein balls in zip-lock bags and place the bag in the freezer for up to one month. Thaw in the fridge the day before serving.
Allergy Swaps
If you have food allergies or simply need to replace some of the ingredients in the recipe, try the options below.
Nut-Free – Swap walnuts for seeds like sunflower seeds, pumpkin seeds, or unsweetened shredded coconut. Replace the peanut butter with tahini or sunflower seed butter.
Sugar-Free – You can use Monk fruit syrup instead of maple syrup. Use stevia-sweetened chocolate chips.
Banana-Free – Swap the banana for sweet potato puree, unsweetened apple sauce, or pumpkin puree.
Seed-Free – Skip the chia seeds and ground flaxseeds. Instead add 1/4 cup of almond flour or oat flour.
Frequently Asked questions
Below are my answers to your common questions about this protein balls recipe.
How Often Should You Eat Protein Balls?
You can eat protein balls every day to fix a sweet craving. They are fulling and will avoid over-snacking on empty food.
They bring nutrients and fiber, and if homemade, they are packed with wholesome ingredients that are always good for you.
Can You Eat Too Many Protein Balls?
Yes, like any food overeating of one food is not good for you. Protein balls if eaten in large amount can overdo your daily calories goals and also upset your gut creating bloating.
Protein balls are snacks, not meal replacement and you shouldn't eat more than 1-2 per day.
More Energy Ball Recipes
If you like this recipes, you'll love these other energy ball recipes.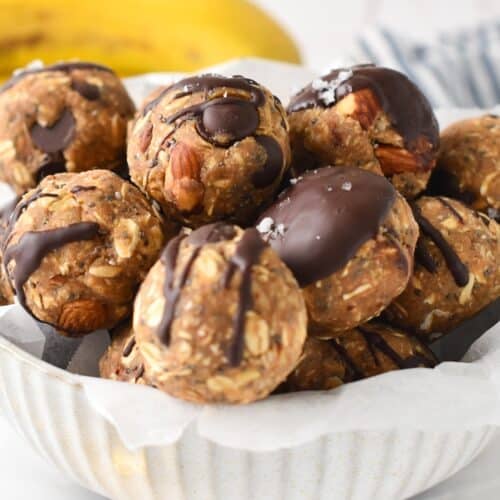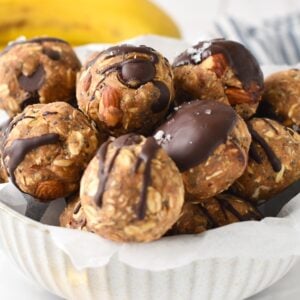 Banana Protein Balls
These Banana Protein Balls are healthy homemade protein snacks to fix your sweet tooth and fill you up with proteins.
Pin
Print
Review
Servings:
21
protein balls
Instructions
Peel the banana, mash it with a fork on a plate, and pack the mashed banana in a measuring cup to measure 1/2 cup. This prevents a batter that is too wet or too dry at the end.

In a food processor, add all the ingredients except the chocolate chips: rolled oats, walnuts, chia seeds, flax meal, mashed banana, peanut butter, maple syrup, cinnamon, vanilla pea protein powder, and salt.

Process on high speed until the batter is sticky and evenly combined. You may have to stop the food processor a few times, scrape down the sides of the bowl with a silicon spatula and repeat. The batter is ready when it's easy to squeeze by hand, and it holds together.

If the dough is too sticky, fold in 1-2 tablespoons of rolled oats. If too dry, add some water, one tablespoon at a time.

Fold in chocolate chips and pulse a few times to incorporate.

Slightly wet your hand with water to prevent the batter from sticking to your hands.

Roll about 1 1/2 tablespoons of batter into a ball, place on a plate, and repeat until no more batter is left.

Place the energy balls in the fridge for at least 1 hour to firm up nicely.
Storage
Refrigerate for up to 7 days in an airtight container or freeze for up to 1 month, and thaw at room temperature 3 hours before eating.
Share on Facebook
Pin Recipe
Nutrition
Serving:
1
ball
|
Calories:
138.4
kcal
|
Carbohydrates:
14.1
g
|
Protein:
5.1
g
|
Fat:
7.5
g
|
Saturated Fat:
1.7
g
|
Polyunsaturated Fat:
2.7
g
|
Monounsaturated Fat:
2.4
g
|
Trans Fat:
0.002
g
|
Cholesterol:
5.4
mg
|
Sodium:
62.6
mg
|
Potassium:
146.2
mg
|
Fiber:
2.3
g
|
Sugar:
5.3
g
|
Vitamin A:
5.8
IU
|
Vitamin B12:
0.01
µg
|
Vitamin C:
0.5
mg
|
Calcium:
40
mg
|
Iron:
1
mg
|
Magnesium:
41.8
mg
|
Phosphorus:
92.6
mg
|
Zinc:
0.7
mg