Low Calorie Protein Balls
These low-calorie Protein Balls are moist and lightly sweet oatmeal protein balls with delicious vanilla peanut butter flavors and only 80 kcal each.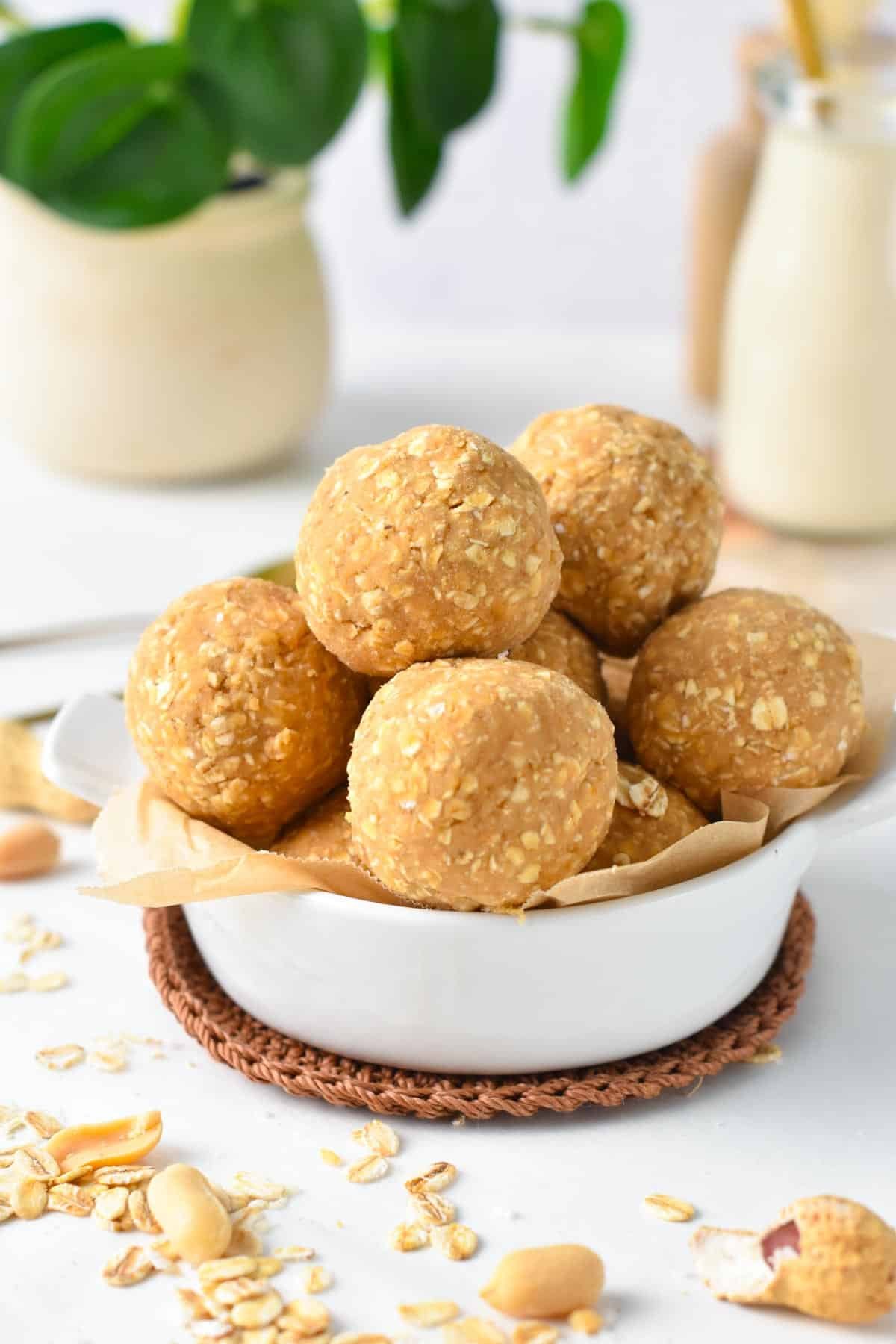 I don't know about you, but I love healthy snacks to fix my sweet cravings, and what I love are small bite-size snacks. Often, my gluten-free protein bars are too big for a snack and my cookie dough protein balls too high in calories on rest days.
I never run out of ideas and here are my favorite protein balls flavors: pumpkin protein balls perfect for fall, vegan protein balls, or coconut chocolate protein balls.
Why You Will Love Low-Calorie Protein Balls
Only 5 ingredients
Ready in 10 minutes
Dairy-free
Refined-sugar free
Gluten-free
Quick and easy – no need for a food processor!
Ingredients For Low-Calorie Protein Balls
If you are after an easy protein ball recipe with just five ingredients, this is the recipe you need. It focused on the basic wholesome ingredients you need in energy balls without adding the ones that increase calories.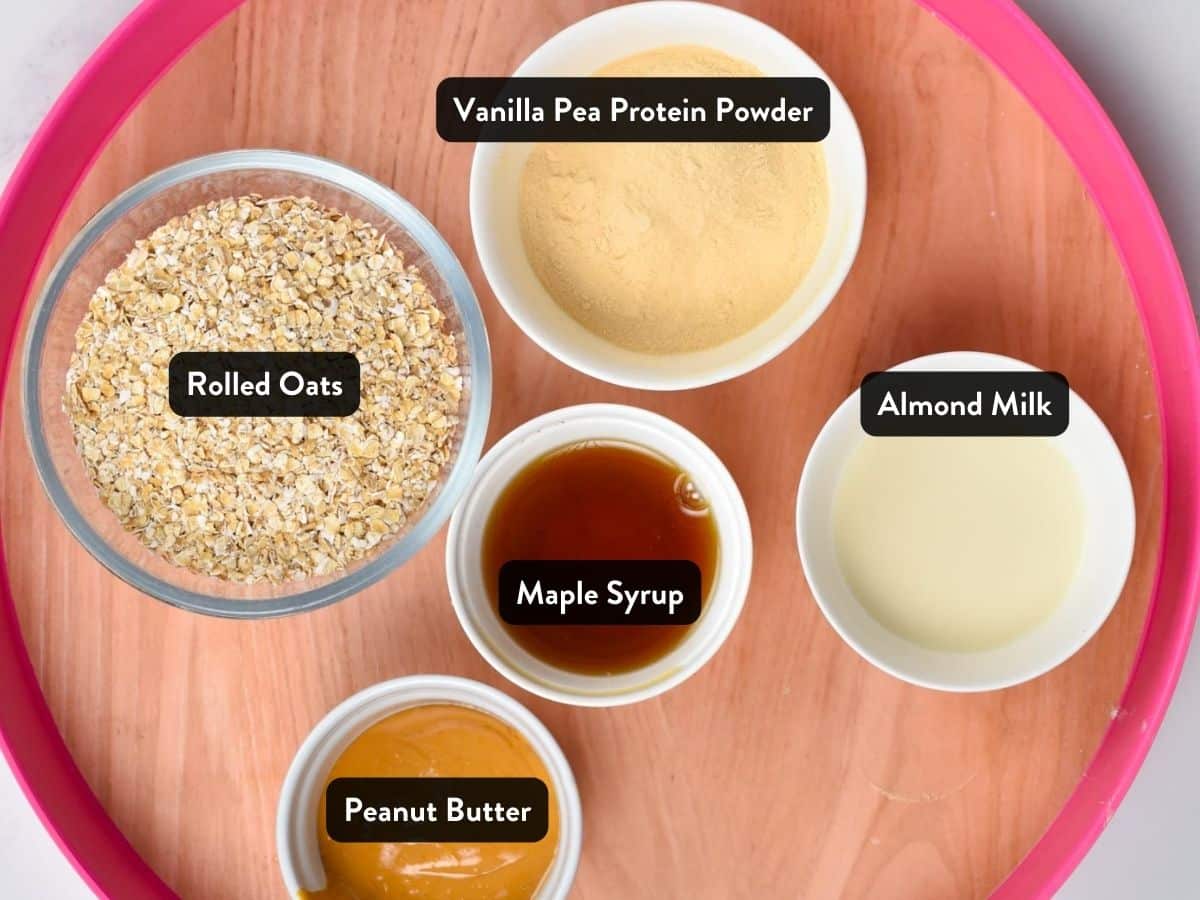 Quick Oats – You can also use rolled oats, but I found the texture of the protein balls very crumbly and dry using old-fashioned oats. Feel free to use gluten-free certified oats if you need them.
Peanut Butter, cashew butter, or almond butter – I prefer using a small amount of natural peanut butter rather than powdered peanut butter, making the protein balls too watery. Plus, peanut butter adds proteins as well. You can also make nut-free protein balls using sunflower seed butter, as seen in my nut-free energy ball recipe.
Vanilla Protein Powder – You can use any vegan protein powder you love, Chocolate-flavored plant-based protein powder is a great idea to make chocolate protein balls. I do love peanut butter protein powder to make peanut butter protein balls.
Maple Syrup – You can also use other liquid sweeteners, like coconut nectar or agave syrup.
Unsweetened Almond Milk – or any plant-based milk you enjoy. This ingredient is used to stick all the ingredients together, it hydrates the protein powder and sticks with the peanut butter, and oats.
How To Make Low Calories Protein Balls
These balls are really easy to make. Here's how.

In a large bowl, stir the peanut butter, unsweetened almond milk, and maple syrup until well combined. Peanut butter splits into small pieces when it's in contact with dairy-free milk, and that's fine. You can add up to one teaspoon of vanilla extract in this step. I don't add any because my protein powder has a strong vanilla taste, and I found the added extract too overpowering.
Now stir in protein powder and quick oats. If the batter is too dry and difficult to bring together, add a bit more almond milk.

Grab a tablespoon of batter roll into a ball and place in an airtight container.
Repeat until you have 12 protein balls, close the container, and keep a week in the fridge.
Low Calories Add-Ons
The best to keep the protein balls low in kilocalories is to limit add-on or use only 1/4 cup focusing on low-fat ingredients. Avoid nuts or chocolate chips and try these instead:
Freeze-dried fruits like strawberries or raspberries
Dried apricots
Dried raisins or cranberries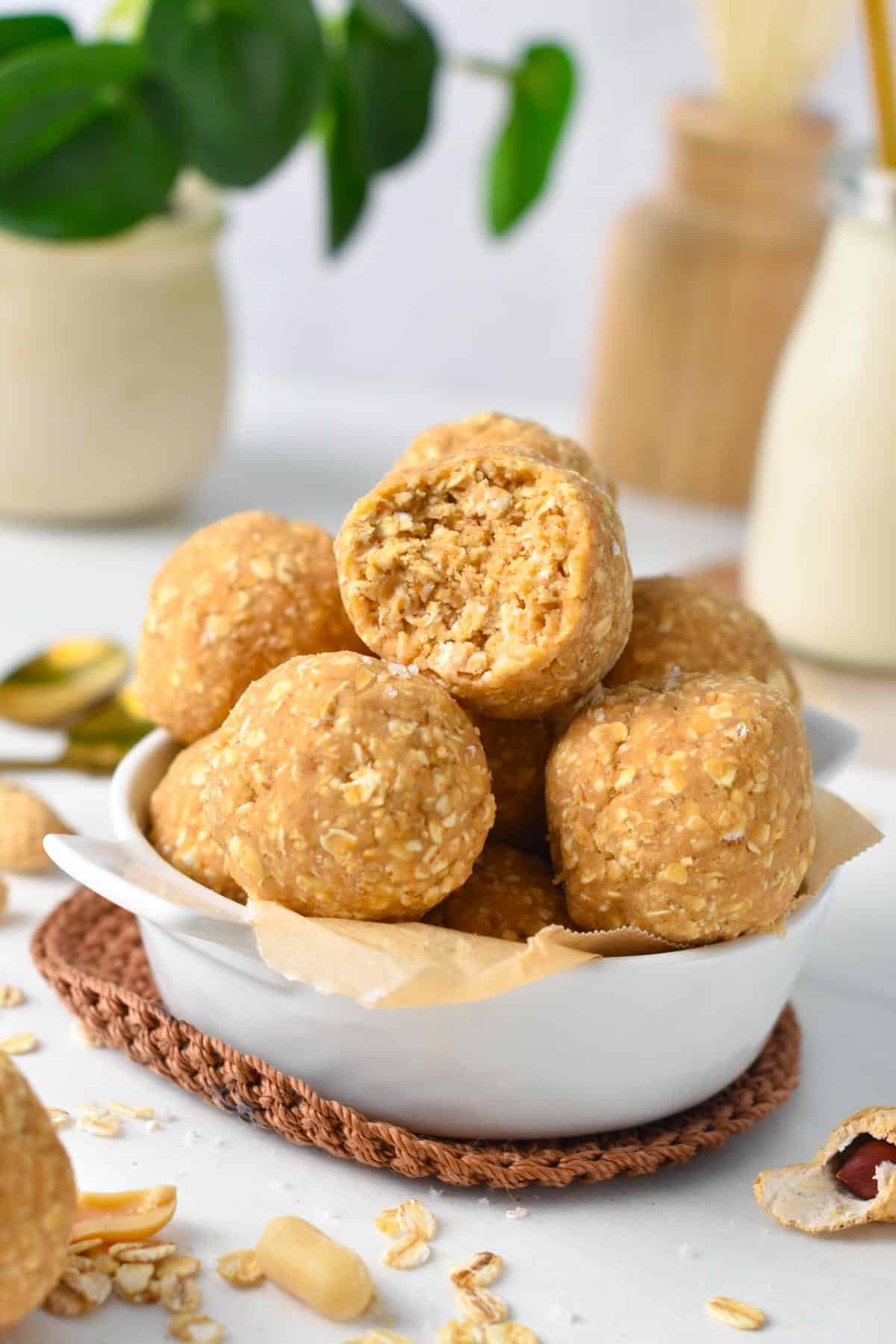 Expert Tips To Decrease Calories In Protein Balls
Cut down the nut butter – Most protein balls recipes contain 1/2 cup of peanut butter. Nut butters are healthy, but high in fat and calories. Reduce the amount or use powdered peanut butter as a swap.
Avoid Add-Ons – To make low-calorie energy balls, the best is to create a plain batch without added chocolate chips or nuts. Both raise the calories very quickly.
Swap chocolate for dried fruits – Chocolate chips are higher in calories per serving than dried apricots, raisins, or cranberries.
Use sugar-free syrup – This doesn't always turn out to be the best because some syrups are high in fiber and make the protein balls crumbly. But it does cut the calories and sugar.
Stay away from added nuts and seeds – Chia seeds, flax seeds, or nuts contain healthy fats and fiber. However, if your goal is to decrease the energy bites calories, it's not a good choice.
Damien's Take On These Protein Balls
These protein balls have a soft, almost pillowy texture. They are not particularly sweet and quite gentle on the stomach.
I tend to prefer the sweetness of the Vegan Protein Balls or Banana Protein Balls, but these low-calorie alternatives are a great solution to the days I have a big breakfast after a workout and still want to take some protein balls!
More Protein Ball Recipes
If you like this recipe, you'll love these: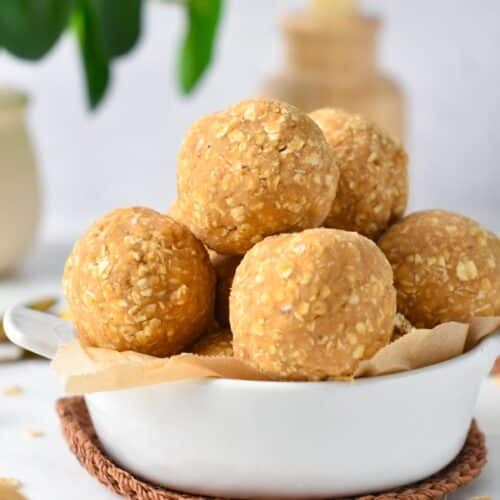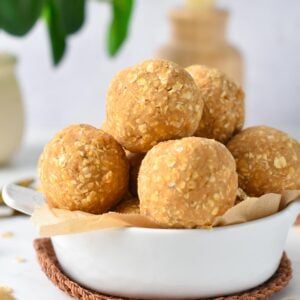 Low Calories Protein Balls
These low-calorie Protein Balls are moist, lightly sweet oatmeal protein balls with delicious vanilla peanut butter flavors and only 80 kcal each.
Pin
Print
Review
Servings: 12 protein balls
Calories: 81.5 kcal
Instructions
In a mixing bowl, stir peanut butter, maple syrup, and almond milk. The peanut butter will split into tiny pieces. That's ok.

Stir in the protein powder and quick oats until the batter sticks together and it's easy to roll into balls.

If it is too dry, add a bit more almond milk to bring it together.

Roll into 12 balls from about one tablespoon of batter each and place them in an airtight container in the fridge for up to 1 week.
Notes
Nut-free – swap peanut butter for sunflower seed butter. Replace almond milk with coconut milk, or soy milk Gluten-free – use gluten-free certified oats Can I freeze protein balls? Yes, you can place the protein balls in the freezer for up to 1 month in a sealed freezer bag.
Share on Facebook
Pin Recipe
Nutrition
Serving: 1ball | Calories: 81.5kcal | Carbohydrates: 9.4g | Protein: 5.2g | Fat: 3.1g | Saturated Fat: 0.6g | Polyunsaturated Fat: 0.8g | Monounsaturated Fat: 1.3g | Cholesterol: 9.2mg | Sodium: 53mg | Potassium: 77.3mg | Fiber: 1.2g | Sugar: 0.8g | Calcium: 38.8mg | Iron: 0.5mg | Magnesium: 36mg | Phosphorus: 71.5mg | Zinc: 0.4mg