This Oreo Overnight Oats recipe is like having dessert for breakfast!
It has all the healthy ingredients from the classic overnight oats recipe with a touch of Oreo cookies, just for fun and flavor.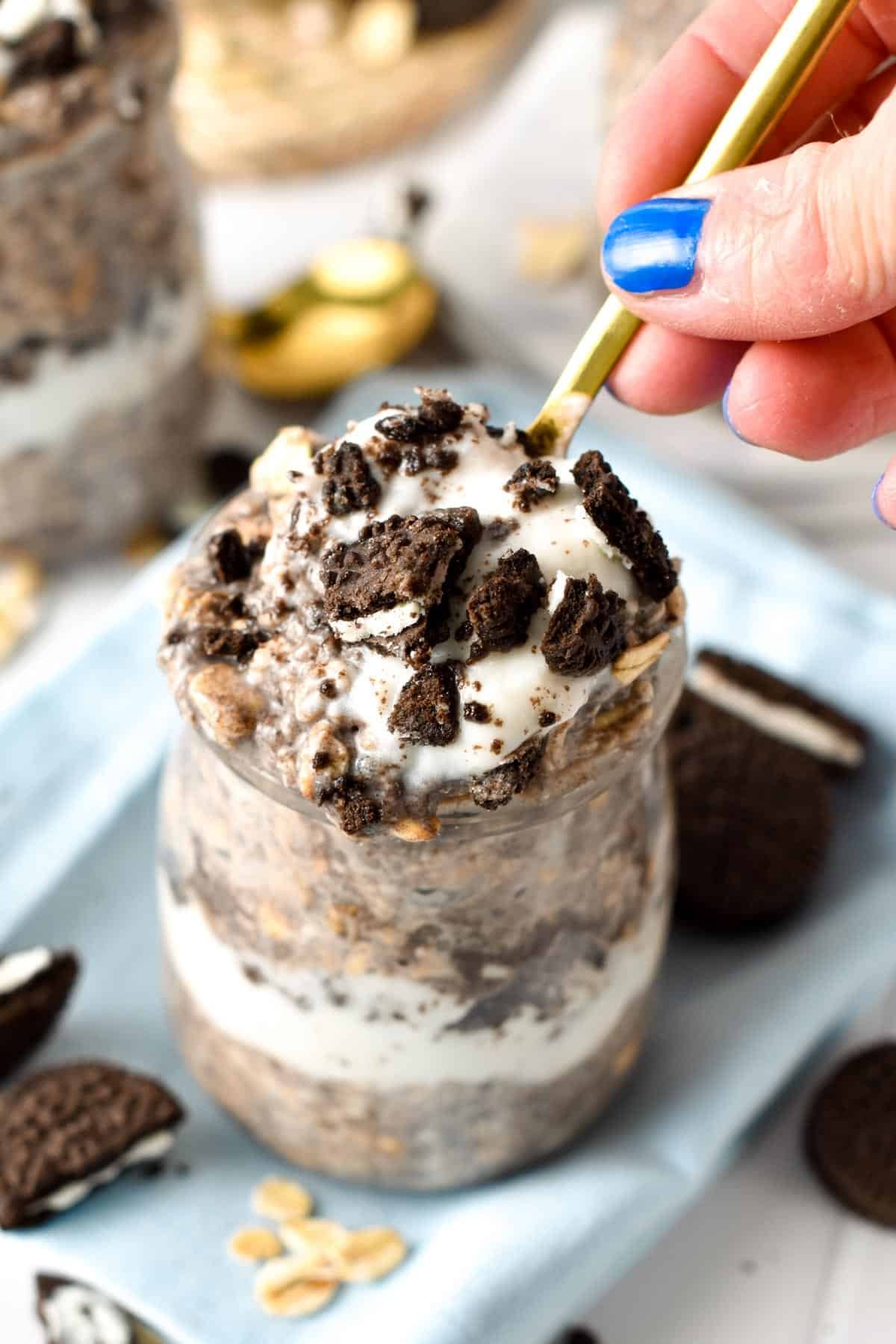 Cookies and cream lovers, these new oat breakfast jars are for you. I know that Oreo cookies are not the healthiest, but to us, balance is the key.
Overnight oat recipes are packed with proteins and fiber from oats and chia seeds. So some days, it doesn't hurt to add chunks of your favorite treats in the mix.
Plus, you don't have to use Oreo cookies, but alternative brands that taste the same and source much healthier ingredients like Back to Nature Cookies, and Classic Crème.
How To Make Oreo Overnight Oats
To make a cookie and cream overnight oats you need barely 10 minutes and it will meal prep to comforting breakfast for busy mornings.
Ingredients
All you need to prepare this recipe the day before your breakfast are a few simple ingredients:
Old-Fashioned Rolled Oats, quick oats, or steel-cut oats.
Chia Seeds
Oat Milk or almond milk
Plant-Based Yogurt of Choice – This adds a cream flavor that pairs well with the cookie and cream flavors.
Vanilla Extract
Maple Syrup
Oreo Cookies or a healthier brand like Back to Nature Cookies are dairy-free, vegan, and non-GMO.
Crushing The Cookies
Before you start, you need to prepare crushed Oreo.
I like to make two textures, the fine crushed Oreos melt in the mixture and sweeten and flavor the batch, while the coarser Oreo pieces add crunchy chunks of cookies to the mix.
First, add two cookies to a mortar or zip-lock bag.
Use a pestle or wooden spoon to crush and tap the cookies until they form a fine crumb. Set aside in a bowl, for the last two cookies, break them between your fingertips into larger pieces.
I like making two different cookie crumbs sizes because it adds a better flavor and texture to the oat mixture. But feel free to crush all the cookies into a powder if preferred.
Combining Ingredients
Next, in a large bowl or container, stir the oats, chia seeds, and cookie pieces together.
Finally, add in the milk of choice, yogurt you love, vanilla extract, and maple syrup. Stir until everything comes together into a consistent batter.
Close the lid or cover the bowl with plastic wrap. Pop it in the fridge overnight or for at least 6 hours for a thick creamy texture.
Add-Ons
I recommend trying many flavors and adding some of the optional ingredients to the mix. For example:
Two teaspoons of unsweetened cocoa powder
One tablespoon of chocolate protein powder or cookie and cream protein powder
One tablespoon of peanut butter or almond butter
1/4 cup of mini chocolate chips
Serving Cookie And Cream Overnight Oats
The next day, divide the batch into 2 bowls or glass mason jars and add the mixture with layers of yogurts and extra crumbled cookies between.
Serve with more cookie crumbs on top.
Storage Instructions
Store leftover Oreo overnight oats in a sealed jar after placing a lid or piece of foil on top.
Keep them in the fridge for up to 3 days or freeze them in an airtight container for up to one month.
Thaw in the fridge before serving.
Allergy Swaps
Below I listed some ingredient substitutions if you need them.
Gluten-Free – Use gluten-free certified oats and gluten-free Oreo cookie range.
Chia-Seed-Free – Skip the chia seeds and add 1/4 cup more oats for a similar texture. Another option is to use ground flaxseeds.
Milk Options – Any plant-based milk works well with this recipe. I found the flavor better and creamier using soy milk or coconut milk if you enjoy coconut flavor.
Nut-Free – Use a nut-free plant-based milk.
Sugar-Free – You can skip the sweetener and use sugar-free Oreo-like cookies from the store to cut the carbohydrates.
Frequently Asked Questions
Here are my answers to your most frequent questions about this oat breakfast recipe.
Are Oreos Overrated?
Oreos are tasty and addictive cookies with a lovely chocolate crunchy biscuit and filled with a cream vanilla flavored cream.
They are high in sugar and fat and as a result, they taste good!
It's hard to not fall in love with them and even if they are not the healthiest, they are a great treat to flavor recipes or indulge on some days.
Are Oreos Vegan?
Yes, Oreos are accidentally vegan, made without eggs, dairy, or animal-sourced product.
Are Oreos Okay During Pregnancy?
If the question is about safety, yes, you can safely eat an Oreo cookie while pregnant.
Oreos don't contain any unsafe ingredients.
But, they are clearly not the choice you should make to fix a sweet craving during pregnancy.
During pregnancy, you should focus on healthy, nutrient-dense food.
Choose instead refined sugar-free cookies sweetened with dates, or maple syrup.
Avoid processed food to bring a maximum of vitamins, fiber, and proteins to your body while avoiding unhealthy fats and added sugar.
More Overnight Oats Recipes
If you like overnight oats and oatmeal recipes, we've got you covered with these other healthy breakfast ideas: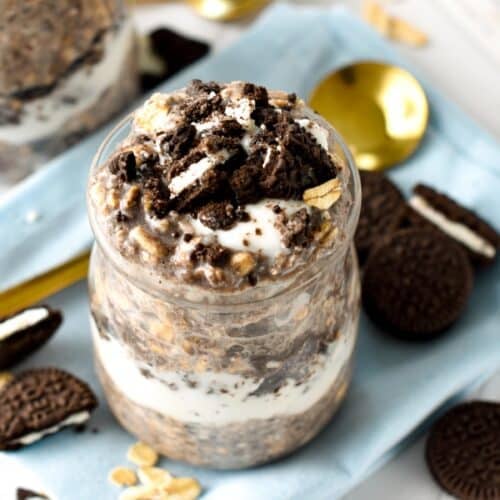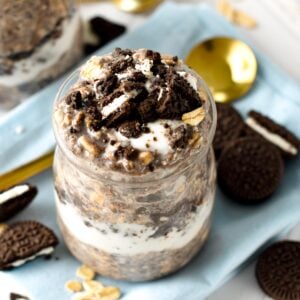 Oreo Overnight Oats
This Oreo Overnight Oats recipe is like having dessert for breakfast! It has all the healthy ingredients from the classic overnight oats recipe with a touch of Oreo cookies, just for fun and flavor.
Pin
Print
Review
Servings: 2 servings
Calories: 393.7 kcal
Instructions
Place two Oreo cookies in a mortar bowl or zip-lock bag. Tap and press with a pestle or wooden spoon until you form crushed Oreos. It should look like fine crumbs. Set aside in a large bowl.

In the same bowl, crush the remaining two Oreos with your finger tips to form larger chunks of cookies.

Add them to the bowl oats, chia seeds and stir to evenly combine the dry ingredients.

Add in milk, yogurt, ample syrup, and vanilla extract and stir to combine.

Close the bowl with a lid or wrap it tightly with foil or plastic wrap. Refrigerate overnight or at least 6 hours.
Serving
The next day, serve in two jars, making layers of plant-based yogurt/overnight oats mixture, and top them up with a pinch of extra Oreo crumb you like.
Storage
Store leftovers in the fridge for three days in a sealed container.
Share on Facebook
Pin Recipe
Nutrition
Serving: 1serving | Calories: 393.7kcal | Carbohydrates: 59.8g | Protein: 10.1g | Fat: 13.3g | Saturated Fat: 2.3g | Polyunsaturated Fat: 5.6g | Monounsaturated Fat: 4.2g | Trans Fat: 0.03g | Sodium: 305.3mg | Potassium: 275.6mg | Fiber: 9.5g | Sugar: 17.9g | Vitamin A: 7IU | Vitamin C: 3.9mg | Vitamin D: 0.4µg | Calcium: 337.8mg | Iron: 5.6mg | Magnesium: 109.6mg | Phosphorus: 291.6mg | Zinc: 2.3mg