This chocolate oatmeal recipe is a healthy chocolate breakfast recipe with a creamy oatmeal texture and delicious chocolate flavor.
If you love dessert for breakfast, this is the oatmeal recipe you need. Plus, this recipe is also dairy-free and vegan-approved.
My kids love oatmeal recipes for breakfast, and this chocolate oatmeal recipe is one of their favorites.
What's better than adding cocoa powder and chocolate chips to your oatmeal after all?
This is how I make chocolate oatmeal and how you can meal prep oatmeal.
What Is Chocolate Oatmeal?
Chocolate oatmeal is a creamy oatmeal recipe with chocolate flavor, flavored with cocoa powder and chocolate chips.
You can prepare your oatmeal mix, so it's ready to be cooked in the morning in just 5 minutes.
This is a way to give kids self-confidence in the kitchen in the morning. They can't fail this oatmeal recipe, and they are so proud to make their own breakfast that is more than just cereals and milk in a bowl.
How To Make Chocolate Oatmeal
It's very easy to add a little kick to your classic oatmeal recipe and make a chocolate oats breakfast bowl.
Ingredients
All you need to make this recipe are:
Rolled Oats – You can use either old-fashioned rolled oats or quick oats if you prefer a finer texture. I don't recommend steel-cut oats.
Cocoa Powder – Opt for unsweetened cocoa powder to avoid unnecessary sugar.
Dark Chocolate Chips – You can also use sugar-free chocolate chips sweetened with natural sugar-free sweeteners to cut down the sugar in your breakfast. Learn how to find vegan dark chocolate.
Cinnamon
Plant-Based Milk – Use almond milk, oat milk, or coconut milk. Any non-dairy milk will work.
Water
Vanilla Extract – It's optional but adds a delicious flavor.
Maple Syrup or brown sugar – Add only if the recipe needs a little extra sweetness. I usually don't add much because the chocolate chips and toppings make the oatmeal very sweet already.
Preparation
The best approach is to meal prep the dry ingredients in small glass mason jars.
You can therefore make three or four jars for a week. Your kids can then grab and cook their own oatmeal without help.
You can add the oats, cocoa powder, chocolate chips, and cinnamon in sealed glass jars and keep them in the pantry for 3 weeks.
Cooking Oatmeal
In the morning, add the dry ingredients to a saucepan and top with cold water and almond milk.
Bring the saucepan over medium heat, and bring the mixture to a light boil.
Cook oats for 4 to 5 minutes, stirring occasionally.
The mixture takes a little bit of time to come together, as it goes the liquid gets absorbed by the oat fiber and the texture becomes creamier and creamier.
When almost no more liquid is left in the pan, stop heat, and cover the saucepan with a lid.
Rest for a few minutes in the saucepan until it thickens.
You can also work the other way, warm the milk and water, then add the dry ingredients into the warm ingredients and cook.
I opt for option 1 if the kids make their own oatmeal because it's safer.
Serving Oatmeal
Remove the lid from the saucepan and stir in the vanilla extract and extra sweetener, if it is needed.
Toppings
Pour the warm creamy chocolate porridge mixture into a shallow breakfast bowl.
Top up with strawberries, a dollop of coconut yogurt, and a drizzle of peanut butter. To add some crunchiness, you can add:
Peanuts
Almonds
Seeds
More Chocolate Chips
A pinch of sea salt enhances the chocolate flavor of the recipe.
Storage Instructions
You can store the dry ingredients uncooked in a sealed glass mason jar.
However, the cooked oatmeal won't taste as creamy and good if stored in the fridge.
I recommend cooking oatmeal just before serving and never cooking the day before or it gets hard and dry.
Add-Ons
You can level up this chocolate oatmeal recipe by adding some extra ingredients into the mixture just after cooking.
For example, you can stir in 1 or 2 tablespoons of the below ingredients:
Peanut Butter for a peanut butter chocolate oatmeal flavor.
Sunflower Seed Butter
Almond Butter
Yogurt for creaminess
Peanut Powder
Protein Powder
Allergy Swaps
Below are some options to make this recipe if you have some food allergies.
Cocoa Allergy – You can use carob Chocolate instead of chocolate chips and swap cocoa powder for carob powder.
Sugar-Free – Use a sugar-free chocolate chip brand and sugar-free sweeteners like erythritol or monk fruit.
Gluten-Free – Some oats brands are certified gluten-free.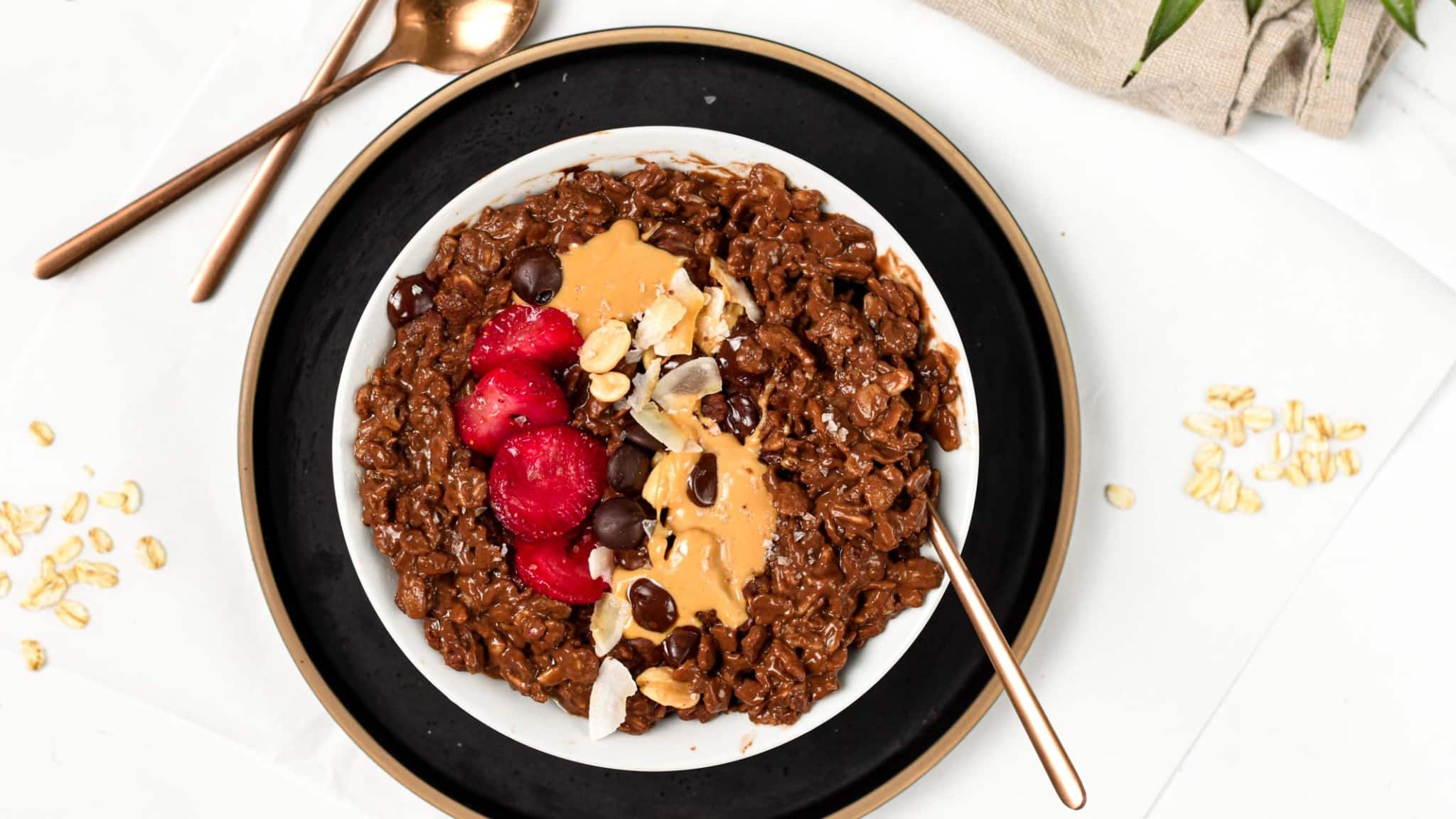 Frequently Asked Questions
Below are the most frequent questions answered about this easy chocolate oatmeal recipe.
Can I Cook The Recipe In The Microwave?
First, pick a microwave-safe bowl, make sure it's a tall bowl because oatmeal cooked in the microwave often overflows.
Next, stir in the dry ingredients with the liquid ingredients – except vanilla.
Microwave in 1-minute bursts, stirring between each.
Stop when the texture is getting thick and creamy. It can take up to 3 minutes.
Set aside in the bowl for 3 to 4 minutes to cool down before serving. Stir in the vanilla and sweetener just after microwaving.
Can I Add Protein Powder?
I would recommend using my protein oatmeal recipe, it is made with protein powder, and the ratio of liquid to dry ingredients is perfect for it.
However, if you do want to use this recipe with protein powder, use no more than two tablespoons, or the texture will be very thick and dry.
Then, you will need to add more milk or water to achieve a similar creaminess.
How Can I Add Protein To My Oatmeal?
You can add high-protein toppings, like peanut butter or rehydrated peanut butter powder, or a dollop of high-protein yogurt like soy yogurt.
Some plant-based seeds are high in protein and add a lovely crunchy texture to an oatmeal bowl. This includes hemp hearts, chia seeds, or flax seeds.
More Healthy Oatmeal Recipes
I have a passion for oatmeal recipes because they are quick and easy breakfasts that the family loves. Below are some more oatmeal recipes for you to try:
Have you made this chocolate oatmeal? Share a comment or review below.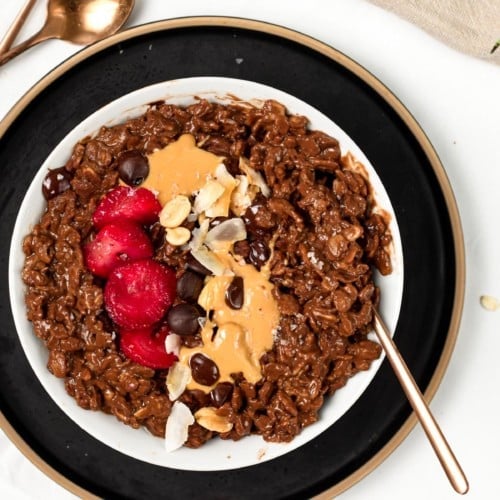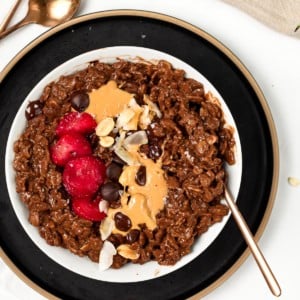 Chocolate Oatmeal
This chocolate oatmeal recipe is a healthy chocolate breakfast recipe with a creamy oatmeal texture and delicious chocolate flavor. If you love dessert for breakfast, this is the oatmeal recipe you need. Plus, this recipe is also dairy-free and vegan-approved.
Pin
Print
Review
Servings: 1 serving
Calories: 273.3 kcal
Instructions
Stove method
In a small mixing bowl, whisk, rolled oats, cocoa powder, chocolate chips, cinnamon, and salt if used. Set aside.

In a small saucepan, add almond milk and cold water and bring to a light boil.

Reduce to low heat and stir in the dry ingredients mixed before. Cook, stirring occasionally until all the liquid is almost absorbed by the oats and the texture of the oats softens.

Remove from the heat and stir in vanilla, and maple syrup if desired. Cover and set aside for a few minutes until creamy and thick.

Serve with chocolate chips, strawberries, a drizzle of peanut butter, or coconut yogurt and coconut flakes.
Microwave option
In a microwave-safe bowl, stir quick oat (quick oats cook better in the microwave than rolled oats), cocoa powder, chocolate chips, cinnamon, and salt if used. Then, stir in liquid ingredients: almond milk and water.

Microwave in bursts of 1 minute, stir and check the consistency. Stop when the texture is creamy, and the liquid has evaporated. It generally takes the same time as in a saucepan or 2-3 minutes.

Set aside a few minutes and stir maple syrup before serving to boost sweetness if desired.
Share on Facebook
Pin Recipe
Nutrition
Serving: 1bowl | Calories: 273.3kcal | Carbohydrates: 38.1g | Protein: 8.2g | Fat: 11.2g | Saturated Fat: 4.5g | Polyunsaturated Fat: 1.9g | Monounsaturated Fat: 3.7g | Cholesterol: 0.5mg | Sodium: 169mg | Potassium: 332mg | Fiber: 8.2g | Sugar: 4.2g | Vitamin A: 7.3IU | Vitamin B12: 0.04µg | Vitamin C: 0.02mg | Calcium: 193.4mg | Iron: 4.2mg | Magnesium: 115.3mg | Phosphorus: 249.3mg | Zinc: 2.3mg