Vegan Baked Oats (12g Protein)
These Vegan Baked Oats are an easy healthy breakfast perfect for oatmeal lovers looking for a quick breakfast that taste like cake.
I can't stop baking with oats lately because it's such an easy vegan protein source that is also cheap and everyone loves it.
Our kids could eat some of my vegan baked oatmeals every day or my overnight oats, but today, I am sharing a different way to serve oats for breakfast.
This blended oats recipe is the new TikTok trend and is making the rounds in our house too.
What Are Baked Oats?
Baked oats, also known as blended oats, is a healthy breakfast that has been viral on Tiktok as it's so simple to make by blending eggs, oats, bananas, and milk together.
Are Baked Oats Healthy?
Yes, baked oats are as healthy as your regular oatmeal it contains fiber and proteins from oats, and it's usually sweetened with banana and an unrefined liquid sweetener like maple syrup.
Are Classic Baked Oats Vegan?
No, classic baked oats contain eggs so to make them vegan, the recipe has to be adjusted using some nut butter or flaxseed meal.
Let me share with you how I make delicious egg-free baked oats to feed the family in the morning with a healthy cake-like breakfast.
And you don't even need to make a flax egg!
How To Make Vegan Baked Oats
You can find many recipes to make baked oats without eggs. I tested a few versions, and I came to the conclusion that you can't make single-serve vegan baked oats without compromising on texture.
Single-serve baked oats without eggs result in a thicker batter, so much that it won't blend. As a result, baked oats are often packed and dense.
These vegan baked oats serve two breakfasts which is great for meal prep.
You can also freeze or refrigerate leftovers for the rest of your week. More on that below.
Ingredients
Old-Fashioned Rolled Oats – You can use rolled oats or quick oats. Use a certified gluten-free oat brand if you have any intolerance to gluten, or try my quinoa breakfast bake recipe for a 100% gluten-free, healthy breakfast to make ahead. Don't use steel-cut oats as they make a coarse texture.
Bananas – Most banana ripeness levels work in this recipe, from yellow to very ripe. All it changes is the sweetness of the oats.
Almond Milk – I prefer to use unsweetened almond milk, but you can use any plant-based non-dairy milk you like, such as coconut milk, cashew milk, or oat milk.
Peanut Butter – Peanut butter is the cheapest option, but you can also use almond butter to reduce saturated fat or sunflower seed butter for a nut-free alternative.
Apple Cider Vinegar – For a touch of sourness.
Baking Powder and Baking Soda
Vanilla Extract – To add some delicious flavors.
Cinnamon
Chia Seed – This is optional, the recipe works without it, but you can add chia seeds or hemp seeds to boost the proteins.
Blending
Bring all the ingredients together in a high-speed blender and blend on speed 8 of your Vitamix until smooth.
Let the batter rest in the jug for five minutes.
Meanwhile, grease two large oven-proof ramekins with coconut oil.
Feel free to bake the recipe into a larger baking dish or four smaller ramekins for kid-size servings, as seen in my pictures below.
Pour the batter to fill each ramekin up to half their level. Don't over-fill them, so they bake faster and rise.
Sprinkle some chocolate chips or berries on top if you like.
Baking
Bake the vegan baked oats in the center rack of the oven for 25 to 30 minutes.
The time varies depending on the texture you are after.
As you may have seen on Tiktok, some baked oats are half cooked and runny in the middle, which is safe to eat, but you can bake them longer to taste more like a muffin or cake.
Of course, the size of your baking dish will impact the baking time as well. So if you divide the batter into smaller ramekins or use a wider baking dish, expect the recipe to bake faster.
Cool the baked oats down for a few minutes and dig in!
Serving Baked Oats
You can serve baked oats plain or add some delicious toppings like:
Drizzling your favorite nut butter like peanut butter or almond butter
Chocolate Chips
A dollop of yogurt
Jam
Filling Baked Oats
One of the most popular trends is to add a generous tablespoon of nut butter, jam, or chocolate chips to the center of your baked oats.
To do so, fill the ramekin with half the amount of batter, add a large tablespoon of jam or peanut butter, then add the remaining batter on the top.
Bake and dig the spoon in the center of the ramekin first to release the juicy, gooey texture.
Storage Instructions
As mentioned above, this recipe serves two baked oats depending on how big you like yours.
You can store leftovers in a mixing bowl or directly in the oven-safe ramekin. Seal the top with plastic wrap and pop it in the fridge for up to 2 days.
I don't recommend freezing them, but if you made way too much batter, you can probably keep it in an airtight container for a couple fo months in the freezer.
Bake in the mornings or air fry just before breakfast.
Allergy Swaps
Below I listed some options to make this recipe compatible with common food allergies:
Gluten-Free – Use a gluten-free certified oat brand or use quinoa flakes. Note that quinoa flakes can be bitter. You may want to roast them before using, to remove their bitterness. Also, make sure your baking powder is gluten-free.
Nut-Free – You can swap the peanut butter for sunflower seed butter or tahini. Sunflower seed butter may turn your oats a bit greenish! It's still tasty, just green.
Banana-Free – Swap the banana for 1/3 cup of unsweetened apple sauce or dairy-free yogurt.
Vinegar-Free – Swap the apple cider vinegar for lemon juice.
Frequently Asked Questions
Below are your most frequent questions about this vegan baked oats recipe.
Can I Make Baked Oats Without Bananas?
Absolutely, you can swap the bananas for vegan yogurt or apple sauce. This recipe uses a medium banana which is about 1/3 cup.
Can I Air Fry Baked Oats?
These baked oats can be made in an air fryer. Set the air fryer to 350°F (180°C).
Place the baked oats in the air fryer basket and air fry for 12 to 15 minutes.
Can I Add Cocoa Powder To Turn This Into Chocolate Baked Oats?
Yes, you can make chocolate baked by adding 1 or 2 teaspoons of unsweetened cocoa powder in the recipe and chocolate chips.
What's The Difference Between Vegan Baked Oatmeal And Vegan Baked Oats?
Both recipes use the same base ingredients, but a vegan baked oatmeal recipe is a large dish made of whole old-fashioned rolled oats.
Vegan baked oats is a small-serving breakfast made from blended oats.
As a result, baked oatmeal is moist, with chunky pieces of oats, and serves a week of breakfast.
Baked oats have a smooth batter and texture closer to muffins or cake. They only serve 1 or 2 days of breakfast in small ramekins.
Can I Bake This Oatmeal In The Microwave?
While it might work, it would take a long time. If you want a microwave-friendly oat breakfast, try my Vegan Peanut Butter Mug Cake.
More Oatmeal Recipes
Below are some more recipes with oats to start your day healthy.
Did you try this vegan baked oats recipe? Share a comment or review below to connect with me.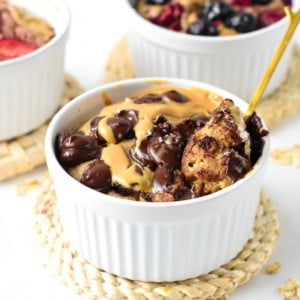 Vegan Baked Oats
These Vegan Baked Oats are an easy healthy breakfast perfect for oatmeal lovers looking for a quick breakfast that tastes like cake.
Pin
Print
Review
Servings: 2 servings
Calories: 340.5 kcal
Instructions
In a blender add all the ingredients: oat, baking powder, baking soda, banana, apple cider vinegar, peanut butter, almond milk, cinnamon, and vanilla extract.

Blend all the ingredients together until smooth. Add the chia seeds if you like for a protein and fiber boost. The recipe works without!

Stop the blender and use a silicone spatula to stir in chocolate chips if desired. Let the batter rest for 5 minutes.

Grease 2 oven-safe ramekins with coconut oil and divide the batter evenly into each ramekin. Optional, fill them halfway, add a teaspoon of jam and a teaspoon of peanut butter in the center and top them up with the remaining batter.

Bake for 20-30 minutes, timing depends on how you like to serve baked oats. For a runny, half-cooked center, stop baking earlier.
Serving Suggestion
Serve with a drizzle of peanut butter and extra chocolate chips.
Share on Facebook
Pin Recipe
Nutrition
Serving: 1serving | Calories: 340.5kcal | Carbohydrates: 48.1g | Protein: 11.8g | Fat: 12.5g | Saturated Fat: 2.3g | Polyunsaturated Fat: 3.8g | Monounsaturated Fat: 5.2g | Sodium: 457.7mg | Potassium: 558.2mg | Fiber: 7g | Sugar: 11.3g | Vitamin A: 329.8IU | Vitamin B12: 0.8µg | Vitamin C: 10.5mg | Vitamin D: 0.9µg | Calcium: 258.2mg | Iron: 2.8mg | Magnesium: 99.9mg | Phosphorus: 277.7mg | Zinc: 2.2mg