Healthy Mug Cake (106kcal, No Sugar)
This Healthy Mug Cake is a single-serve chocolate cake with only 106 kcal per serve for a quick and easy snack.
Plus, this delicious healthy chocolate mug cake is also 100% egg-free, dairy-free and sugar-free.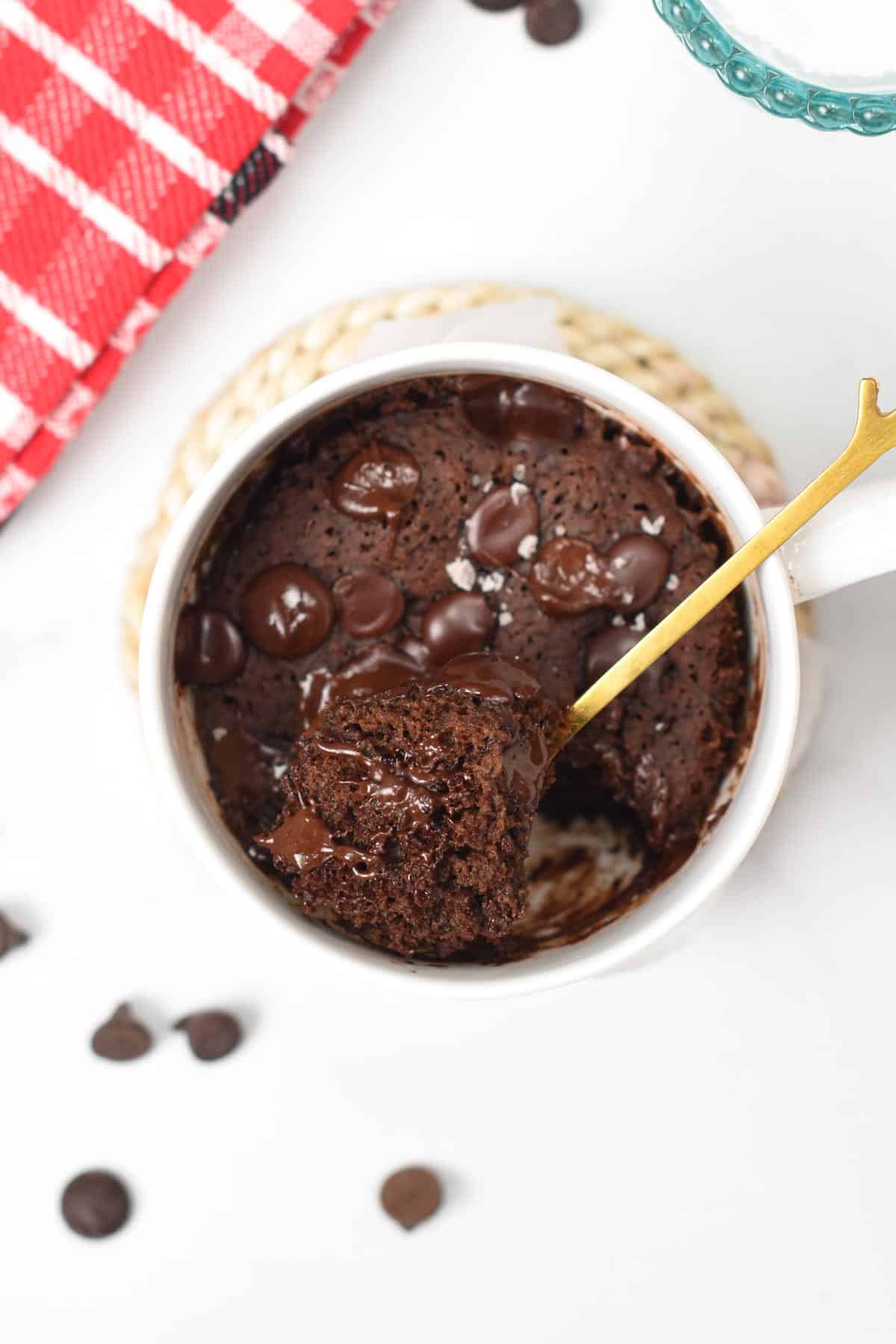 What's A Healthy Mug Cake?
A healthy mug cakes are the low-calorie treats version of your classic chocolate mug cake.
It's a quick snack or dessert that can be made in under 5 minutes with a handful of wholesome ingredients.
How To Make A Healthy Mug Cake
A healthy mug cake is a better-for-you mug cake recipe, a guilt-free snack to fix your sweet tooth any time of the day in 2 minutes.
Healthy means different things to each person. We call this mug cake healthy because it contains:
Fewer Calories
Less Fat
No Sugar
No Dairy
Less Saturated Fat – no eggs or butter.
To make a healthy chocolate mug cake in less than 2 minutes, you need some very simple pantry ingredients.
Ingredients
All-Purpose Flour – you can also use white spelt flour, oat flour, or white whole wheat flour.
Cocoa Powder – Use unsweetened cocoa powder to keep the unnecessary sugar away.
Sugar-Free Crystal Sweetener – Some crystal sugar-free sweeteners are natural and contain no calories or no carbs. They don't raise your blood sugar level and won't trigger sugar cravings after eating them as artificial sugar-free sweeteners do. The best options are allulose, erythritol, or Monk fruit erythritol blend.
Melted Coconut Oil or light olive oil for a boost of healthy omega-3 fatty acids.
Vanilla Extract
Baking Powder
Sugar-Free Chocolate Chips – You can use regular sugar-free chocolate chips or mini chocolate chips.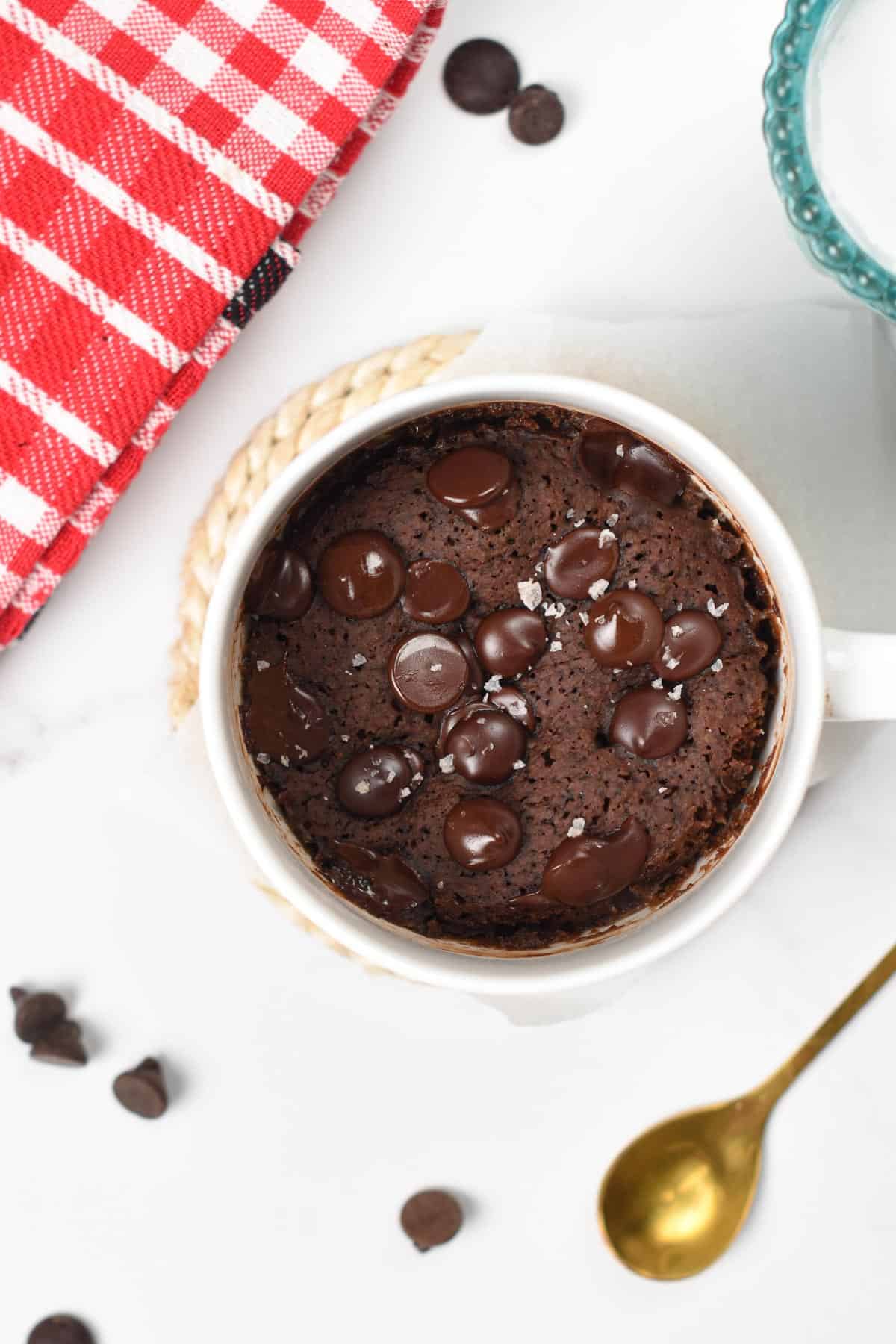 Preparation
You can prepare the batter directly in the microwave-safe coffee mug or in a shallow bowl.
I found it easier to whisk everything in a shallow bowl.
First, whisk dry ingredients together using a fork or a small whisk: all-purpose, unsweetened cocoa powder, and sweetener.
Next, stir in liquid ingredients: almond milk, melted coconut oil, and vanilla extract.
The mug cake batter should be runny and smooth with no flour lumps.
Stir in most of the dark chocolate chips – save a few to add on top of the mug cake.
Pour the batter into a tall 12 oz mug cake that is microwave safe, and add the remaining chocolate chips on top of the mug cake batter.
Microwave for 60 seconds or until the cake rise to its maximum height.
Cool down for 1 minute in the mug and taste. If too moist or uncooked, it's fine to microwave the mug cake again until set in the center.
Return it to the microwave in 10-second bursts, and insert a toothpick in the center to check if the cake is cooked through.
Healthy Mug Cake Toppings
Of course, this healthy mug cake is delicious plain or few some of the healthy cake toppings below:
Fresh or frozen berries like strawberries or raspberries.
A dollop of yogurt you love – dairy-free Greek-style yogurt is a great protein addition.
A pinch of sea salt enhances the chocolate flavor.
A drizzle of low-fat peanut butter or almond butter.
A dust of cinnamon and crushed walnuts.
Other toppings that taste amazing but are a little bit higher in calories are fat are:
Allergy Swaps
Below I listed some options to make this recipe suitable for anyone with food allergies.
Nut-Free – You can swap the almond milk for any nut-free milk you like. Oat milk, coconut milk, or soy milk work great.
Gluten-Free – You can use the same amount of all-purpose gluten-free flour blend as long as the blend mentions a 1:1 ratio substitution to all-purpose flour. If not, you may have a gummier mug cake texture.
Sugar-Free – As recommended in the recipe, use sugar-free natural sweeteners called sugar alcohol like allulose or erythritol and sugar-free chocolate chips. However, if you prefer to use stevia drops, you can add 1/4 teaspoon of stevia drops to the batter instead of the crystal sweetener.
Oil-Free – You can replace the oil with the same amount of mashed banana or unsweetened apple sauce, or even yogurt of choice.
Making It Ahead
You can make the mug cake batter up to 24 hours in advance and store it in the fridge in the mug or an airtight container.
If you store it in the coffee mug, wrap the top with plastic wrap to prevent the batter from drying out.
Microwave it straight out of the fridge – it may take 10-20 seconds longer to bake as the batter will be very cold.
You can't store baked microwave cakes for a very long time, or their texture gets dry and chewy. Mug cakes baked in the microwave are better within 30 minutes after cooking.
Frequently Asked Questions
Below are some answers to your most frequent questions about this healthy mug cake recipe.
Can I Bake The Mug Cake In The Oven?
Yes, you can. Make sure you pour the batter into a small oven-safe ramekin.
Bake in an oven preheated to 350°F (180°C) on the center rack for about 15 minutes or until a pick inserted in the center of the mug cake comes out clean.
Can I Use Almond Flour Or Coconut Flour?
Unfortunately, you can't use low-carb flour, or the mug cake batter won't hold together.
Try my protein mug cake recipe for a coconut flour mug cake recipe.
Can I Add Protein To The Recipe?
I don't recommend adding protein powder into the cake batter itself because protein powder and all-purpose flour make cakes very dense.
However, you can serve the cake with a dollop of protein powder peanut butter or protein yogurt or even use high-protein milk in the recipe.
Can I Use Non-Sugar-Free Sweeteners?
Yes, you can use coconut sugar or unrefined cane sugar as a swap for sugar-free crystal sweeteners.
Maple syrup also works, but the cake texture is less airy, and the batter is more packed with liquid sweeteners – similar to a mug brownie.
More Mug Cake Recipes
Below I listed more mug cake recipes for you to try.
Have you made this healthy chocolate mug cake recipe? Share a comment or review below.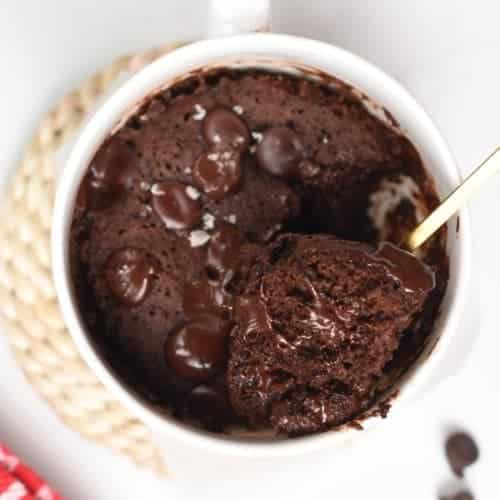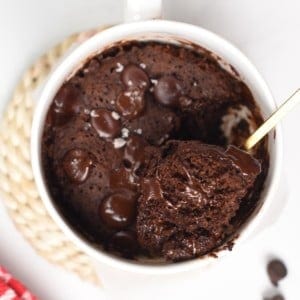 Healthy Mug Cake
This Healthy Mug Cake recipe contains only 107kcal per serving for a low-calorie healthy snack.
Pin
Print
Review
Shop My Tools
Ingredients
Optional
1

tablespoon

Sugar-Free Dark Chocolate Chips
Instructions
In a microwave-safe coffee mug (minimum size 1 cup/250ml), whisk together the flour, unsweetened cocoa powder, sugar-free sweetener, and baking powder.

Whisk in almond milk, melted coconut oil, and vanilla extract until a batter forms. Fold in the dark chocolate chips – keep a few to add on top – or keep the batter plain.

Microwave on high power (900W) for about 60 seconds, or until you see the cake rising to its maximum height. Remove from the microwave carefully. It is hot, and check the texture. It should be moist and soft.

Sprinkle a few extra chocolate chips on top if desired, or add a dollop of yogurt for a boost of protein.
Baking option
Preheat the oven to 350°F (180°C).

Grease an oven-proof ramekin with oil, add the cake batter and bake for 12-18 minutes until cooked through.

Serve immediately with toppings of your choice.
Notes
Note 1: For zero carbs and zero calories, use erythritol, allulose, or xylitol. For a healthy granulated sweetener, use coconut sugar.
The nutrition panel is for the sugar-free erythritol version.
Share on Facebook
Pin Recipe
Nutrition
Serving:
1
mug cake
|
Calories:
106.9
kcal
|
Carbohydrates:
14.9
g
|
Protein:
2.7
g
|
Fat:
5.2
g
|
Saturated Fat:
3.7
g
|
Polyunsaturated Fat:
0.3
g
|
Monounsaturated Fat:
0.7
g
|
Sodium:
146.4
mg
|
Potassium:
93.7
mg
|
Fiber:
2.4
g
|
Sugar:
0.3
g
|
Calcium:
103.6
mg
|
Iron:
1.5
mg
|
Magnesium:
28.6
mg
|
Phosphorus:
74.9
mg
|
Zinc:
0.4
mg