Oreo Mug Cake In 2 Minutes (No Eggs, No Dairy)
This Super Easy Oreo Mug Cake is the easiest Oreo cake recipe ever to fix a quick sweet treat.
Plus, this vegan mug cake is also egg-free and dairy-free.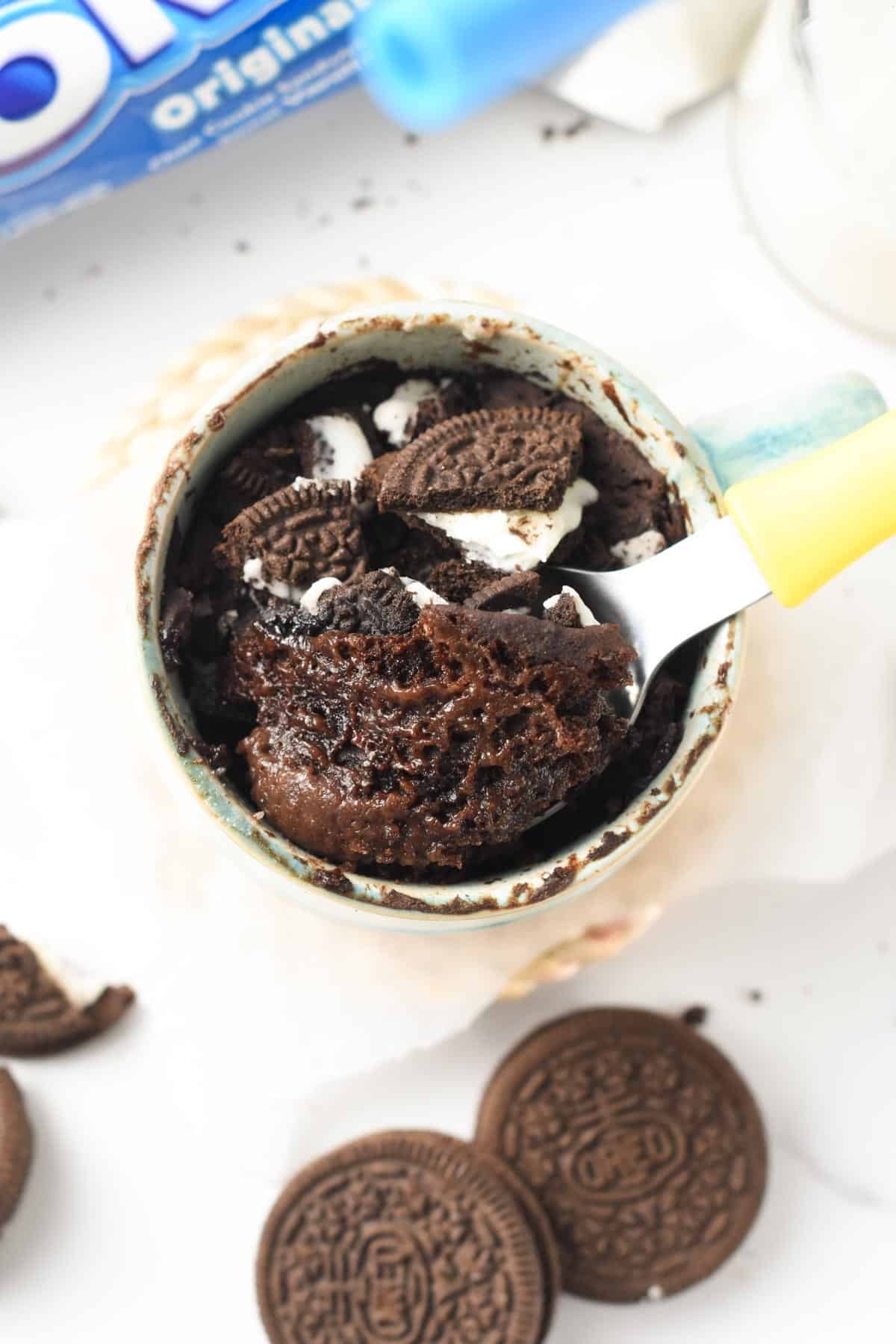 My kids finally made me try the Oreo Mug Cake TikTok trend, and it was fun to tweak the recipe to make it vegan and even tastier.
What's The Oreo Mug Cake TikTok Recipe?
The classic TikTok recipe is a 2-ingredient Oreo Mug Cake made of crushed Oreo and milk.
The original recipe is not plant-based and uses regular milk, and while it's possible to just swap it for soy milk, the result is average in terms of texture and flavor.
It doesn't look much like cake, it's more like a mushy chocolate sweet hot treat. A vegan version takes more tweaking.
So here's our better Oreo Mug Cake Recipe that actually tastes amazing, looks like a real cake, and doesn't take more than 2 minutes to make.
How To Make Oreo Mug Cake
All you need to make this easy mug cake recipe with Oreo cookies are 6 ingredients.
Ingredients
Oreo – any flavor you love. Most Oreos are accidentally vegan, but be sure to check the ingredient list as some regional differences exist. There are also some certified vegan Oreo alternatives like Back to Nature's Double Cream Cookies.
All-Purpose Flour – to give it a rich texture.
Non-Dairy Milk of choice – we used unsweetened almond milk, but oat milk or soy milk works.
Unsweetened Cocoa Powder
Baking Powder
Vanilla Extract
Sugar is optional as Oreos are already very sweet. Taste the batter before cooking and add only if you have a very sweet tooth.
Turning Oreos Into Flour
The trick to making this mug cake perfect is to crush or grind or pulse the Oreos in a food processor to form a powder.
Other options consist of placing the Oreos in a zip-lock bag, closing it, and tapping with a rolling pin to smash it into a flour-like consistency.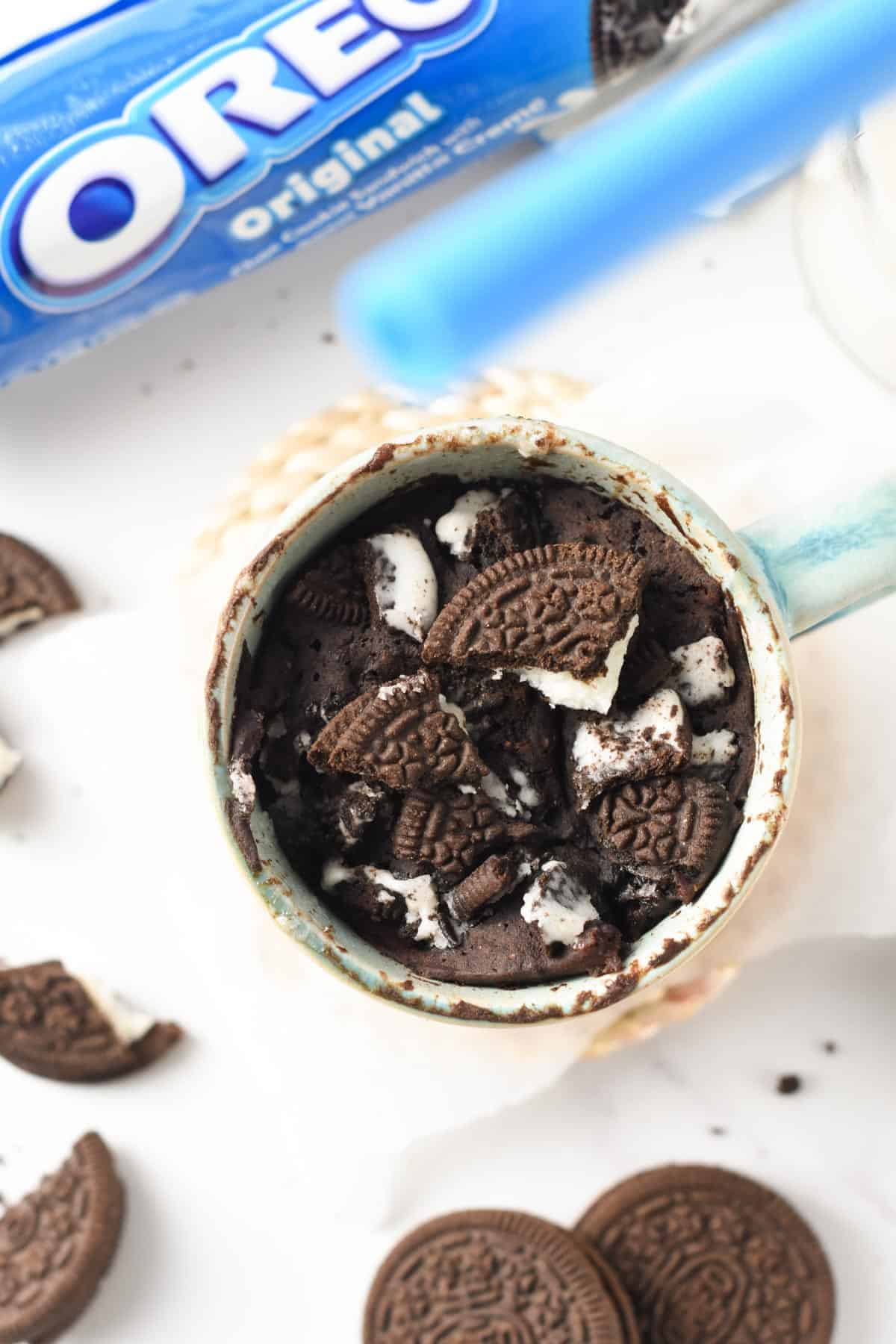 Choosing The Perfect Mug
A mug cake raises better in a tall thin coffee mug rather than wide. A 12-ounce volume is the standard coffee mug size and is perfect for baking an Oreo Cake in a mug.
Add the Oreo powder to the microwave-safe mug then pour the flour, unsweetened cocoa powder, and baking powder and stir to combine.
Then, pour the plant-based milk and vanilla extract until smooth.
Microwaving To Perfection
Place the mug in the center of the microwave.
Microwave on high power (900W) for 90 seconds or until the cake is dry on top and still slightly moist in the middle.
If you are unsure of your microwave power, start by microwaving for 60 seconds, check the texture of the cake, and return to the microwave in 10-second bursts until the cake has set.
Serving Oreo Mug Cake
You can serve the mug cake on its own or top it up with some more decadent food like:
Whipped cream – coconut cream is vegan and delicious with Oreo.
Ice cream – macadamia, coconut, or soy vanilla ice cream are great options.
Chocolate Syrup
Sprinkles
Oreo Crumbs
Storage
Mug cakes don't store well. They are made to be served immediately, within 10 minutes after baking.
Frequently Asked Questions
How To Make Oreo Mug Cake Without A Microwave?
#1 Oven Option
Yes, you can bake mug cakes in an oven-safe ramekin, at 350°F (180°C), on the center rack for 15-20 minutes or until a toothpick inserted in the center comes out clean.
#2 Air Fryer Option
You can also air fry mug cakes easily, Use an oven-safe greased ramekin to place the mug cake batter.
Then, add the ramekin to the center of the air fryer basket and air fry for 12-15 minutes at 350°F (180°C) or until a toothpick inserted in the center comes out clean.
Are Oreos Vegan?
Yes, most Oreo cookie flavors are accidentally vegan-friendly. There might be some regional variations, and some might have cross-contamination, so be sure to check the label.
There are also some certified vegan alternatives like Back To Nature's Double Cream Cookies that taste just the same.
Are Oreos Healthy?
Not really, Oreos are high in sugar and saturated fat and are highly-processed cookies.
So while it's not the healthiest cookie ever, it's a great vegan treat to indulge in and make fun desserts and cakes.
Remember that vegan doesn't obviously mean healthy, it's all about food that doesn't cause harm.
Can I Make Gluten-Free Oreo Mug Cake?
Yes, gluten-free Oreos exist, and you can use them to make this recipe.
Also, make sure that you are using all-purpose gluten-free flour containing added xanthan gum and gluten-free baking powder.
More Mug Cake Recipes
Below I listed some more mug cake recipes for you to try.
Did you try this Oreo mug cake recipe? Share with me your feedback and comment below!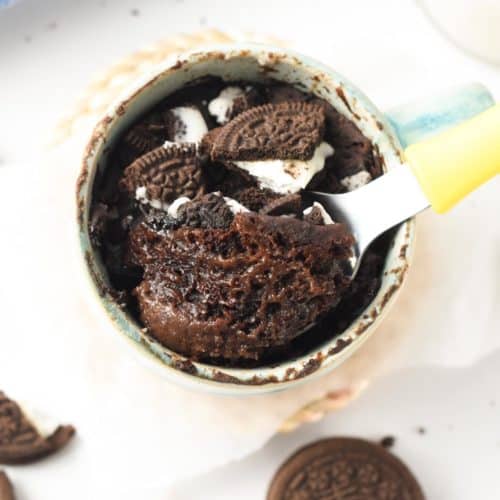 Oreo Mug Cake
This easy Oreo Mug Cake is made with your favorite Oreo biscuits and only vegan ingredients.
Pin
Print
Review
Shop My Tools
Instructions
Place the Oreos in a sealed bag and tap with a rolling pin to form a powder thin as flour.

In a microwave-safe coffee mug (minimum size 1 cup/250ml), whisk together the Oreo powder, cocoa powder, baking powder, and flour.

Whisk in almond milk and vanilla extract until a batter forms and stir the vegan dark chocolate chips if desired, or keep the batter plain.

Microwave on high power (900W) for about 90 seconds, or stop the microwave every 10 seconds until you see the cake rising to its maximum height. Remove from the microwave carefully. It is hot, and check the texture. It should be moist and soft, and the top should deflate. If it is not cooked to your liking after that time, return to the microwave and cook again in 10-second bursts until done – no more than 90 seconds in total. Note that the longer you microwave the mug cake, the denser it will be.

Serve the Oreo Mug Cake immediately.
Baking option
Preheat the oven to 350°F (180°C).

Grease an oven-proof ramekin with oil, add the cake batter and bake for 12-18 minutes until cooked through.

Serve immediately with toppings of your choice.
Share on Facebook
Pin Recipe
Nutrition
Serving:
1
mug cake
|
Calories:
239.5
kcal
|
Carbohydrates:
38.6
g
|
Protein:
3.9
g
|
Fat:
7.9
g
|
Saturated Fat:
2.1
g
|
Polyunsaturated Fat:
1.7
g
|
Monounsaturated Fat:
3.8
g
|
Trans Fat:
0.1
g
|
Sodium:
433.6
mg
|
Potassium:
118.8
mg
|
Fiber:
2
g
|
Sugar:
15
g
|
Vitamin A:
0.7
IU
|
Calcium:
203.8
mg
|
Iron:
5.4
mg
|
Magnesium:
26
mg
|
Phosphorus:
101
mg
|
Zinc:
0.5
mg