Easy, soft, chewy hemp heart cookies with peanut butter and naturally sweetened with Medjool dates. A healthy vegan protein cookie recipe 100% refined sugar-free and gluten-free.
What Are Hemp Seeds?
Hemp seeds are an amazing vegan protein source, full of healthy fatty acids and fiber.
Hemp seeds are the seeds from the hemp plant, similar to cannabis but in a different variety.
They are safe to eat compared to hemp leaves as they don't contain cannabidiol (CBD), the active compound of cannabis, so they are perfectly safe to eat, even for kids!
Nutrition Profile
Hemp seeds are rich in important micronutrients like magnesium, calcium, zinc, and iron.
Adding hemp seeds to your vegan diet is a great way to get a lot of vegan protein and important nutrients without taking any supplements.
Taste In Cookies
Hemp hearts are relatively small and don't have much texture compared to other seeds like chia seeds, which are very crunchy.
Hemp seeds have a delicious nutty flavor that goes well with nut butter or dairy-free yogurt.
How To Use Hemp Seeds
Apart from baking these hemp seed cookies, you can use hemp seeds in:
Vegan smoothie or vegan protein shake – add up to 1/4 cup of seeds in the blender.
Non-dairy yogurt – top up your yogurt with 1-2 tablespoons of seeds.
On top of meals – top up your vegan pasta recipe with hemp seeds. It adds an amazing flavor and nutrients.
How To Make Hemp Cookies
It's very easy to make healthy hemp cookies using hemp seeds or hemp hearts.
Here I am sharing a soft, chewy hemp cookie recipe naturally sweetened with Medjool dates.
Ingredients
All you need to make these peanut butter hemp heart cookies are 6 wholesome ingredients:
Oat flour – I am using homemade oat flour. Place rolled oats into the jug of your blender and blend on high speed for just 30 seconds to make homemade oat flour. You can also use almond flour for a grain-free paleo option.
Medjool dates – pitted, fresh for the best soft, chewy cookies. The quality and texture of your dates highly impact the cookie texture. I recommend using Medjool dates, not Deglor dates or other varieties that are dry and not as soft.
Peanut Butter – or any nut butter you love like almond butter or sunflower seed butter for a nut-free option.
Vanilla extract
Hemp seeds are also known as hemp hearts.
Baking powder or half the amount of baking soda. Why half? Because baking soda is twice as potent as baking powder, you need less of it!
Making The Cookie Dough
To make this hemp cookie dough, you need a food processor.
Add all the ingredients into the food processor, except the hemp seeds, or you will break them into a powder.
Process it on the high-speed setting to form a sticky cookie dough.
Then, add the 1/2 cup of hemp seeds and pulse quickly to just combined.
The dough shouldn't be sticky but easy to shape into balls. You can grease your hands with coconut oil to prevent the dough from sticking too much to your hands.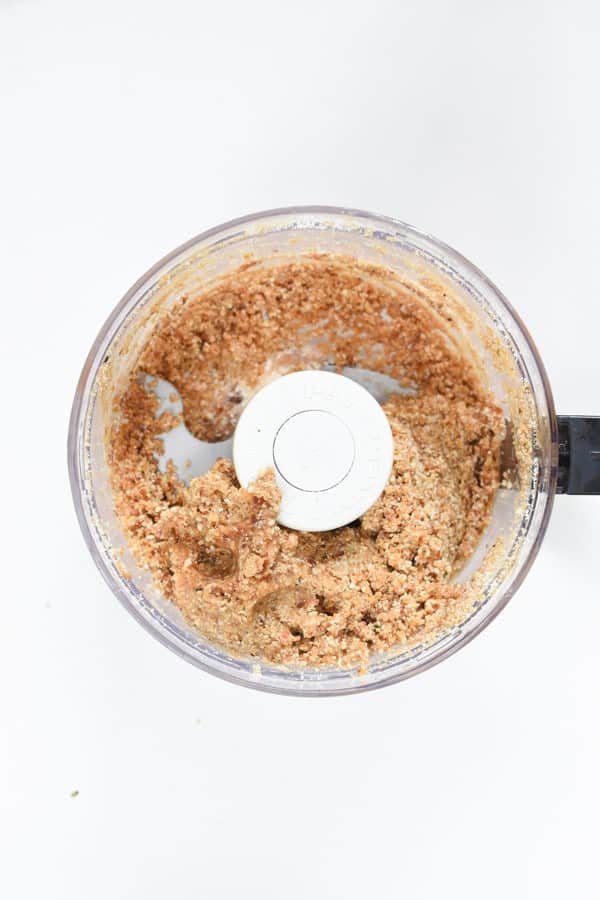 Forming Cookies
Form small balls of cookie dough and place them on a lined baking sheet with parchment paper.
Flatten down each ball into a cookie with your hands and bake in a preheated oven at 325°F (160°C) for 12 to 15 minutes.
Your cookies are ready when the top is golden brown.
They are still soft when out of the oven and firm up after they cool completely.
Add-ons
This recipe is very versatile, and you can play with flavor by adding 1/3 cup of the ingredients below:
Vegan chocolate chips
Cranberries
Desiccated coconut
How To Store Hemp Cookies
These are egg-free, dairy-free cookies, and they don't need to be refrigerated.
You can store your cookies in a cookie jar at room temperature for up to 4 days or freeze them in a sealed container.
They get softer with time, but their chewy texture enhances after a few days.
More Vegan Healthy Breakfast Recipes
If you love vegan breakfast cookies I have a few other recipes below for you to try:
Your friend, Carine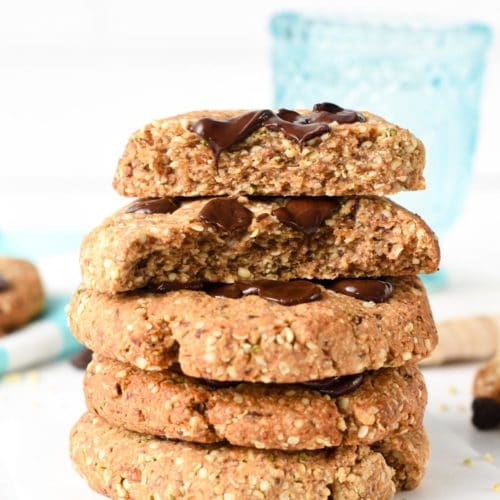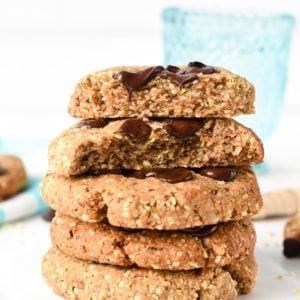 Hemp Seeds Cookies
An easy soft, chewy hemp cookie recipe naturally sweetened with dates and made with simple wholesome ingredients, 100% gluten-free and refined sugar-free.
Pin
Print
Review
Servings: 9 cookies
Calories: 252.7 kcal
Instructions
Preheat oven to 160°C (325°F). Line a large cookie sheet with parchment paper. Set aside.

In a food processor add soft, pitted Medjool dates, peanut butter, almond milk, oat flour, vanilla, and baking powder.

Process until a dough-like texture forms – this takes a couple of minutes and you will have to stop the food processor every 30 seconds, scrape down the side of the bowl and repeat until the dough comes together. If the dough is too dry add an extra tablespoon of almond milk and process again to combine. If too wet, add an extra tablespoon of oat flour.

Add hemp seeds and pulse to combine into the cookie dough.

Using your hands, form the mixture into 9 cookie dough balls and place them on the prepared cookie sheet. They won't expand in the oven and can be close to each other on the tray.

Use your hand to press down each ball into a cookie. The thicker the chewier and softer they get.

Optional : press in few chocolate chips on top before baking

Bake for 12-15 minutes in the center rack of the oven until golden brown.

Leave to cool on the tray for 10 minutes then cool completely on a cooling rack.

Store in a cookie jar for up to 4 days at room temperature or freeze in a sealed container.
Share on Facebook
Pin Recipe
Nutrition
Serving: 1cookie | Calories: 252.7kcal | Carbohydrates: 25.2g | Protein: 9.7g | Fat: 13.6g | Saturated Fat: 2g | Polyunsaturated Fat: 6.2g | Monounsaturated Fat: 4.7g | Sodium: 89.5mg | Potassium: 249.7mg | Fiber: 3g | Sugar: 12.6g | Vitamin A: 95IU | Vitamin B12: 0.04µg | Vitamin C: 0.2mg | Vitamin D: 0.04µg | Calcium: 58.1mg | Iron: 2.5mg | Magnesium: 52.4mg | Phosphorus: 248.7mg | Zinc: 0.9mg