Healthy No-Bake Oatmeal Cookies
These healthy no-bake oatmeal cookies with peanut butter are fudgy chocolate cookies ready in 15 minutes and full of nourishing ingredients to start the day.
Plus, the recipe is refined-sugar-free and gluten-free.
What Are Healthy No-Bake Oatmeal Cookies?
No-bake Oatmeal Cookies are simple, healthy cookies made with ingredients that don't require any baking.
They have a rich, fudgy texture and the oats bring a delicious crunch and texture.
How To Make No-Bake Oatmeal Cookies
It takes just 10 minutes to make these no-bake oatmeal cookies, and it's the perfect recipe to meal prep your vegan snacks or breakfast.
First, you need to gather and measure all your ingredients.
Ingredients
The 8 basic ingredients you need to start these no-bake oatmeal cookies are:
Creamy peanut butter – you can also use a different type of nut butter in this recipe like almond butter, cashew butter, or sunflower seed butter for a nut-free option. Another option is to use powdered peanut butter. In fact, powdered peanut butter contains less saturated fat, and it will boost the healthy profile of these no-bake cookies. Follow the manufacturer's instructions to re-hydrate your powdered peanut butter using water or almond milk. Then, add the mixture to the recipe in the same amount as peanut butter. Finally, if you like your cookies crunchy, opt for crunchy peanut butter. However, make sure that your crunchy peanut butter jar is fresh and creamy, and runny, or the cookie will end up dry. Find out how to pick vegan peanut butter.
Maple syrup – any other liquid sweeteners work, including agave syrup, rice syrup, or date syrup. Since the recipe is vegan, we don't recommend honey as an option. However you could also use brown sugar or coconut sugar in this recipe, but you will have to melt it in a saucepan with peanut butter and coconut oil.
Coconut oil – you can't replace coconut in this recipe as it is the key ingredient to get crunchy cookies after you refrigerate them. In fact, coconut oil solidifies under 23°C, and it's what makes no-bake cookies harder than their baked counterpart. Note that refined coconut oil has no coconut flavor compared to unrefined coconut oil.
Vanilla extract
Instant oats – also known as quick oats, are the best choice for this recipe. In fact, old-fashioned oats are thicker and don't make a soft, melt-in-your-mouth cookie as instant oats would. Instant oats are very natural too. It is a precooked, dried, and slightly finer oatmeal than rolled oats. Its thin texture makes no-bake oatmeal cookies tastier, less coarse, dry, or dense. If you prefer to use old-fashioned oats, I recommend you pulse them a few times in a food processor to get a finer texture.
Salt
Unsweetened cocoa powder
Almonds – this is optional and can be replaced by many other ingredients like vegan chocolate chips (or dark chocolate chunks), chopped nuts like walnuts, pecan, or even shredded coconut.
Make No-Bake Oatmeal Cookie Batter
Watch my web story: making no-bake oatmeal cookies to learn how to make them, or follow the steps in the recipe card below!
Combining Liquid Ingredients
The first step of this no-bake cookie recipe consists of combining maple syrup with vanilla and fresh runny peanut butter.
You must use natural peanut butter with no added oil or added sugar.
In fact, added oil will make the cookies softer, and they won't crunch.
Also, added sugar would make this recipe too sweet, and it wouldn't be a healthy no-bake peanut butter cookie recipe with so much sugar in it.
If your peanut butter jar has been opened for a while, it can be a bit hard and less oily.
To easily combine all the liquid ingredients, you can stir them in a small saucepan under medium heat or microwave the bowl for 20 seconds.
The heat will help the peanut butter dissolve with the melted coconut oil and vanilla, creating a shiny paste.
Adding Dry Ingredients
Add all the dry ingredients into the previous mixture and stir with a spoon until it forms a thick chocolate cookie batter.
The batter will be sticky, and that's normal.
Shaping The Cookies
First, choose a tool like a standard measuring tablespoon or an ice cream scoop maker. Next, oil slightly the inside of the tool to prevent the cookie batter from sticking to it.
Then, scoop the raw cookie dough and place each cookie dough ball on a plate covered with parchment paper.
Repeat these steps until no more cookie batter is left.
You should form 16 cookie balls. Finally, oil your fingers and press each raw cookie dough ball into a thick cookie.
Setting Cookies In The Freezer
There are two options to set no-bake cookies.
First, you can pop the plate with your no-bake peanut butter oatmeal cookies in the freezer for 10 minutes.
This is the fastest option to set the cookies and get a nice crunchy cookie to enjoy straight away.
Next, if you have time or don't have a freezer, pop the plate in the fridge for 1 hour or overnight.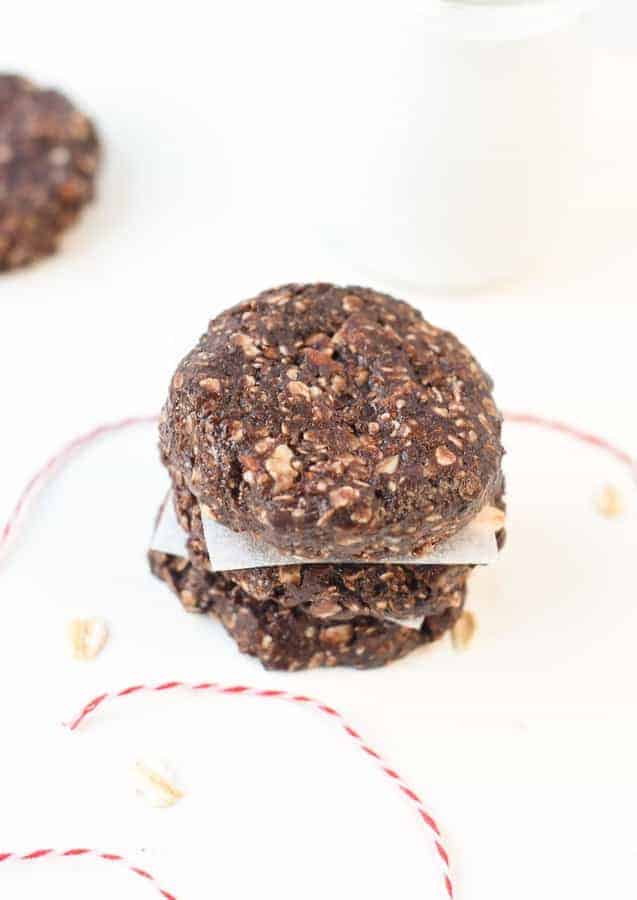 Storing Healthy No-Bake Oatmeal Cookies
There are two options here. First, you can store these no-bake oatmeal cookies in the fridge, preferably in a sealed container to keep them fresh and moist.
The no-bake chocolate cookies last up to 1 week in the fridge, then the texture gets moist, but they will still be delicious.
The second option is to freeze the cookie in a sealed box or in silicone bags.
They will defrost in 1 hour at room temperature on the countertop.
Healthy Cookies Add-Ons
Here are some ideas to add to your no-bake peanut butter cookies and make them even more delicious!
Chia Seeds – for a boost of plant-based protein and healthy fats.
Chocolate Drizzle – melt some dark chocolate and add a chocolate drizzle on top of your cookies just before you refrigerate them. The melted chocolate will harden in the fridge and add a delicious crunchy texture to these healthy no-bake cookies.
Shredded Coconut – replace the almonds in the recipe with coconut.
Serving No-Bake Cookies
An oatmeal cookie is a delicious breakfast or snack. Since these no-bake peanut butter cookies are vegan, the best way to serve them is with:
A glass of nut-free milk – almond milk, coconut milk, or soy milk
A protein shake – the healthy slow carbs from these refined sugar-free cookies will complement the protein powder's nutrients well. It will result in a perfectly balanced vegan breakfast. And, if you are a peanut butter lover, why not using peanut butter powder in your shake? Peanut butter powder is vegan and marries very well with peanut butter chocolate cookies.
More No-Bake Oatmeal Recipes
I love healthy no-bake peanut butter oatmeal cookies and bars for breakfast because they are easy, healthy, and perfect for busy mornings.
Below I listed my favorite peanut butter oatmeal bars and cookies that you may want to try!
Did you make this healthy no-bake peanut butter oatmeal cookies recipe yet? Share a picture with me on Instagram. I love to see your creations.
Healthy No-Bake Oatmeal Cookies
These Healthy No-Bake Oatmeal Cookies are a great vegan breakfast cookie recipe with a combo of peanut butter, oatmeal, and cocoa.
Pin
Print
Review
Save
Saved Recipes
Shop My Tools
Ingredients
Optional
¼

cup

Finely Chopped Almonds
Instructions
Line a cookie sheet with parchment paper. Set aside.

In a medium-size saucepan, add fresh creamy peanut butter, maple syrup, melted coconut oil, and vanilla extract.

Heat under medium heat, stirring constantly to combine and form a consistent mixture.

Remove from heat and stir in cocoa powder, quick-cooking oats, and chopped almonds – if used. Stir until fully combined and cookie dough form.

Scoop some batter with a tablespoon, then transfer it onto the prepared cookie sheet. Press the top of the cookie with the back of a spoon to gently flatten and shape the oatmeal chocolate cookie.

Repeat these steps until no more cookie dough is left.

Freeze the cookie sheet for 10 minutes to set the cookies, then refrigerate the cookies in an airtight container.
Storage
Store up to 7 days in a sealed box in the fridge. After that time, the no-bake cookies are still tasty but get sticky as some moisture goes in.

Freeze in an airtight box or silicone bags and defrost 1 hour before eating, on a plate, at room temperature on your countertop.
Notes
Rolled oats make the cookie dry. If you want to use rolled oats, bring them to a food processor and pulse a few times to get a thinner texture.
Share on Facebook
Pin Recipe
Nutrition
Serving:
1
cookie
|
Calories:
123.7
kcal
|
Carbohydrates:
9.5
g
|
Protein:
3.1
g
|
Fat:
9
g
|
Saturated Fat:
3.8
g
|
Polyunsaturated Fat:
1.4
g
|
Monounsaturated Fat:
3.1
g
|
Trans Fat:
0.001
g
|
Sodium:
71.7
mg
|
Potassium:
100.9
mg
|
Fiber:
1.4
g
|
Sugar:
4.1
g
|
Vitamin A:
0.02
IU
|
Calcium:
18.7
mg
|
Iron:
0.5
mg
|
Magnesium:
37.4
mg
|
Phosphorus:
65.6
mg
|
Zinc:
0.5
mg