No-Bake Lactation Cookies
These no-bake lactation cookies are quick and easy 15-minute cookies for breastfeeding mums looking for healthy snacks that boost their milk supply.
In fact, these no-bake cookies are packed with whole grains, seeds, and nuts that not only keep you full and energy but also support breastmilk production.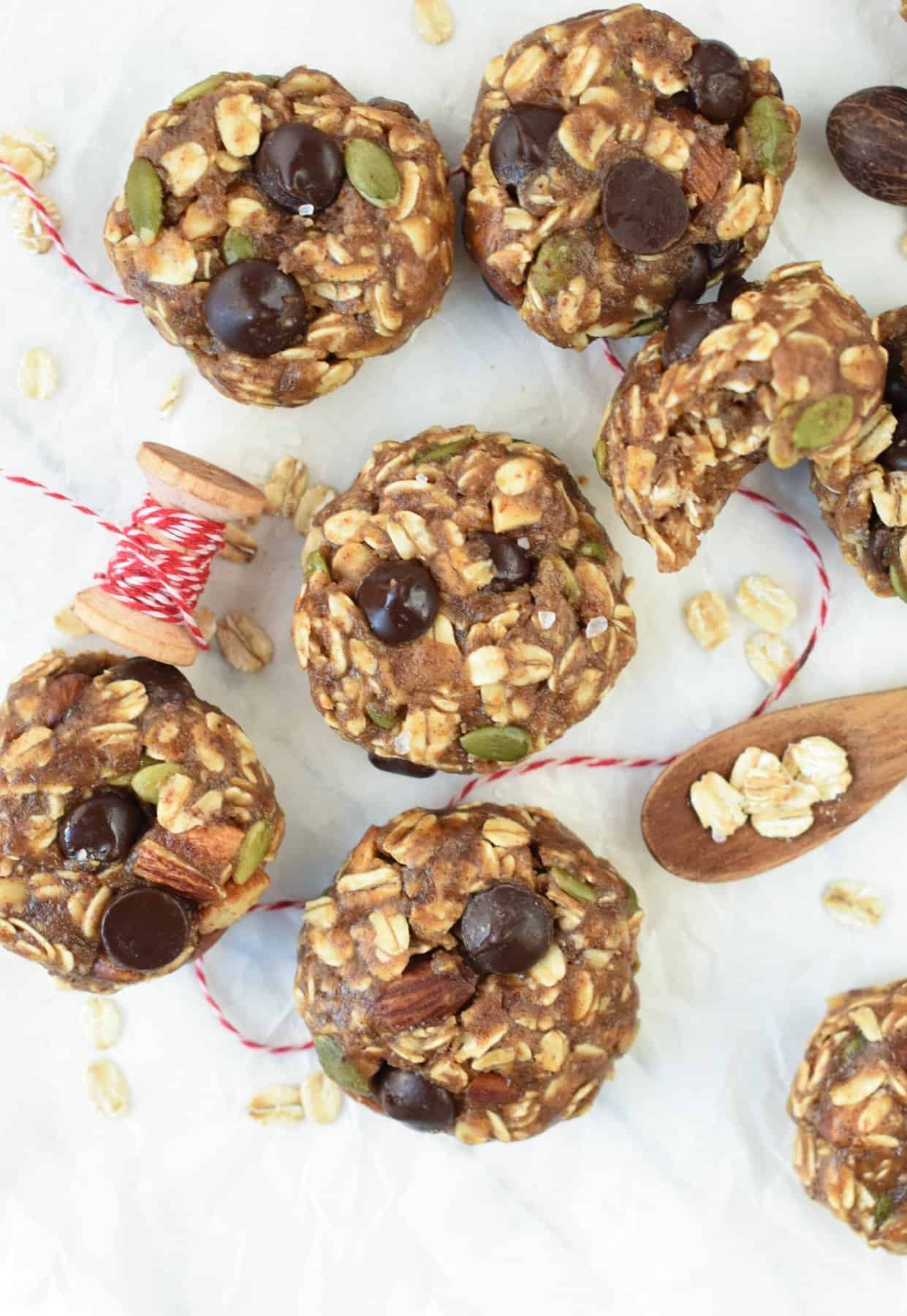 That's the best part about this no-bake lactation bites recipe, there's no baking required! It means they are:
Faster to make
More nourishing – no heat involved that often remove some of the nutritional values from nuts and seeds.
It's very easy to make raw lactation cookies, let me show you where to start.
Ingredients
First, gather all these pantry ingredients on your benchtop. Skip to the later section in this post for swaps if you have some food allergies.
Old-fashioned rolled oats – whole grains increase your milk supply by stimulating the prolactin hormone responsible for milk production in breastfeeding women.
Ground flaxseed – flaxseed contains phytoestrogens that may boost milk production. It also contains healthy fatty acids including omega-6 and omega-3.
Brewer's yeast – this is a great natural plant-based supplement while breastfeeding as it's high in iron, vitamins, chromium, selenium, and plenty of other minerals. It's not only used to boost milk production but help with post-partum mood!
Peanut butter – I used natural drippy peanut butter fresh from the jar. You can also use fresh drippy almond butter or any nut butter you love.
Maple syrup or brown rice syrup or agave syrup.
Unsweetened almond milk
Vanilla extract
Dark chocolate chips – I used dairy-free chocolate chips but any chips you love can be used.
Pumpkin seeds
Chopped almonds – nuts are packed with protein, calcium, and healthy fat important for baby brain development.
Sea Salt
Combine dry ingredients
First, bring all the dry ingredients into a large bowl and combine. Next, in another bowl, combine the liquid ingredients: maple syrup, peanut butter, almond milk, and vanilla extract until smooth.
Finally, combine the dry ingredients with the wet ingredients until it forms a dough that you can easily squeeze together to shape balls.
Refrigerate
You can skip this step to make faster no-bake lactation cookies. I simply found it easier to shape the dough after it spent 10 minutes in the fridge. The dough becomes less sticky and easier to work with.
Slightly grease your hand with coconut oil first to prevent the dough to stick to your hands.
Then, shape 12 dough balls from the dough and place each dough ball on a plate covered with parchment appear.
Then, press each ball to slightly flatten them down into a cookie shape. You can also keep them round to make lactation energy bites.
Finally, refrigerate to harden slightly or enjoy straight away as a soft lactation cookie.
These cookies are perfect as a quick snack when you are feeding your baby.
As mums, we know how long it can take to breastfeed and it often stimulates hunger. So having 2 or 3 of these cookies available while breastfeeding is a great fulfilling snack.
Of course, it's not because these cookies help to boost your breastmilk hormones to produce milk that it's only for mums.
After all, these lactation cookies are simply nutrient-dense wholegrain cookies that fit in anyone's healthy diet.
Of course, it takes a little while before a cookie or any food you eat released its nutrients into your blood.
It first has to go through digestion and consequently it can take about 6 hours before you notice any benefits from eating lactation cookies.
Swaps
If you have some food allergies, I listed below some swaps to make these lactation cookies suitable for everyone.
Nut-free – swap peanut butter for sunflower seed butter or tahini and replace almonds for seeds like pumpkin seeds, hemp seeds, sunflower seeds.
Gluten-free – there are plenty of gluten-free certified oats available on the market. You can also use other wholegrain gluten-free cereals like puffed quinoa or amaranth.
Sugar-free – Brewer's yeast is not always recommended to diabetics because it can spike blood sugar levels. If so, simply skip it in the recipe or replace it with the same amount of almond flour. You can replace maple syrup with a sugar-free liquid sweetener to decrease carbs and avoid extra sugar. Finally, swap the chocolate chips for a sugar-free variety or more chopped nuts or coconut flakes.
Add-ons
You can customize this recipe to your taste by adding some of the below ingredients.
Keep in mind that any addition of powder dries out the batter and you may have to add a touch of almond milk to help the dough comes together.
Cocoa powder – 1 tablespoon
Protein powder – 1 tablespoon
Dried fruits – finely chopped like apricots, dates, cranberries, or raisins.
Storage
No-bake cookies store up to one week in an airtight container. You can also freeze no-bake cookies and thaw at room temperature the day before eating.
Taste and texture
These are soft, chewy no baked cookies with crunchy bites of nuts and chocolate.
Some mums notice a bitter aftertaste when they use Brewer's yeast for the first time. That's why I recommend using debittered Brewer's yeast in baking.
The only consequence of this variety of yeast is that you don't get chromium in the debittered version.
Similar recipes
If you've enjoyed this recipe, you'll love the following:
Have you made these no-bake lactation cookies? Share a comment or review below to let me know how it goes,
Your friend, Carine.