These easy Vegan No-Bake Cookies with chocolate, peanut butter, and oatmeal are the most delicious no-bake cookies for summer!
They are ready in less than 20 minutes, no oven needed, and crunch like a regular oatmeal chocolate cookie recipe.
Are Classic No-Bake Cookies Vegan?
No, a classic no-bake cookie recipe is not vegan because it contains butter.
Butter is not vegan friendly, it's an animal-based fat made from cow milk, and consequently, any recipes using butter are not vegan.
However, it's very easy to adapt a classic no-bake cookie recipe using vegan butter as a butter replacement.
The results are very similar, but here we will share a vegan no-bake oatmeal cookie recipe that is healthier for you using half sugar!
What Are No-Bake Cookies?
A no-bake cookie recipe is a cookie recipe made without an oven. It means they harden without heat and usually get all their texture after spending a short time in the fridge or freezer.
There are two kinds of no-bake cookies:
Raw no-bake cookies – these cookies don't use heat at all. You can try, for example, my no-bake coconut cookies or no-bake peanut butter cookies.
No-bake cookies – like this recipe below where sugar is heated with fat to form a syrup that then hardens and sticks the cookie ingredients together.
How To Make Vegan No-Bake Cookies
It's effortless and convenient to make vegan no-bake cookies.
First, because it doesn't require an oven which is great in summer, then, it uses minimal ingredients, and finally, no-bake vegan cookies are ready in less than 20 minutes.
Ingredients
First, measure all your ingredients into small bowls, so you don't miss out on any of them.
All you need to make these vegan no-bake chocolate cookies are:
Rolled oats, also known as old-fashioned oat, that's the less processed version of oats with large rolled oat flakes. You can also use quick oats, but the cookie texture won't be as crunchy and dense.
Coconut oil or vegan butter
Unsweetened cocoa powder
Crystal sweetener of choice – I tested this recipe with unrefined cane sugar and coconut sugar, and both options work very well. You can also use white sugar or brown sugar. You can also use maple syrup or any liquid sweetener you love in this recipe.
Almond milk or any dairy-free milk you love.
Peanut butter – or any nut butter you love like almond butter for less saturated fats or sunflower seed butter for a nut-free option. Find out how to pick vegan peanut butter.
Vanilla extract
Sea salt
Preparing The Chocolate Mixture
In a small saucepan, add coconut oil, almond milk, sugar, and cocoa powder and bring to a rolling boil for one minute.
Then, remove from heat and stir in natural peanut butter, vanilla extract, and sea salt.
Finally, when the mixture is well combined, stir in the old-fashioned rolled oats and 1/2 cup of extra like chopped nuts or shredded coconut.
Shaping No-Bake Cookies
Cover a large baking sheet or two small baking sheets with parchment paper. Oil the paper with coconut oil.
Then, scoop about 2 tablespoons of cookie batter and drop it on the tray.
Repeat until all the cookie batter has been used, leaving one thumb space between each cookie.
Finally, slightly flatten each cookie with the back of a fork and pop the baking tray in the freezer for 15 minutes to quickly set the cookies.
You can also pop the tray in the fridge, but it takes way longer to set the cookies – about 3 hours.
Remove from freezer, transfer cookies in an airtight container, and store in the fridge.
Storage Instructions
No-bake cookies don't last long at room temperature.
They soften fast, especially if you made the low-sugar version of this vegan, gluten-free no-bake cookie recipe.
The best way to store no-bake cookies and keep them hard is the fridge or freezer. You can eat the cookies frozen as well in the summer for a delicious, cold treat.

Allergy Swaps
The good thing about no-bake cookies is that you can use the same recipe to create a range of flavors and varieties.
Cereals swaps
Some of my favorite variations of this recipe are to swap the old-fashioned oats for:
Puffed brown rice
Puffed amaranth
Cornflakes
Puffed quinoa
Shredded coconut
Also, feel free to add a pinch of chopped peanuts or dark mini chocolate chips on top of the cookies, just before freezing! It adds a delicious crunch to them.
Nut butter swaps
This recipe works perfectly with any nut butter or seed butter like:
Cashew butter
Almond butter
Sunflower seed butter
Pumpkin seed butter
Tahini – It can be slightly bitter, so watch out!

Frequently Asked Questions
Are No-Bake Cookies Healthy?
Not all no-bake cookie recipes are healthy because the authentic version use:
A large amount of saturated fat from butter.
A huge amount of sugar.
Processed oats – quick-cooking oats are the most processed oats variety often used in regular no-bake cookies.
Can I Make Healthier Vegan No-Bake Cookies?
Luckily there are ways to make healthier vegan no-bake cookies, and this one is definitely a healthy twist to the classic no-bake cookie you are used to eating because it contains:
MCT fat from coconut oil – healthier twist to butter or vegan butter that contains vegetable oils.
Half the amount of sugar usually used in a no-bake cookie recipe.
No refined sugar – more nutrients and lower GI if you choose erythritol or coconut sugar.
Old fashioned rolled oats – this is the less processed version of oats.

More No-Bake Recipes
I have so many no-bake vegan recipes for you to try.
Below I listed my favorites, pick one or two and let me know the one you prefer!
Have you made these no-bake vegan cookies? Share a comment or review below to connect with me or join me on Instagram and share a picture of your creation in your story, tagging @theconsciousplantkitchen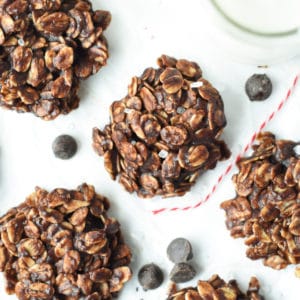 No-Bake Vegan Cookies
An easy, healthy no-bake vegan cookie recipe with old-fashioned oats and peanut butter for a healthy snack or breakfast
Pin
Print
Review
Instructions
Line two large cookie sheets with parchment paper. Slightly oil paper with coconut oil. Set aside.

Before you start, choose the amount of sugar you want to use. 1/3 cup makes the cookies low-sugar, less sweet, but also softer. For a sweeter, crunchier cookie, use 1/2 cup sugar of choice – I used coconut sugar or unrefined cane sugar.

In a medium-size saucepan, add sugar, unsweetened cocoa powder, coconut oil and almond milk. Bring to medium heat, stir slightly and bring to a rolling boil for 1 minute, not more.

Remove from heat and stir in natural peanut butter, vanilla extract, and sea salt. Stir until well combined.

Stir in rolled oats and coconut if using. Stir well to evenly cover the dry ingredients with the melted chocolate mixture.

Scoop some batter onto the prepared cookie sheet – 2 tablespoons make one cookie. The batter is pretty loose, but it will firm up in the freezer.

If you like, slightly flatten cookies by pressing the top of the cookie with the back of a fork.

Repeat these steps until no more cookie dough is left.

Freeze the cookie sheet for 15 minutes or until the cookies are hard and set.

Transfer the cookies onto an airtight box and store them in the fridge.
Storage
Store the cookies for up to 7 days in a sealed box in the fridge or freeze for up to 3 months. These no-bake cookies soften and melt fast under 23C, so keep them in the fridge, not in your pantry.

Freeze in an airtight box or silicone bags and defrost 1 hour before eating, on a plate, at room temperature on your countertop.
Notes
Rolled oats make the cookie dry. If you want to use rolled oats, bring them to a food processor and pulse them a few times to get a thinner texture.
Share on Facebook
Pin Recipe
Nutrition
Serving:
1
cookie
|
Calories:
112
kcal
|
Carbohydrates:
10
g
|
Protein:
3
g
|
Fat:
8
g
|
Saturated Fat:
4
g
|
Polyunsaturated Fat:
1
g
|
Monounsaturated Fat:
2
g
|
Sodium:
80
mg
|
Potassium:
77
mg
|
Fiber:
1
g
|
Sugar:
4
g
|
Vitamin C:
1
mg
|
Calcium:
11
mg
|
Iron:
1
mg
|
Magnesium:
22
mg
|
Phosphorus:
55
mg
|
Zinc:
1
mg