Vegan Gluten-Free Zucchini Bread (Oil-Free)
This moist vegan gluten-free zucchini bread is made with delicious fall spices and crunchy nuts.
Bonus, this vegan zucchini bread recipe is also oil-free, refined-sugar-free, and low Fodmap!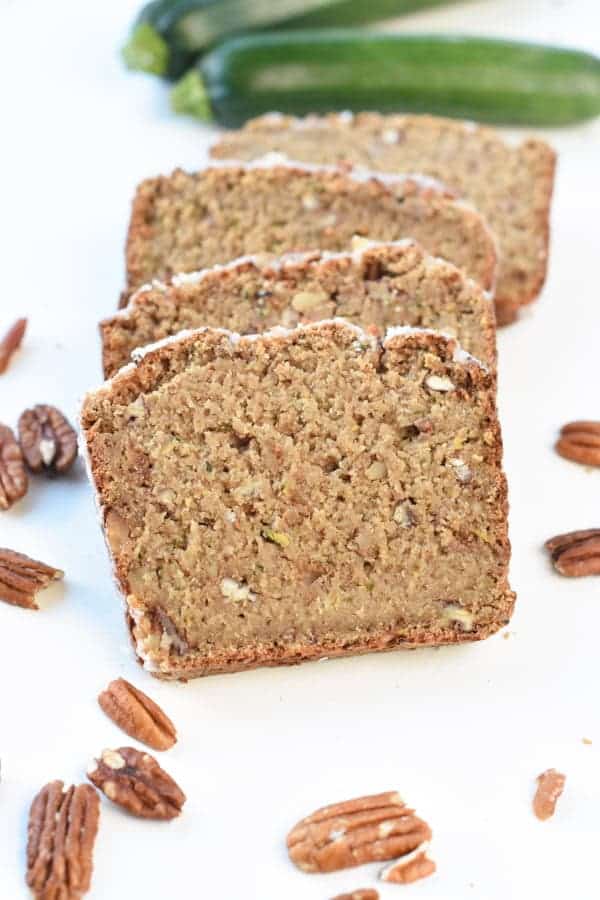 This vegan zucchini bread recipe is ideal for a summery toast—a moist bread with amazing spice flavors, crunchy nuts, and tangy lemon glazing.
What's Vegan Zucchini Bread?
Zucchini bread is a classic baking recipe for using all the summer zucchinis that grow in your garden.
It is a deliciously moist bread, full of grated zucchinis and a touch of cinnamon flavor.
This vegan, gluten-free version of zucchini bread has the same texture and flavors, without eggs or dairy.
It is a healthy vegan breakfast bread made of grated zucchini, nourishing gluten-free flours, oil-free, and refined sugar-free.
Why You'll Love This Recipe
This Vegan Gluten-Free Zucchini Bread tastes amazing, and it is:
Oil-Free
Low Fodmap
Gluten-Free
Dairy-Free
Egg-Free
Vegan
How To Make Vegan Gluten-Free Zucchini Bread
This vegan zucchini bread recipe is a very healthy breakfast bread using only gluten-free nourishing flour and no oil or refined sugar.
Ingredients
All you need to make this healthy vegan bread recipe are:
Grated zucchini – make sure you squeeze out ALL the water from the zucchini, or your zucchini bread will be too moist.
Coconut sugar – or unrefined cane sugar if preferred.
Maple syrup – or agave syrup or rice syrup.
Applesauce – this is an oil-free vegan zucchini bread recipe. Therefore, applesauce replaces oil and creates the best moist texture too.
Unsweetened non-dairy milk – any dairy-free milk like almond milk, oat milk, or soy milk works in this recipe.
Nuts – the secret of this vegan zucchini bread is the addition of crunchy walnuts and pecans. Both add nutritional values, vegan iron, and vegan proteins while adding the most delicious texture.
Spices – a combination of ground cinnamon, ginger, and nutmeg.
Lemon glazing – this is optional, but the glazing adds a tangy flavor to the bread. Its made of powdered sugar-free erythritol (or icing sugar) and lemon juice.
Oat flour – make sure it is ultra-fine, or it will not absorb moisture the same way. To make your own oat flour, place rolled oats into a powerful blender or food processor. Pulse until fine, usually 2 minutes maximum. You can swap oat flour with all-purpose wheat flour if desired.
Almond flour
Arrowroot flour or tapioca flour
Baking powder – yes, you need 3 teaspoons of baking powder in this recipe.
Oven and pan
Before you start baking this delicious bread, preheat your oven on fan-forced mode at 350°F (180°C).
Then, cover your loaf pan with parchment paper and use a bit of coconut oil or olive oil to grease all around.
You can also bake this bread in conventional mode.
To achieve the same texture, it is better to split the batter into a 12-muffin pan or in two 9-inch x 5-inch loaf pans.
Baked goods bake faster on fan-forced mode, and if you do not have this option on your oven, it's always preferable to split the batter and cook it in smaller pans to still get the same texture.
Preparing the zucchinis
First, trim the zucchinis ends, keep the skin on and grate finely with a hand grater. It is crucial to squeeze out all the zucchini water from the grated zucchini.
Place the grated zucchini in a towel, and squeeze hard until no more water comes out.
Wet ingredients
In a large mixing bowl, combine the wet ingredients: grated zucchini, maple syrup, vanilla, non-dairy milk, and applesauce with coconut sugar.
You can add the coconut sugar to the dry ingredients, but the flavors blend better if combined with the wet.
Combine the flours
In another large mixing bowl, combine the dry ingredients: almond flour, oat flour, spices, and baking powder.
Fold in liquid to dry
The best way to avoid lumps in your batter is to combine the liquids into the flours.
Then, simply fold in the finely chopped nuts halfway through. You can also make this bread recipe with vegan chocolate chips instead of nuts!
Bake on fan-forced mode
This zucchini bread is baked on the fan-forced mode in a 9-inch x 5-inch loaf pan at 350°F (180°C).
This recipe makes a large, heavy bread. That's why it bakes faster on fan-forced mode.
For conventional mode, bake the bread in two loaf pans at the same temperature on the center rack of the oven. It should bake as well.
Cool completely
The key to making moist zucchini bread is to cool down the bread in two steps.
First, cool down for 10 minutes in the pan.
Next, cool down for 3 hours on a cooling rack. Finally, slice and serve plain or with the spread of your choice.
Serving Zucchini Gluten-Free Bread
This vegan zucchini bread is a delicious, nourishing breakfast or snack. It is even better with lemon glazing that adds a tangy lemon flavor to the bread.
However, you can skip the glazing and serve the bread with other toppings like:
Nut butter – peanut butter or almond butter
Jam
Coconut yogurt
Storing Zucchini Bread
Zucchini bread can be stored for up to 3 days in the pantry or 5 days in the fridge.
Another option is to freeze the bread in an airtight container, and cut it into slices.
Simply defrost the bread slice the day before on a plate at room temperature.
Frequently Asked Questions
Can I bake this zucchini bread in muffin tins?
Yes, you can bake this zucchini bread batter into 12 muffins. Use a jumbo 12-hole muffin pan.
First, grease the muffin tins with oil or add a paper case to them.
Then, fill the muffin holes up to 3/4 of their volume.
If you have leftover batter, keep it on the benchtop and bake later in the same muffin tray.
Finally, bake the muffins for about 45 minutes at 350°F (180°C).
More Vegan Gluten-Free Baking Recipes
If you are on a vegan gluten-free diet, I have more delicious baking recipes for you to try:
Made this healthy plant-based zucchini bread? Share a picture with me on Instagram.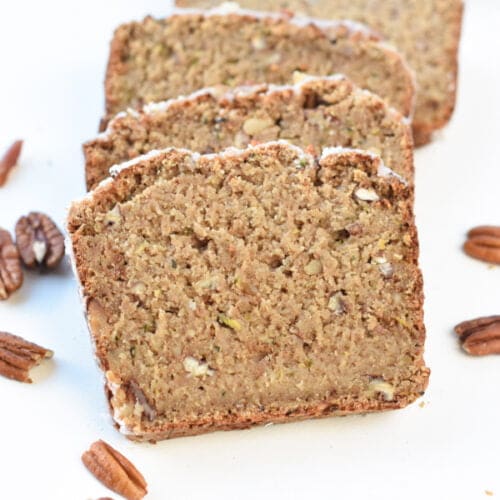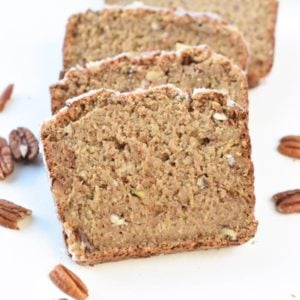 Vegan-Gluten Free Zucchini Bread
A moist vegan zucchini bread loaf with delicious spices flavors and crunchy nuts. A gluten-free and oil-free recipe!
Pin
Print
Review
Instructions
Preheat oven fan-forced 350°F (180°C). Line a 9-inch x 5-inch loaf pan with parchment paper. Lightly oil paper and pan to prevent the bread from sticking to it. Set aside.

Trim the zucchini ends, grate with a hand grater, wrap the grated zucchini in a towel and squeeze out all the water. This is a very important step to avoid overly moist bread. Measure 1 cup and place it in a large mixing bowl.

In the bowl containing the grated zucchinis, stir in maple syrup, applesauce, coconut sugar, almond milk, and vanilla. Set aside.

In another large mixing bowl, stir in almond flour, oat flour, arrowroot flour, baking powder, ginger, nutmeg, cinnamon, and salt.

Stir the zucchini liquid batter into the flour bowl and fold in chopped nuts halfway.

Transfer the zucchini batter into the prepared loaf pan. Smooth the surface with a spatula and gently tap the loaf pan a few times on the benchtop to remove any air stuck in the batter.

Bake for 70-80 minutes on fan-forced oven, center rack. You may have to add a piece of foil on top of the pan after 40 minutes to prevent the top from burning. If you are using the conventional baking mode, the bread will take longer to bake, approximately 15 more minutes.

Remove from the oven when a skewer inserted in the loaf come out clean or with a little crumb on it.

Cool 10 minutes in the pan, then pull out the pieces of parchment paper to unmold.

Cool on a rack for 3 hours before slicing.
Storage & freezing
Store in the pantry for up to 3 days or 5 days in the fridge.

Freeze the zucchini bread slices in an airtight container. Defrost slices the day before at room temperature.
Share on Facebook
Pin Recipe
Nutrition
Serving:
1
slice
|
Calories:
292
kcal
|
Carbohydrates:
34
g
|
Protein:
8
g
|
Fat:
15
g
|
Saturated Fat:
1
g
|
Sodium:
190
mg
|
Potassium:
180
mg
|
Fiber:
4
g
|
Sugar:
11
g
|
Vitamin A:
25
IU
|
Vitamin C:
2
mg
|
Calcium:
141
mg
|
Iron:
2
mg