Snickers Frozen Chocolate Banana Bites
These easy Frozen Chocolate Banana Bites are the healthiest frozen dessert you will ever make.
These healthy chocolate banana bites taste like frozen banana snickers made with nourishing, wholesome ingredients to fuel your body with nutrients and energy.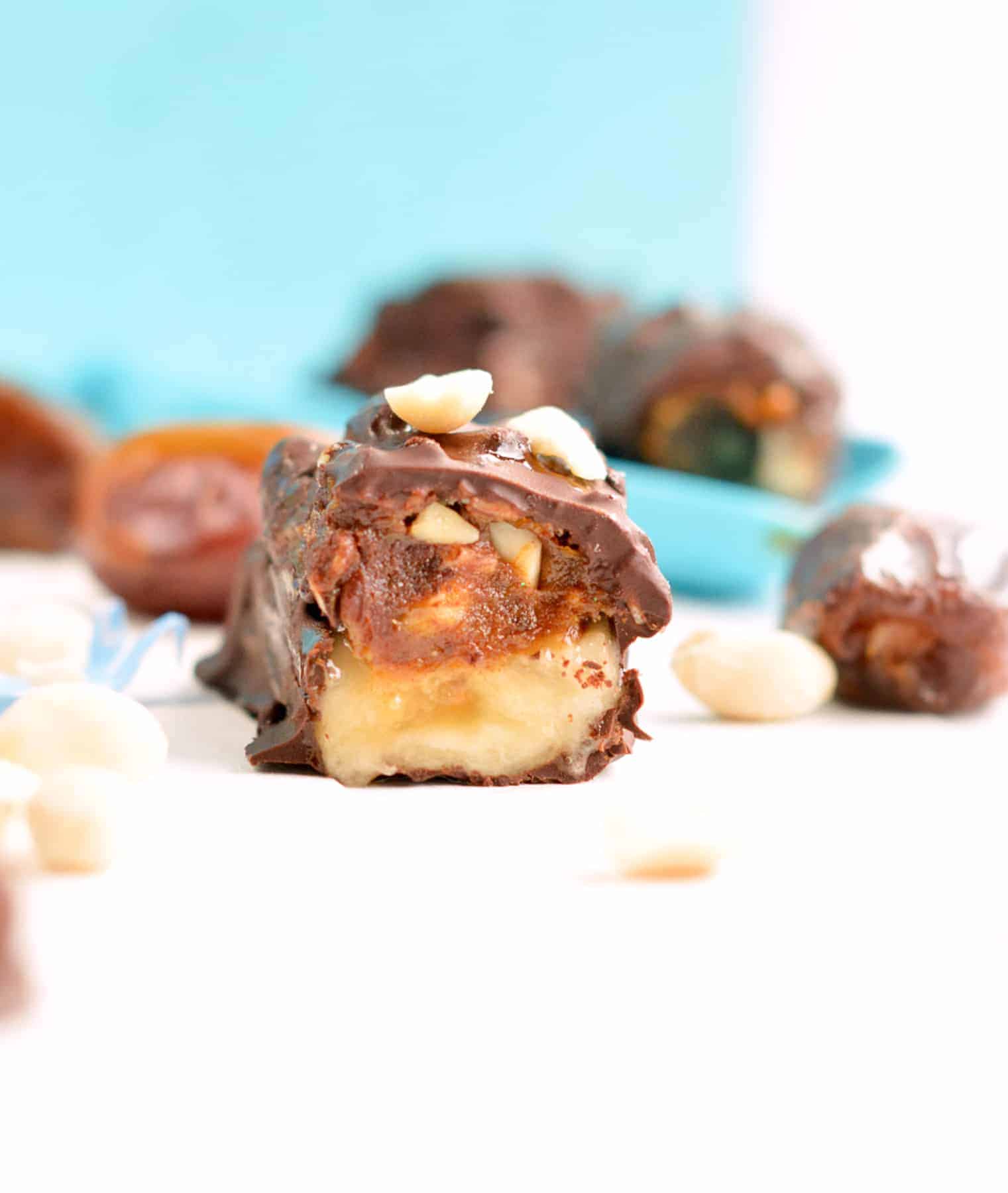 What Are Frozen Banana Snickers?
Frozen Banana Snickers are healthy bite-sized frozen desserts made of yellow banana slices, dipped into melted chocolate, and sometimes filled with peanut butter, peanuts, or date caramel.
They taste like sweet frozen treats, without the added sugar or additives of store-bought banana frozen desserts.
How To Make Frozen Banana Snickers Bites
You only need 5 simple, wholesome ingredients to make these banana snickers.
Ingredients
Preparing The Bananas
First, lay a large baking sheet or plate with parchment paper.
Slightly oil the paper with coconut oil and set it aside.
Also, make sure you are using a baking sheet that fits the width of the freezer because it's where you have to store the bananas afterward.
Peel the bananas and slice them into the shape you want. Here I slice each large banana into 4 even pieces.
Then, I cut each piece in half lengthwise and cut the sides to turn the banana into rectangles and make healthy frozen snickers bars, as seen in the pictures below.
Shaping The Banana
There are two ways to make frozen banana bites. You can make:
Banana sandwiches – slice the bananas into thick slices, spread the peanut butter or spread of choice in the center, top with another slice of banana, and freeze.
Banana boats – as seen in my picture, cut the banana into rectangle shapes – keep leftovers in the freezer to add in a banana smoothie recipe later on. Then, top each banana bite and top with the spread and crushed peanut, and freeze them.
Adding Spread
Now place the banana pieces on a lined baking sheet, leaving a thumb of space between each.
Then, top up each banana slice or banana rectangle with caramel paste or peanut butter.
Finally, sprinkle peanuts and if you are making a banana sandwich, top up with another banana slice on top.
Freezing
Freeze the plate to set the banana and its spread.
This is an important step in this recipe because if you dipped the banana into the melted chocolate straight away, it would get very messy!
The spread would end up in the melted chocolate, and the chocolate shell wouldn't hold as well.
So don't skip this 30 minutes to 1-hour freezing step.
You can also make this step the day before and keep the banana in the fridge overnight.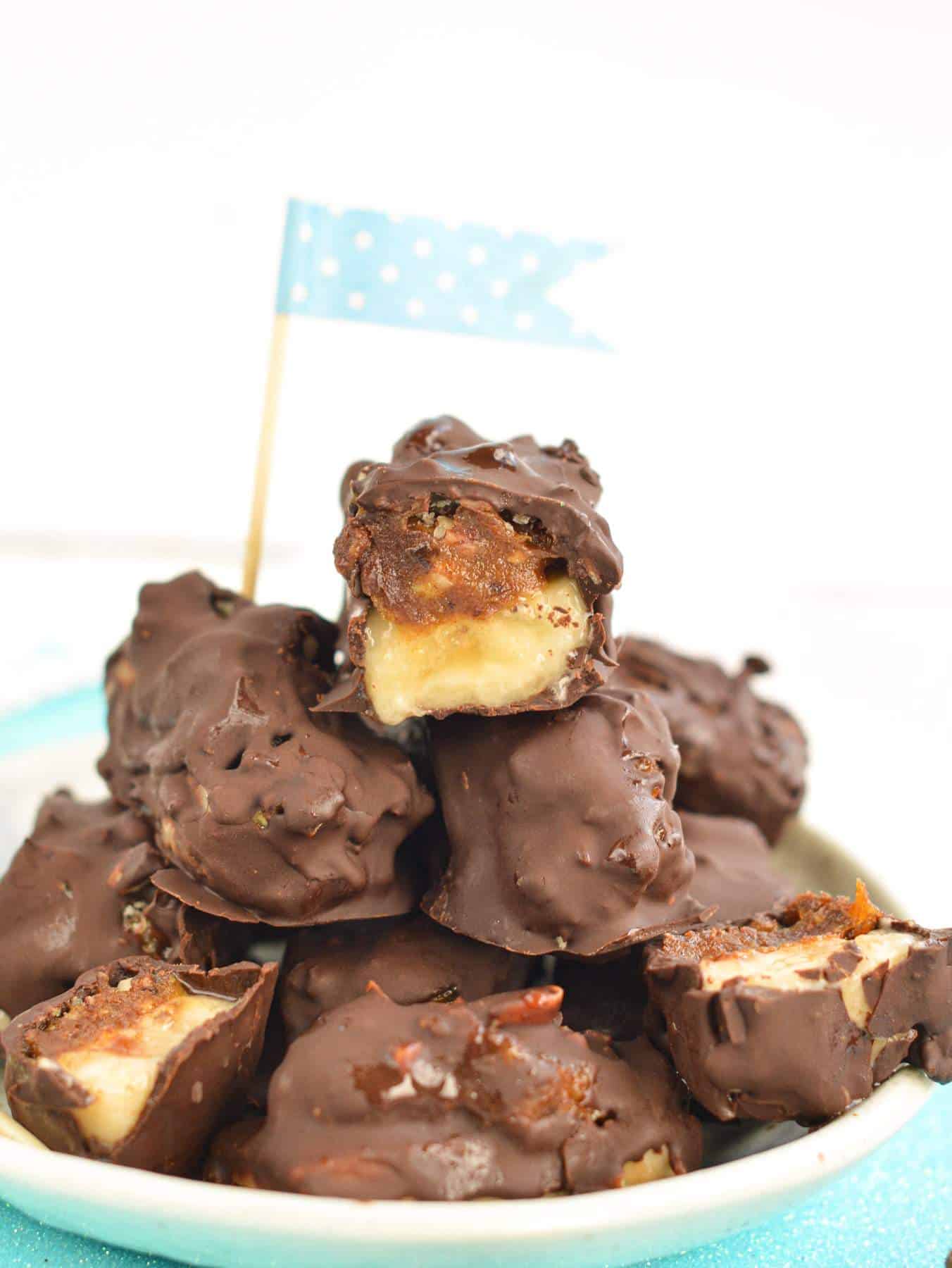 Chocolate Shell
Now that the bananas are hard enough prepare the chocolate dip.
In a microwave-safe bowl, add chocolate chips and coconut oil. Then, microwave in 30-second bursts, stirring between each until the chocolate has completely melted.
Finally, dip the frozen peanut butter banana bites into the melted chocolate using two forks to hold them.
Dip into the melted chocolate, and wait for a few seconds above the bowl to remove the excess chocolate.
Then, place the dipped banana onto the lined baking sheet and repeat for the remaining banana bites.
Freezing Again
When all the banana pieces have been covered with melted chocolate, freeze the bananas to set the chocolate shell.
It takes about 15 minutes to set.
Taste And Texture
To serve these banana bites, remove them from the freezer for 10 to 12 minutes before serving.
This gives the banana flesh some time to soften and provides a melt-in-your-mouth ice cream-like texture.
These are soft frozen banana bites covered with a crunchy dark chocolate shell and filled with roasted peanuts and a sweet sticky date caramel in the center.
They taste like frozen snickers with a delicious banana flavor.
Storage
These frozen banana bites can be stored in the freezer for up to 3 months in a sealed airtight container.
Pop them out of the freezer 10 minutes before serving to soften the caramel filling.
Nutritional Information
These banana bites are so much healthier and more nourishing than ice cream, loaded with plant-based proteins from nuts and nutrients from bananas, dates, and chocolate.
For one banana bite, you will get:
123 Calories
2 grams of Protein
5 grams of Fat
18 grams of Carbs
11 grams of Sugar
Spread Flavors
What I like the most about this easy frozen banana dessert is that there are many alternatives to create a range of flavorsome frozen chocolate banana bites.
You can use one of the spreads below to create a range of flavors and also decrease saturated fat,
Peanut butter – delicious and easy, but higher in saturated fat.
Almond butter – the best swap for peanut butter to decrease saturated fat.
Sunflower seed butter for a nut-free option.
Date caramel paste – my favorite option, combined with peanuts, the frozen banana bites taste like a healthy version of frozen snickers.
Crunchy toppings can also be various and different pick one or two of these to add on top of your spread:
Crunchy roasted peanuts – whole or crushed.
Almond slices
Desiccated coconut
Sea salt
More Vegan Recipes With Banana
If you love banana recipes, I have plenty more for you to try. Pick one of the below recipes. They are all vegan, gluten-free, and good for you!
Made these snickers banana frozen bites?
Share a comment or review below to connect with me or join me on Instagram to share a picture of your creation in your story, tagging @theconsciousplantkitchen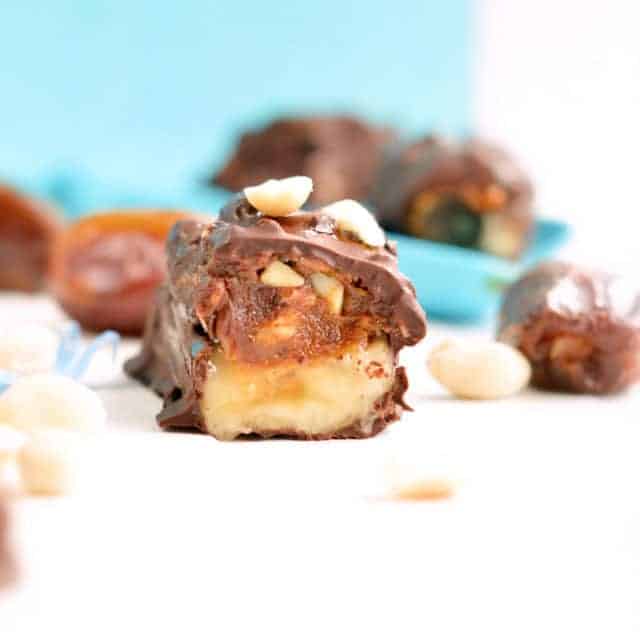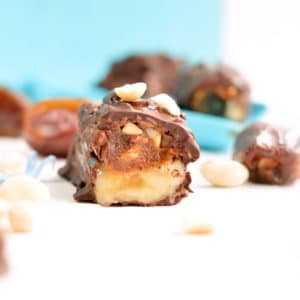 Frozen Chocolate Banana Bites
An Easy Frozen Chocolate Banana Bites recipe with date caramel, peanuts and crunchy chocolate shell. Vegan, gluten-free, paleo
Pin
Print
Review
Save
Saved Recipes
Servings:
16
Banana Bites
Shop My Tools
Instructions
Peel bananas and cut each banana into 4 even pieces/cylinders – scroll up in this post to see my step-by-step picture to guide you in this next step!

Cut each piece in half lengthwise. Then, cut the sides to shape rectangles and make healthy frozen snickers bars, as seen in the pictures above. Freeze the leftover bananas that in a ziplock bag and reuse them in a banana smoothie recipe later.

Line a baking sheet with parchment paper. Slightly oil the paper with coconut oil. Set aside

Place each banana rectangle on the baking sheet. Top each banana piece with 1 teaspoon of peanut butter date caramel, 1/2 teaspoon crushed peanuts.

Freeze for 30 minutes to 1 hour or until the banana pieces are hard.

In a microwave-safe bowl, melt chocolate chips and coconut oil. Microwave by 30-second bursts, stirring between until completely melted.

Remove the baking sheet from the freezer, hold one frozen banana bite with a fork and dip into the melted chocolate to completely cover.

Return the dipped banana bite to the baking sheet and repeat this step with the remaining banana bites.

Freeze the baking sheet again for 15 minutes to set the chocolate shell.

To serve, remove from the freezer 10 minutes before to slightly soften the banana.
Storage
Store up to 3 months in the freezer in an airtight container.
Share on Facebook
Pin Recipe
Nutrition
Serving:
1
Frozen Chocolate Banana Bites
|
Calories:
123
kcal
|
Carbohydrates:
18
g
|
Protein:
2
g
|
Fat:
5
g
|
Saturated Fat:
4
g
|
Polyunsaturated Fat:
1
g
|
Monounsaturated Fat:
1
g
|
Cholesterol:
1
mg
|
Sodium:
33
mg
|
Potassium:
244
mg
|
Fiber:
2
g
|
Sugar:
11
g
|
Vitamin A:
30
IU
|
Vitamin B12:
1
µg
|
Vitamin C:
3
mg
|
Calcium:
40
mg
|
Iron:
1
mg
|
Magnesium:
21
mg
|
Phosphorus:
35
mg
|
Zinc:
1
mg