This super easy Vegan Cajun Pasta recipe is made with roasted red bell pepper, and chickpeas and cooked in a dairy-free creamy sauce filled with tomatoes and Cajun spices.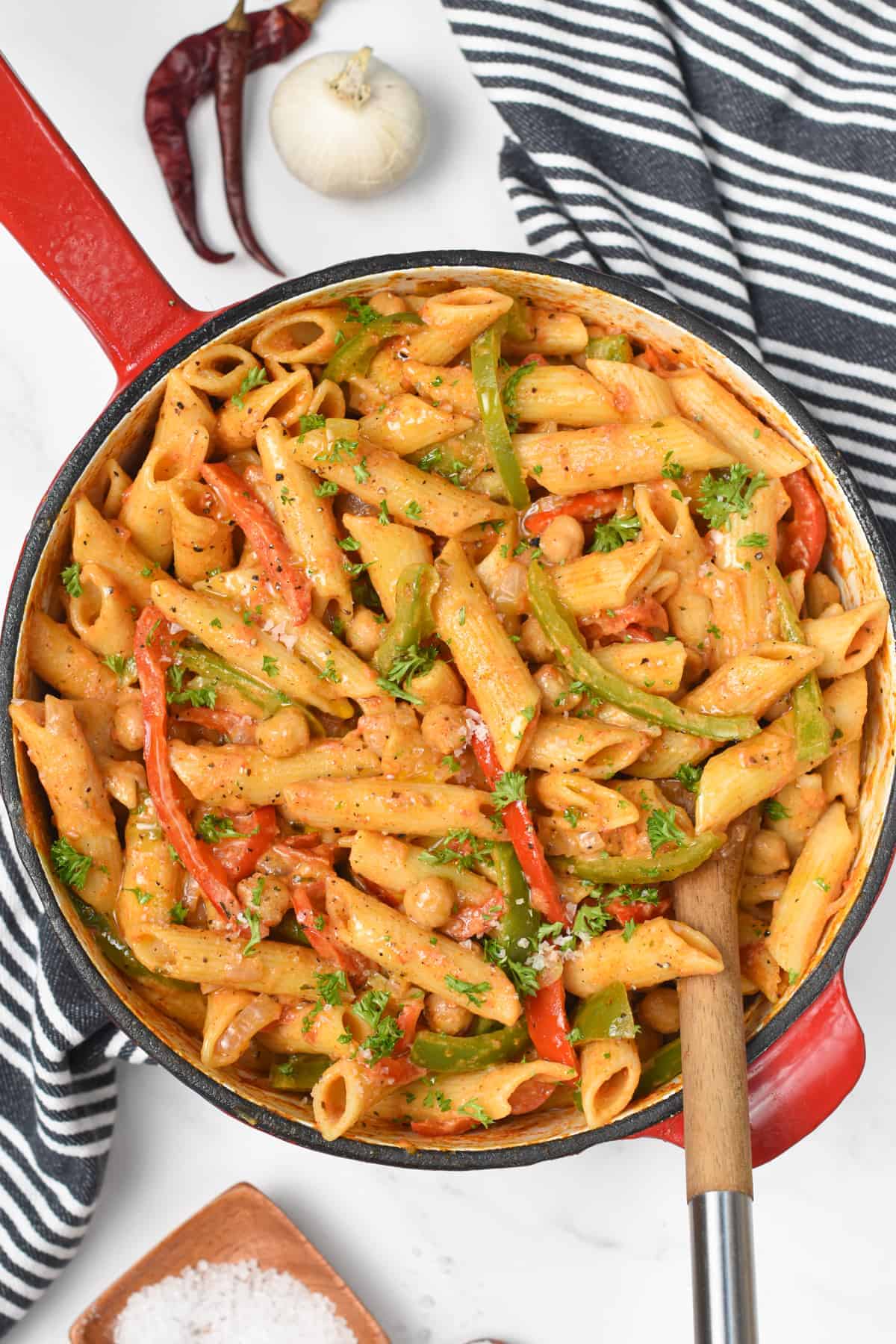 Every family loves pasta dishes, and this recipe will quickly become one of your favorite easy vegan dinners.
It's loaded with protein, healthy carbs, and so fulfilling and comforting as a family dinner!
Is Cajun Pasta Vegan?
No, an authentic Cajun pasta recipe is made with chicken and typically cooked in chicken stock. So Cajun Pastas are not vegan-friendly.
How To Make Vegan Cajun Pasta
There are many ways to adapt the classic Cajun Pasta recipe to make it vegan using vegetables you love and plant-based protein.
Here I chose to combine colorful red bell pepper and chickpeas. Let's see the ingredients you need for this easy vegan Cajun recipe.
Ingredients
Olive oil, vegan butter, or any vegetable oil you have on hand.
Onion – I used yellow diced onion, but red onion adds a lovely sweet flavor to the dish.
Canned chickpeas – rinsed, drained before use.
Garlic cloves
Red pepper
Green Bell pepper
Cajun seasoning
Salt – if your seasoning doesn't contain salt, if so, skip the salt to avoid overly salty vegan pasta.
Pasta – I used penne pasta. Mine are high-protein pasta. For a gluten-free, vegan dinner, you can use gluten-free pasta like quinoa, buckwheat, or rice pasta.
Vegetable stock
Fire-roasted canned diced tomatoes – or diced or crushed tomatoes.
Nutritional yeast
Cream of choice – I love soy cream or coconut cream from full-fat canned coconut cream.
Stirp-frying The Vegetables
First, in a non-stick large deep skillet, warm olive oil over medium heat. Cook onion for a couple of minutes until fragrant.
Then, stir fry the red bell pepper stripes and chickpeas for 4-5 minutes with one tablespoon of Cajun spices.
When cooked through, remove from the pan and set aside on a plate. Cover the plate with a lid or a piece of foil to keep the mix of chickpea and vegetables warm.
Cooking The Pasta
In the same skillet (no need to wash it), add the uncooked pasta, vegetable stock, remaining Cajun spice mix, and nutritional yeast. Stir in diced tomatoes too, cover with a lid and bring to a boil.
When it's boiling, reduce the heat and cook for about 10 minutes until the pasta is al-0dente, or cook longer for softer pasta.
Your sauce should be thick and creamy. If you run out of liquid to cook the pasta, add water, 1/4 cup at a time, and keep cooking until the pasta is cooked to your liking and the sauce is thick.
Return the vegetables to the pan, stir them to evenly combine the chickpeas and bell pepper with cooked pasta, and cook over medium heat.
Preparing A Slurry
Whisk the coconut cream and cornstarch in a small mixing bowl to form a slurry with no lumps.
Pour over the cooked pasta, stir and keep cooking over medium-low heat until the sauce thickens and it forms a vegan creamy cajun pasta sauce.
Serve immediately with fresh chopped parsley on top and a pinch of chili flakes if desired.
Cajun Seasoning Mix Recipe
If you can't find a Cajun spice mix at your store, let me share how you can easily make yours at home.
I like to make my own spice mix and store them in an airtight glass container in a dark, cool place in my pantry. They keep their flavor for up to 6 months and go very well in so many dishes.
You can also use this Cajun spice mix in my Vegan Jambalaya.
For one pot of Cajun spices, stir all the below dry spices together:
2 tablespoons of Paprika
2 tablespoons of Garlic Powder
1 tablespoon of Black Pepper
2 teaspoons of Onion Powder
3 teaspoons of Oregano
2 teaspoons of Chili Powder or Cayenne Pepper
2 teaspoons of Thyme
2 teaspoons of Salt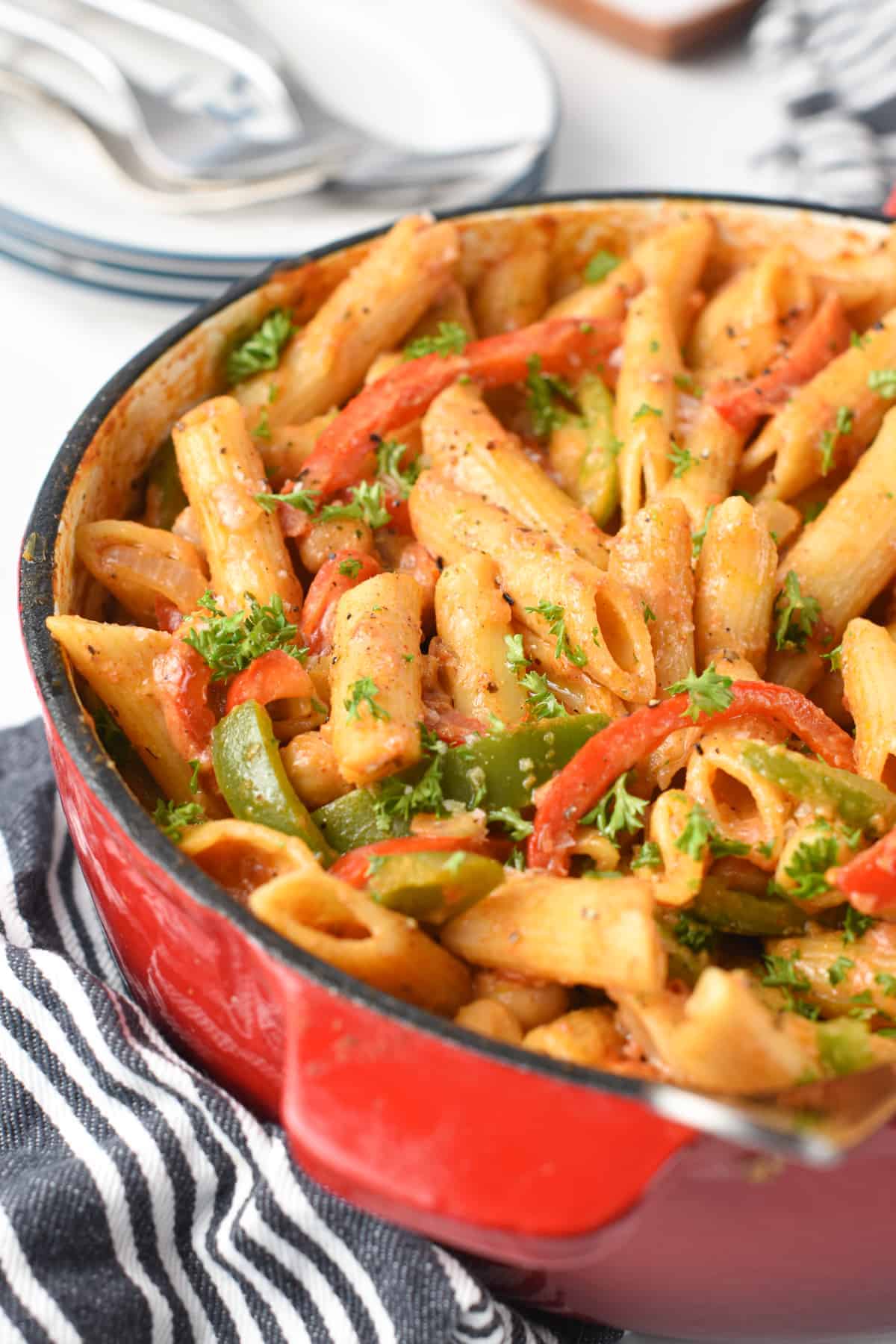 Storage Instructions
These vegan Cajun pasta store very well for up to 4 days in a sealed container in the fridge.
You can freeze a portion of this vegan meal and thaw it in the fridge the day before serving. It's a great lunch to meal prep and serve any time of the year.
Allergy Swaps
Gluten-free – you can use gluten0-free pasta for this recipe. Watch their cooking time carefully, as most gluten-free pasta cooks a bit faster than wheat, especially the buckwheat pasta that quickly turns mushy.
Chickpea-free – if you don't like chickpea, you can use any other can of cooked beans like brown lentils, or black beans, or skip it and cook some sliced mushroom as a vegan protein source instead.

More Vegan Pasta Recipes
Below I listed some more delicious vegan pasta recipes for you to try.
Have you tried this vegan Cajun pasta? Share a comment or review below to connect with me!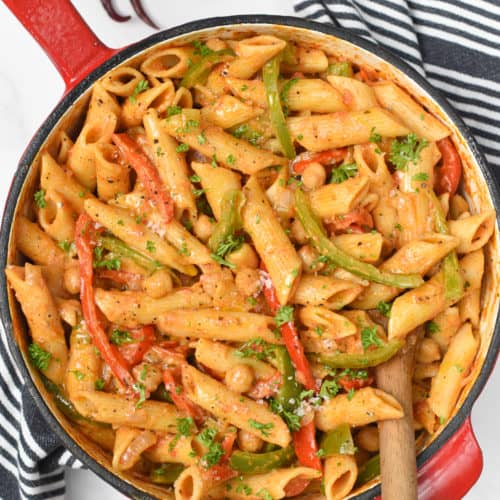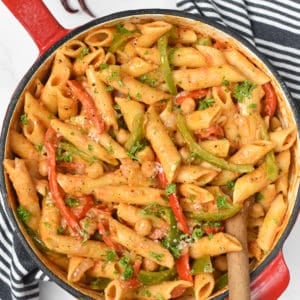 Vegan Cajun Pasta
Instructions
In a large deep skillet or Dutch oven, warm olive oil over medium heat.

Add diced onion and cook for 2 minutes, until golden and fragrant.

Stir in the bell pepper strips, garlic, canned chickpeas, 1 tablespoon Cajun seasoning. Cook for a couple of minutes until the pepper is roasted and golden brown.

Remove from skillet and set aside on a plate. Cover to keep warm.

In the same skillet (don't clean it!) add the uncooked pasta, remaining 1/2 tablespoon cajun seasoning, nutritional yeast, vegetable broth, and diced canned tomatoes. Stir to combine, cover with a lid and bring to a boil.

Once boiling, reduce to low heat and cook for 10-12 minutes, stirring every 3 minutes to prevent the pasta from sticking to the bottom of the pan. Cook until the pasta is al-dente or cooked to your liking, and the sauce is thick. If the pasta is not cooked to your liking and all liquid is absorbed, add an extra 1/4 cup to 1/2 cup cold water, cover, and keep cooking until the pasta is cooked through.

Meanwhile, prepare the slurry. In a small bowl, whisk coconut cream and cornstarch. You can also skip cornstarch and only add the cream, but the sauce won't be as thick.

Pour the slurry in the skillet along with the cooked chickpeas and bell pepper.

Stir to combine and keep cooking for a few minutes until the sauce thickens.
Storage
Store in the fridge in an airtight container for up to 3 days, or freeze and thaw in the fridge the day before.
Share on Facebook
Pin Recipe
Nutrition
Serving:
1
serving
|
Calories:
312.4
kcal
|
Carbohydrates:
30.7
g
|
Protein:
6.6
g
|
Fat:
19.5
g
|
Saturated Fat:
13.1
g
|
Polyunsaturated Fat:
1
g
|
Monounsaturated Fat:
4.1
g
|
Sodium:
404.4
mg
|
Potassium:
342.3
mg
|
Fiber:
3.4
g
|
Sugar:
3.5
g
|
Vitamin A:
1878.4
IU
|
Vitamin C:
45.2
mg
|
Calcium:
25.5
mg
|
Iron:
2.3
mg
|
Magnesium:
39.1
mg
|
Phosphorus:
98.1
mg
|
Zinc:
0.9
mg