This vegan Bolognese recipe is an easy healthy vegan dinner packed with the most delicious Italian flavors and more than 9 veggies!
If you are looking to add more veggies to your plate, this lentil Bolognese recipe is a must.
What's A Vegan Bolognese?
Bolognese is one of the oldest classic recipes that I used to make as an easy student dinner.
In this vegan version, the meat is replaced by a combination of brown lentils, textured soy protein, and cauliflower rice.
The combination of the three adds the protein and meat texture to the Bolognese sauce and it's hard to believe it's plant-based.
This sauce can be used on spaghetti by also as a filling in lasagna.
Is Classic Bolognese Vegan?
No, traditional Bolognese sauce is not vegan as it contains ground beef, chicken liver, milk, and often Parmesan cheese.
How To Make Vegan Bolognese
There are many ways to make a Bolognese recipe vegan using a different source of vegan proteins.
But here I am sharing a veggie lentil bolognese recipe that contains plants.
Ingredients
Here are the ingredients you need to make a tasty vegan bolognese sauce.
Olive Oil – pick locally-sourced extra-virgin olive oil.
Onion – Finely chopped, fresh, or frozen.
Garlic Cloves
Celery Sticks finely diced or grounded in a food processor.
Carrots – Finely diced or ground in a food processor.
Cauliflower Rice or broccoli rice. This is just cauliflower pulsed into a rice-like texture in a blender. You can buy ready-made cauliflower rice in the frozen aisle of most grocery stores. It's cheaper and also easy to use frozen in any recipe to mimic ground meat texture and add greens to your day.
Vegetable Broth
Textured Soy Protein or finely diced mushrooms. Both work great but for those who are not fans of button mushrooms, texture protein are a great alternative. I rehydrated textured soy protein for this recipe. I like the texture it adds to the Bolognese sauce but also, soy is a complete protein, so it adds all the essential amino acids you need on a vegan diet.
Brown Lentils
Salt
Dried Marjoram
Dried Oregano
Fresh Rosemary Sprigs
Tomato Paste
Vegan Worcestershire sauce or tamari sauce. This adds the umami flavor, meaty flavor, to the sauce.
Crushed Canned Tomatoes
Preparation
First, prepare the vegetables. You have two options here.
You can finely dice all the vegetables: celery, carrots, and mushrooms if using.
Or, the easiest is to bring these vegetables into the bowl of a food processor and pulse them a few times until they form a chunky ground-like texture.
In a large non-stick Dutch oven, warm olive oil over medium-high heat. Add the diced onions and cook until golden brown and fragrant.
Stir in the diced carrots, celery, cauliflower rice, brown lentils, and rehydrated soy proteins. Stir and cook for 4 to 5 minutes or until the celery and carrot have vibrant colors and lightly soften.
Stir in all the dry spices, crushed canned tomatoes, tomato paste, vegetable broth salt and pepper, and rosemary sprigs.
Simmering The Sauce
Cover the pan with a lid, bring to a light boil then reduce to a simmer. Simmer for 30 to 40 minutes until the sauce thickens.
In the end, discard the rosemary sprigs from the sauce.
A Bolognese sauce should look like a ragout. It's a slow-cooked sauce full of grounded vegetables and proteins with a small volume of tomato sauce.
Your Bolognese is cooked through when it looks packed and dense not saucy or liquid.
Just before serving, cook the pasta following the packaging instructions. Drain and rinse pasta over a sieve.
Serving
There are two ways of serving a good vegan Bolognese. Feel free to pick the way you enjoy the most.
Some people like to stir the cooked spaghetti pasta and Bolognese sauce together in the Dutch oven before serving.
I prefer to serve the warm pasta on plates and top it with a good amount of warm Bolognese sauce.
Stir in your plate to combine and serve with extra toppings for a boost of flavors.
Topping Ideas
The best ingredients to serve with vegan pasta are:
Vegan Parmesan
Fresh Basil
Fresh Parsley
A drizzle of olive oil
Ground Pepper and extra salt
Red Pepper Flakes for a spicy flavor or cayenne pepper.
Storage Instructions
You can store the Bolognese sauce on its own or already stirred in the cooked spaghetti. Store in an airtight container in the fridge for up to 4 days.
This is also a freezer-friendly meal. It can be kept for up to one month in the freezer, and it's the perfect family-friendly dinner for kids on busy weekdays.
Simply thaw the recipe in the fridge the day before serving.
Rewarm in a large non-stick pan, add a bit of water at the bottom to loosen the sauce, and prevent the pasta from cooking in the pan.
Allergy Swaps
Below are some substitution ideas for you to try if you are allergic to some of the ingredients.
Gluten-Free – The Bolognese sauce in this recipe is entirely gluten-free. However, to serve gluten-free Bolognese, make sure you pick wheat-free pasta like quinoa spaghetti, rice noodles, or edamame spaghetti for a boost of proteins.
Soy-Free – You can replace the textured soy proteins with more cauliflower rice, finely diced mushrooms, ground walnuts, or vegan meat alternatives like Beyond Meat. If so, stir-fry the vegan meat in a separate skillet before adding it to the sauce. This adds flavor and prevents the vegan meat from steaming in the sauce, which wouldn't add much texture. Swap the soy sauce for vegan Worcestershire sauce.
Oil-Free – You can stir-fry the vegetables with a tablespoon of water. However, the oil-free version makes the Bolognese very watery. A good old-fashioned Bolognese recipe is usually a bit oily.
Low-Carb – Feel free to use low-carb pasta for this recipe, including homemade zucchini noodles, edamame noodles, and black bean noodles.
Frequently Asked Questions
Find below are my answers to your most common questions about vegan pasta dinner recipes.
Can I Use Canned Lentils?
The recipe has been written for dried lentils, which means it contains the amount of liquid needed for the lentils to be rehydrated.
If you use canned lentils, you will need fewer crushed tomatoes and less vegetable broth or the sauce will be runny.
Also, canned lentils quickly turn mushy in slowly-cooked sauce, so I highly recommend sticking to dried lentils for Bolognese lentil recipes.
Can I Use Other Lentils?
You can swap brown lentils for black lentils of French green lentils.
Don't use red or yellow split lentils. These cook super fast and get mushy in this pasta sauce recipe.
What Is The Best Pasta For Bolognese?
Bolognese is a thick sauce loaded with proteins and veggies.
Therefore, it marries better with long strands of pasta like spaghetti, fettuccine, linguine, or pappardelle.
More Vegan Pasta Dinner Recipes
If you like this recipes, you'll love these other easy vegan dinner recipes.
Have you tried this easy vegan pasta dinner recipe? Share a comment or review below to connect with me.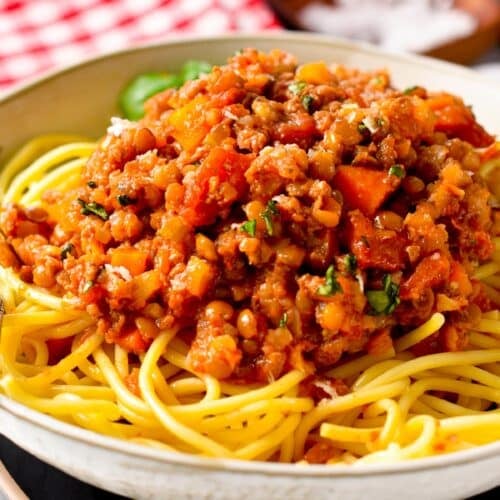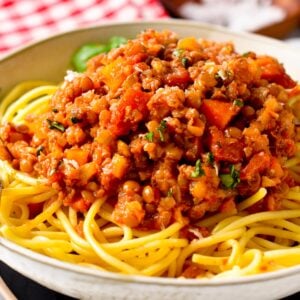 Vegan Bolognese
This vegan Bolognese recipe is an easy healthy vegan dinner packed with the most delicious Italian flavors and more than 9 vegetables! If you are looking to add more plants to your plate, this lentil Bolognese recipe is a must.
Pin
Print
Review
Instructions
In a large Dutch oven, warm olive oil over medium heat. Stir in onion and cook until fragrant.

Stir in garlic, diced celery, diced carrots, and cauliflower rice.

Stir and cook for 3-5 minutes until fragrant and vegetables are vibrant in color and have lightly softened.

Stir in the dried brown lentils and rehydrated textured soy protein and cook for 1 minute.

Add all remaining ingredients, stir, and bring to a light boil.

Reduce to low-medium heat, cover, and simmer while stirring occasionally.

Cook the Bolognese sauce for 30-40 minutes or until the lentils are tender and the sauce is rich and thick like a ragout, and minimal liquid is left on the pot.

Meanwhile, cook your spaghetti according to the packaging instructions.
Serving
Serve on top of cooked spaghetti with vegan Parmesan cheese, fresh basil or parsley, extra salt, and pepper.
Storage
Store the Bolognese in the fridge, in an airtight container for up to 4 days or 1 month in the freeze. Thaw in the refrigerator the day before. Rewarm in a microwave-safe bowl or a nonstick pan.
Share on Facebook
Pin Recipe
Nutrition
Serving:
1
serving
|
Calories:
181.1
kcal
|
Carbohydrates:
23.9
g
|
Protein:
13.2
g
|
Fat:
3.9
g
|
Saturated Fat:
0.6
g
|
Polyunsaturated Fat:
0.5
g
|
Monounsaturated Fat:
2.6
g
|
Sodium:
492.1
mg
|
Potassium:
483.7
mg
|
Fiber:
10.7
g
|
Sugar:
4.8
g
|
Vitamin A:
296.2
IU
|
Vitamin C:
23.6
mg
|
Calcium:
75.4
mg
|
Iron:
3.8
mg
|
Magnesium:
41.5
mg
|
Phosphorus:
139.9
mg
|
Zinc:
1.4
mg