One-Pot Vegan Jambalaya Recipe Ready In 30 Minutes
This easy vegan jambalaya recipe is ready in 30 minutes in one bowl.
It's a delicious southern-style comforting family dinner with sticky tomato rice cooked with a medley of soft beans, vegan sausages, and Cajun flavors.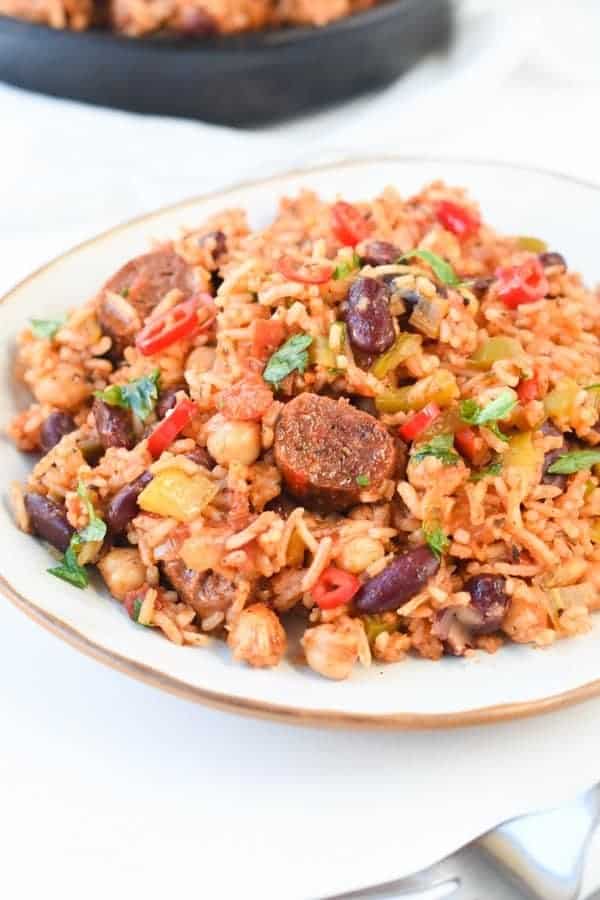 Is Classic Jambalaya Vegan?
No, the classic jambalaya recipe is made with two or three kinds of meat, and sometimes it also contains shrimp.
However, it's very easy to reproduce the flavor, texture, and protein properties of this classic recipe in a vegan-friendly way using beans and vegan sausages.
What's A Vegan Jambalaya?
A vegan jambalaya recipe is a flavorsome tomato rice dish slowly cooked with beans, vegetables, and Cajun spices.
It has a rich and creamy texture similar to risotto recipes. The rice is creamy and packed with vegetables and beans.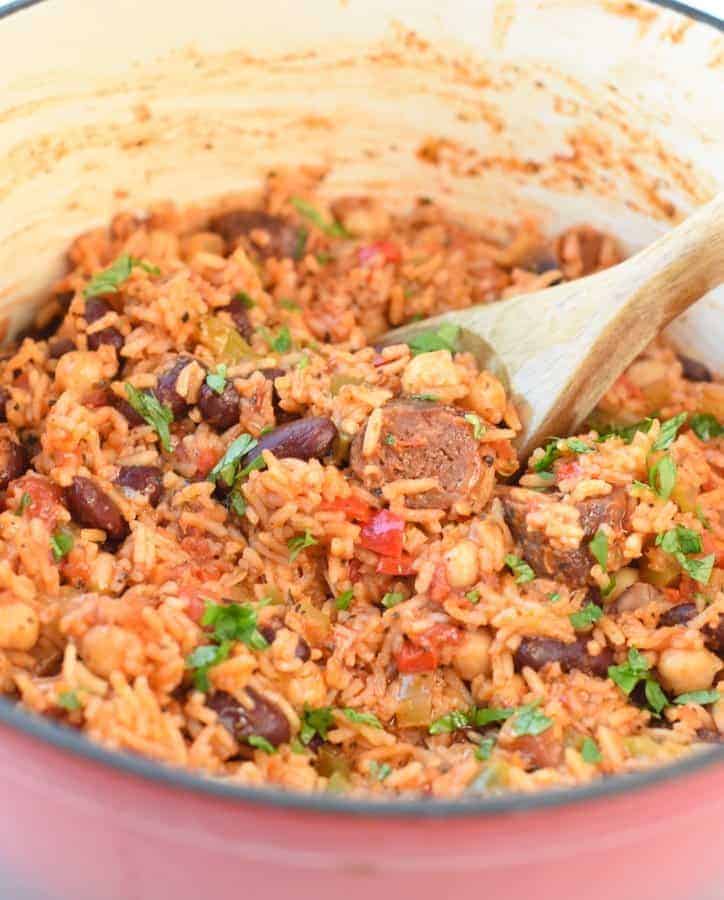 How To Make Vegan Jambalaya
The key to making a flavorsome vegan jambalaya recipe is to use many spices.
Ingredients
The ingredients you need to make this simple recipe are:
Long-Grain Rice – You can use brown rice, white basmati rice, and quinoa. Don't use short-grain rice or risotto rice as the vegan jambalaya would become too sticky.
Tomato Paste – Tomato paste needs to be made solely with tomatoes. The only other ingredients can be salt and olive oil, nothing else.
Canned Diced Tomatoes – Canned tomatoes come in their juice and should only include water. Don't use a can of seasoned diced tomatoes, as it can alter the taste of the recipe.
Vegetable Stock – Classic vegetable stock, preferably with organic ingredients and minimal food additives.
Red Kidney Beans – Red kidney beans are legumes very rich in protein, iron, calcium, magnesium, and Vitamin B6.
Chickpeas – Chickpeas are another protein-rich ingredient that brings a delicious taste.
Bell Pepper – I like to use a combination of red and green for a good balance of flavors and colors.
Celery – Celery is a vegetable rich in vitamins (Vitamin A, Vitamin K, Vitamin C) and minerals (Potassium) and it brings minimal carbs while adding a tangy taste.
Onion – You can use either white, yellow, or red onions in the dish.
Olive Oil – I prefer using locally-sourced extra-virgin olive oil.
Herbs and Spices – Garlic, Paprika, Oregano, Basil, and Cajun Seasoning.
Vegan Sausage – This is optional, but it adds a boost of flavors, protein, and texture that mimic the authentic jambalaya recipe.
It looks like many ingredients, but don't be overwhelmed by it.
The recipe is pretty simple and straightforward. This vegan jambalaya recipe is a one-pot recipe ready in 30 minutes.
Cooking the vegetables
First, heat olive oil in a large cast-iron casserole or large pot over medium-high heat. Add the onion, celery, bell peppers, salt, and pepper.
Reduce heat and cook the vegetables for 3 minutes until tender. Feel free to add jalapeno slices if you love your dish spicy.
Stirring In Rice And Spice
Then, add tomato paste, garlic, dried oregano, dried basil, salt, paprika, and Cajun seasoning.
Stir fry the rice and tomato paste into the cooked vegetable for 1 minute.
Adding Liquid Ingredients
Now, add crushed canned tomatoes, and vegetable broth.
Bring to a boil, then reduce heat and cover the casserole. Cook for 15 minutes on medium heat until the rice has absorbed all the liquid.
You know it's cooked when the rice is tender.
Don't forget to open the casserole and stir every 2 to 3 minutes to prevent the rice from sticking to the bottom of the casserole.
Cooking Vegan Sausage
Meanwhile, cook the vegan sausage in a BBQ or non-stick pan on all sides. Then, slice into thick chunks.
Adding Proteins
Now that the rice is cooked through and thick, stir in chickpeas and kidney beans, plus the optional vegan sausage chunks.
Cook for another 3-4 minutes until all the ingredients are warm and fragrant.
For a different perspective on this recipe, watch my story about making the vegan Jambalaya with full instructions!
Serving Vegan Jambalaya
Serve this vegan jambalaya recipe hot with some finely chopped parsley, slices of jalapeno, or a drizzle of hot sauce.
Recipe Variations
This vegan jambalaya recipe is a comforting gluten-free dinner full of plant-based proteins.
Rice option – you can add the rice you like to this recipe. For example, you can increase fiber and decrease net carbs per serving by using long-grain brown rice. It will take a little bit longer to cook – around 20-22 minutes.
Vegan sausage – there is a variety of vegan sausage available on the market, from tofu Italian sausage often flavored with Italian herbs like rosemary to pea-based sausages. However, tofu sausages tend to crumble into this dish, and I prefer to use Beyond Meat sausages or the Alternative Meat Co. sausages. These two options taste very similar to chorizo and add a similar meaty texture and spicy flavor as you used to eat in an authentic jambalaya. They also hold shape very well even if you rewarm the dish.
Beans – play with the sort of beans, swap kidney beans for cannellini beans, or chickpeas for peas! All these options are very tasty and flavorsome.
Spices – this recipe uses Cajun seasoning, but for a creole version, swap for creole seasoning.
Storing Vegan Jambalaya
This dish can be stored for up to 4 days in an airtight container in the fridge.
You can rewarm the dish in the microwave or a non-stick saucepan.
The jambalaya freezes very well too. Thaw in the fridge the day before serving.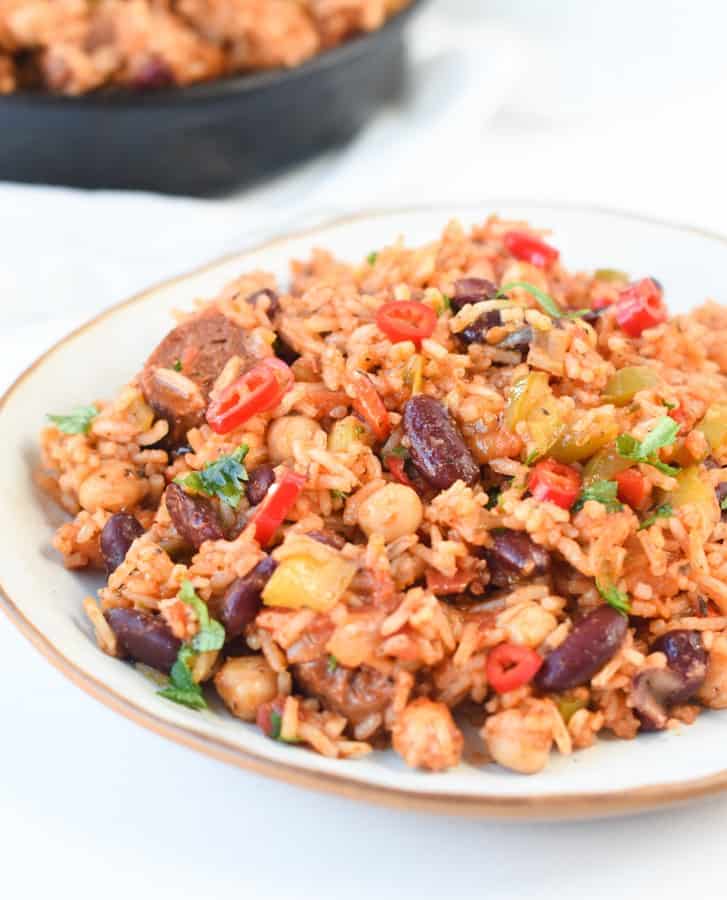 More Vegan Meal Recipes
If you've enjoyed this vegan meal recipe, you'll love these:
Have you made this vegan jambalaya recipe? Share a comment or review below. I love to hear your feedback on my recipes.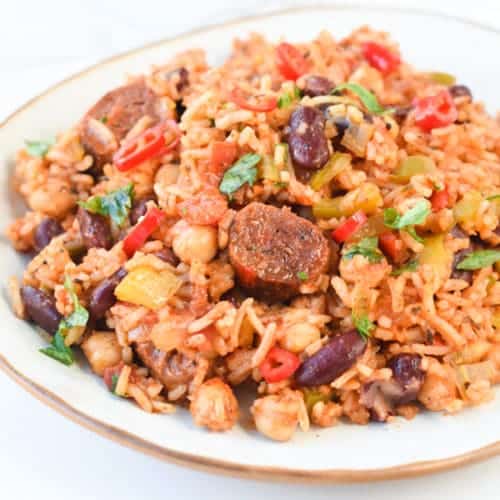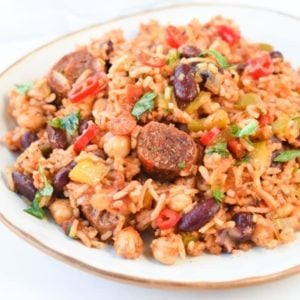 Vegan Jambalaya Recipe
An easy flavorsome Cajun seasoned rice dish with lots of beans and vegetables.
Pin
Print
Review
Servings: 6 people
Calories: 195 kcal
Ingredients
Optional
6 oz Beyond Sausage - grilled, sliced
1 tablespoon Hot Sauce
1 tablespoon Parsley - chopped
2 Green Onions - thinly sliced
Instructions
In a large cast-iron casserole, heat olive oil over medium heat.

Add onions, celery, bell peppers, and jalapeno slices if you like your dish on the spicy side. Season with salt and pepper.

Cook for 4 minutes, or until just tender.

Stir in garlic, rice, tomato paste, sweet paprika, oregano, basil, Cajun seasoning, and cook for 1 minute.

Stir in diced canned tomatoes and vegetable broth.

Cover and cook for 15 minutes over medium heat until rice is cooked.

Stir in chickpeas and red kidney beans, cover, and cook again for 5-9 minutes on low-medium heat.

Meanwhile, warm a skillet over medium heat with 1 teaspoon of olive oil. Fry the beyond sausage for 5-7 minutes on all sides. Remove from heat and slice.

Stir in the sausage slices into the jambalaya casserole.

Serve with sliced green onions, a drizzle of hot sauce, and finely chopped parsley.
Share on Facebook
Pin Recipe
Nutrition
Serving: 1person | Calories: 195kcal | Carbohydrates: 37g | Protein: 9g | Fat: 1g | Saturated Fat: 1g | Sodium: 1164mg | Potassium: 312mg | Fiber: 4g | Sugar: 6g | Vitamin A: 1680IU | Vitamin C: 52mg | Calcium: 49mg | Iron: 3mg