These Vegan Madeleine are buttery, light, and airy biscuits with a hint of vanilla and made without eggs or dairy.
They are the perfect plant-based version of the real French madeleines.
Madeleines are a French favorite childhood comfort food for many people.
They are one of these daily biscuits or bite-sized cakes that kids have after school in France and that all mums have in their pantry.
Are Classic Madeleines Vegan?
Unfortunately, the classic recipe, like many French pastry recipes, is made with eggs, often two or more, butter, and sometimes a touch of honey.
So since madeleines are not vegan, I decided to create my version that brings back so many childhood memories.
What Are Madeleines?
Madeleines are French biscuits with a vanilla-flavored sponge-like texture.
The classic Madeleines de Commercy are popular for their shell shape, buttery and airy texture, and signature taste.
It's a classic recipe from Eastern France that kids often have as an after-school snack.
The French idiom used to describe any cherished memory is "Madeleine de Proust" in reference to how the famous author Marcel Proust remembered his loved treats in the first volume of the novel In Search Of Loved Time.
How To Make Vegan Madeleines
If you are a French pastry chef, pass your way because my techniques to make egg-free madeleines aren't quite conventional.
The way I designed this vegan version of the madeleine is a very scientific approach. After reading about how the traditional recipe requires cream, eggs, and sugar to make the madeleine raise, I tried to figure out how I could achieve the same result without eggs.
So the baking technique I list below to make vegan French madeleines are not the ones you will see in a classic madeleine recipe.
However, it does work like magic!
Ingredients
Below are the ingredients needed to make the best madeleines without eggs or butter.
All-Purpose Flour – No substitution is possible. You must use wheat flour for good results in this recipe.
Baking Powder
Baking Soda – The classic recipe has no baking soda, but this helps the vegan madeleine raise better.
Sugar – You must use white or caster sugar for this recipe otherwise, you won't achieve the best crispy shell and golden color of the madeleines.
Light Olive Oil or canola oil – I tried melted vegan butter, and the result wasn't as good and buttery, so oil is necessary. While coconut oil might work, I don't recommend it.
Vegan Yogurt – Prefer unsweetened plant-based yogurt like soy yogurt or coconut yogurt. I've tried almond milk and soy milk, and plant-based milk doesn't work as well.
Plant Based milk – any varieties like coconut milk, almond milk, oat milk
Vanilla Extract – For a traditional taste.
Optional – You can flavor the madeleine with lemon zest, almond extract, or lemon extract.
Madeleine Batter
First, preheat the oven to 430°F (220°C). Slightly oil the madeleine pan with olive oil spray. Set aside.
Next, in a large bowl, use a hand whisk to vigorously whisk the olive oil, vegan yogurt, dairy-free milk, sugar, and vanilla extract until creamy and smooth. It takes barely 20 seconds.
Now, sift the flour, baking powder, and baking soda on top of the bowl.
Finally, use a silicone spatula to gently bring the flour into the liquid ingredients creating a smooth, runny batter.
Freezing The Batter
This is my first unconventional tip to make the best vegan madeleine that actually gets a real hump in the center.
Pop the mixing bowl in the freezer, not the refrigerator, for exactly 10 minutes – no more or less or it will impact the baking time afterward.
Filling The Madeleine Mold
Remove the bowl from the freezer. The batter should be very thick by now, and that's exactly what you want.
If you have never made madeleines before, you should know that the cavity should be filled only to 3/4 of their volume.
Actually, you should not spread the batter in the cavity but simply scoop out 1 1/2 tablespoon of batter (about 22 ml) in the center of the cavity.
I used a small cookie dough scoop to work with precision and fill the hole with the same amount of batter every time.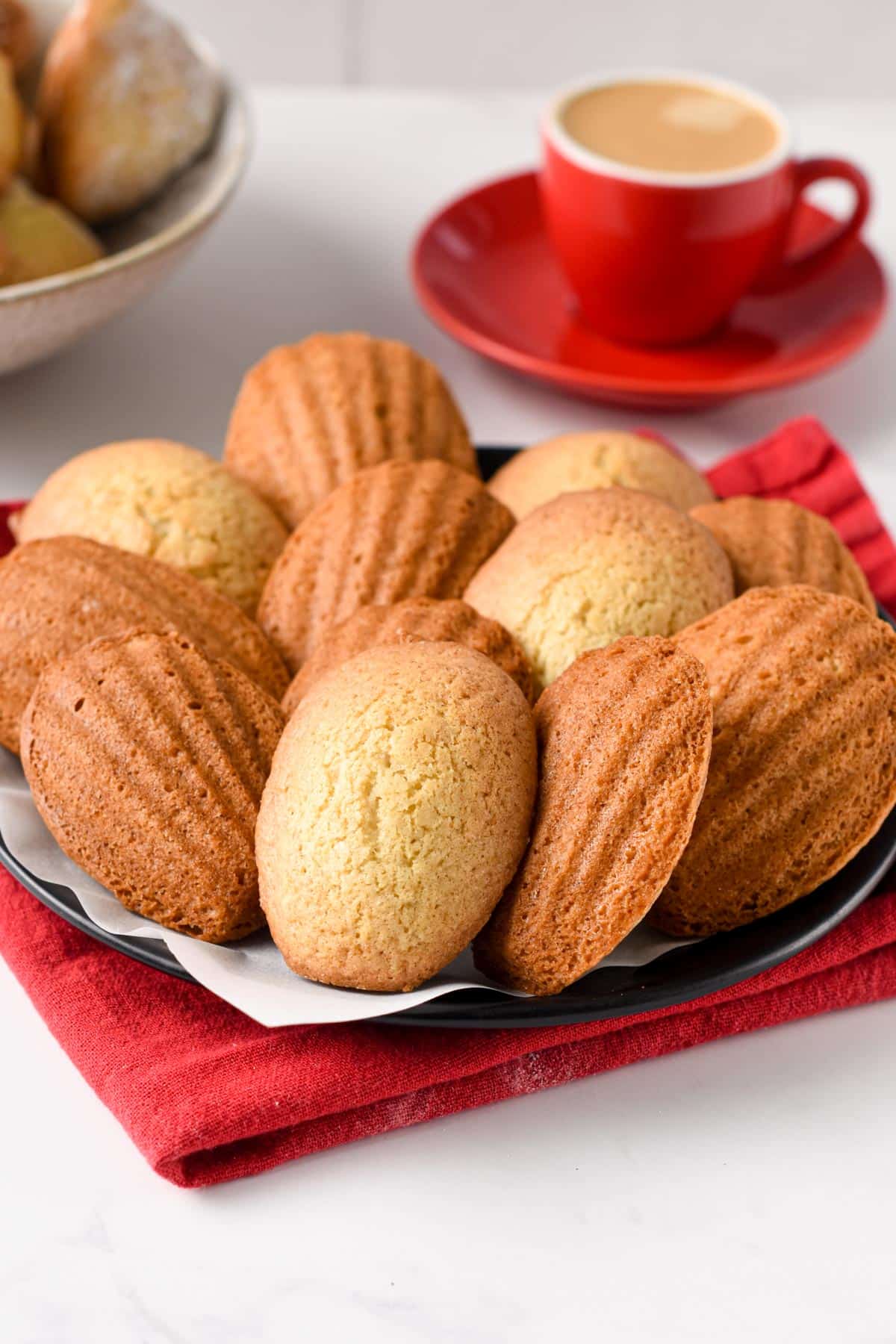 Baking Madeleines
The trick to making madeleine raise in the center is to bake the recipe in two steps.
Step 1: Bake them for 3 minutes 30 seconds at 430°F (220°C).
Step 2: Reduce the heat to 320°F (160°C) and keep baking from 5 to 7 minutes.
How Do You Know Madeleines Are Baked?
Madeleines bake really fast because they are very small.
You know they are ready when they raise in the middle, and the bump of the madeleine is still white while the sides are golden brown.
Insert a pick in the higher part of the madeleine, if it comes out clean, they are ready to cool down.
Remove the pan from the oven and cool immediately on a wire rack with the shell side on the rack.
Decorating Madeleines
French people don't decorate madeleines. It's a plain vanilla biscuit that we eat simply like Americans would eat plain vanilla muffins.
However, if you fancy some decoration, you can try simple things like:
Dust of powdered sugar
Dip shell into melted chocolate
Sprinkles
Storage Instructions
You can store the madeleines in a cookie box at room temperature for 3 to 4 days as long as they stay in a cool, dark place.
However, it's quite likely they will all be gone long before that.
If you made a large batch, you can freeze them for up to three months in zip lock bags and thaw them at room temperature the day before.
Frequently Asked Questions
Below are my answers to your most frequent questions about this French recipe.
Are Madeleines Vegan?
No, French madeleines contain eggs. butter, and sometimes a touch of honey. So they are not vegan-friendly but easy to make at home with some simple swaps.
Can I Use Vegan Butter?
You can replace the vegetable oil with melted vegan butter, but I found the texture of the madeleine more buttery with a better yellow shade using olive oil.
Can I Use Healthier Sugar?
I didn't try any sugar alternative to make madeleine. I am sure sugar-free xylitol or erythritol will work in the same amount to cut down sugar.
However, the color may be less golden on the sides and bottom.
Can I Make Gluten-Free Madeleines With This Recipe?
You can probably use an all-purpose gluten-free flour blend containing added gum and achieve similar results.
Again, I didn't try this option so I can guarantee the results.
I Don't Have A Madeleine Pan, What Can I Use?
You can bake madeleines in a muffin pan, preferably in a mini muffin shape because you need to stick to a max of 2 tablespoons of batter to achieve a real madeleine texture or they will turn into madeleine muffins.
Why Are Madeleines Shaped Like A Shell?
Madeleines get their hump because the mold is deeper in the middle. Since it contains more batter than the edges, when it doubles in size while baking, it develops a large hump.
How Are Madeleines Different From Cakes?
Madeleines have a similar texture and taste to vanilla sponge cakes, but their smaller size gives them a different texture. Since they have more shallow edges than cake, you can taste the caramelized sugar much more than on a slice of sponge cake.
Why Are Madeleines Called Madeleines?
According to the legend, Madeleines were named after the person who baked these little cakes for King Louis XV, Madeleine Paulmier.
More Vegan French recipes
Below are French-inspired vegan recipes for you to try:
Did you try making my vegan madeleines? Share a comment or review below to let me know how it goes.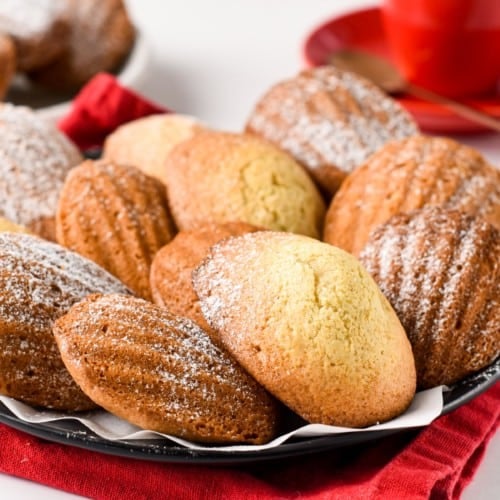 Vegan Madeleines
These Vegan Madeleines are buttery, fluffy egg-free French madeleines. A delicious French pastry recipe revisited vegan for all plant-based food lovers.
Pin
Print
Review
Servings: 18 madeleines
Calories: 145 kcal
Instructions
Preheat the oven to 430°F (220°C). Grease a 12-hole madeleine pan with olive oil spray. Set aside.

In a large bowl, whisk vigorously vegan yogurt, dairy-free milk, sugar, vanilla, and olive oil.

Sift flour, baking powder, and baking soda on top of the bowl.

Stir gently with a spatula until the batter is smooth and runny.

Pop the bowl for 10 minutes in the freezer to cool the batter quickly. This will make the madeleine raise perfectly in the center, so don't skip.

Remove the bowl from the freezer. Use a small cookie dough scoop to scoop out the batter from the bowl, about 1 1/2 tablespoon, and place the batter in the center of each madeleine cavity. The recipe makes 18 madeleines so you will have leftovers to bake in a second batch later. Keep the leftover in the fridge while the madeleines are baking.

Bake for 3 minutes and 30 seconds at 430°F (220°C), then decrease the heat to 320°F (160°C) and keep baking for 5-7 minutes. Watch the madeleines carefully, they are ready when golden-brown on the sides, still white in the middle but a pick inserted in the center comes out clean.

Cool down immediately on a wire rack on the shell side to keep the bump of each madeleine.

Cool the tray for 15 minutes. Meanwhile, pop the remaining batter in the freezer for 10 minutes again. Repeat the steps above to bake the remaining 6 madeleines.
Storage
Store the madeleines in a cookie box at room temperature, in a cool dry dark place for 3-4 days or freeze them for up to 3 months in zip lock bags and thaw them at room temperature the day before.
Share on Facebook
Pin Recipe
Nutrition
Serving: 1madeleine | Calories: 145kcal | Carbohydrates: 18.1g | Protein: 1.5g | Fat: 7.8g | Saturated Fat: 4.5g | Polyunsaturated Fat: 0.4g | Monounsaturated Fat: 2.4g | Sodium: 57.2mg | Potassium: 48.4mg | Fiber: 0.3g | Sugar: 8.5g | Vitamin C: 0.5mg | Vitamin D: 0.04µg | Calcium: 20.7mg | Iron: 0.8mg | Magnesium: 8.5mg | Phosphorus: 30.1mg | Zinc: 0.2mg