An easy Lentil Taco Recipe made with lentil cauliflower meat for a delicious healthy vegan taco night packed with plant-based proteins.
Bonus, this lentil taco recipe also contains a recipe of vegan, gluten-free tortillas!
What Are Lentil Tacos?
Lentil tacos are meat-free tacos filled with a lentil taco meat replacement. They are perfect for a healthy and yummy Taco Tuesday!
They are naturally vegan, gluten-free, and a healthy plant-based protein meal for anyone looking to decrease meat consumption or start a vegan diet.
How To Make Lentil Tacos
To make a healthy lentil taco recipe, you need the following:
Step 1: Cooking The Lentil Taco Meat Recipe
Lentil taco meat is a healthy vegan meat replacement made of canned brown lentils. Follow my lentil cauliflower taco meat recipe to make your own in less than 15 minutes.
It's the easiest recipe made with only a few simple ingredients.
All you need is a large skillet, a drizzle of olive oil, taco seasoning, tomato paste, vegetable broth, and canned brown lentils that you stir in a pan.
You can also use green lentils, but they contain less fiber than brown lentils.
It takes a few minutes to cook the lentil taco meat mixture until the lentils are as tender and flavorsome as ground beef.
If you don't have lentils, you can also make my Tempeh Tacos or my TVP Taco Meat. They bring a similar texture but a slightly different flavor.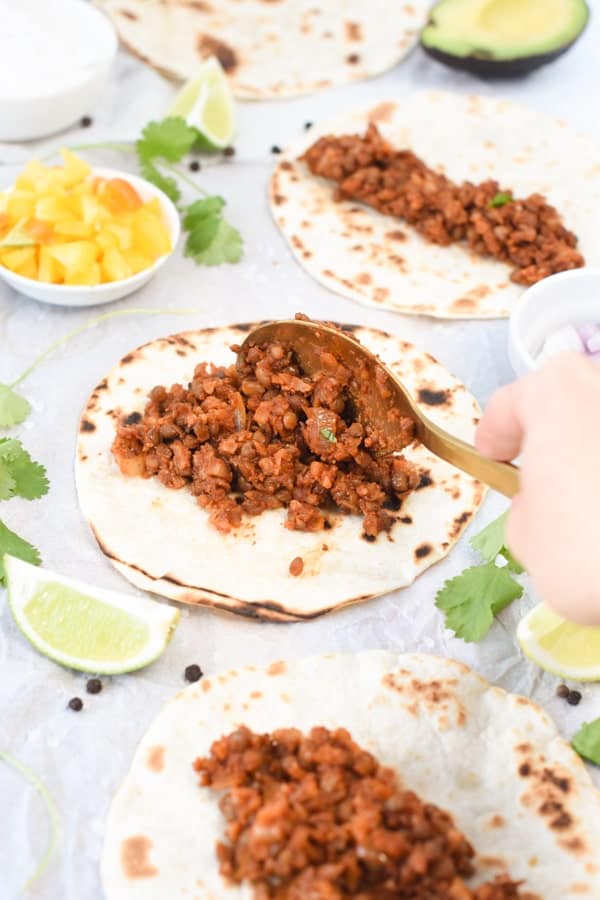 Step 2: Choose Your Flatbread
Of course, you can use store-bought tortillas, most of them are accidentally vegan, and it's easy to find vegan, gluten-free tortillas as well.
But if you feel like making some fresh homemade tortillas, you can also follow one of my vegan, gluten-free tortillas recipes below:
Step 3: Choosing Between Tacos, Burritos, Or Quesadillas
Now, you have three options.
Tortillas – warm your tortillas on a warm skillet and fill them with warm lentil taco meat and some of the filling listed below.
Burritos – preheat oven to 350°F (180°C). Fill each tortilla with 1/4 cup of lentil taco meat, wrap it into a burrito shape, place it on a large baking sheet, and repeat until the dish is full. Sprinkle vegan cheese on top and bake until the cheese is grilled and melted. You can add some brown rice, guacamole, and salsa verde inside the burrito for a boost of taste.
Quesadillas – place one tortilla in a skillet, spread 1/4 cup of lentil taco meat, sprinkle vegan cheese, and place another tortilla on top. Cook for 2 minutes on each side until the tortillas are crispy.
You can also make loaded nachos with this recipe by pouring the meat and taco fillings on top of toasted corn tortillas.
Step 4: Serving With Toppings
Whether you made a vegan taco, burrito, or quesadillas, adding some fresh, crunchy topping on top of your warm meal is a must!
I listed below some of the best vegan taco filling options you can use:
Red onion – diced finely.
Avocado – ripe, cubed, or mashed and flavored with a teaspoon of lime juice.
Coconut yogurt – this works as a dairy-free sour cream replacement. Of course, you can also use vegan sour cream from the grocery store, but coconut yogurt is a much healthier substitute for sour cream. It's only made from 2 ingredients; coconut cream and probiotics.
Hot sauce – optional for those who love spicy tacos.
Fresh cilantro
Corn kernel
Salsa sauce
Lettuce
Shredded red cabbage
Jalapeno slices – or chipotle peppers
Bell pepper – diced bell pepper of any color – red, yellow, or orange.
Chili Powder – optional, if you want more zing. You can also make a mix using cumin, salt, oregano, garlic powder, and paprika.
Storing And Making Ahead
You can make the lentil taco meat ahead and store it in the fridge in an airtight container.
Then, rewarm the cauliflower lentil tacos meat in the microwave or a warm skillet – the cooking time varies, but usually, 2-3 minutes are enough.
Finally, add the lentil meat to a warm taco shell or tortillas.
Spread a single layer of lentil meat, then add some of the fresh crunchy toppings recommended above.
Have you made these vegan lentil tacos? If you love this recipe, share a review or comment below! I love to read your feedback on my recipes!
Lentil Taco Recipe
An easy lentil taco recipe using cauliflower lentil taco meat and vegan, gluten-free tortillas for a protein-packed vegan meal.
Pin
Print
Review
Servings: 8 tacos
Calories: 331 kcal
Instructions
Cook one batch of my vegan, gluten-free tortillas with coconut flour or with almond flour. You can also buy your favorite vegan tortillas from the store for a quick dinner.

Warm the tortillas on a skillet for 1 minute on each side, or until warm and puffy.

Fill each taco with about 1/4 to 1/3 cup of warm lentil taco meat and top with some of the fresh topping recommended above: diced avocado, diced red onion, corn kernels, a dollop of fresh coconut yogurt, and cilantro.

For spicy tacos, add some hot salsa sauce or drops of hot sauce.
Share on Facebook
Pin Recipe
Nutrition
Serving: 1taco | Calories: 331kcal | Carbohydrates: 49g | Protein: 8g | Fat: 12g | Saturated Fat: 5g | Polyunsaturated Fat: 1g | Monounsaturated Fat: 1g | Sodium: 699mg | Potassium: 507mg | Fiber: 7g | Sugar: 8g | Vitamin A: 350IU | Vitamin B12: 1µg | Vitamin C: 21mg | Vitamin D: 1µg | Calcium: 283mg | Iron: 4mg | Magnesium: 32mg | Phosphorus: 103mg | Zinc: 1mg