This Pina Colada Smoothie is like a refreshing frothy coconut pineapple smoothie perfect for welcoming summer with tropical flavors.
Plus, this is a vegan smoothie that is 100% dairy-free, gluten-free, and banana-free.
What's A Pina Colada Smoothie?
This mocktail is a Pina Colada Smoothie or a Virgin Pina Colada since it's the alcohol-free version of your favorite cocktail you can enjoy for breakfast or a snack and refresh!
I love coconut recipes, and Pina Colada is one of my favorite drinks of all time, with the best combination of flavors that marries pineapple and coconut. And it's delicious without rum for a healthy pina colada smoothie!
You will see many pina colada smoothies that include bananas. This recipe doesn't because the original Pina Colada doesn't contain any.
How To Make Piña Colada Smoothie
This is what you need to make this refreshing, thick, and creamy pina colada smoothie.
Ingredients
Frozen Pineapple Chunks – You can use store-bought pineapple chunks or cut and peel your own pineapple chunks and freeze them into small cubes that will be easy to process in your food processor. If you cut the pineapple at home, make sure you remove the hard center part before freezing.
Coconut Milk Carton – You can use canned coconut milk for a creamier texture, but it increases the fat and calories of your smoothie.
Coconut Yogurt – I use plain, unsweetened coconut yogurt instead of the classic Greek yogurt.
Shredded Coconut
Maple Syrup or any liquid syrup like agave coconut nectar will do.
Preparation
Add all the ingredients into a high-speed blender jug. The order doesn't matter much. Blend on high speed until smooth and creamy.
If the smoothie doesn't blend very well, add more coconut milk.
If it's too liquid, add some ice cubes or some more frozen pineapple.
Serve immediately in a tall glass.
Glass Decoration
I like to decorate my glass with coconut on its rim.
This is optional, of course, but the taste of the unsweetened desiccated coconut on the cold rim at each sip is delicious.
To decorate the glass, dip the top part of the glass into a shallow bowl filled with about 1/2-inch or 1cm of cold water.
Then, dip the rim into thin desiccated coconut – it will stick to it.
Pop the glass into the freezer to set it for about 10 minutes.
I highly recommend freezing the glasses even if you don't decorate their rims because it keeps the pina colada smoothie ultra cold and icy on hot days.
Serving
I like to serve this Pina Colada smoothie as a refreshing snack or alcohol-free drink on party days in summer.
Add a pinch of toasted coconut flakes on top and a piece of fresh pineapple on the side.
Allergy Swaps
If you have some food allergies, below are some substitute ideas to adapt this smoothie recipe to your diet:
Low-Sugar – Pineapple is high in sugar, so if you want to decrease the sugar in this smoothie, you can replace half of the pineapple with frozen cauliflower rice or frozen zucchini. To enhance the pineapple flavor without adding sugar, add 1/4 teaspoon of pineapple stevia drops. Also, skip the syrup or use a sugar-free syrup to boost the sweetness of the smoothie recipe.
Coconut-Free – Coconut is the key ingredient of a pina colada, but if you have a coconut allergy, swap the coconut milk for any plant-based milk you love, like oat milk, hemp milk, rice milk, or almond milk. Swap the coconut yogurt for any dairy-free plain yogurt you like.
Gluten-Free – This recipe is naturally gluten-free.
Frequently Asked Questions
Below are some answers to your most frequent questions about this easy smoothie recipe.
Can I Use Canned Coconut Milk?
Yes, you can use canned coconut milk instead of carton coconut milk.
Shake the can very well before opening it, then measure and add to the jug. You can swap coconut yogurt for more canned coconut milk if desired.
Can I Add Frozen Bananas?
Yes, you can remove 1/2 cup of frozen pineapple and swap it for 1/2 cup of frozen banana pieces. It's about one large frozen banana.
Can I Skip The Yogurt?
Coconut yogurt adds creaminess to the drink, but you can skip it or replace it with canned coconut cream or another dairy-free unsweetened yogurt you like.
Can I Use Pineapple Juice?
If you don't have any pineapple, you can replace the chunks with pineapple juice, but it will have a less creamy texture.
Can I Make A Protein Pina Colada Smoothie?
You can increase the protein content by adding a scoop of your favorite plant-based protein powder to the jug.
More Smoothie Recipes
I am a huge fan of smoothie recipes, and not only in summer. Below are some other delicious smoothie flavors for you to try.
More Coconut Pineapple Recipes
Below are some more pineapple or coconut flavor recipes to serve on side of this delicious smoothie.
Hve you tried this coconut pineapple smoothie recipe? Share a comment or review below to connect with me.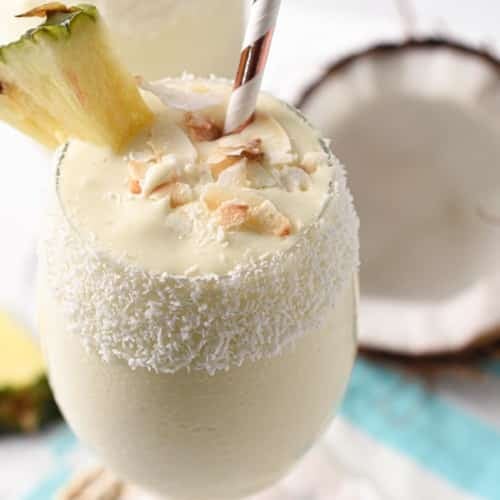 Pina Colada Smoothie
This Pina Colada Smoothie is like a refreshing frothy coconut pineapple smoothie perfect for welcoming summer with tropical flavors. Plus, this vegan mocktail is 100% dairy-free, gluten-free, and banana-free.
Pin
Print
Review
Servings: 2 servings
Calories: 190.3 kcal
Instructions
Optional – glass decoration
You can dip the top of two glasses in a shallow bowl filled with 1 cm water, then dip it in another bowl filled with unsweetened desiccated coconut. Dip and rotate it to stick coconut to the rim.

Place the tall glasses in the freeze for 10 minutes to set the coconut on side of the rim.
Smoothie
In a high-speed blender jug, add all the ingredients in any order.

Blend on the high-speed setting until frothy, creamy, and smooth. Add a splash of coconut milk if too thick or difficult to blend. Or add a few more pineapple frozen chunks to thicken.

Serve immediately with toasted coconut flakes on top and a fresh pineapple wedge.
Share on Facebook
Pin Recipe
Nutrition
Serving: 1smoothie | Calories: 190.3kcal | Carbohydrates: 31.8g | Protein: 2g | Fat: 7.6g | Saturated Fat: 6.4g | Polyunsaturated Fat: 0.1g | Monounsaturated Fat: 0.4g | Cholesterol: 2.6mg | Sodium: 22.8mg | Potassium: 258.7mg | Fiber: 3.8g | Sugar: 24.7g | Vitamin A: 115.5IU | Vitamin B12: 1.6µg | Vitamin C: 79.1mg | Vitamin D: 59µg | Calcium: 100.4mg | Iron: 0.7mg | Magnesium: 48.9mg | Phosphorus: 46.5mg | Zinc: 0.8mg