This Mango Spinach Smoothie is a refreshing, smooth, and creamy green smoothie packed with vitamins from leafy greens.
You will fall in love with the creamy texture of this mango smoothie. It's simply the best summer smoothie packed with tropical flavors and added nutrients from spinach.
What Is A Mango Spinach Smoothie?
A mango spinach smoothie is a healthy smoothie made with four simple ingredients and added greens.
It's a delicious vegan snack to cool down on hot summer days and add nutrients to your snack.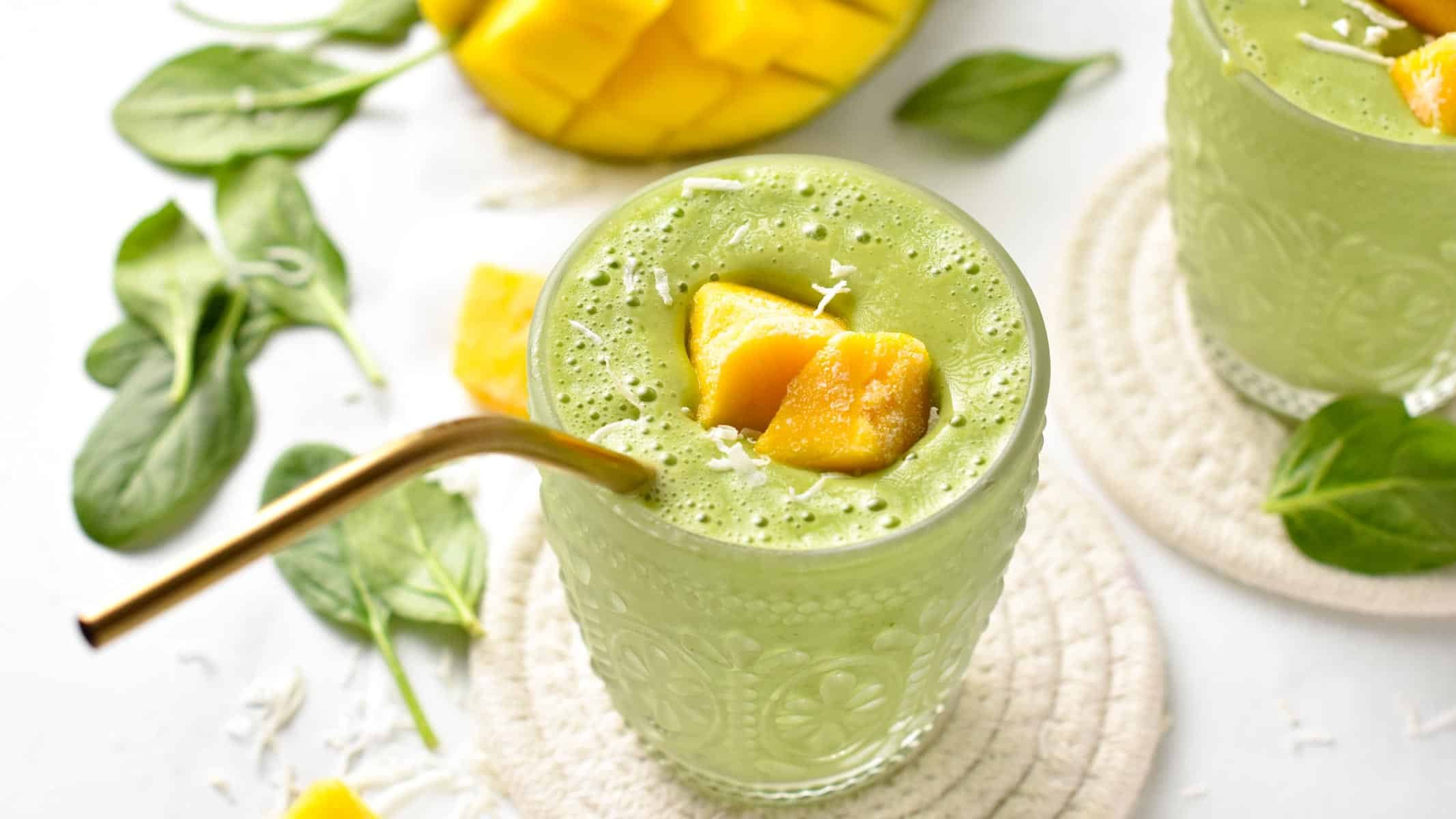 How To Make Mango Spinach Smoothie
This mango spinach smoothie is very easy to make, but I added some options below to make it even tastier.
Ingredients
The basic ingredients you need to make this naturally sweet smoothie are:
Frozen Mango Chunks – You can also use fresh mangoes, but the texture won't be as creamy. Frozen mangoes are one of the best fruit to add a creamy texture to smoothies.
Frozen Banana – This adds the natural sweetness and extra creaminess the smoothie needs. If your bananas are ripe enough, you won't need the maple syrup in the recipe.
Fresh Spinach Leaves – I use baby spinach leaves. If you use large leaves, feel free to trim the petiole (the hard stem) of the leaves but you can also keep it, it won't taste bad at all.
Unsweetened Almond Milk or coconut milk.
Ice – This is optional, but if your smoothie is not thick enough add some ice.
Maple Syrup – Optional. I recommend adding a sweetener only after tasting the smoothie. You may enjoy its natural sweetness.
Vanilla Extract
Preparation
In a high-speed blender, add all the ingredients: fresh spinach, mango, and banana, milk of choice, vanilla extract, and blend them on high speed until the frozen fruits and smooth.
Taste and adjust the sweetness by adding some sweetener if you like or some ice for a frothier texture.
If you want to turn this smoothie into a smoothie bowl, decrease the milk to 1/2 cup and use the tamper attachment of the blender to push the food around the blade.
Smoothie Variations
I do love some add-ons to boost healthy fats, proteins, or healthy carbs to turn this mango spinach smoothie recipe into a much more filling smoothie.
For breakfast, it's great to add some extra of the below to make the smoothie more nourishing.
1 Tablespoon of Chia Seeds
1/4 cup of Rolled Oats
1 scoop of Vanilla Protein Powder – make sure you skip the vanilla extract, or the vanilla flavor will be too empowering. Also, you may need a splash of more milk to help with the smoothie texture. The protein powder makes it very thick.
Plant-based Greek Yogurt – add 1/4 cup of soy yogurt to add creaminess and tangy flavor.
Nut Butter – Add 1 tablespoon of your favorite nut butter like peanut butter or almond butter.
Serving
This mango smoothie is delicious as a snack, or breakfast on the go. Pour the smoothie in a large glass, and top up your green smoothie with ingredients like:
Unsweetened Shredded Coconut
Mango Chunks
Slices Almonds
A pinch of chia seeds
A drizzle of peanut butter or almond butter
Allergy Swaps
Below are some ingredients substitutions ideas if you need:
Nut-Free – Replace the unsweetened almond milk with any plant-based milk you love, like coconut milk, oat milk, or soy milk.
Banana-Free – You can swap the banana for more mango, frozen pineapple, or frozen berries, but this will turn the color of the smoothie dark brown.
Spinach Swap – You can use trimmed kale instead of spinach.
Frequently Asked Questions
Here are my answers to your most common questions about this recipe.
Is Mango Spinach Good For You?
Mango and spinach are rich in vitamin C, which is a perfect combination to increase your energy in the morning.
Plus, spinach is also rich in iron, calcium, and folic acid and rich in fiber good for gut health.
Are Mango Smoothies Good For You?
Absolutely, yes. Mango has a similar healthy profile as orange when it comes to fruits. It's an orange fruit rich in beta-carotene as well as vitamin A and vitamin C.
If you are after a low calories fruit high in vitamins and naturally sweet, mango is perfect for your breakfast smoothies.
More Smoothie Recipes
Below are some other delicious smoothie recipes for you to try.
Mango Spinach Smoothie
This Mango Spinach Smoothie is a refreshing, smooth, and creamy green smoothie packed with vitamins from leafy greens.
Pin
Print
Review
Instructions
In a high-speed blender, add mango, banana, fresh spinach, and almond milk.

Blend on the high-speed setting until creamy and smooth.

Taste and adjust by adding the sweetener if not sweet enough, or blend in some ice cubes or more frozen mango for a frothier texture.
Share on Facebook
Pin Recipe
Nutrition
Serving:
1
smoothie
|
Calories:
255.5
kcal
|
Carbohydrates:
56.1
g
|
Protein:
4.9
g
|
Fat:
4.2
g
|
Saturated Fat:
0.3
g
|
Polyunsaturated Fat:
1.8
g
|
Monounsaturated Fat:
1.8
g
|
Sodium:
354.7
mg
|
Potassium:
875.5
mg
|
Fiber:
7.3
g
|
Sugar:
41
g
|
Vitamin A:
5109.4
IU
|
Vitamin C:
92.3
mg
|
Calcium:
359.2
mg
|
Iron:
1.4
mg
|
Magnesium:
72.2
mg
|
Phosphorus:
65.8
mg
|
Zinc:
0.5
mg