Spirulina Smoothie Recipe (12g of Plant-based Protein)
This Spirulina Smoothie is a thick nourishing green smoothie to start the day with 12 grams of plant-based protein, iron, and vitamins.
It's sweet, thick, creamy, and contains all the elements you need to start the day with a beautiful green color drink!
What's A Spirulina Smoothie?
A spirulina smoothie is a breakfast smoothie made of fruits, vegetables, and a touch of green spirulina powder.
Spirulina is a plant-based super-protein because it contains all 9 essential amino acids, and 100 grams have 60 grams of proteins.
What's Spirulina?
Spirulina is a blue-green alga that grows in fresh and saltwater. It's a superfood source for vegans as it's a complete plant-based protein source.
It means spirulina contains all the 9 essential amino acids your body needs.
Spirulina also has many health benefits like:
reducing inflammation
improving gut health
lowering blood sugar level
lowering cholesterol
You can buy spirulina in many health food stores, pharmacies, or in the organic aisle of most grocery stores.
How To Make A Spirulina Smoothie
A spirulina smoothie recipe is an easy vegan green smoothie. All you need to make this green smoothie is a powerful blender and a few ingredients.
It's an excellent breakfast or afternoon snack to load your body with proteins, iron, and nutrients.
It's also fulfilling and refreshing after a workout to refuel your muscles with plant-based nutrients.
Ingredients
Frozen banana – a large fresh banana, peeled and cut into pieces the day before. Place in the bag in the freezer to freeze overnight. You can also use fresh bananas, but the smoothie won't be as thick and creamy.
Frozen mango – or frozen pineapple.
Avocado – Avocado adds healthy fatty acids to the smoothie. Make sure you use a ripe avocado without dark spots on its flesh to avoid a bitter aftertaste.
Baby spinach – Fresh baby spinach is the best, but you can also use trimmed kale.
Almond milk or any dairy-free milk you love, like coconut milk or hemp milk.
Spirulina powder – you can use blue spirulina or green spirulina. Both have very similar properties.
Hemp seeds – Hemp seeds or any seeds you like, chia seeds or flaxseeds. Seeds are good sources of gluten-free, vegan protein, and they also bring lots of nutrients like magnesium, zinc, and more!
Maple syrup – Maple syrup is optional, but if you love your smoothie sweet, add a touch of maple syrup or a pinch of stevia powder to avoid the added sugar.
Vanilla extract
Blending
Add all the ingredients into the blender, starting with no added sugar, and blend until smooth at high speed.
Taste the smoothie and adjust by adding sweetener or a few ice cubes for a frothier smoothie.
Serve immediately.
Storage Instructions
A smoothie doesn't store well, especially when it's using avocado.
Avocado darkens fast and alters the flavor of raw food. Serve your spirulina smoothie immediately for the best flavor.
Nutrition Profile
This spirulina smoothie is a super healthy drink and high-protein smoothie containing per serving:
12 grams of protein
4 mg iron
10 grams fiber
369 mg calcium
Frequently Asked Questions
When Should I Serve Spirulina Smoothie?
This is a great post-workout drink as it contains a lot of protein and healthy fatty acids to refuel muscle after an intense workout.
It's also a fulfilling breakfast drink, a great replacement to your classic protein shake to get all your nutrient in a liquid breakfast.
How much spirulina powder should I add to a smoothie?
Spirulina has a strong algae flavor that doesn't suit everyone's palate.
As a result, it's better to use only 1 teaspoon of spirulina powder in a smoothie to keep the algae flavor light.
Also, a great way to cover the flavor of spirulina in this smoothie is to blend it with fruits like banana, mango, or pineapple.
How does spirulina taste?
Green spirulina is purely algae, so it tastes a bit like seaweeds. So if you prefer a light, neutral flavor in your spirulina smoothie, try blue spirulina.
It's an extract and doesn't have the 'fishy' algae flavor that some people don't like in green spirulina.
Blue spirulina has the same nutrient profile. It's rich in protein, vitamins, and minerals without the unpleasant marine flavor.
More Vegan Smoothie Recipes
I love to make vegan smoothies for breakfast or snacks. It's a refreshing and nourishing drink.
Below I listed my favorite vegan smoothie recipes for you to try.
Have you made this spirulina smoothie? Share a comment or review below to tell me how it turns out. I love to connect with you!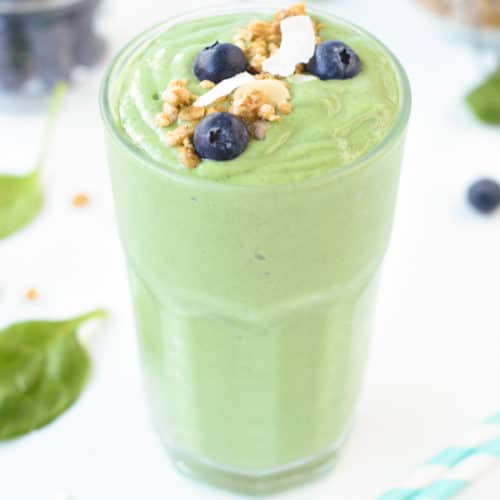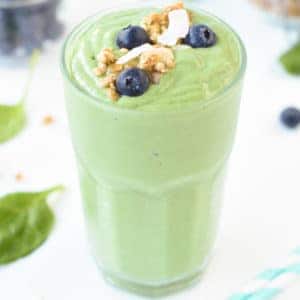 Spirulina Smoothie
A super healthy spirulina smoothie with 12 grams protein and 4 mg of iron per serving. A delicious, sweet, and refreshing green smoothie to start the day or refresh after a workout.
Pin
Print
Review
Servings: 1 smoothie
Calories: 407 kcal
Instructions
In a high-speed blender, add all the ingredients in the order listed above, starting with 1 cup of almond milk.

Blend on high speed until smooth and creamy. If it's difficult to blend, add more almond milk, up to 1/2 cup extra.

Taste and adjust, adding more sweetener for a sweeter smoothie or a few ice cubes for a frothier texture. Blend again to combine after each addition and serve immediately.
Share on Facebook
Pin Recipe
Nutrition
Serving: 1smoothie | Calories: 407kcal | Carbohydrates: 56g | Protein: 12g | Fat: 18g | Saturated Fat: 2g | Sodium: 375mg | Potassium: 1011mg | Fiber: 10g | Sugar: 33g | Vitamin A: 2554IU | Vitamin C: 51mg | Calcium: 369mg | Iron: 4mg | Magnesium: 79mg | Phosphorus: 247mg | Zinc: 1mg