Dragon Fruit Smoothie (11g Protein)
This Dragon fruit smoothie is a healthy, refreshing, vibrant pink smoothie loaded with anti-oxidant, iron, and protein.
It's a delicious plant-based smoothie for hot summer days.
What's Dragon Fruit?
Dragon fruit is a tropical fruit growing on a variety of cactus plants. It's native in Mexico and South America.
It's a fruit with many health benefits, and that's why people love to add it to smoothies and smoothie bowls.
Dragon fruit's main benefits are:
High in Antioxidants.
High in Iron – 100 grams of fruit contain 4% of the Daily Value.
Low-carb with only 10 grams of net carbs per 100 grams. It's less than blueberries, meaning it's diabetes-friendly, and it won't spike blood sugar levels as quickly as other fruits like bananas.
It contains prebiotics good for gut health.
Low in calories but high in fiber, so it's fulfilling and refreshing.
How Does Dragon Fruit Taste?
Dragon fruit flavor varies based on the color of its flesh. Overall, it has a soft, melt-in-your-mouth flesh very similar to kiwi but more like a pear in flavor.
Some dragon fruits have white flesh with a mild taste, while others have reddish, vibrant purple flesh with dark seeds with a more robust flavor.
Is Pitaya The Same As Dragon Fruit?
Yes, they are the same fruit. Depending on where you live, it can be called Pitaya, like in New Zealand, Australia, or Asia.
But in the US, it's called dragon fruit or pitahaya.
How To Make A Dragon Fruit Smoothie
A dragon smoothie is a refreshing, easy pink smoothie loaded with nutrients.
It's very easy to make with a bunch of simple ingredients, including:
Ingredients
All you need to make this easy smoothie are:
Frozen Dragon Fruit – of course, you can use fresh dragon fruit, cut, scoop, and fresh the flesh or use it raw if in season. But I personally prefer the frozen dragon fruits because it makes your pitaya smoothie so creamy. You can use any dragon fruit color: red, white, or yellow.
Frozen Mango – the dragon fruit mango smoothie combination is heavenly delicious! Plus mango has a frothy creamy texture to the drink too. If you are not a fan of mango, try frozen pineapple or frozen banana.
Banana – fresh, small.
Coconut Milk or almond milk.
Ice Cubes
Lime Juice
Preparation
Add all the ingredients into a high-speed blender's jug, starting with the frozen dragon fruits, frozen mango, banana slices, protein powder, coconut milk, ice cubes, and lime juice.
Blend on high speed until it comes together into a creamy, frothy pink smoothie.
If your smoothie is too thin to your liking, or you want to turn it into a pitaya smoothie bowl, add more frozen pitaya or ice cubes.
Serve immediately with a pinch of freeze-dried raspberries, toasted coconut, and a lime slice on the side of the glass.
Serving Pitaya Smoothie
You can serve this pitaya smoothie plain or with some toppings that add texture and pop out all its flavors like:
Dried goji berries
Freeze-dried raspberries or strawberries
Toasted coconut
Sliced almonds
Allergy Swaps
Below I listed some options to make this smoothie if you have some food allergy or ingredients you dislike
Mango-Free – you can use any other frozen tropical fruits like frozen pineapple, frozen banana, or frozen kiwi.
Coconut-Free – use almond milk or oat milk.
Nut-Free – use hemp milk or oat milk, or soy milk.
Banana-Free – if you don't enjoy the banana flavor in your smoothie, you can use frozen zucchini slices or more frozen mango or the same 1/3 cup yogurt.
Protein Powder-Free – just skip it and thicken up the smoothie with high-protein seeds like chia seeds or hemp seeds.
Add-Ons
Like any other smoothie recipe, you can play with flavor by adding some ingredients to the smoothie to boost its creamy texture or flavor.
Peanut Butter – 1 tablespoon add protein and creamy texture.
Almond Butter – 1 tablespoon add creaminess.
Freshly squeeze Orange Juice to skip the lime juice.
How To Boost The Protein In Dragon Fruit Smoothie
You can add more protein to your drink by making a few changes in the recipe like:
Replace 1/3 cup of coconut milk with high-protein plant-based yogurt.
Then, add one tablespoon of super seeds high in proteins like hemp seeds, chia seeds, or flax meal.
Increase vanilla protein powder – but this thickens the drink consequently, and you may need more plant-based milk to balance the texture.
Frequently Asked Questions
Below I listed the answers to your most frequent questions about this dragon fruit smoothie recipe.
Can I Skip The Protein Powder?
You can remove the protein powder from the recipe, but then the vanilla flavor will not be present.
You can add 1/2 teaspoon of vanilla extract to balance that.
Also, another healthy way to add protein to your smoothie without protein powder is to add one tablespoon of chia seed, flax meal, or hemp seeds.
Can I Use Another Milk?
You can use plant-based milk in this recipe, including oat milk, hemp milk, or peanut butter.
I like the tropical flavor of carton coconut milk with dragon fruit, but then it's up to you to pick the most available where you live.
Can I Add Sweetener?
You can add one pitted date or 1-2 teaspoons of maple syrup to boost the sweetness of your smoothie.
Can I Use Fresh Dragon Fruit?
Yes, you can use a peeled dragon fruit and add the fresh flesh to the blender.
However, since it won't be frozen, the texture of the smoothie won't be as creamy, thick, and frothy.
You will have to add ice cubes to balance the texture.
More Smoothie Recipes
Below I listed some more healthy smoothie recipes for you to try:
Did you try this dragon fruit smoothie recipe? Share a comment or review below.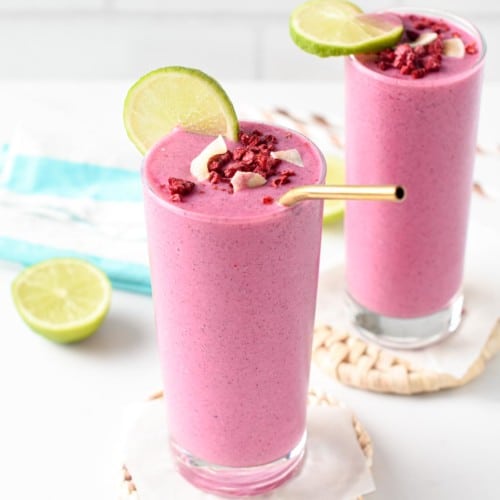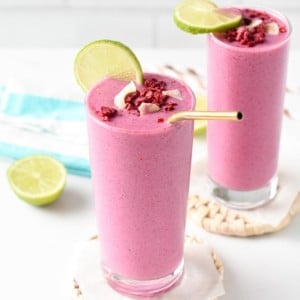 Dragon Fruit Smoothie
This Dragon fruit smoothie is a healthy refreshing vibrant pink smoothie loaded with antioxidants, iron, and protein. A delicious plant-based smoothie for hot summer days.
Pin
Print
Review
Servings: 1 smoothie
Calories: 281.2 kcal
Instructions
Add all the smoothie ingredients to the jug of a blender.

Blend on the high-speed setting until smooth. You can thin out the smoothie by adding a splash more milk or water.

Serve immediately.
Share on Facebook
Pin Recipe
Nutrition
Serving: 1smoothie | Calories: 281.2kcal | Carbohydrates: 47.6g | Protein: 11.3g | Fat: 7.1g | Saturated Fat: 5.1g | Polyunsaturated Fat: 0.1g | Monounsaturated Fat: 0.1g | Sodium: 142.8mg | Potassium: 518.2mg | Fiber: 5.3g | Sugar: 33.1g | Vitamin A: 964.8IU | Vitamin B12: 3.7µg | Vitamin C: 43.3mg | Vitamin D: 147.5µg | Calcium: 150.3mg | Iron: 3mg | Magnesium: 87mg | Phosphorus: 35.9mg | Zinc: 1mg