3-Ingredient Chocolate Almond Bark
This Chocolate Almond Bark is the most delicious candy for your holiday dessert table.
A crunchy dark chocolate bark filled with roasted almonds, cranberries, and a pinch of sprinkles!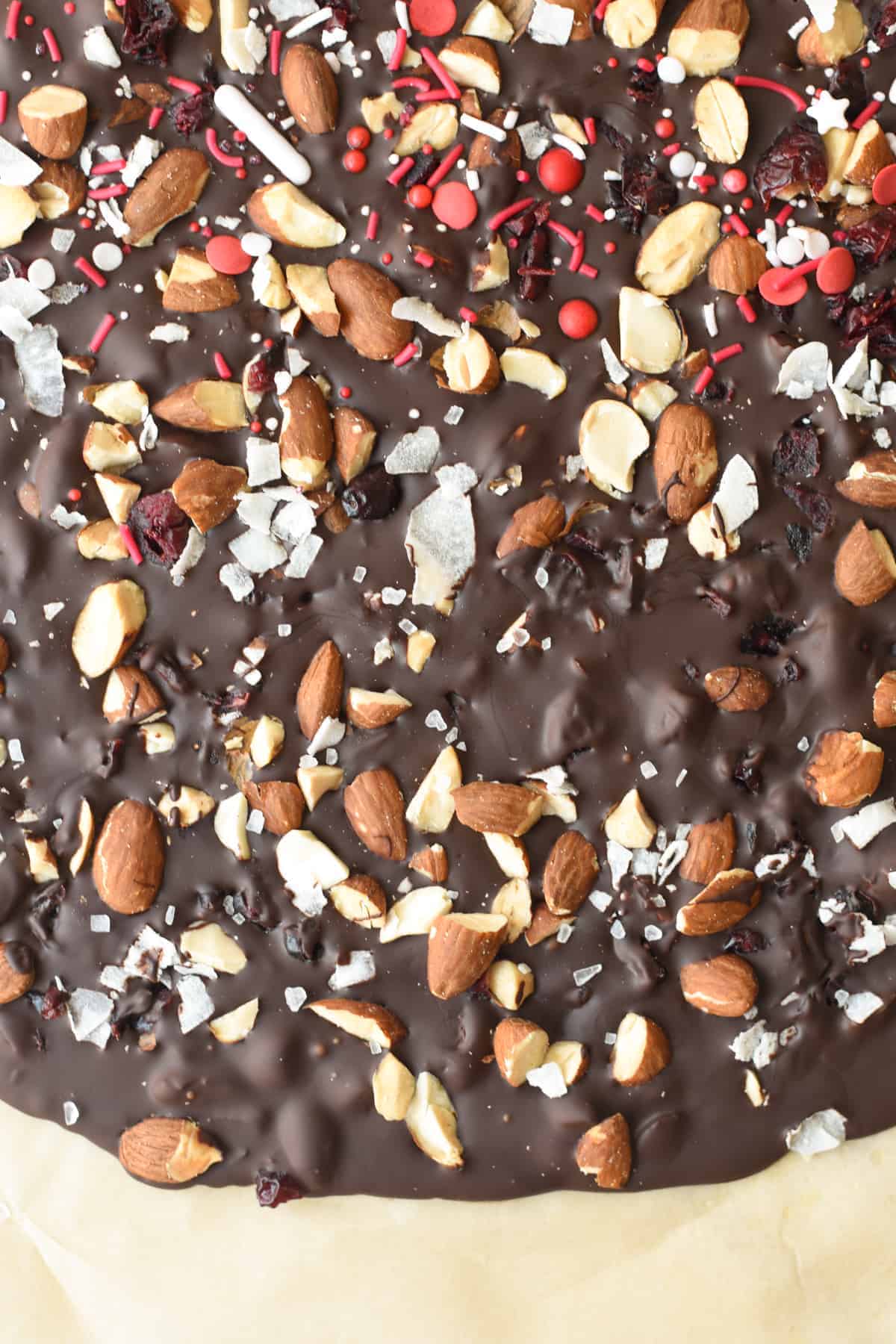 What's Chocolate Almond Bark?
Chocolate almond bark is an easy, 3-ingredient homemade candy treat made from melted dark chocolate and topped with chopped roasted almonds.
Is Almond Bark Made With White Chocolate?
No, there's no white chocolate in almond bark.
Classic almond bark is made of pure dessert dark chocolate, often with more than 60% cocoa.
How To Make Chocolate Almond Bark
Chocolate bark recipes are some of the all-time holiday favorite desserts because they are so simple to make, and everyone loves them.
Whether you are a kid or an adult, you can't resist a chocolate bark.
Ingredients
This healthy almond bark recipe is made with only 3 main ingredients.
All you need are:
Dark Chocolate – I used high-quality dessert chocolate – Lindt 70% cocoa is vegan dark chocolate. The quality of the chocolate matters for making delicious chocolate barks. Don't be tempted to use chocolate chips that are more suitable for baking than eating.
Roasted Almonds – you can use skinless almonds or almonds with their skin on – my favorite option for a more old-fashioned bark recipe. I also bought ready-made roasted almonds, but below, I will provide an option for roasting almonds if you need to.
Pinch of Sea Salt – just because salt and chocolate are made to be together. Salt actually enhances the cocoa flavor of your bark, a must-try for chocolate lovers!
Preparation
First, line a large cookie sheet with parchment paper. Slightly oil the paper with coconut oil if needed.
Chop the roasted almonds into pieces and divide them into two equal batches.
Prepare some extra toppings you may want to add to your bark recipe.
Melting The Chocolate
This delicious chocolate bark recipe with a nice shiny and crunchy texture starts by melting the chocolate the right way.
Don't use a microwave to melt it! Instead, use a double-boiler method for the best taste and results.
The double boiler method is pretty simple and a little bit more time-consuming, but your chocolate won't burn and will taste amazing.
It keeps the chocolate crunchy, flavorsome, and shiny.
First, boil water in a pot, and remove it from the heat. Set aside to cool down for a few minutes.
Place the chopped dark chocolate pieces in a mixing bowl large enough to place on top of the saucepan you used before.
Bring the bowl with the chocolate pieces on top of the saucepan with simmering water – watch out! It's pretty hot, so don't burn yourself.
Don't touch the hot water with the bowl. Keep it above the steam of the pot.
Stir chocolate pieces until completely melted and shiny. Stir in the pinch of salt at the end.
Stirring In Nuts
Now, stir half the chopped roasted almonds into the chocolate until fully covered.
Laying The Bark
Now, pour the melted chocolate onto the prepared baking sheet – you should be able to make an 8-inch x 11-inch bark slab.
Sprinkle the remaining chopped almonds on the bark, plus some extra toppings for color or texture.
Extra toppings
Extra toppings you can add to your chocolate bars are 1-2 tablespoons of:
Sprinkles
Chopped dried cranberries
Coconut flakes
Cooling Down
You have two options to cool down chocolate bark.
You can wait for a few hours and keep the baking sheet at room temperature. After 3 hours, the chocolate bark hardens, and the chocolate keeps its shine.
Or, pop the baking sheet in the refrigerator until firm or about 20 minutes. This works very well, but it alters the chocolate shine.
How To Cut Chocolate Bark
Now that the chocolate almond bark is ready to eat time to cut it!
The bark should be cut by hand into rough, unequal shapes. It's not something you cut into perfect rectangles, and actually, you can't!
Of course, you can try using a knife to make a more regular rectangle bark, but since the chocolate bark is as hard as pure chocolate tab – there' shouldn't have any oil or milk added to your bark.
Then, each cut comes out into uneven, patchy chocolate pieces.
Storage Instructions
Chocolate bark stores very well at room temperature for up to 1 month. I recommend storing the bark in an airtight glass jar or zip-lock bags.
Chocolate almond bark is often used as a homemade Christmas gift. To offer this chocolate bark in a beautiful way, tight a knot with a Christmas color string around the stack of chocolate pieces.
Then, place it in a small bowl to offer to friends and family.
Of course, you can refrigerate the chocolate if it's hot where you live.
Frequently Asked Questions
Can I Roast Almonds?
To roast almonds, place the almonds on a baking sheet covered with parchment paper and roast for 10 minutes at 325°F (160°C), stirring halfway.
Cool down on a wooden board before using it in the recipe.
Can I Use Other Nuts?
Absolutely! You can swap almonds for cashews, hazelnuts, or peanuts to make chocolate nut bark.
Can I Use Less Strong Chocolate?
If you are not a big fan of dark chocolate, you can use another kind of chocolate. Vegan-friendly white chocolate works as well to make a white chocolate almond bark.
Can I Give It A Peppermint Flavor?
We all love chocolate peppermint bark in the Christmas season!
Use this recipe with chopped candy cane instead of almonds and add 1/2 teaspoon peppermint extract into the melted chocolate for the best Christmas bark ever!
Similar Recipes
If you've enjoyed this recipe, you'll love these:
Have you made this chocolate bark recipe? Share a comment or review below to tell me how much you love it.
Carine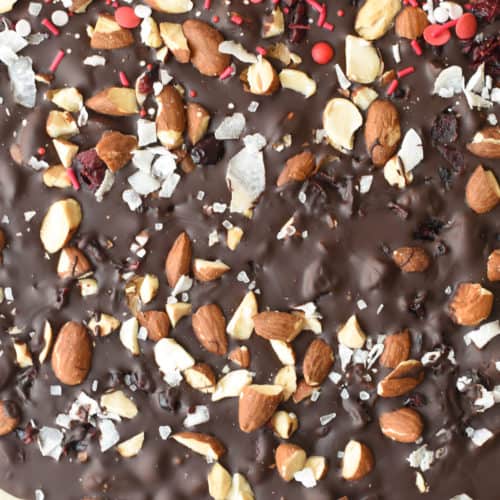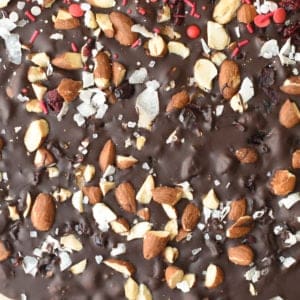 Chocolate Almond Bark
This Chocolate Almond Bark is the most delicious candy for your holiday dessert table. Crunchy dark chocolate bark filled with roasted almonds, cranberries, and a pinch of sprinkles!
Pin
Print
Review
Servings:
20
servings (30g)
Instructions
Line a large baking sheet with parchment paper. Slightly oil the paper with coconut oil. Set aside.

Bring the water to a boil in a large saucepan. When it boils, remove it from the heat and cool for 1 minute.

Meanwhile, break the dark chocolate into small pieces and place the pieces of chocolate in a glass bowl that is wide enough to fit on top of the previous saucepan filled with boiled water.

Place the glass bowl on top of the saucepan with simmering water. Stir the chocolate with a silicone or wooden spatula until it's completely melted and smooth.

Stir in 1/2 cup of the chopped almonds and sea salt until.

When the almonds are fully coated by the melted chocolate, spread the chocolate mixture onto the prepared baking sheet, thickness is up to your liking. The thicker, the longer the bark takes to set. Mine is about 8-inch x 11-inch wide (21 cm x 29 cm).

Sprinkle the remaining almonds on top of the bark, and feel free to sprinkle extras like chopped cranberries, coconut flakes, or Christmas sprinkles.

Leave the baking sheet in a cool place until the chocolate set – takes about 3 hours. Or, you can place the baking sheet in the fridge to set the chocolate faster. Remove from the fridge when the bark is hard – about 20-35 minutes.

Break the chocolate bark into pieces by hand to create uneven pieces of chocolate.
Storage
Store in a sealed container at room temperature for up to 4 weeks.
Share on Facebook
Pin Recipe
Nutrition
Serving:
1
serving (30g)
|
Calories:
160.9
kcal
|
Carbohydrates:
11
g
|
Protein:
3.1
g
|
Fat:
12
g
|
Saturated Fat:
5.1
g
|
Polyunsaturated Fat:
1.1
g
|
Monounsaturated Fat:
4.7
g
|
Trans Fat:
0.1
g
|
Cholesterol:
0.6
mg
|
Sodium:
62.2
mg
|
Potassium:
194.4
mg
|
Fiber:
3.2
g
|
Sugar:
5.1
g
|
Vitamin A:
9.3
IU
|
Vitamin B12:
0.1
µg
|
Vitamin C:
0.3
mg
|
Calcium:
33.6
mg
|
Iron:
2.6
mg
|
Magnesium:
64.6
mg
|
Phosphorus:
96.1
mg
|
Zinc:
0.9
mg