Hazelnut Chocolate Balls (Clean 5-Ingredient Snack)
These hazelnut chocolate balls are healthy hazelnut energy balls made with a delicious Ferrero Rocher flavor and made with wholesome ingredients.
They are perfect, healthy, clean treats after dinner and great pre-workout energy bites.
Bonus, these healthy hazelnut energy balls are also vegan, dairy-free, paleo, refined sugar-free, and gluten-free.
How To Make Hazelnut Chocolate Balls
These hazelnut energy balls are very easy to make.
Ingredients
All you need to make delicious healthy hazelnut protein balls are a food processor and a few ingredients:
Hazelnuts – raw or roasted for extra flavors.
Pitted Medjool dates
Coconut oil
Vanilla extract
Melted dark chocolate – I love 85% Lindt dark chocolate, but any dark chocolate from 70% cocoa makes this recipe delicious. Learn how to pick vegan dark chocolate.
Roasting Hazelnuts
This is optional, of course, but roasting the hazelnuts enhances their flavor and makes these chocolate hazelnut energy balls even more delicious.
If you are looking for a Nutella-like flavor, this is a must!
Roast the nuts at low temperatures. The best is 320°F (160°C) which prevents the degradation of healthy fats in nuts.
Lay the nuts on a baking sheet covered with parchment paper and roast for 10 to 15 minutes.
Blending Ingredients
Then, cool the nuts down for a few minutes and add in a food processor with melted chocolate, melted coconut oil, soft pitted dates, and vanilla.
Blend at high speed for 2-3 minutes. The time depends on the strength of your food processor.
The dough is ready when it sticks well together, and it's easy to roll into balls.
If too dry, add a teaspoon of water or almond milk to the batter and process again.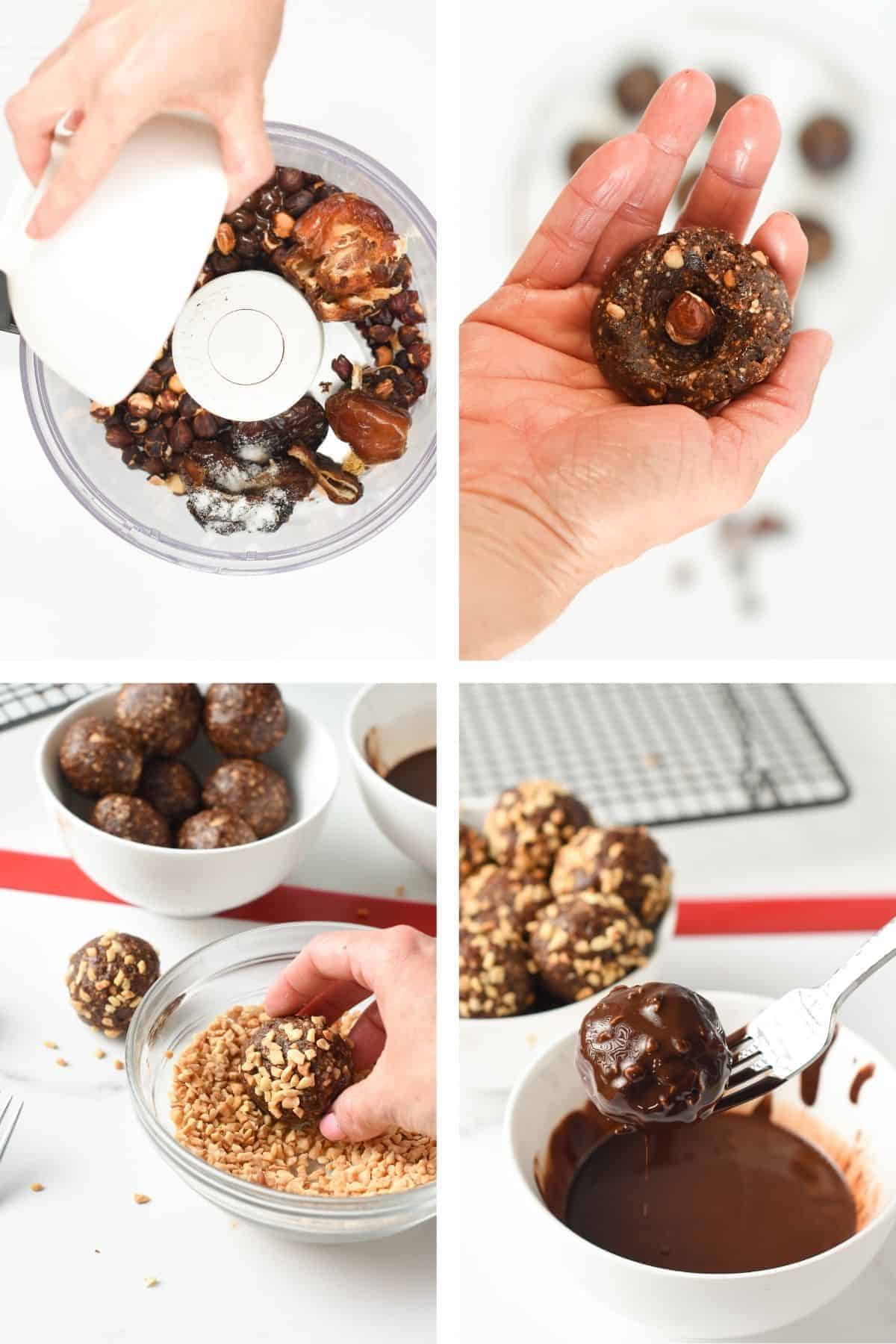 Refrigerate
For all energy ball recipes, it's always better to refrigerate the dough in the fridge for 10 minutes.
This makes the dough much easier to roll into balls, less sticky to the fingers.
Roll into balls
Scoop out about one tablespoon of dough and roll the mixture into a ball between your hands.
If you like, stick a raw hazelnut in the center of each ball or a dollop of nut butter.
Place each formed hazelnut energy bite onto a plate covered with parchment paper.
Decorating The Balls
You can obviously eat these hazelnuts chocolate truffles plain or rolled into:
Melted dark chocolate to create a crunchy chocolate shell.
Cacao powder – to look like a holiday truffle, perfect for a vegan Christmas dessert.
Chopped nuts – roll the balls into chopped peanuts or hazelnuts.
Storage Instructions
You can store these chocolate hazelnut balls for up to 10 days in an airtight container in the fridge. Energy balls freeze really well.
Placed them in a box and thaw them at room temperature for a few hours before eating.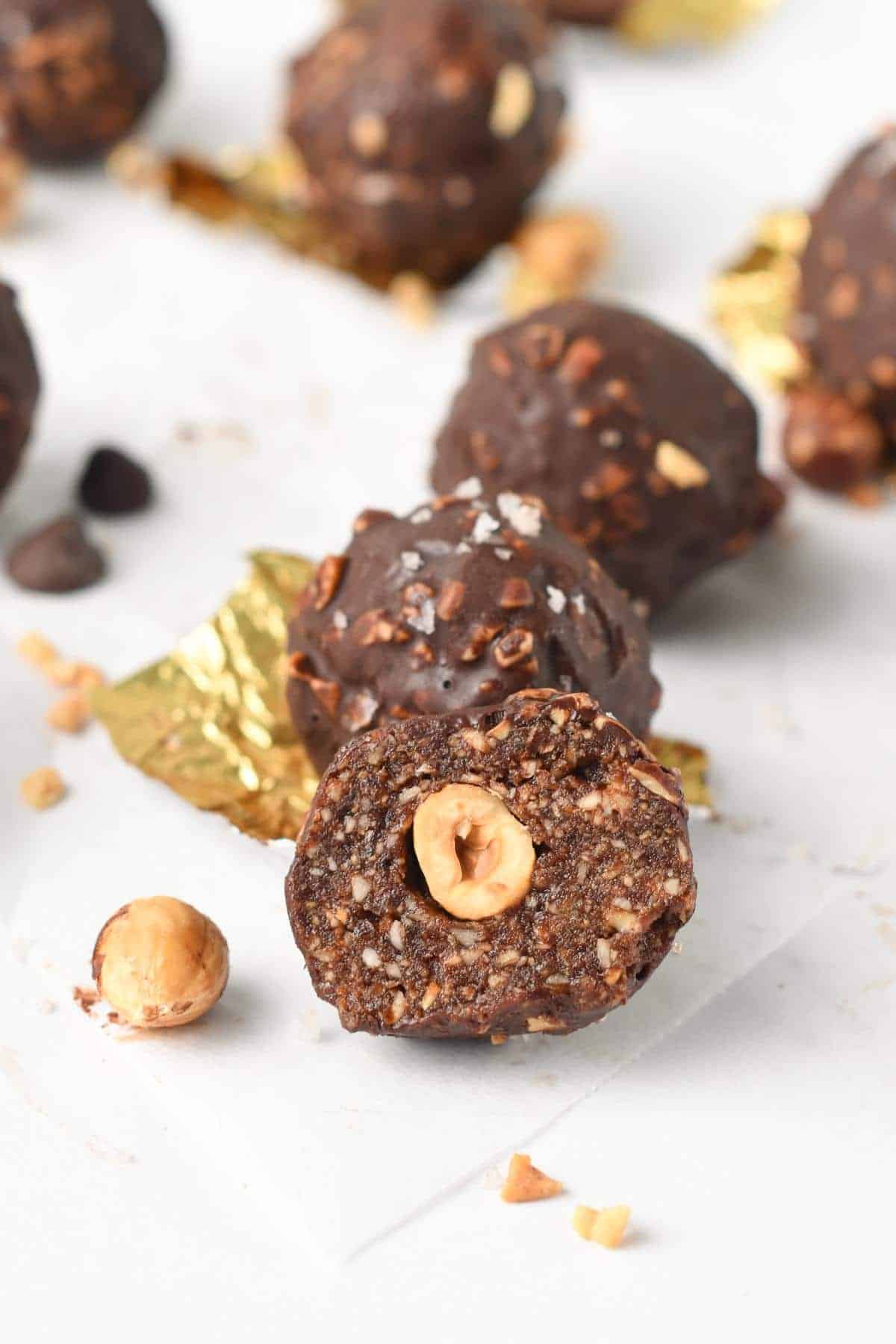 Frequently Asked Questions
Why Use Hazelnuts In Energy Balls?
Most energy ball recipes use cashews or almonds. However, hazelnuts are healthy alternatives to almonds or cashews to make delicious chocolate energy balls that taste like Ferrero Rocher or Nutella.
Hazelnuts are packed with nutrients like manganese, and vitamin B6, and full of healthy omega 6 and omega 9 fatty-acid fats.
On a vegan diet, hazelnuts help with iron and zinc absorption as they contain a lot of phytic acids.
When To Eat Energy Balls?
An energy ball is a refined sugar-free treat delicious to serve as an afternoon pick-me-up sweet treat, post or pre-workout fuel, or as a late-night snack.
It's made with healthy slow carbs from nuts, dates, and dark chocolate to enjoy a sweet pleasure with nutrients and vitamins.
How Do Hazelnut Energy Balls Taste?
I highly recommend eating the balls at room temperature for the best texture and flavor.
They are softer and more chocolatey at room temperature and taste like Nutella or Ferrero Rocher. The balls tend to harden in the fridge so take them out of the refrigerator before serving for the best tasty treat.
Why Is My Energy Ball Dough Dry?
This happens if your Medjool dates are dry, not fresh, or you used another kind of date that has less soft flesh.
Soak the dry dates in boiling water for 2 minutes if that's the case. Drain, squeeze and add them to the recipe.
If you want to fix an already made energy ball batter that is too dry, add a liquid like water, almond milk, or lemon juice.
Blend to incorporate and keep adding 1 teaspoon at a time until the dough sticks well together and forms balls.
More Energy Balls Recipes
I love to create lots of vegan energy balls for our week.
It's a healthy, clean treat that you can enjoy any time of the day and is also perfect for filling kids' lunchboxes with nutrient-dense sweet snacks.
Below I listed my favorite energy bite recipe for you to try.
Have you made these chocolate hazelnut bliss balls? Leave a comment or review below. I love to hear your thoughts on my recipes.
Your friend, Carine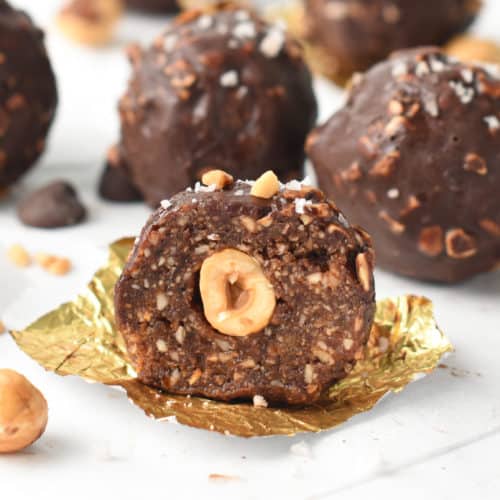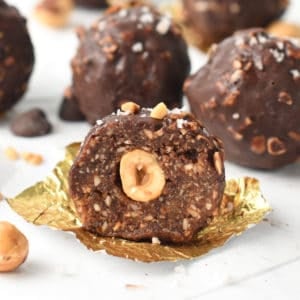 Hazelnut Chocolate Balls
An easy, healthy hazelnut energy ball recipe made with wholesome clean ingredients for a delicious snack or pre-workout energy bites.
Pin
Print
Review
Save
Saved Recipes
Servings:
10
energy balls
Instructions
Preheat the oven to 320°F (160°C). Line a baking sheet with parchment paper. Lay the hazelnuts on the tray.

Bake for 10 minutes, until fragrant and roasted. Remove from the oven, cool down for 5 minutes.

Meanwhile, place dark chocolate and coconut oil in a small mixing bowl and melt in the microwave or in a saucepan.

In the bowl of a food processor, add roasted lukewarm hazelnuts, pitted Medjool dates, vanilla extract melted chocolate/coconut oil.

Process for 2-3 minutes. The time depends on your food processor's power. You know it's ready when it forms a sticky batter that comes together. If too dry, blend in an extra teaspoon of almond milk or water until the dough sticks together.

Refrigerate the dough for 10 minutes in a bowl.

Roll 10 balls, placing a hazelnut in the center of each ball, if desired. See my pictures above to see my technique to do that. Place the formed balls on a plate covered with parchment paper.

Decorate the energy balls with a drizzle of melted chocolate and extra chopped hazelnuts or serve plain.
Storage
Store up to 10 days in the fridge in an airtight container.
Share on Facebook
Pin Recipe
Nutrition
Serving:
1
ball (no toppings)
|
Calories:
126
kcal
|
Carbohydrates:
9
g
|
Protein:
2
g
|
Fat:
10
g
|
Saturated Fat:
2
g
|
Trans Fat:
1
g
|
Cholesterol:
1
mg
|
Sodium:
1
mg
|
Potassium:
154
mg
|
Fiber:
2
g
|
Sugar:
6
g
|
Vitamin A:
14
IU
|
Vitamin B12:
1
µg
|
Vitamin C:
1
mg
|
Calcium:
20
mg
|
Iron:
1
mg
|
Magnesium:
30
mg
|
Phosphorus:
48
mg
|
Zinc:
1
mg