This Nutella Overnight is for the chocolate hazelnut lovers and you will fall in love with its creamy chocolate texture.
Plus, this is a healthier version made with plant-based ingredients that taste like the real thing but are better for you, so let's call this Notella or chocolate hazelnut overnight oats.
You might have already tried my lovely chocolate peanut butter overnight oats recipe that is absolutely delicious.
I recently discovered a delicious plant-based chocolate hazelnut spread that tastes just like Nutella without the milk, sugar, and other additives.
I wanted to see how it can go in my classic overnight oat recipe and the result is so amazing.
A creamy chocolate mixture with a hint of hazelnut that is so incredibly flavorsome. I love to add toasted hazelnut to the mixture as well, which is up to you but highly recommended.
So let's see how to make overnight oats with Nutella-like spread.
How To Make Nutella Overnight Oats
Another easy overnight oats recipe is ready for you, and this one taste like a comforting dessert for sure!
Ingredients
All you need to make this Nutella overnight oats recipe are;
Old-Fashioned Rolled Oats or quick oats or steel-cut oats – Read my steel-cut overnight oats to learn how to do this dessert with a different kind of oats.
Hazelnut Milk – It is hard to find, but it makes the recipe one step closer to perfect. Otherwise, use any plant-based milk you love with a mild flavor like almond milk, soy milk, or oat milk.
Chia Seeds
Maple Syrup – You can skip the sweetener if your spread is already sweet. You can always sweeten the recipe afterward.
Nutella – We don't use the classic Nutella brand, because it contains milk and it's not vegan. Instead, we love a chocolate hazelnut spread made from dark chocolate and hazelnut. It's also sugar-free and so good.
Unsweetened Cocoa Powder or chocolate protein powder to boost the protein content of the breakfast.
Pinch of Salt – It's always great to add salt to enhance the chocolate flavor of any chocolate recipe..
Vanilla Extract
Preparation
Stir the dry ingredients in a large mixing bowl or a glass container with a lid: oats, chia seeds, salt, and cocoa powder.
Next, add the maple syrup, Nutella spread of choice, vanilla extract, and plant-based milk.
Stir to combine evenly and dissolve the Nutella well into the bowl.
Close the container with a lid and refrigerate overnight.
Serving
The next day, place the recipe into small glass mason jars so it can meal prep days of breakfast.
The day you are ready to eat one of the jar, add some toppings like:
Toasted hazelnuts – chopped
Drizzle a tablespoon of Nutella divided amongst the oatmeal jars
Nut butter
Shredded coconut
Banana slices
Strawberries
Storage Instructions
Store the recipe in an airtight container, or in overnight oat jars as seen in the picture sealed with a lid.
Place in the fridge and keep fresh for up to 4 days.
Nutella Options
As mentioned above, Nutella is not dairy-free and is loaded with sugar and palm oil.
As a result, this recipe doesn't use the actual brand, but instead, we use an alternative, also called chocolate hazelnut spread.
If you can't find this in your store, try melting one square of 70% dark chocolate with one teaspoon of coconut oil.
Then, stir in 1/4 cup hazelnut butter to form a homemade Nutella
Allergy Swaps
If you have food allergies, you can make the recipe using some of the ingredient substitutions below.
Gluten-Free – Use gluten-free certified oats and make sure your Nutella spread is wheat-free.
Chia Seed-Free – Swap the chia seed for flax meal or an extra 1/4 cup of old-fashioned oats.
More Overnight Oat Recipes
If you like these overnight oats, you'll love my other overnight oat recipes: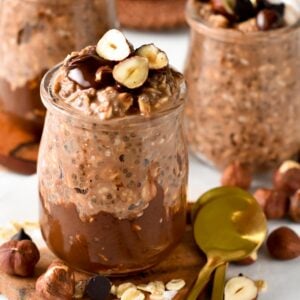 Nutella Overnight Oats
This Nutella Overnight is for chocolate hazelnut lovers, and you will fall in love with its creamy chocolate texture.
Pin
Print
Review
Shop My Tools
Instructions
In a mixing bowl, stir together rolled oats, chia seeds, and a pinch of salt.

Stir in hazelnut milk, plant-based Nutella spread, maple syrup, vanilla extract, and cocoa powder.

Cover the bowl with a lid, or wrap tightly and refrigerate overnight.
Serving
The next day serves with toasted hazelnut, extra drizzle of chocolate hazelnut spread and fresh fruit if you like – banana or strawberries taste amazing with Chocolate spread.
Storage
Store in sealed jars for up to 4 days in the fridge.
Share on Facebook
Pin Recipe
Nutrition
Serving:
1
serving (using sugar-free vegan spread)
|
Calories:
209.3
kcal
|
Carbohydrates:
25.2
g
|
Protein:
7
g
|
Fat:
4
g
|
Saturated Fat:
2.7
g
|
Polyunsaturated Fat:
2.3
g
|
Monounsaturated Fat:
0.9
g
|
Trans Fat:
0.01
g
|
Cholesterol:
1.3
mg
|
Sodium:
102.4
mg
|
Potassium:
142.2
mg
|
Fiber:
10.4
g
|
Sugar:
2.3
g
|
Vitamin A:
4.2
IU
|
Vitamin B12:
0.2
µg
|
Vitamin C:
0.1
mg
|
Calcium:
153.5
mg
|
Iron:
1.4
mg
|
Magnesium:
52.5
mg
|
Phosphorus:
170.5
mg
|
Zinc:
1.2
mg