This Overnight Steel Cut Oats recipe is the most creamy overnight oats recipe, perfect to meal prep super healthy breakfasts.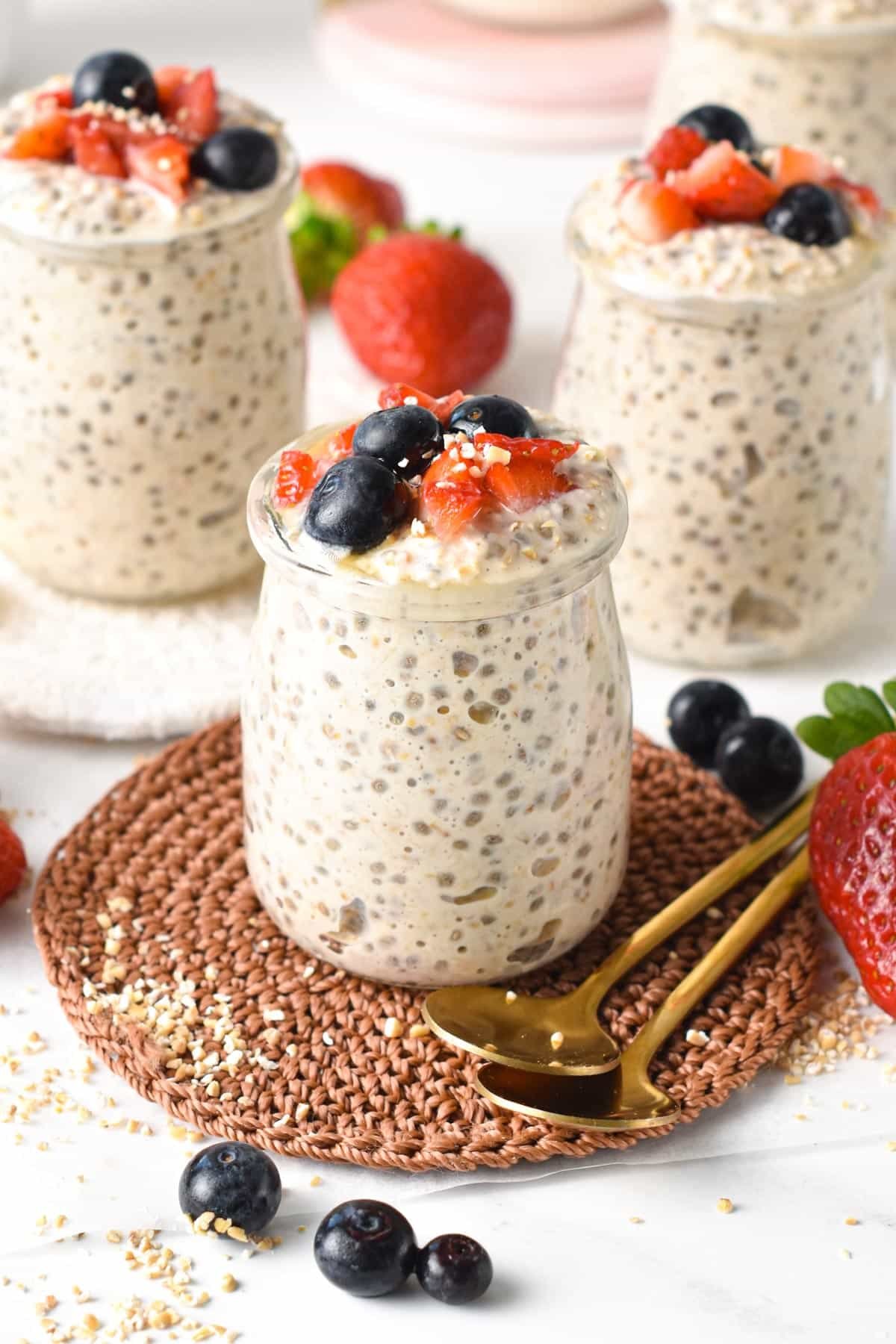 If you love overnight oat recipes, you're in the right place! With over 20 overnight oat flavors, you'll find one, or many, that you'll love.
Because there shouldn't be a week without eating overnight oats for breakfast.
What Is Overnight Steel Cut Oats?
Most classic overnight oat recipes use old-fashioned oats or quick oats.
Both of these are already healthy options to prepare a complete breakfast, but if you are after more proteins, fiber, and healthier nutrients, steel-cut oats should be your new breakfast cereal choice.
Steel-cut oats are essentially the less processed version of rolled oats. It's made from whole oat groats that are simply pulsed into small pieces which look like tiny seeds.
Compared to rolled oats that are steamed, steel-cut oats are raw and contain way more nutrients.
For example, steel-cut oats are the only oat version that includes beta-glucans, a soluble fiber that has been shown to reduce bad cholesterol and improve heart health.
However, since steel-cut oats contain more protein per cup and different fibers, the ratio of liquid to solid is slightly different for soaking steel-cut oats.
Similarly, it takes longer to cook if you prefer a warm breakfast like my protein steel-cut oatmeal recipe.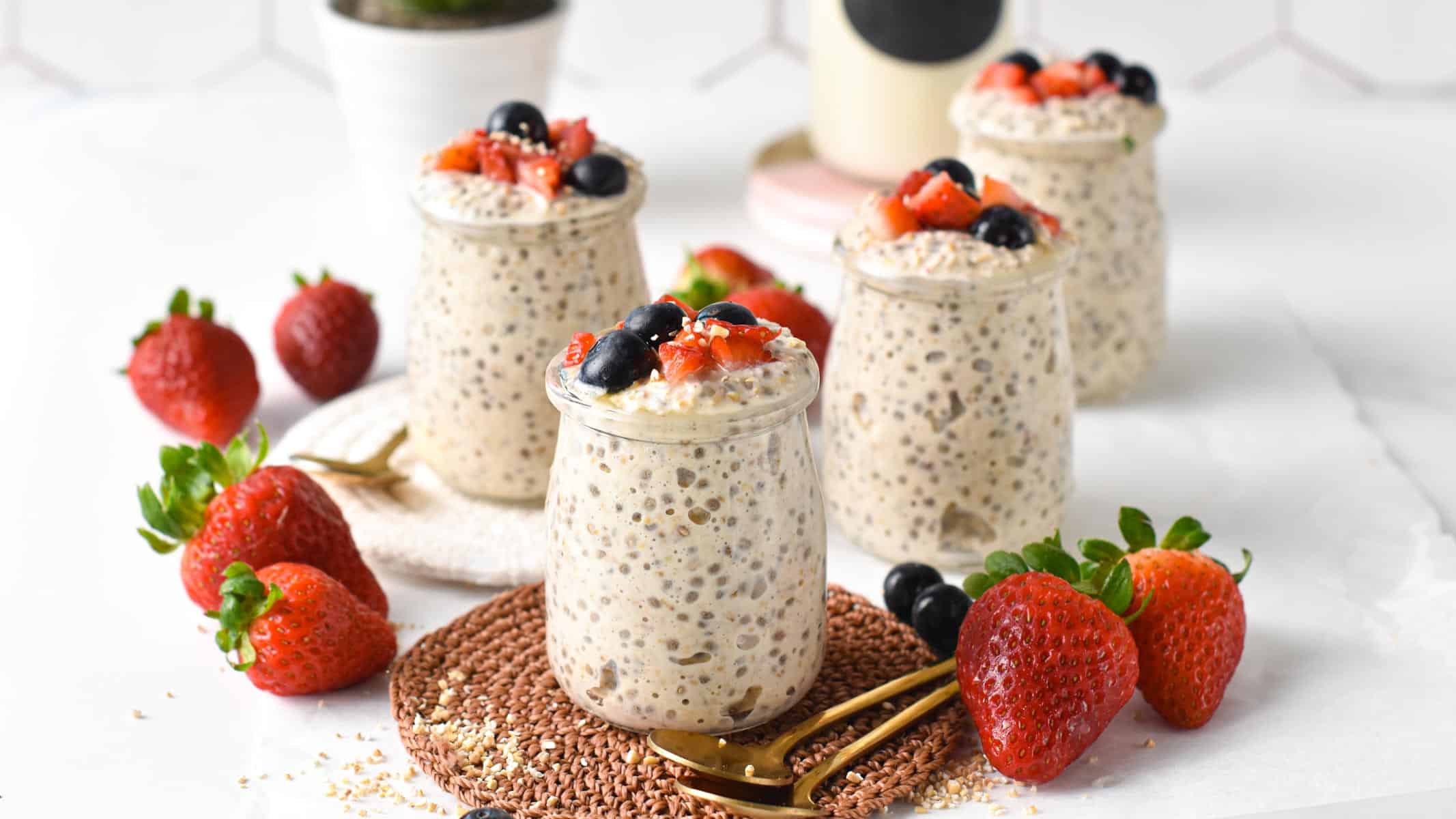 How To Make Overnight Steel Cut Oats
The concept of the recipe is the same, all ingredient comes together in a bowl and soaks overnight until softened and creamy.
Ingredients
Here are the ingredients you need. As you can see, this is an overnight oats recipe without yogurt. Steel-cut oats add lots of creaminess, and you won't need to add anything else to the mix.
Quick Steel-Cut Oats – There are two types of oats. You can find quick steel-cut oats and regular ones. They are both the same nutrition-wise, but the quick oat version is the best simply because the groats have been cut into smaller pieces. In addition, it results in faster cooking or soaking time.
Plant-Based Milk of Choice – I like soy milk to boost proteins, but any non-dairy milk like almond milk or coconut milk are great tasty options.
Chia Seeds
Maple Syrup or sweetener of choice, even crystal sweeteners like coconut sugar work.
Vanilla Extract
Preparation
You don't have to boil, simmer, or pre-cook steel-cut oats on the stovetop for this recipe! Instead, simply add all the dry ingredients into a large bowl or airtight container.
Stir to combine, then pour the milk of your choice and vanilla extract and stir again.
Close the container with a lid or seal with plastic wrap or foil and refrigerate for at least 6 hours or, ideally, place it in the fridge overnight.
Since steel-cut oats are heavier than rolled oats, the oats sit at the bottom of the bowl.
Therefore, I recommend you stir the mixture after an hour to make sure all ingredients come together and soak well.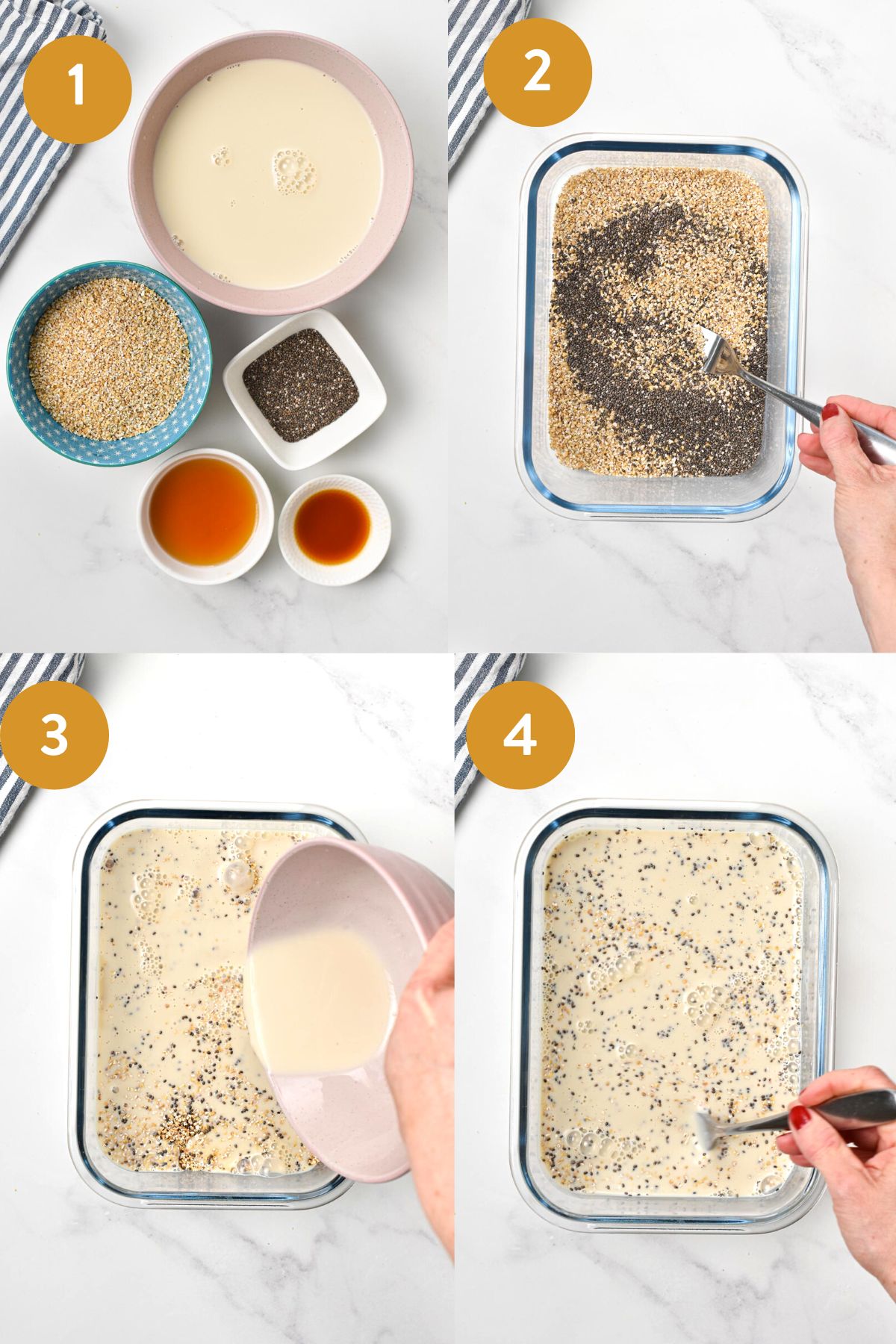 Serving
Before serving, taste and adjust sweetness by adding more maple syrup or a pinch of salt if you like.
You can serve this recipe in a small glass mason jar, adding some of your favorite breakfast toppings like:
Mixed Berries – From blueberries to raspberries or strawberries.
Fresh Fruits – Banana slices, chopped mango, or apples.
Chocolate Chips
Nuts – Chopped almonds, walnuts, or pecans.
Shredded Coconut
Flavoring Ideas
Be creative and make different flavors by adding some ingredients to the bowl like:
Nutty Flavors – Add 2 tablespoons of nut butter like peanut butter or almond butter.
Protein Overnight Oats – 2-3 tablespoons of protein powder. Ensure you increase the milk by at least 1/4 cup, or the mixture gets too dry.
Pumpkin Flavors – Add 2 tablespoons of pumpkin puree and a pinch of cinnamon.
Banana Flavor – Add three tablespoons of mashed banana, a pinch of cinnamon, and two tablespoons of chopped walnuts.
Chocolate Flavor – Stir in 2 tablespoons of unsweetened cocoa powder and chocolate chips.
Allergy Swaps
Below are some ingredient substitution ideas if needed:
Gluten-Free – Pick a gluten-free certified steel-cut oat.
Nut-Free – Use coconut milk or soy milk.
Chia Seed-Free – Add 1/4 cup of extra oats.
Sugar-Free – You can skip the sweetener and add mashed banana or applesauce to naturally sweeten the recipe.
Frequently Asked Questions
Here are my answers to your common questions about this breakfast recipe.
Is It OK To Soak Steel-Cut Oats Overnight?
Absolutely! You can soak steal-cut oats overnight as you will soak rolled oats.
The texture at the end is slightly different, with a creamy texture and small bits and pieces of oats groat similar to the seed texture.
Why Not Use Steel-Cut Oats For Overnight Oats?
There's no reason why you should not use steel-cut oats for this recipe.
But since rolled oats are a pantry staple, most people tend to suggest this option.
How Many Steel-Cut Oats Per Day?
As a general rule, 1/3 cup of steel-cut oats for breakfast keeps you as full as 1/2 cup of rolled oats. Since it contains more fiber and protein, you will eat less of it but feel just as full.
What Is The Benefit Of Soaking Steel-Cut Oats Overnight?
Soaking oats make it easier to digest and avoid bloating.
Since steel-cut oats contain more soluble fiber, like beta-glucan, it's better to soak them overnight or for a few hours to avoid bloating, particularly if you eat a lot.
How Much Steel Cut Oats Per Day?
Like any food, you shouldn't overeat steel cut oats or eat it too fast.
It's a high fiber food that is very healthy for your gut, but can also cause abdominal cramps and bloating if ingested too fast or in too high quantity.
As a result, a limit of 1/2 cup per day is a great balance to get the health benefits from the grains without the drawback for excess fibers.
More Overnight Oats Recipes
If you like overnight oats and oatmeal recipes, we've got you covered with these other healthy breakfast ideas: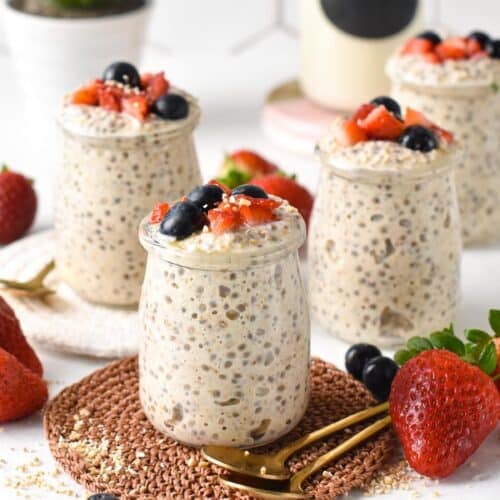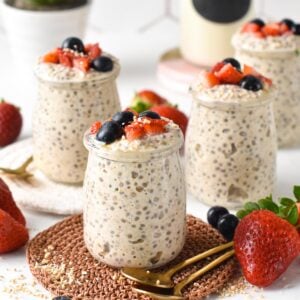 Overnight Steel-Cut Oats
This Overnight Steel-Cut Oat recipe is the most creamy overnight oat recipe, perfect to meal prep super healthy breakfasts.
Pin
Print
Review
Instructions
In a large bowl or airtight container, combine the dry ingredients: steel-cut oats and chia seeds.

Stir in unsweetened almond milk, maple syrup, and vanilla extract. Stir until evenly combined.

Cover the bowl with foil or a lid. If the seeds and oats sit to the bottom, give a quick stir after 1 hour to bring all ingredients together. Set in the fridge for 6 hours or overnight.
Serving Ideas
Serve the next day, with fresh fruits, sliced almonds, or berries.
Storage
Store leftovers in glass mason jars in the fridge for up to 4 days.
Share on Facebook
Pin Recipe
Nutrition
Serving:
1
serving
|
Calories:
356.3
kcal
|
Carbohydrates:
54.2
g
|
Protein:
11.9
g
|
Fat:
10.8
g
|
Saturated Fat:
1.4
g
|
Polyunsaturated Fat:
3.5
g
|
Monounsaturated Fat:
2.4
g
|
Trans Fat:
0.01
g
|
Sodium:
215.5
mg
|
Potassium:
113.8
mg
|
Fiber:
10
g
|
Sugar:
12.4
g
|
Vitamin A:
16.2
IU
|
Vitamin C:
0.8
mg
|
Calcium:
274.1
mg
|
Iron:
3
mg
|
Magnesium:
40.6
mg
|
Phosphorus:
89.8
mg
|
Zinc:
0.6
mg