These blueberry overnight oats are healthy creamy breakfasts packed with anti-inflammatory from blueberries and the most beautiful vibrant natural purple color.
If your kids love oats, they will crave these lovely purple jars of oats for breakfast, packed with fiber, nutrients, and vitamins.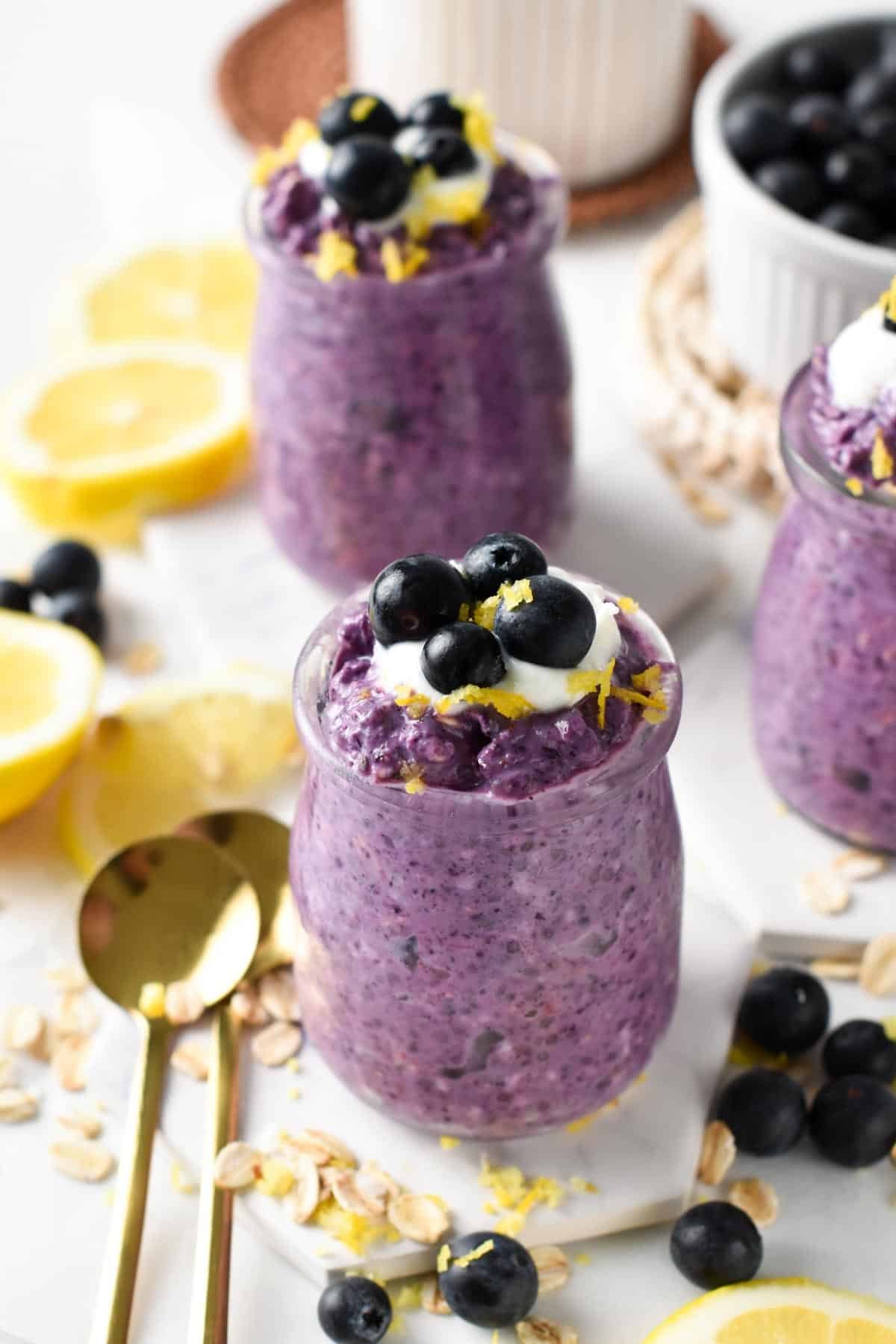 Blueberry Overnight Oats are one of the most classic overnight oat flavors. But while most recipes simply stir blueberries into a classic overnight oats recipe, I do prefer to blend the blueberries into a puree for this recipe.
In fact, blending blueberries with plant-based milk and yogurt creates the most creamy blueberry overnight oats texture. The flavors are bomb and the color is so amazing too.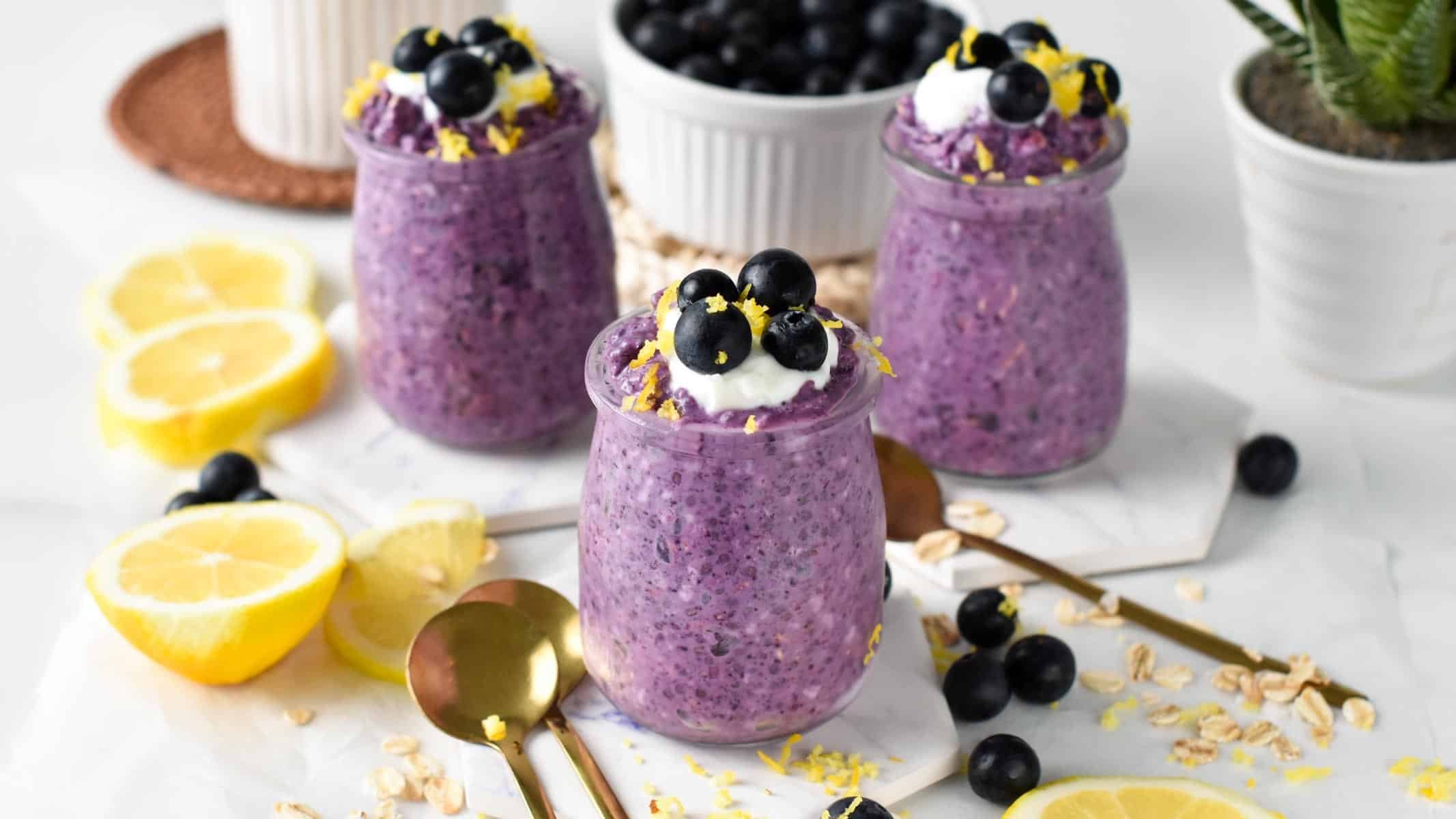 How To Make Blueberry Overnight Oats
Like any of my oatmeal recipes for breakfast, this one is easy, takes under 10 minutes to put together, and is perfect to meal prep a week of healthy breakfast.
Ingredients
All you need to start with this healthy breakfast recipe with blueberries are:
Old-Fashioned Rolled Oats – You can also use quick oats or steel-cut oats. For the latter, take the instructions from my Overnight Steel Cut Oats.
Plant-Based Milk of Choice – You can use any of your favorite nondairy milk for this breakfast recipe. Oat milk, unsweetened almond milk, or coconut milk taste great.
Vanilla Extract
Chia Seeds
Plant-Based Greek Yogurt of Choice – It can be any dairy-free option like soy, coconut, or oat yogurt. The ones tagged Greek-style yogurt are thicker and add a creamy, cheesecake-like flavor to the recipe.
Maple Syrup or any sweetener you like. It doesn't have to be a liquid sweetener, and if you enjoy a few stevia drops or a crystal sweetener like coconut sugar, it works.
Blueberries – fresh or lightly thawed
Lemon Juice
Preparation
First, place all the dry ingredients into a large bowl or a glass container that you can easily pop in the fridge with a lid on.
Stir oats, and chia seeds, and set aside while you are making the blueberry milk.
In a high-speed blender, add plant-based milk of choice, fresh blueberries or lightly thawed blueberries, maple syrup, lemon juice, vanilla extract, and yogurt. Blend on high speed until smooth.
Pour the purple milk onto the dry ingredients and stir to combine evenly. Close the container with a lid or film the bowl with a wrap.
Refrigerate overnight or for at least 2 to 3 hours.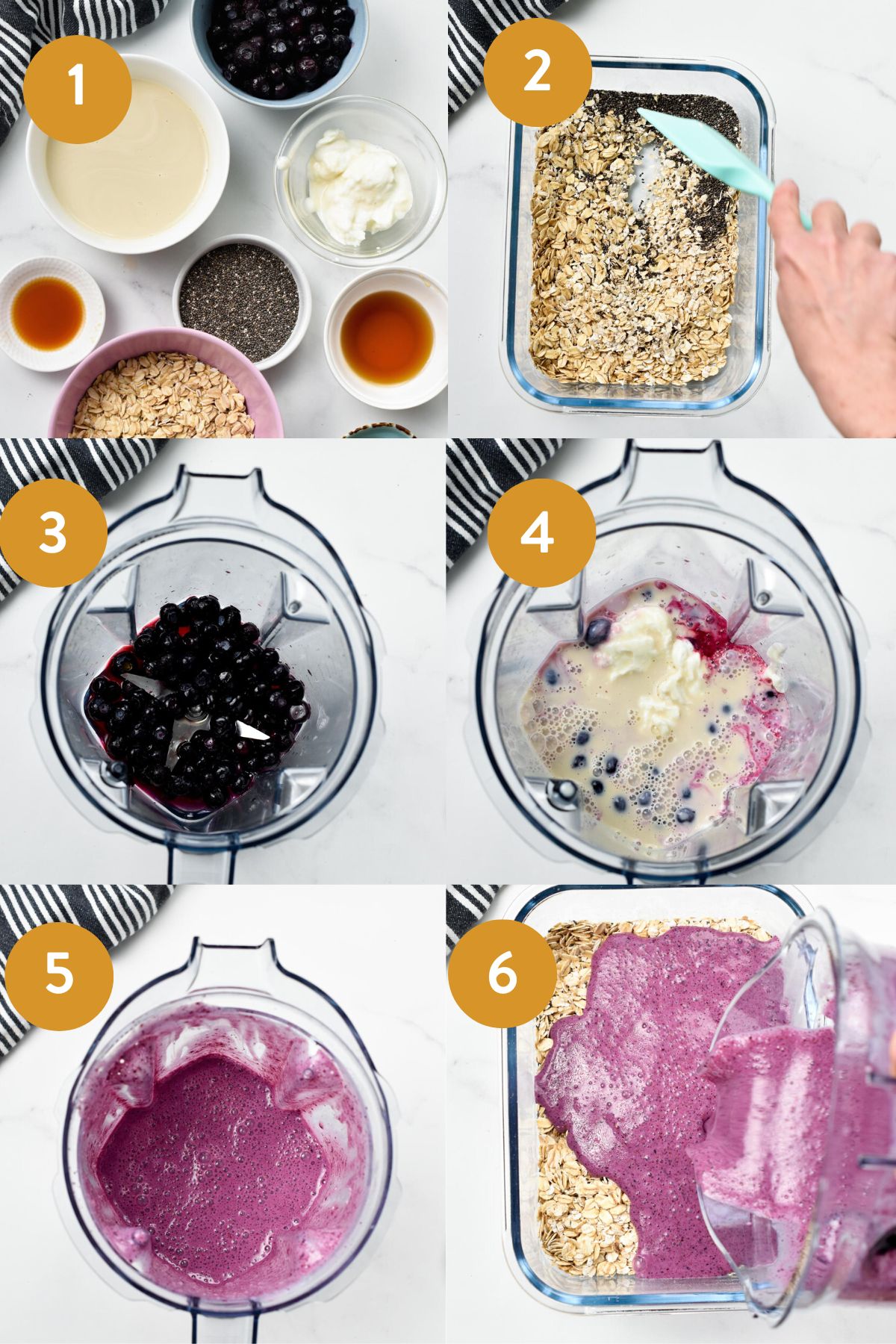 No-Blender Option
If you don't have a blender and don't like the idea of blending the blueberries with the milk, try this.
First, stir the dry ingredients together. Next, add liquid ingredients: milk, yogurt, sweetener, lemon juice, and vanilla extract. Stir to combine.
Fold in the fresh or frozen blueberries, seal the container, and refrigerate overnight.
Serving
Like for any of my overnight oats recipes, I do believe they taste better served with other ingredients. This includes layers or toppings of some of the below:
Lemon zest
Peanut butter, almond butter
Chopped nuts like almonds, walnuts pecans
Shredded coconut
Extra berries or banana slices or any fresh fruits you like
I like serving this blueberry overnight oats in small glass mason jar, also called yogurt jars.
They come with a lid that you can pop, and it's a great way to meal prep small portions for healthy breakfast for the family.
My kids love adding a drizzle of maple syrup and nut butter on top just before serving.
Storage Instructions
You can eat overnight oats every single morning as part of a healthy breakfast. Therefore, this recipe is a great way to meal prep 2 breakfasts or more if you double or triple the recipe.
Store for up to 4 days in an airtight container in the fridge, and add the toppings just before serving.
Flavoring Ideas
There are many ways to twist the ingredients in this recipe to create a range of flavors.
Blueberry Coconut Overnight Oats – Add 2 tablespoons of shredded coconut along with the dry ingredients. Next, use plain coconut yogurt and coconut milk, and serve with fresh coconut pieces.
Blueberry Cheesecake Overnight Oats – Swap the yogurt for dairy-free softened cream cheese, or try cashew butter. It adds a similar flavor. Next, add crumbled pieces of homemade almond flour shortbread on top of each jar, like in my strawberry cheesecake overnight oats recipe.
Blueberry Lemon Overnight Oats – Add two teaspoons of lemon zest and more on top to serve. Increase lemon juice to 1 1/2 tablespoons.
Blueberry Almond Overnight Oats – Use almond butter instead of yogurt, serve with slices of almond, and use almond milk.
Blueberry Banana Overnight Oats – Swap the yogurt for the same amount of mashed banana. Stir in 1/4 cup of chopped walnuts for a crunchy addition.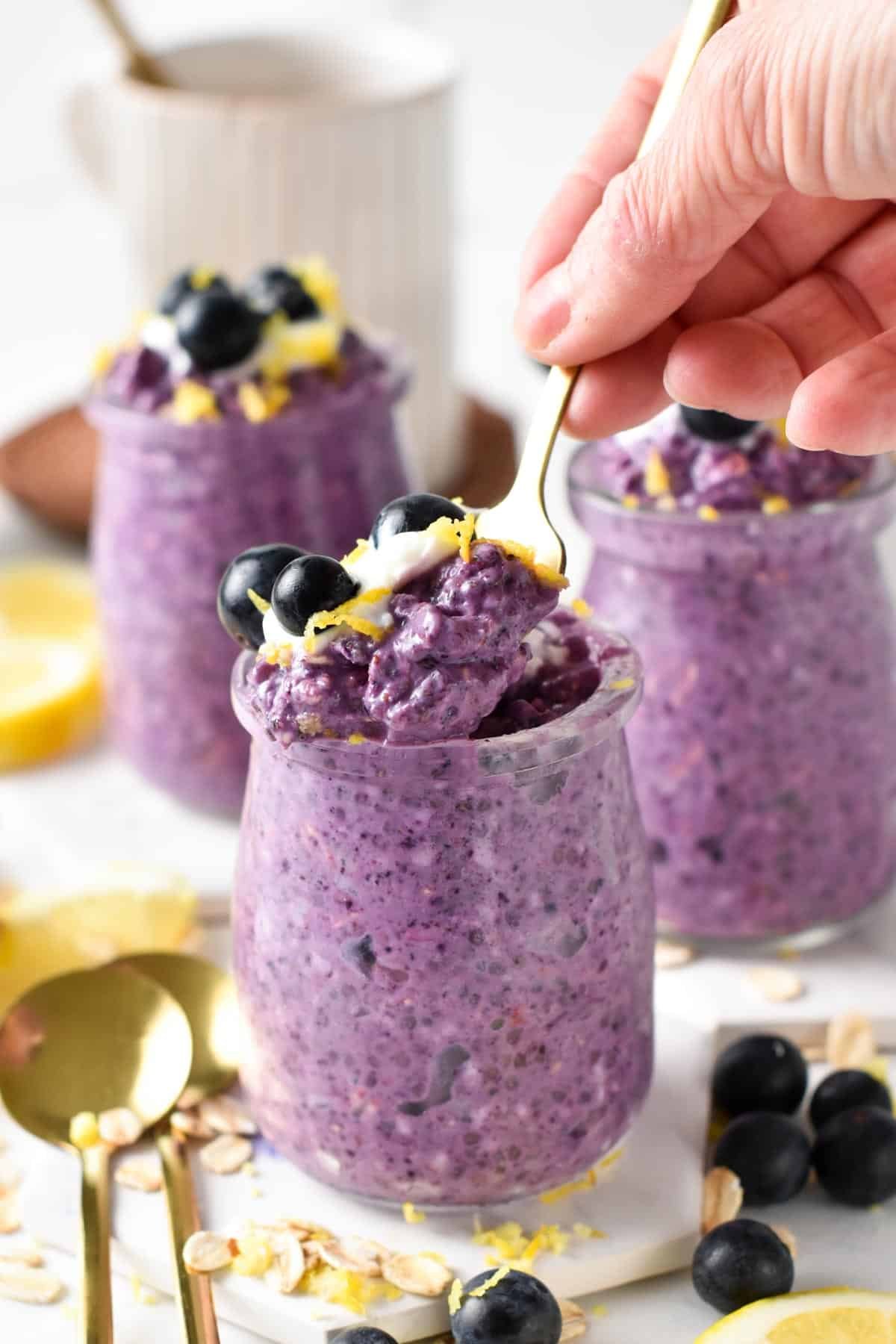 Allergy Swaps
Below are some ingredients substitutions ideas if you need to adapt this blueberry overnight oats recipe.
Chia Seed-Free – Add an extra 1/4 cup of rolled oats and remove the chia seed to make overnight oats without chia seeds.
Yogurt-Free – Yogurt adds creaminess, but if you don't have dairy-free plain yogurt available, you can try canned coconut cream – scoop out the top part of a can. Or, simply add more plant-based milk of choice.
Gluten-Free – Use gluten-free certified oats.
Sweetener – We love the flavor of pure maple syrup but any sweetener like agave syrup, coconut nectar, or even crystal sweeteners like coconut sugar taste amazing.
Sugar-Free – Remove the sweetener entirely and if you like, you can use a few tablespoons of mashed banana for natural sweetness, or try 1-2 drops of stevia glycerite.
Frequently Asked Questions
Here are my answers to your common questions about this healthy breakfast recipe.
Can You Leave Fruit In Overnight Oats?
Yes, you can store overnight oats with fruits in the mixture. However, if your fruits are fresh, like fresh berries, and are already ripe, the recipe won't store as long.
To keep overnight with fruits fresh for longer, use fresh, firm berries or frozen fruits. This way, the recipe store well for up to 4 days in the fridge. If your fruits are slightly ripe, the recipe will start tasting like alcohol as the fruits macerate in the mixture.
Do Overnight Oats Go Bad?
Yes, after 3 or 4 days in the fridge, you shouldn't eat overnight oats as they can start to turn bad, especially if fruits have been added to the mixture.
Like any uncooked recipe, the expiration date of the ingredients added is what impacts the shelf life of your recipe.
Can I Add Protein Powder To Overnight Oats?
Yes, you can add a scoop of your favorite protein powder.
However, this thickens the recipe, so you need to add a splash of extra milk to thin it out – usually 1/3 cup.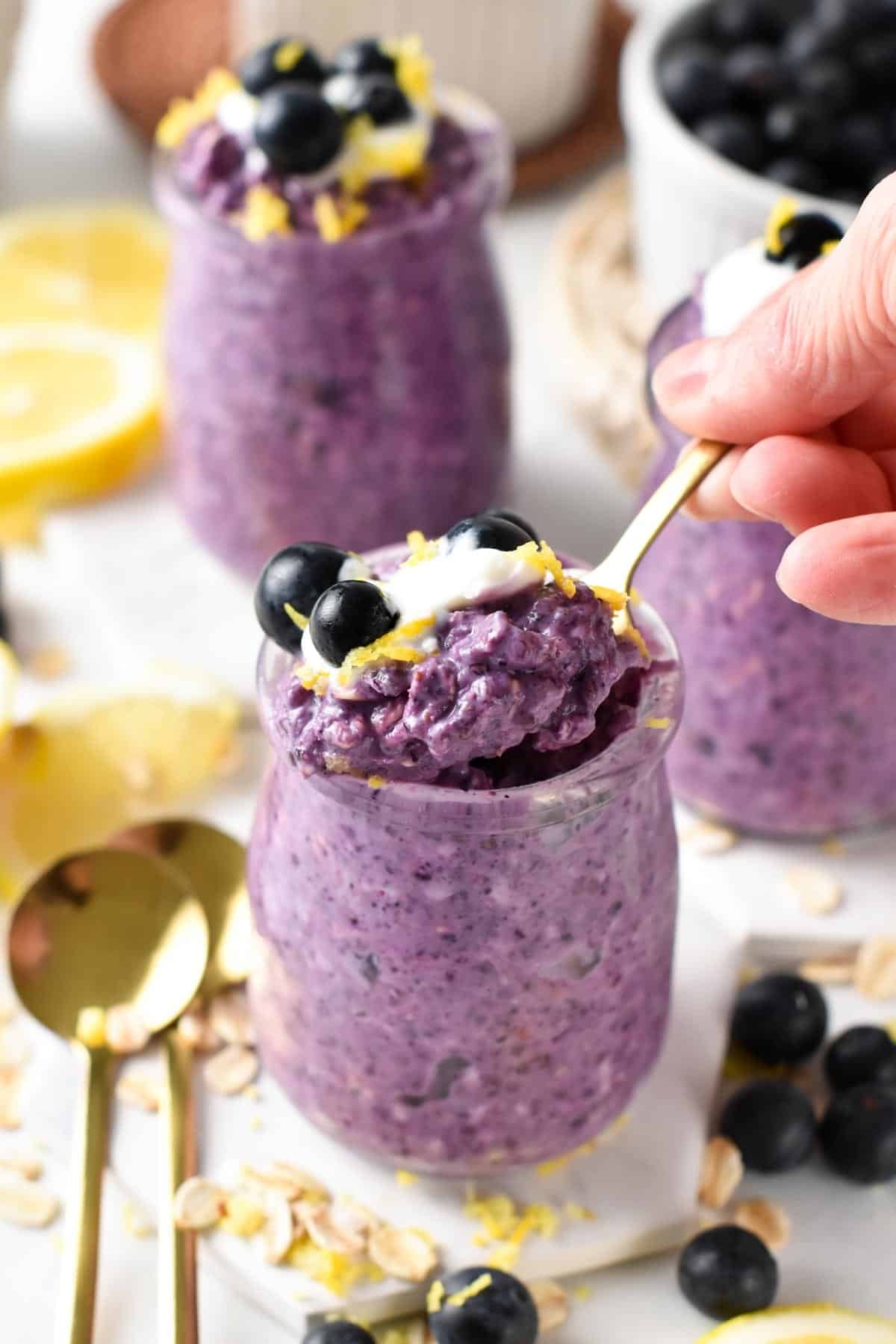 More Overnight Oat Recipes
If you like these overnight oats, you'll love my other overnight oat recipes: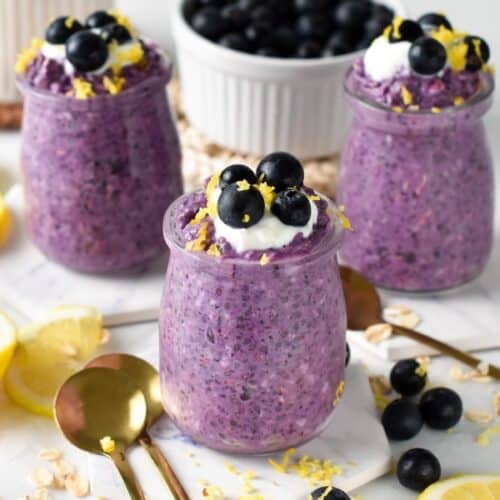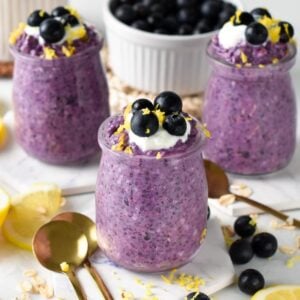 Blueberry Overnight Oats
These blueberry overnight oats are healthy creamy breakfasts packed with anti-inflammatory from blueberries and the most beautiful vibrant natural purple color.
Pin
Print
Review
Instructions
In a large bowl or airtight container, stir the dry ingredients: oats and chia seeds. Set aside.

In a high-speed blender, blend blueberries, milk, lemon juice, coconut yogurt, sweetener, and vanilla extract until smooth.

Pour the blueberry milk mixture over the dry ingredients and stir well to combine.

Close the lid of the container or film it with foil and refrigerate it for at least 3 hours or overnight.
Serving
Serve in small glass mason jars with fresh blueberries on top, lemon zest, and coconut.
Storage
Store in an airtight container for 3-4 days in the fridge. The storage time varies depending on the freshness of the blueberries. Ripe berries turn the recipe bad quickly.
Share on Facebook
Pin Recipe
Nutrition
Serving:
1
serving
|
Calories:
347.3
kcal
|
Carbohydrates:
60.6
g
|
Protein:
9.1
g
|
Fat:
8.2
g
|
Saturated Fat:
0.9
g
|
Polyunsaturated Fat:
4.4
g
|
Monounsaturated Fat:
1.7
g
|
Trans Fat:
0.01
g
|
Sodium:
132.7
mg
|
Potassium:
308.1
mg
|
Fiber:
10.4
g
|
Sugar:
21.8
g
|
Vitamin A:
46.9
IU
|
Vitamin C:
14
mg
|
Vitamin D:
0.4
µg
|
Calcium:
273.6
mg
|
Iron:
2.9
mg
|
Magnesium:
105.4
mg
|
Phosphorus:
278.9
mg
|
Zinc:
2.3
mg