Strawberry Cheesecake Overnight Oats
This easy Strawberry Cheesecake Overnight Oats recipe with fresh juicy strawberries, crunchy almond flour shortbread cookie crumbles, and cream cheese flavor but 100% dairy-free!
It's a healthy everyday breakfast recipe that all the family loves.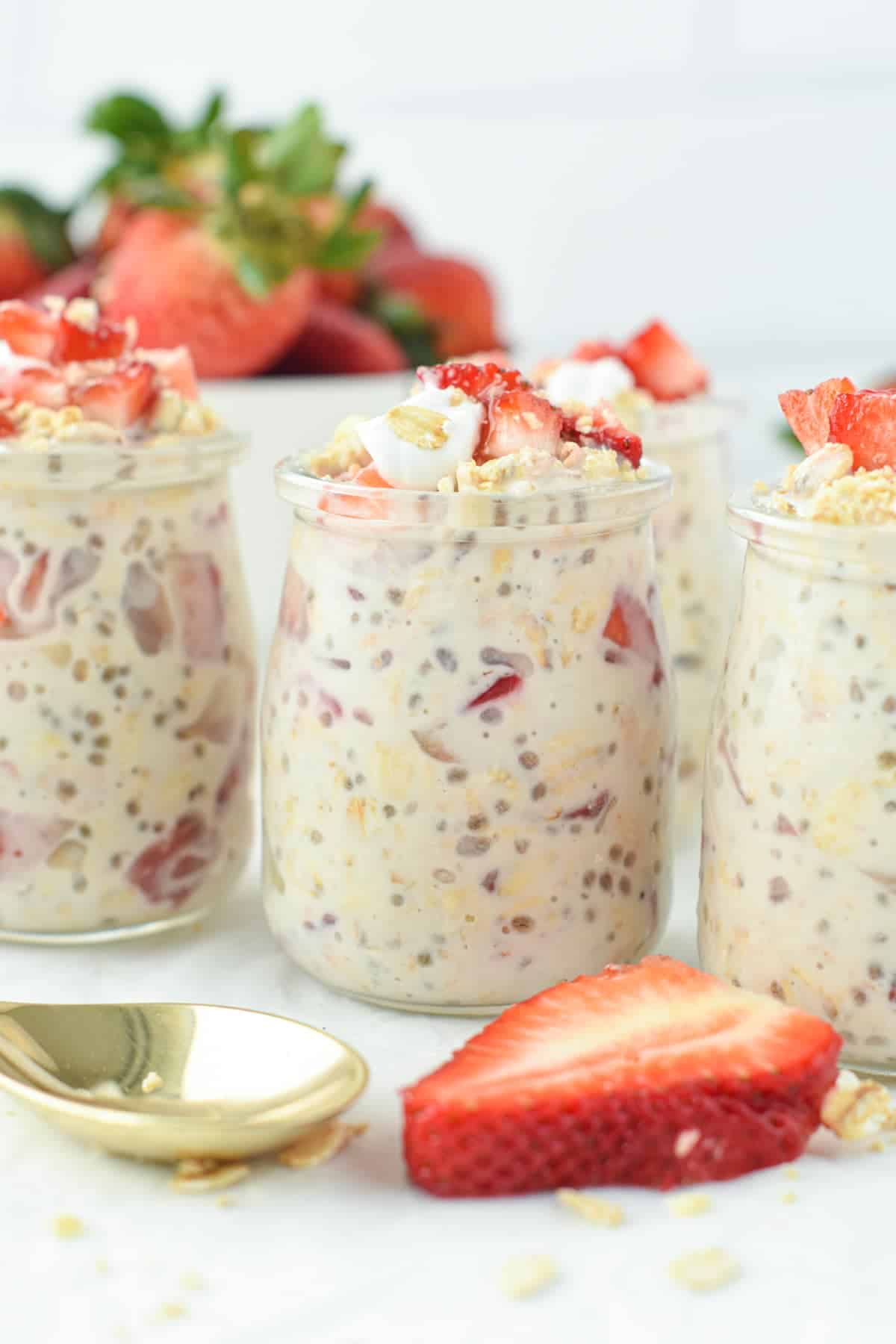 I have shared so many overnight oats recipes on the blog lately. It's such a convenient, healthy breakfast for kids and the entire family that I never get tired of creating flavors.
Here I am sharing one of our favorite strawberry and cream flavor, 100% dairy-free and refined-sugar-free.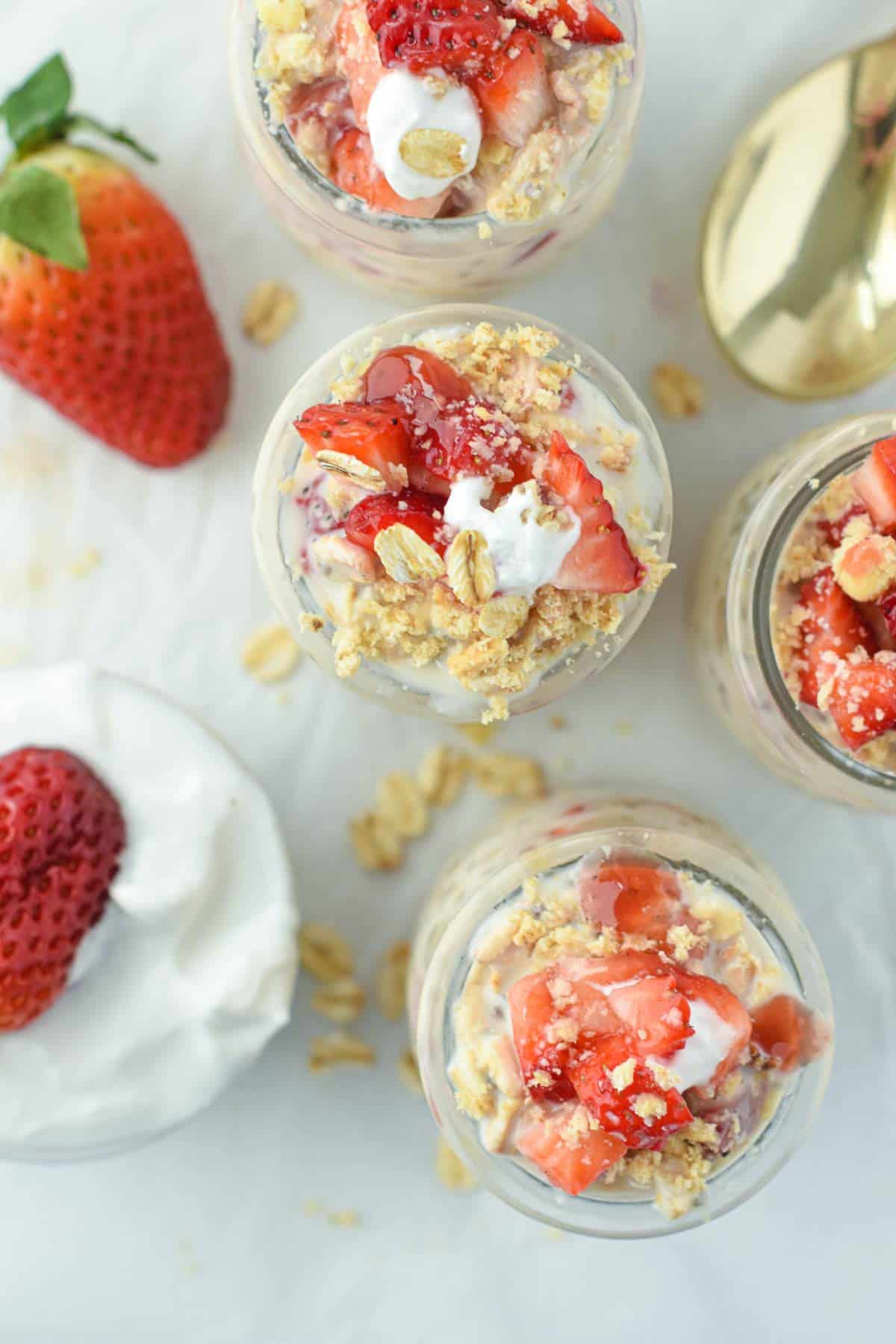 How To Make Strawberry Cheesecake Overnight Oats
This strawberry cheesecake overnight oats recipe is like having dessert for breakfast, except it takes only 10 minutes to make!
So if you love strawberry cheesecake but you want something healthy, this oatmeal recipe is the one to try.
Ingredients
Old-fashioned rolled oats – you can use a gluten-free certified brand if needed. Simply make sure you don't use quick oats for this recipe. Quick oats are thinner in texture, contain less fiber, and won't provide a similar creamy pudding texture.
Unsweetened almond milk – or plant-based milk you love, I found unsweetened vanilla flavor almond milk is even more delicious in this recipe.
Chia seeds or flaxseed meal
Vanilla extract
Maple syrup, coconut nectar, or any sweetener you love.
Greek yogurt – we used coconut Greek-style yogurt, but any dairy-free yogurt would work as well.
Strawberries – I love to use fresh, diced strawberries in this recipe, but frozen berries work very well. Simply make sure you cut them into small pieces before adding the frozen fruits to the mix.
Almond flour shortbread cookie crumble – this is an easy 4-ingredient cookie recipe that you can make in 20 minutes. But, if you don't have time to bake, use store-bought graham crackers or add sliced almonds on top of your jar.

Preparation
In a large mixing bowl, combine the dry ingredients: old-fashioned rolled oats and chia seeds.
Then, stir in all the liquids: almond milk, vanilla extract, maple syrup, and Greek yogurt.
Stir until everything is well distributed in the bowl, then stir in the diced strawberries.
You can also add frozen diced strawberries to this recipe. You don't need to thaw the fruits before adding them to the overnight oats preparation.
Cover the bowl with a piece of plastic wrap to seal and refrigerate overnight.
Make the cookies
Now, it's time to bake a batch of shortbread cookies.
I know that a regular cheesecake is more often made with a Graham cracker crust, but I love this healthy shortbread on top of this!
But, since I have plenty of cookie recipes on the blog that are easy to make within 20 minutes, I listed more options below.
Pick the one you love, make it, cool it down, and use a few cookies to assemble the overnight oats jar.

Assemble the jars
The next day, serve your breakfast in layers. First, add a layer of strawberry cheesecake overnight oats. Next, top up with yogurt, cookie crumble, and more overnight oats.
Repeat these layers until you reach the top of your jar.
Finally, when you reach the top of the jar, finish with yogurt, more fresh diced strawberries, and crumble the cookie on top.
Cold or hot
Should you eat overnight oats cold or hot? That's the most common question I get, and let me tell you. There's no right or wrong way of eating overnight oats.
You can definitely enjoy this cold, which is probably the best since you added fresh fruit to the jar.
But, you can also microwave it for 20-30 seconds to get the mixture lukewarm. Don't warm up for too long, or the fruits release some liquid and become mushy.
More Topping Ideas
There are some other delicious toppings you can add on top of this strawberry and cream overnight oats.
Peanut
Unsweetened coconut flakes
Sliced almonds
Dark chocolate chunks
A pinch of ground cinnamon
Storage Instructions
This recipe makes about 4 servings, so you will have to store leftovers for later. To do so, store the overnight oats in glass mason jars in the fridge for up to 4 days.
Or, freeze the overnight oats in an airtight container and thaw in the fridge overnight.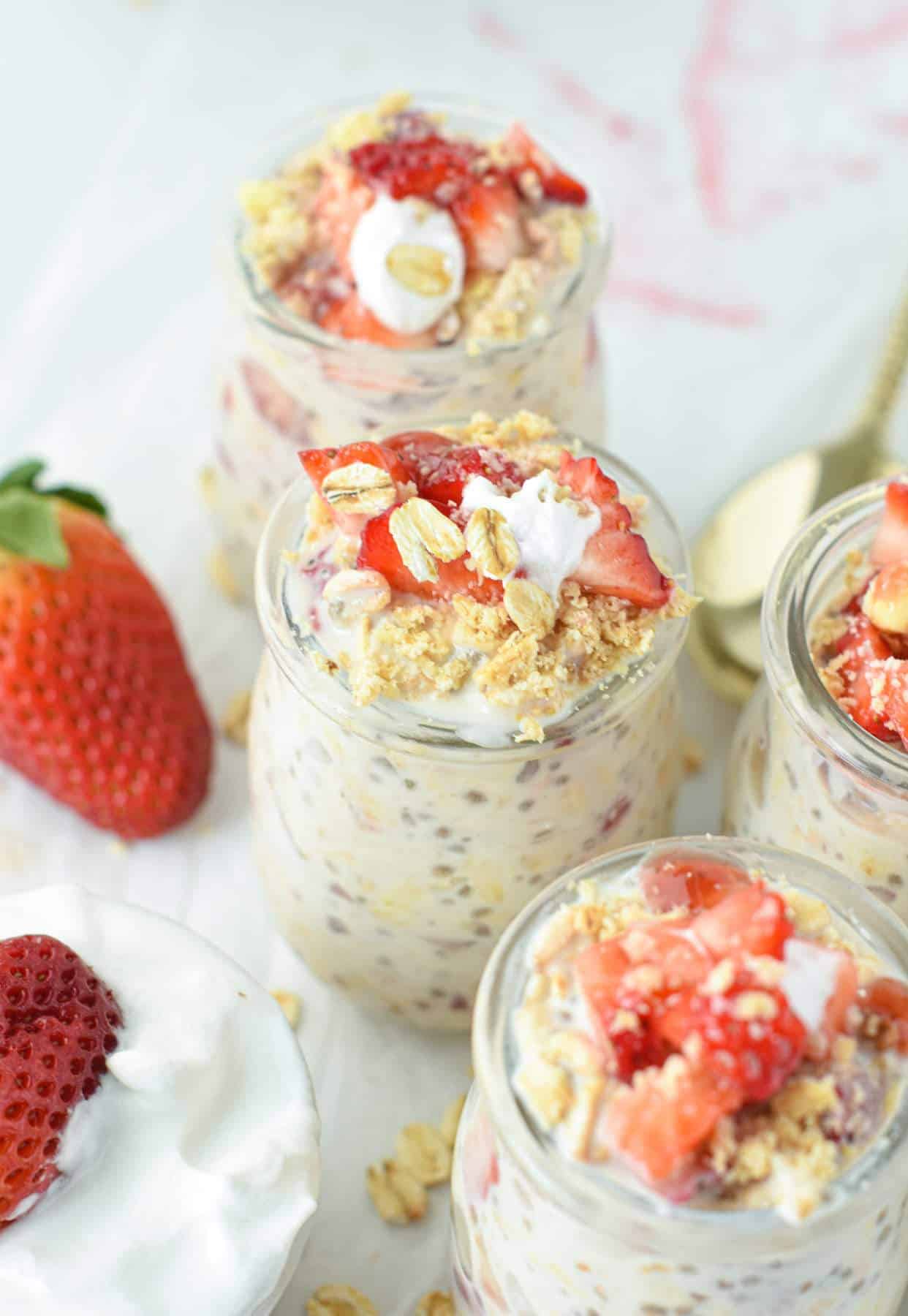 More Overnight Oats Recipes
I love to create overnight night oats recipes, and below I listed some more flavors for you to try.
Have you made this strawberry overnight oats recipe? Share a comment or review below and let me know how it went.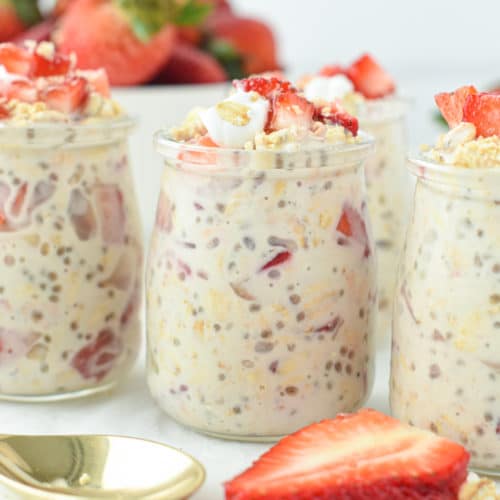 Strawberry Cheesecake Overnight Oats
An easy, healthy overnight oats recipe with a delicious strawberry cheesecake flavor.
Pin
Print
Review
Shop My Tools
Instructions
In a large mixing bowl, combine the dry ingredients: rolled oats and chia seeds.

Stir in almond milk, yogurt of choice, maple syrup, vanilla extract, and diced strawberries. Stir until evenly distributed.

Cover the bowl with a piece of plastic wrap and refrigerate overnight.

The next day, serve in a jar, arranging layers of strawberry overnight oats, yogurt, and cookie crumbles – I used my almond flour shortbread cookie recipe. Finish with fresh strawberries, yogurt, and more cookie crumbles on the top. You can also drizzle strawberry jam on top or maple syrup to boost the sweetness.

Store in airtight 8-ounce glass mason jars for up to 4 days or freeze for later. Thaw in the fridge the day before serving.
Share on Facebook
Pin Recipe
Nutrition
Serving:
1
serving
|
Calories:
137.9
kcal
|
Carbohydrates:
22
g
|
Protein:
6.1
g
|
Fat:
2.9
g
|
Saturated Fat:
0.3
g
|
Polyunsaturated Fat:
1.4
g
|
Monounsaturated Fat:
0.8
g
|
Trans Fat:
0.1
g
|
Cholesterol:
1.3
mg
|
Sodium:
92.7
mg
|
Potassium:
184.5
mg
|
Fiber:
3.6
g
|
Sugar:
6
g
|
Vitamin A:
6.4
IU
|
Vitamin B12:
0.2
µg
|
Vitamin C:
21.2
mg
|
Calcium:
137
mg
|
Iron:
1.2
mg
|
Magnesium:
43.2
mg
|
Phosphorus:
142.7
mg
|
Zinc:
1
mg