These WeetBix Bliss Balls are quick and easy energy bites filled with crunchy Weetbix biscuits.
They are the perfect kid's lunchbox snack or healthy treat to fix your sweet tooth.
I love Weetbix biscuits since I live in New Zealand. I have made so many tasty recipes with my Weetbix from overnight Weetbix to Chocolate Weetbix slice, these biscuits never disappoint.
If you are after a healthy way to add Weetbix to your day, try making bliss balls with them.
How To Make Weet-Bix Bliss Balls
Making these is super easy, it's only a few ingredients.
Ingredients
All you need to make these super easy bliss balls as an healthy snack for you, or the kids lunchbox are:
Weetbix Biscuits – Feel free to use gluten-free Weetbix if need.
Medjool Dates – pitted
Vanilla Extract
Nut-Butter – peanut butter or almond butter
Maple Syrup
Chia Seeds
Desiccated Coconut
Water
Crushing The Weetbix
First, place Weetbix in the bowl of a food processor. Blend on high speed until a fine crumb forms. Then, set it aside in a bowl.
Turning Dates Into Paste
Before adding the date to the food processor, you can soak them in warm water for 10 minutes.
This softened the dates. Discard water and squeeze soaked dates gently to extract any water.
In the same food processor bowl, add the pitted dates and vanilla extract.
Blend until it forms a paste. You may have to stop the food processor a few times to scrape down the sides of the bowl with a spatula.
Forming The Bliss Ball Batter
Add the remaining ingredients into the food processor bowl: Weetbix crumb, coconut, peanut butter, maple syrup, and chia seeds.
Blend again until a sticky bliss ball batter forms.
Adjusting The Texture
Stop the food processor, and press some of the dough in your hand. If too dry, add the tablespoons of water gradually.
It's better to add one tablespoon at a time, process after each addition, and stop adding when the batter sticks well together.
You should be able to form firm balls that hold their shape easily.
If the consistency is too wet, add some more Weetbix biscuits to absorb the moisture. Process after each addition until the batter is easy to roll into balls.
Rolling Into Balls
Roll golf-sized balls and roll into balls between your hands and roll them into desiccated coconut.
Place the formed Weetbix balls on a plate covered with parchment paper or a glass container. Store in an airtight container in the fridge to keep them soft.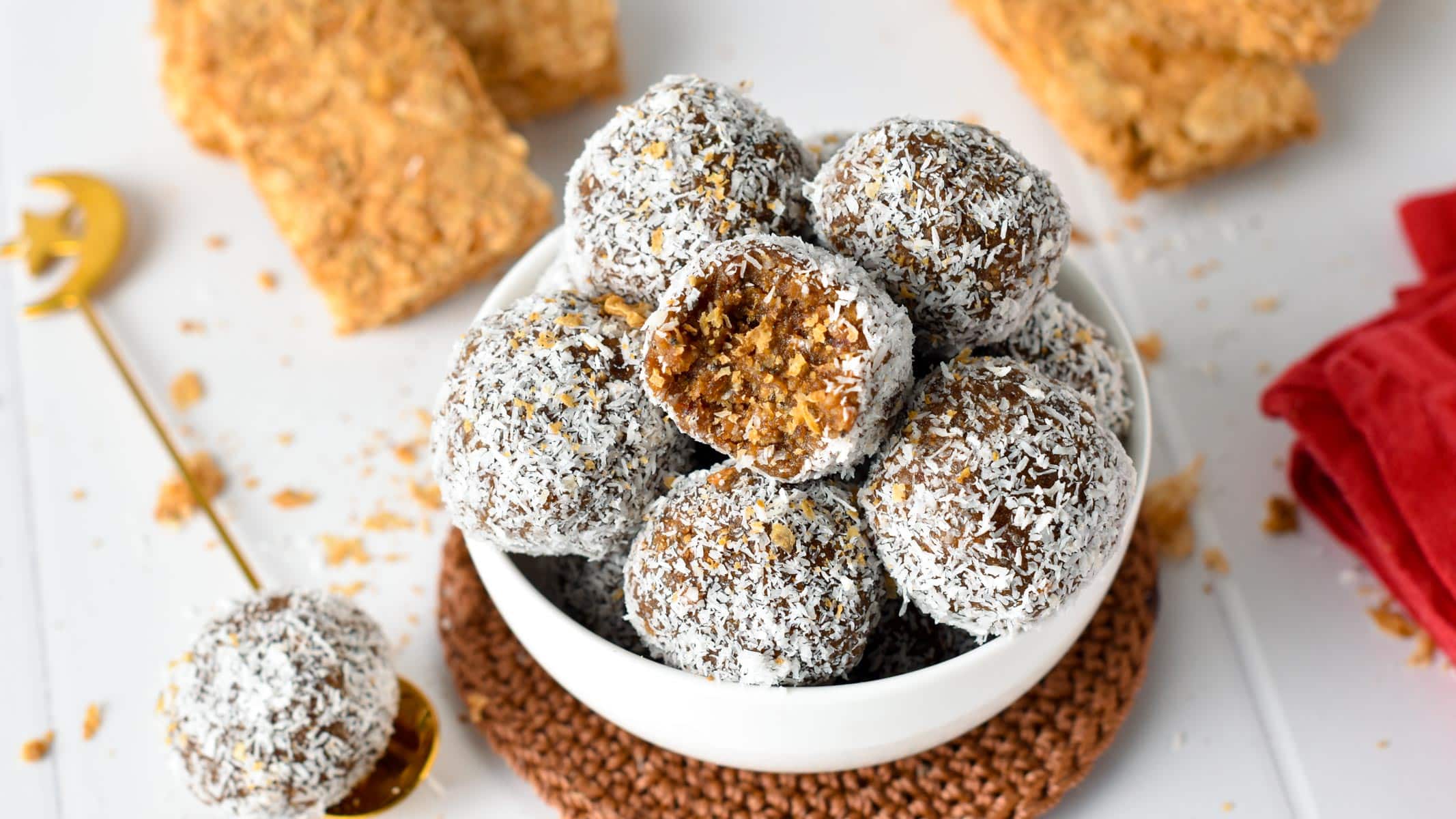 Flavors
Feel free to turn this delicious recipe into new flavors, by adding some of the below ingredients:
One tablespoon of cocoa powder – You will need more water as the cocoa powder is high in fiber and absorb lots of moisture.
Orange Zest or lemon zest
Almond Extract instead of vanilla extract
Swap the dates for dried prunes, dried cranberries, or dried apricots.
Storage Instructions
Store the Weetbix bliss balls in an airtight container in the fridge, or zip-lock bags, for up to 1 week. These bliss balls are freezer-friendly. Place them in freezer bags and keep them for up to 1 month.
Thaw at room temperature the day before adding to kids' lunchboxes.
Allergy Swaps
If you have food allergies try some of the ingredient swap ideas below.
Gluten-Free – Weetbix gluten-free biscuits works very well in this recipe.
Nut-Free – For nut-free school policies I make these bliss balls using sunflower seed butter.
Date-Free – You can replace the dried dates with dried apricot to make apricot bliss balls or dried figs to make fids energy balls. Finally, try dried raisins or sultanas for new flavours.
Maple Syrup – I add a touch of sweetener to boost sweetness and add flavor to the bliss balls. Feel free to skip it or add any refined sugar-free liquid sweetener you love, like coconut nectar or date syrup.
Frequently Asked Questions
Here are my answers to your most common questions about these tasty treats.
What Is Weetbix Cereal?
Weetbix are healthy wholegrain breakfast biscuits made from plants: wholegrain wheat, barley, and lightly sweetened with sugar.
Are Weetbix Good For You?
Weetbix is a healthy breakfast cereal made with minimal ingredients packed with 3 grams of fiber per 100 grams and 3.6 grams of protein.
The biscuits are also fortified with essential vitamins and minerals like vitamin C, vitamin B3, niacin, and iron.
Therefore, they are often seen as healthy, but not as much as oats, which contain 4 times more fiber and proteins per 100 grams.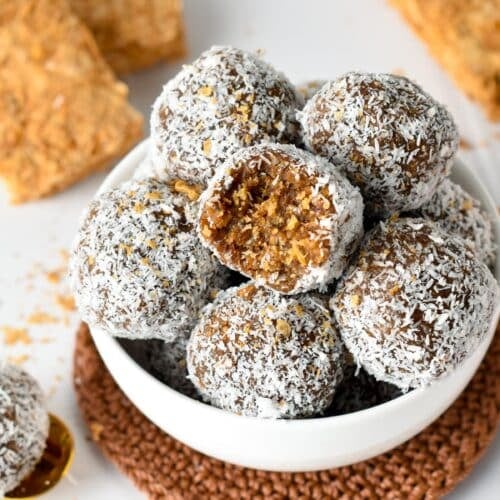 Weetbix Bliss Balls
These Weetbix Bliss Balls are quick and easy energy bites filled with crunchy Weetbix biscuits. They are the perfect kid's lunchbox snack or healthy treat to fix your sweet tooth.
Pin
Print
Review
Servings: 12 balls
Calories: 110.1 kcal
Instructions
Before you start, if your dates are dry, soak in warm water for 5 minutes. Discard soaking water. Drain well before adding to the food processor.

In a food processor, using the S-blade attachment, add the dates. Pulse a few times until it forms pieces and is almost a paste.

Add peanut butter, vanilla extract, and maple syrup. Blend on medium-high speed until a paste forms.

Stop the food processor and add the Weetbix biscuits (I like to break them into pieces in the bowl as they blend faster), chia seeds, and desiccated coconut.

Blend again, stopping the food processor a few times to scrape down the sides of the bowl with a silicone spatula.

Blend until the batter is sticky and consistent and you can easily form balls. If too dry, add 1-2 teaspoons of water at a time to bring the mixture together. If too wet, add more Weetbix and blend until incorporated.

Lightly grease hands with coconut oil and roll balls of 1 tablespoon size.

Roll the bliss balls in more coconut and store them in the fridge in a sealed container for up to 1 week. Freeze in zip-lock bags for up to 1 month. Thaw at room temperature the day before.
Share on Facebook
Pin Recipe
Nutrition
Serving: 1ball | Calories: 110.1kcal | Carbohydrates: 16.6g | Protein: 2.5g | Fat: 4.3g | Saturated Fat: 1.6g | Polyunsaturated Fat: 0.9g | Monounsaturated Fat: 1.4g | Trans Fat: 0.002g | Sodium: 24.3mg | Potassium: 155.4mg | Fiber: 2.3g | Sugar: 10g | Vitamin A: 18.8IU | Vitamin C: 0.04mg | Calcium: 19.2mg | Iron: 1mg | Magnesium: 21.1mg | Phosphorus: 38.1mg | Zinc: 0.3mg