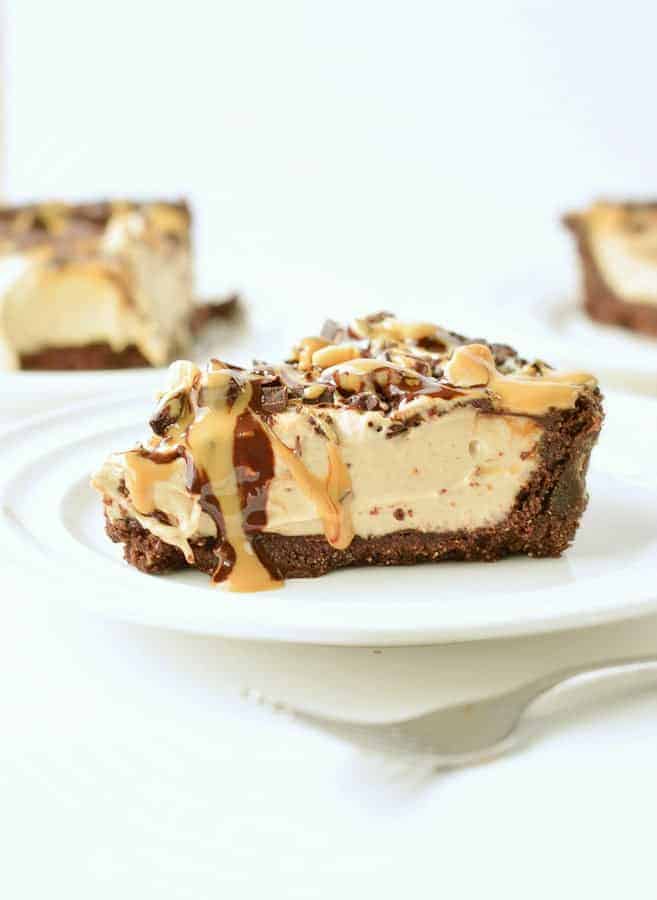 This vegan peanut butter pie with coconut milk doesn't use tofu or vegan cream cheese. It is an healthy peanut butter pie, a delicious easy vegan peanut butter desserts for the sweet tooth! You will love its creamy chia seed peanut butter filling and crunchy chocolate almond crust. Bonus, the pie is keto friendly using sugar free Monk fruit sweetener.
Vegan peanut butter pie with coconut milk
Most vegan peanut butter pie use tofu or vegan cream cheese in their filling. While both options are tasty, some people may not like soy flavor in their desserts or you can struggle finding vegan cream cheese at the store. So this peanut butter pie without cream cheese is your option!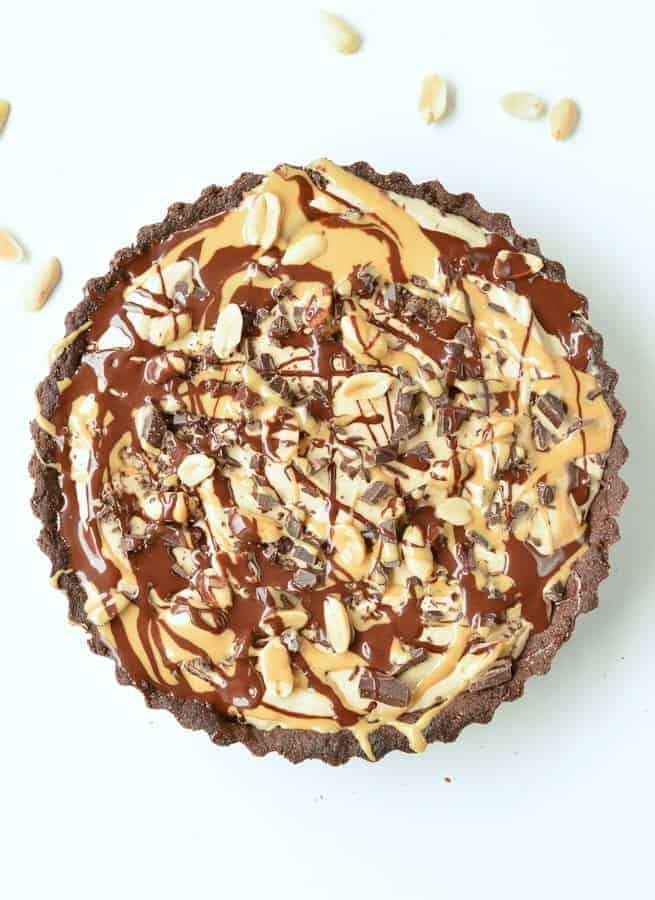 All you need to make this recipe are:
Peanut butter – make sure you use fresh peanut butter no added oil, no added sugar
Chia seeds – that is the magic healthy ingredients that adds such a creamy pudding like texture to the pie filling
Liquid sweetener – maple syrup or brown rice syrup or Monk fruit syrup if you are on keto diet
Coconut milk – canned coconut milk has no additives
Canned coconut cream – full ft or low fat as you like
Unrefined coconut oil – or refined if you don't like coconut flavor much

Baked or no bake peanut butter tart !
This pie filling doesn't require baking and the great thing is, the crust can be baked or not ! Yes, it is safe to eat this pie crust raw as it is made of almond flour. However, if you miss the crunchy crust of your old classic pie with oreo crust, this crust bake in 15 minutes and get crunchy as the original one.
All you need to make this healthy gluten free pie crust are:
Unsweetened cocoa powder
Almond flour or almond meal
Coconut oil – unrefined or refined if you don't like coconut flavor much
Liquid sweetener like maple syrup or brown rice syrup to decrease sugar or Monk fruit keto syrup

More vegan peanut butter desserts
If you love vegan peanut butter desserts I recommend you also try my
Enjoy the recipe and don't forget to share me a picture of your peanut butter tart on Instagram !
Print Recipe
Vegan peanut butter pie
Vegan peanut butter pie an healthy gluten free peanut butter pie with creamy peanut butter chia pudding filling
Ingredients
Peanut butter filling
1

cup

peanut butter

, creamy, fresh, no added oil, no added sugar

2

tablespoons

chia seeds

1/3

cup

maple syrup

or brown rice syrup

1 1/4

cup

coconut milk

, at room temperature not cold (or plant based milk of choice)

1/3

cup

coconut cream

, at room temperature not cold

1/4

cup

coconut oil

lukewarm not burning hot
Instructions
Preheat oven to 180C (350 F). Using a pastry brush, brush some melted coconut oil all over a 9-inches round pie pan with removable bottom (this make it easier to unmold the crust especially if you bake it!). Set aside.

In a large mixing bowl, add all almond flour, unsweetened cocoa powder, melted coconut oil and maple syrup.

Use your hands to knead the ingredients together for about 90 seconds. Squeeze well all ingredients to bring them in contact and create a sticky pie dough. You don't have to form a ball as it is a press in crust but make sure the dough is consistent and sticky.

Bring the dough into the pan and press in the dough to cover the entire pan. Make sure you don't leave holes or it will crack in those areas when baked. Use the back of a spoon to smooth the surface. I recommend you watch my recipe video below to see my technique to get the crust pretty in a second.

Bake the crust for 15-20 minutes at 180C or freeze 10 minutes if you prefer your pie raw. Meanwhile prepare the peanut butter filling.

In a blender, add all the peanut butter filling ingredient. Blend on high speed until it form a thick sticky paste. If it is too thick and hard to blend, add a splash more coconut milk up to 1/4 cup. Always blend between each addition.

If you bake the crust, remove pie from the oven and cool down for 15 minutes in the pan then push the removable bottom to release the pie crust easily. You may have to losen the sides of the crust with the tip of a sharp knife to make sure it unmold without breaking on the sides.

When the crust is at room temperature, pour the peanut butter filling into the pie crust. If you freeze the crust to make a no bake peanut butter pie, simply take the pie out of freezer and pour the filling immediately, that is ok if the crust is very cold.

Spread evenly the peanut butter filling onto the pie crust.

Refrigerate 30 minutes then decorate with pieces of vegan dark chocolate and drizzle of fresh peanut butter and melted dark chocolate.
Storage
Store the pie in the fridge for up to 4 days in a cake box to avoid the top to dry out.

If you didn't bake the crust you can freeze the whole pie, or slices, in airtight container and defrost few hours before serving. Serve half frozen or cold.
Notes
Keto version: use Monk fruit sugar free syrup, 7 g net carb per slice (carbs: 21g, fiber : 14g), fat: 24.6, calories: 360 kcal, protein: 8.3 g
Low Sugar/Sugar free sweetener :
Use brown rice syrup to reduce the amount of sugar to 5.5 g per slice and create a low GI dessert
Use monk fruit syrup if you are on keto vegan diet to decrease sugar and carbs
Nutrition
Serving:
1
slice
|
Calories:
370
kcal
|
Carbohydrates:
19.2
g
|
Protein:
8.3
g
|
Fat:
24.6
g
|
Fiber:
3
g
|
Sugar:
11
g