Vegan Pineapple Upside Down Cake
This Vegan Pineapple Upside Down Cake is a buttery pineapple cake topped with pineapple rings and cherry that form a crispy caramel on top.
Bring back childhood memories with this egg-free pineapple cake recipe! A vegan version of the classic pineapple upside-down cake but with the classic taste.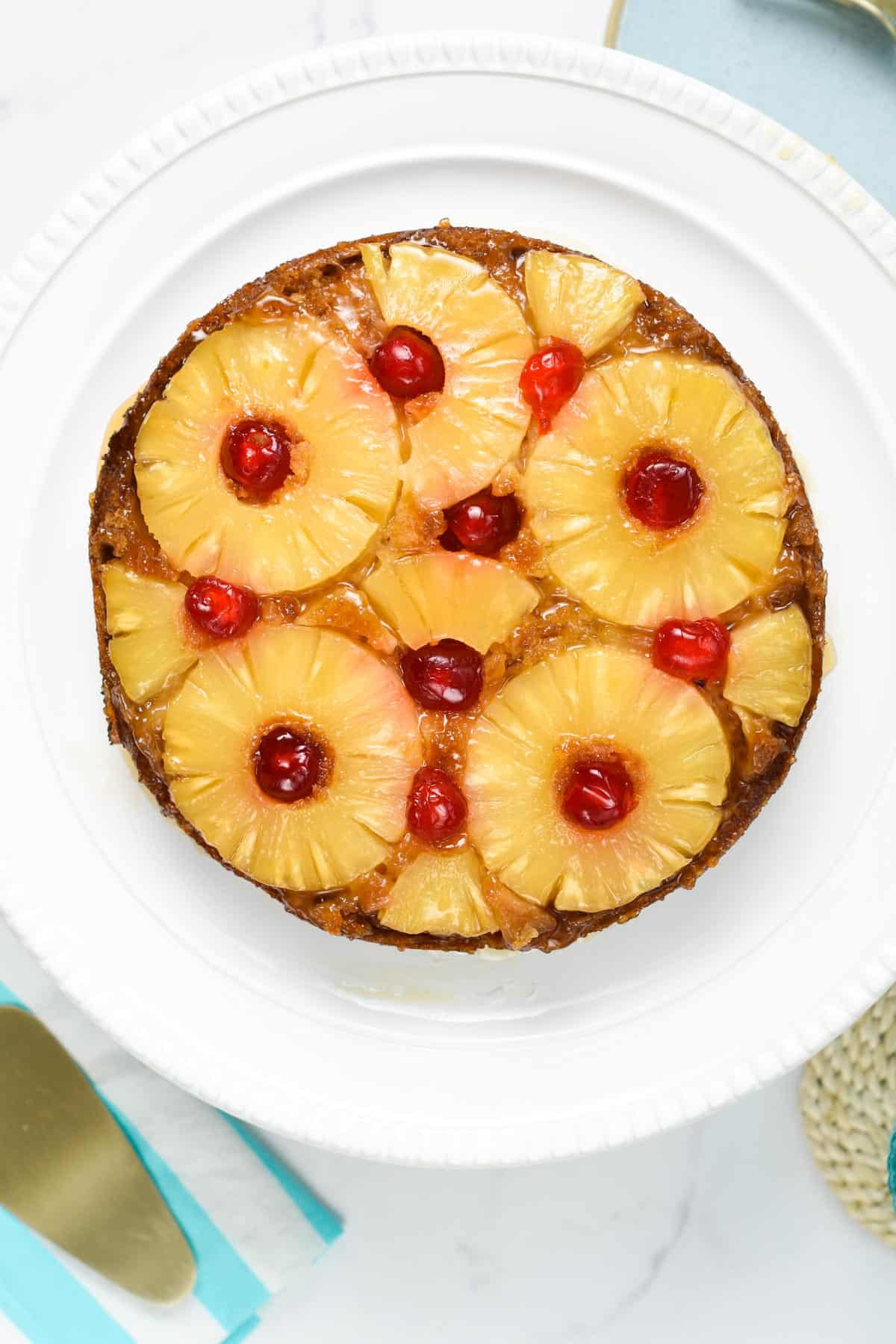 Pineapple cake is one the most classic, old-fashioned recipe ever.
You know how much I love baking vegan cakes like my Vegan Birthday Cake, Vegan Funfetti Cake, or Vegan German Cake so I couldn't resist creating a vegan version of this old-time childhood favorite.
But ready for tropical flavor and comfort food to the top with this moist, buttery cake with crispy sides covered with vegan caramel.
Is Pineapple Upside-Down Cake vegan?
No, a classic pineapple upside-down cake contains many animal products like eggs in the cake batter and butter in the caramel.
Therefore, pineapple cakes are not vegan but easy to make at home without eggs, dairy, or butter.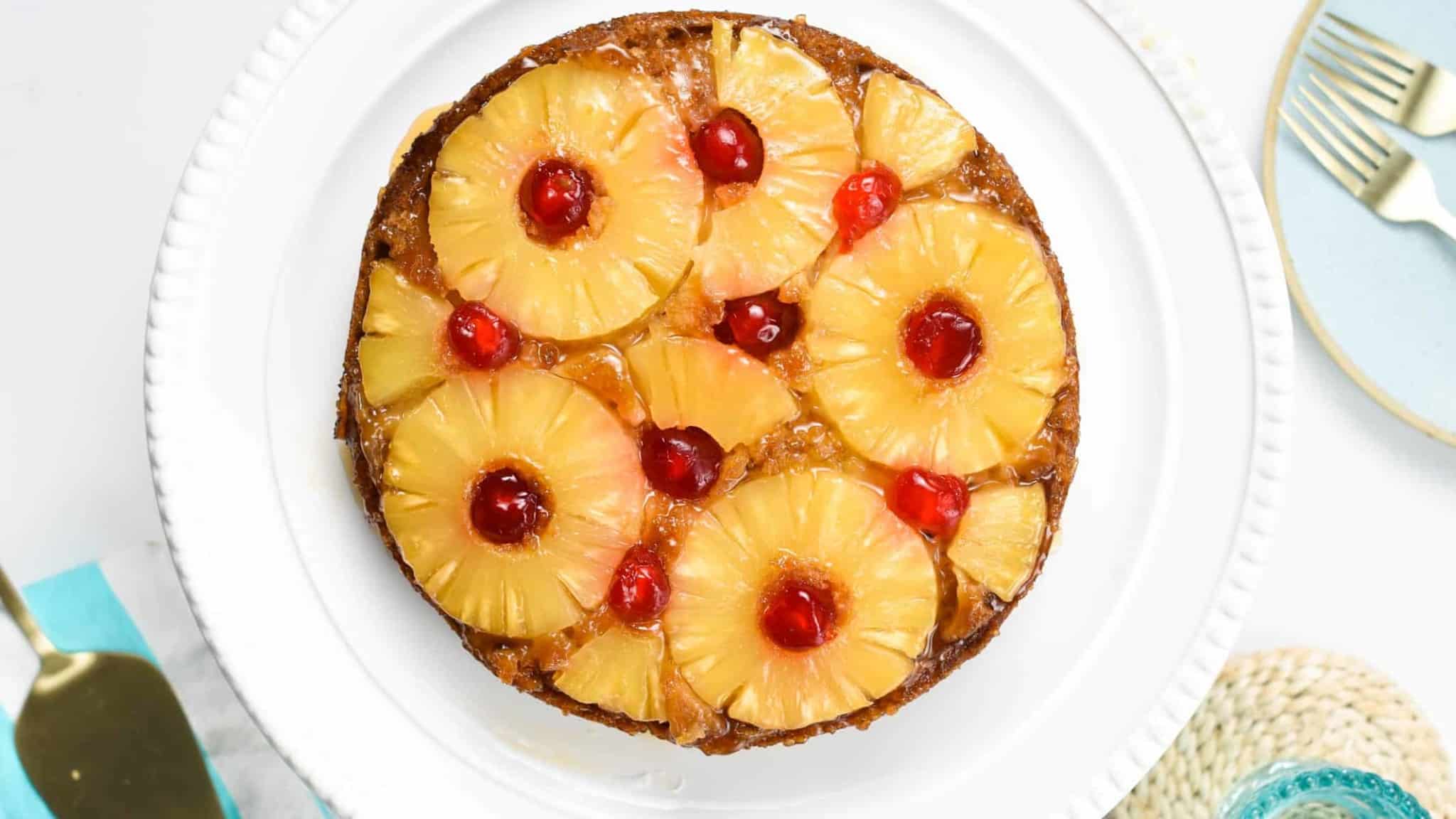 How To Make Vegan Pineapple Upside-Down Cake?
It's so easy to make this dairy-free vegan pineapple cake at home that even your kids can make it, and mine actually make it with me.
Bottom Layer
Let's start with the bottom layer of the cake.
A pineapple upside-down cake is covered on top with pineapple rings, glace cherries, and caramel.
Some recipes prepare a caramel in a saucepan and cover the bottom of the pan with it. I have another easier method, let me share this with you.
Bottom Later Ingredients
All you need are :
Vegan butter or vegan margarine – bring to room temperature for 30 minutes to soften the plant-based butter before using it in the recipe.
Canned pineapple slices in their juice. Don't discard the juice as it's used for the batter.
Light brown sugar or sugar but avoid high moisture sugar like soft brown sugar, it can make the cake too soggy at the bottom.
Glacé Cherries – Classic candided cherries or maraschino cherries.
In a small mixing bowl, using a fork or a silicone spatula, press the softened vegan butter, and sugar together to form a sweet cream.
Use a pastry brush or a spatula to spread this sweet cream all over the bottom of a 9-inch cake pan.
Don't spread much on the sides, except if you are using a spring form pan, as it might make the cake difficult to unmold.
Spray some olive oil or coconut oil on the side of the pan to make unmolding even easier.
Arrange the pineapple rings all over the bottom of the pan, on the sweet butter.
Place a glacé cherry in the center of each ring, or between any intersection of pineapple.
You can break some pineapple rings to fill some gaps where a whole ring doesn't fit. Set aside while making the batter.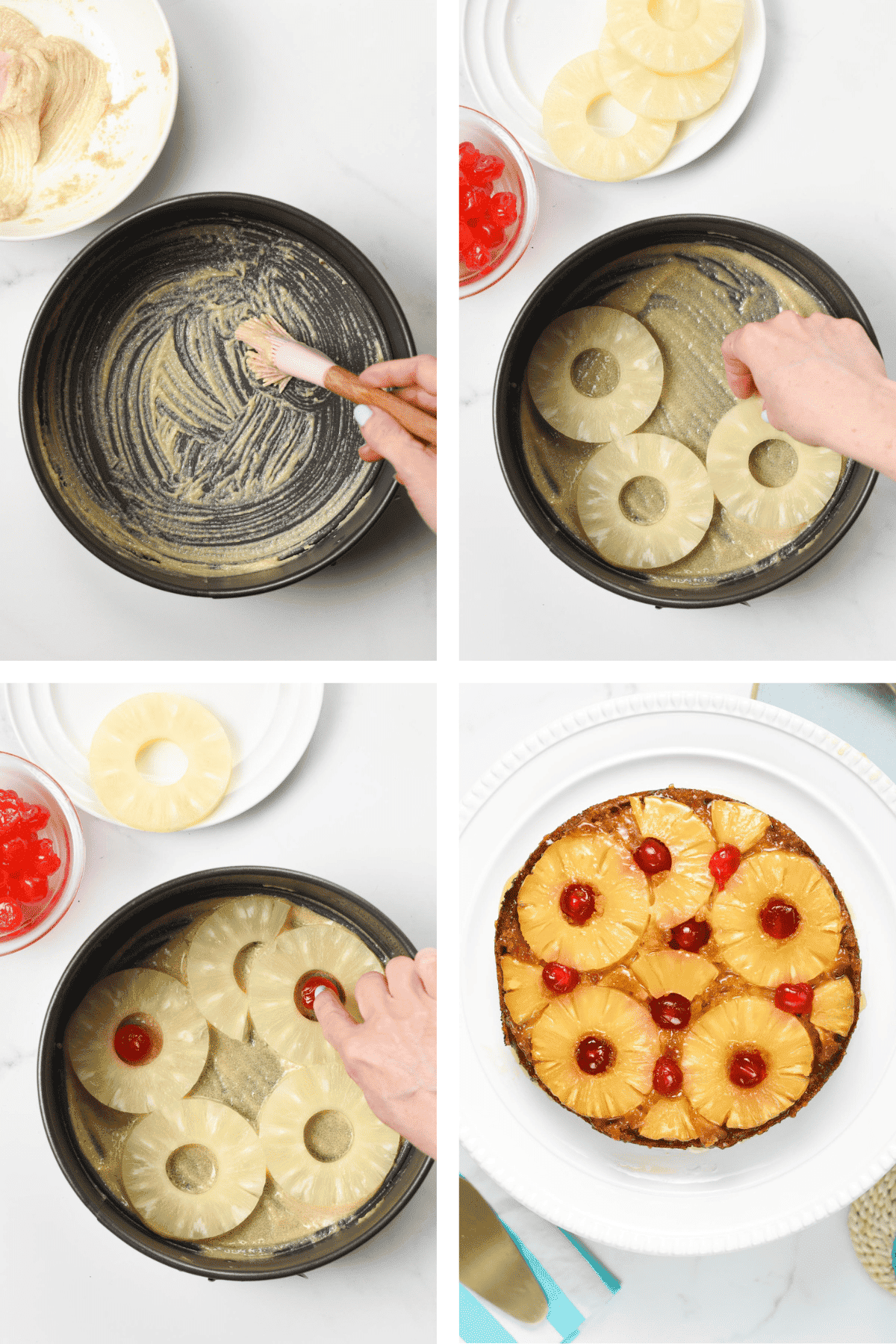 Making The Vegan Pineapple Cake Batter
For the cake pineapple, nothing easier, you need just a few more staple ingredients.
Batter Ingredients
All-Purpose Flour
Baking Soda
Sugar – or coconut sugar.
Pineapple Juice from the can used before.
Almond Milk or soy milk or any non-dairy milk you like, including oat milk.
Canola Oil or melted vegan butter if you don't have canola oil. You can use another vegetable oil, but some oils like olive oil can add a strong taste so I prefer to use a neutral oil.
Vanilla Extract
In a large mixing bowl, whisk the dry ingredients: all-purpose flour sugar, and baking soda.
Then, pour the wet ingredients: pineapple juice, almond milk, vanilla extract, and canola oil.
Stir until just combined you want the batter to be smooth, with no lumps.
Pour the cake batter into the previous pan.
Baking
Preheat the oven to 350°F (180°C).
Bake the cake in the center rack of the oven for 30 to 45 minutes or until a toothpick inserted in the center of the cake comes out clean.
Let the cake cool down for 10 minutes in the pan before releasing it on a wire rack.
Releasing Pineapple Upside-Down Cake
Use a sharp knife to run around the pan and unstick the cake border from the mold.
Open the spring-form gently, remove then place the wire rack on top of the cake and flip the cake to release it.
Gently pull the bottom of the pan with one hand and push down the pieces of pineapple with the tip of a knife if they stick to the pan.
Serving
Serve the pineapple cake after 3 hours of cooling, on its own or with some of the below toppings:
Vegan Whipped Cream
Vegan Vanilla Ice Cream
Powder Sugar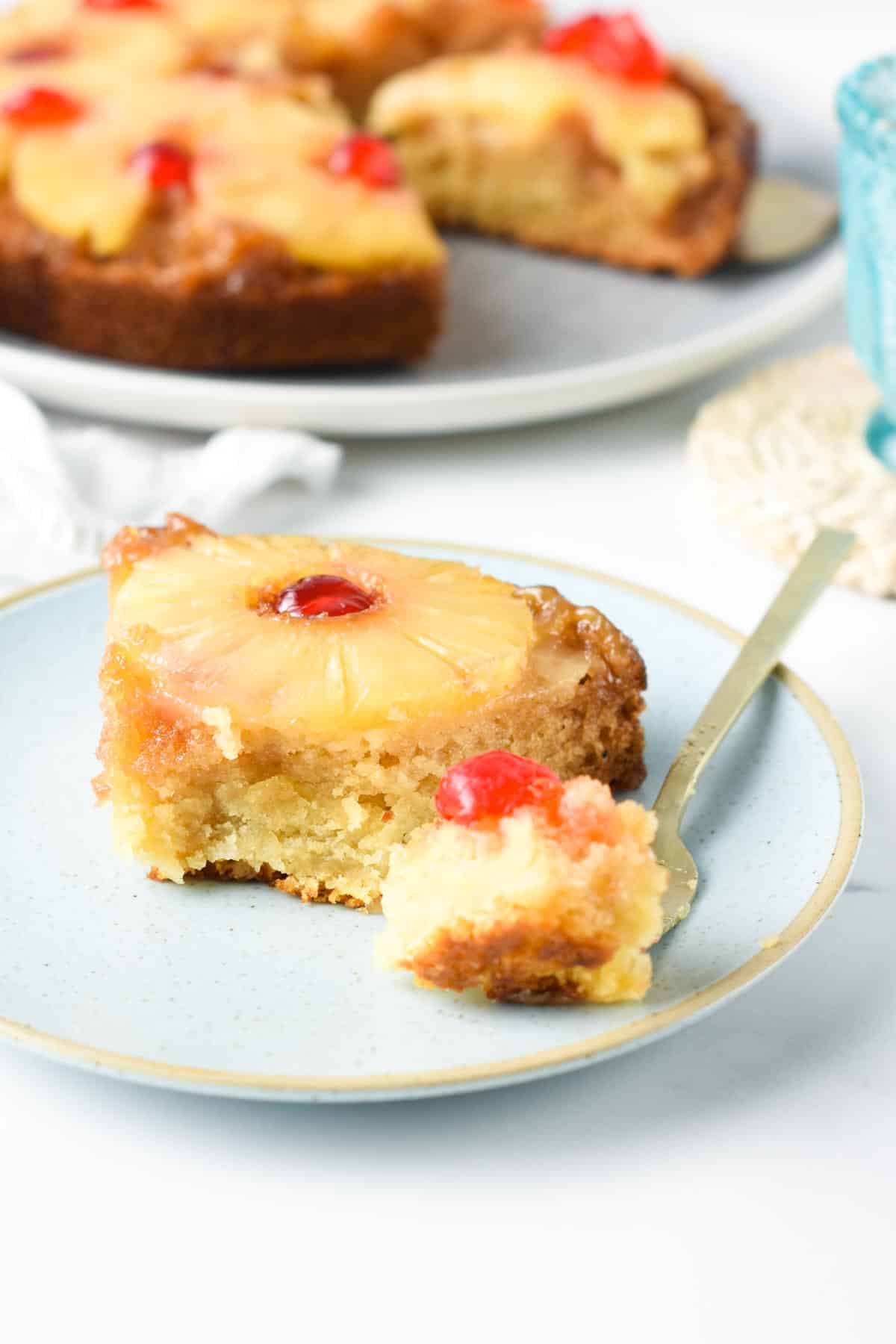 Storage Instructions
This pineapple cake must be refrigerated and lasts up to 3 days in an airtight cake box in the fridge.
Otherwise, freeze the pineapple cake slices, or entire cake in a sealed box and thaw in the fridge the day before.
Allergy Swaps
Below are some food allergy swaps options for you if needed.
Gluten-Free – The cake batter should work perfectly with a 1:1 all-purpose gluten-free flour containing xanthan gum. Use the same measurement of flour to replace the wheat flour.
Sugar-Free – Pineapple has sugar, so you can't totally avoid sugar in a pineapple cake. However, you can use sugar-free natural granulated sweetener to sweeten the caramel and batter including xylitol, erythritol, or allulose.
Frequently Asked Questions
Below I listed the answers to the most frequent questions about this vegan pineapple cake.
Can I Make The Cake With Fresh Pineapple Rings?
Yes, you can use fresh pineapple but I recommend slicing thin rings that you pat dry with absorbent paper towels before using in the pan.
This prevents a soggy pineapple cake.
Can I Use A Spring-Form Pan For Pineapple Upside-Down Cakes?
Yes, it's actually the best. I prefer using a 9-inch springform pan for this recipe.
It makes the cake easier to release and since I don't pour a liquid caramel at the bottom of the pan, it won't leak.
If you use an 8-inch cake pan, you might have to reduce the recipe by 20% to have it bake at the right speed.
Can I Make This Pineapple Cake Even Healthier?
Yes, you can for example use less sugar decrease to 1/2 cup in the cake batter, or use some healthier sugar-free, natural alternative like erythritol.
Other options are to use fresh pineapple, see the note above, and white spelt flour or white whole wheat flour for a higher nutrient profile.
More Vegan Dessert Recipes
Below I listed more vegan cake recipes and plant-based desserts to satisfy your sweet tooth
Have you made this pineapple upside cake recipe? Share a review or comment below.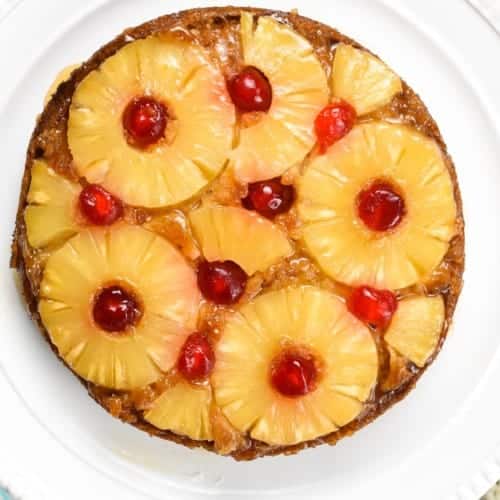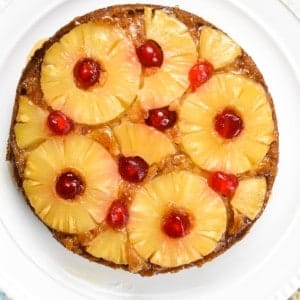 Vegan Pineapple Upside Down Cake
This Vegan Pineapple Upside Down Cake is a buttery pineapple cake topped with pineapple rings and cherry that form a crispy caramel on top.
Pin
Print
Review
Save
Saved Recipes
Ingredients
Vegan Pineapple Cake Batter
Instructions
Preheat the oven to 350°F (180°C).
Bottom Layer
In a small bowl beat/press with a fork or silicone spatula the softened vegan butter and brown sugar to form a creamy paste.

Use a silicone spatula or pastry brush to spread the soft butter mixture all over the bottom and sides of a non-stick 9-inch springform pan. It must be generously coated at the bottom to form a thick caramel.

Pat dry the canned pineapple ring with absorbent paper, then arrange the pineapple ring all over the bottom of the cake pan. If they are too large, break them into pieces to fill the gaps.

Place a glace cherry in the middle of each ring or gap. Set the pan aside in the fridge while making the cake batter.
Cake
In a mixing bowl, whisk flour, sugar, and baking soda.

Fold in pineapple juice, melted vegan butter, almond milk, and vanilla extract. Stir with a silicone spatula until the batter is smooth.

Pour the batter over the prepared pan with pineapple at the bottom.

Bake in the center rack of the oven for 30-45 minutes, and foil the pan if it browns too fast to your liking. Check the baking time every 5 minutes after 30 minutes by inserting a pick in the center of the cake. If it comes out clean or with a little crumb on it the cake is ready to come out of the oven.

Cool for 10 minutes in its cake pan then flip it over a wire rack to fully cool down at room temperature.

Serve plain or with vegan vanilla ice cream.
Storage
Store leftover in an airtight cake box in the fridge for up to 3 days or freeze for later and thaw in the fridge.
Share on Facebook
Pin Recipe
Nutrition
Serving:
1
slice
|
Calories:
333
kcal
|
Carbohydrates:
57.2
g
|
Protein:
3
g
|
Fat:
10.7
g
|
Saturated Fat:
2.7
g
|
Polyunsaturated Fat:
3
g
|
Monounsaturated Fat:
4.2
g
|
Trans Fat:
0.1
g
|
Sodium:
245
mg
|
Potassium:
128.1
mg
|
Fiber:
1.3
g
|
Sugar:
38.2
g
|
Vitamin A:
656.2
IU
|
Vitamin B12:
0.1
µg
|
Vitamin C:
6.7
mg
|
Vitamin D:
0.1
µg
|
Calcium:
27.8
mg
|
Iron:
1.4
mg
|
Magnesium:
14.9
mg
|
Phosphorus:
30.8
mg
|
Zinc:
0.3
mg