These Vegan Snickerdoodles with almond flour are soft, chewy cinnamon cookies with a healthy twist!
Bonus, this gluten-free snickerdoodle recipe with almond flour is also refined sugar-free and egg-free made only with wholesome ingredients!
Are Snickerdoodles Vegan?
No, a classic snickerdoodle recipe contains animal products, including eggs and butter.
Therefore, you need to tweak the original recipe to make it vegan-friendly.
But you can find below my vegan, healthy snickerdoodle recipe using almond flour.
How To Make Almond Flour Snickerdoodles
The best snickerdoodle recipes all include cinnamon, cream of tartar, and coconut sugar for a delicious fall taste.
Step 1: Gathering The Ingredients
This is an almond flour snickerdoodle recipe made without eggs or butter. To make these grain-free snickerdoodle cookies, you need.
Almond flour – ultra-fine blanched almond flour works better than coarse almond meal. Make sure you measure the almond flour scooped and packed in the measuring cup for precision. I didn't try the recipe with other flour like wheat flour, coconut flour, or oat flour, so I can't recommend these options.
Egg or flax egg – for the vegan snickerdoodle cookie recipe, I am not using a flax egg, but a chicken egg works too if you are not vegan. For the flax egg, stir 1 tablespoon of flaxseed meal with 3 tablespoons of lukewarm water and wait 10 minutes until it forms a gel texture. Of course, if you are not vegan and only want to make gluten-free snickerdoodles with almond flour, replace this with 1 large chicken egg.
Cinnamon
Cream of tartar – this is the magic ingredient that adds a tangy flavor to snickerdoodle cookies.
Baking soda – or double the amount if you want to use baking powder.
Vanilla extract
Coconut sugar – or unrefined cane sugar.
Coconut oil – vegan butter is not recommended in this recipe. The cookies wouldn't firm up and would spread too much.
Salt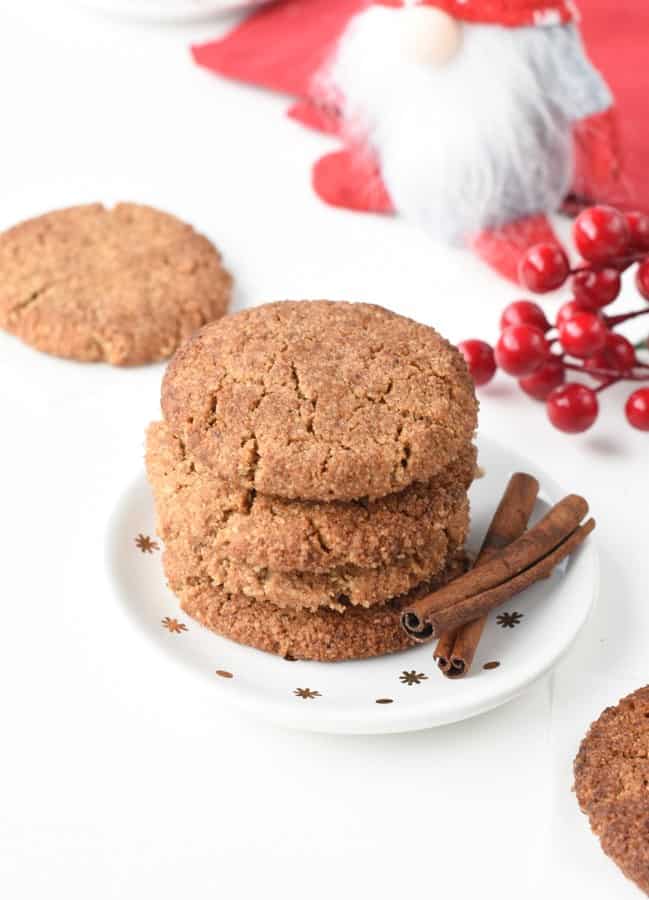 Step 2: Preparing The Flaxseed Egg
Prepare a flaxseed egg for the vegan version of these almond flour snickerdoodles instead of an egg.
In a small mixing bowl, combine flaxseed meal with lukewarm water and wait for 10 minutes until an egg-like texture forms.
Step 3: Combining The Dry Ingredients
Add all the dry ingredients into a large mixing bowl and whisk to combine evenly.
Step 4: Adding Liquid Ingredients
Make a well in the center of the dry ingredients and add melted coconut oil, vanilla extract, and maple syrup.
Stir with a spoon at first, then use your hand to form a cookie dough ball. The dough is sticky, and that's normal.
Step 5: Chilling The Dough
Chill the dough for 5 minutes, and meanwhile, prepare the cinnamon sugar.
Step 6: Preparing The Cinnamon Sugar Mixture
A snickerdoodle cookie is always coated with cinnamon sugar before baking. In a small bowl, stir coconut sugar and cinnamon.
Step 7: Forming Cookie Dough Balls
Line a cookie sheet or a baking sheet with parchment paper. Set it aside.
Scoop out some chilled cookie dough and roll it into a ball to form 10 cookie dough balls.
Then, roll each cookie dough ball into the cinnamon sugar and place it on a cookie sheet covered with parchment paper.
Leave a 2-thumb space between each ball.
Step 8: Pressing Down The Dough Balls
The cookies will expand in the oven, but they need a little help before!
Use the bottom of a glass or your hand to flatten the cookies to a 0.5 mm thickness.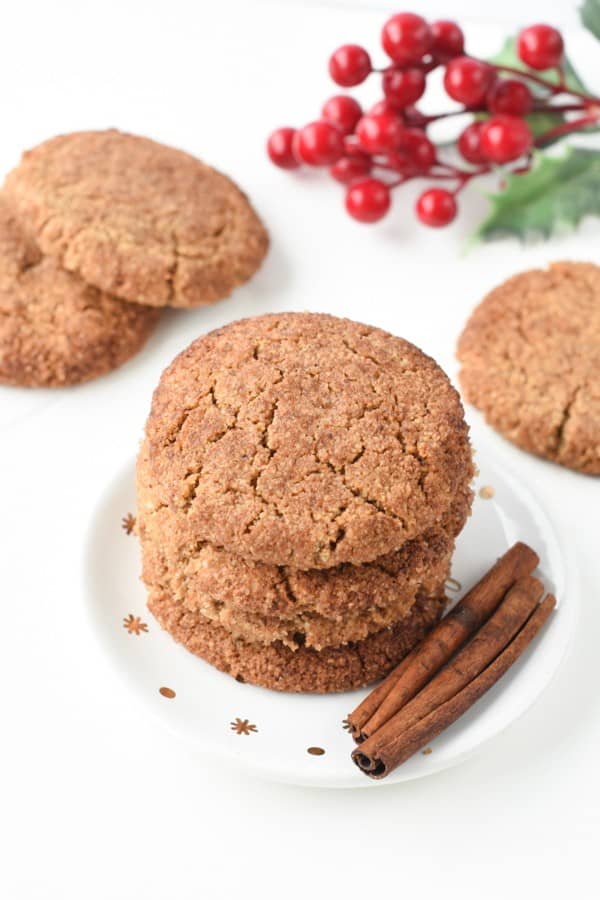 Step 9: Baking The Cookies
Preheat the oven to 350°F (180°C). Bake the cookies for 12 – 15 minutes in a preheated oven at 350°F.
The vegan snickerdoodle cookies are ready when golden brown and set on top.
They are still soft when out of the oven, and they firm up at room temperature.
Step 10: Cooling Down
Be patient and don't move or touch your baked goods just after taking them out of the oven.
Cool 10 minutes on the cookie sheet, then cool completely on a cooling rack for about 30 minutes. They firm up with time.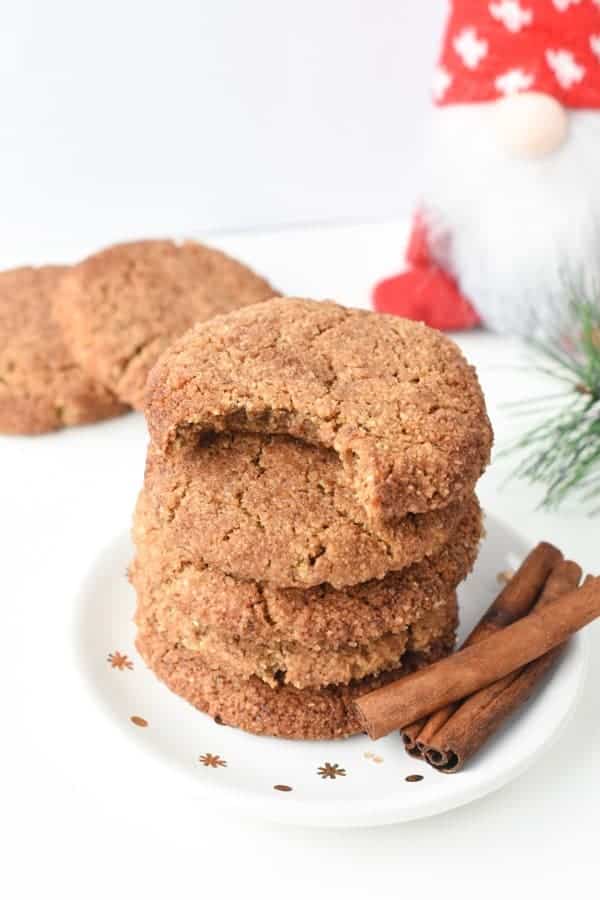 Storing Almond Flour Snickerdoodles
These almond flour snickerdoodle cookies can be stored for up to 5 days in a sealed cookie jar in the fridge.
You can also freeze the cookies in zip-lock bags and thaw them for 3 hours before serving them at room temperature.
Frequently Asked Questions
How Do Vegan Snickerdoodles Taste?
These healthy snickerdoodle cookies are soft and chewy, with a tangy flavor from the cream of tartar and a strong cinnamon flavor.
The cinnamon-sugar coating adds a caramelized sweet flavor on the outside.
Can I Make Snickerdoodles Without Cream Of Tartar?
Yes, it's possible to make this soft snickerdoodle recipe without cream of tartar. It's actually an optional ingredient that just adds a bit of flavor.
Can I Make Snickerdoodle Bars?
Yes, you can turn this cookie recipe into Vegan Snickerdoodle Bars. Just spread the batter on a large baking dish.
Cook the bars for 10-15 minutes, depending on how thick you made them.
Can I Make a Snickerdoodle Mug Cake?
Not with this batter. You must use a Snickerdoodle Mug Cake recipe to make a mug cake with a Snickerdoodle flavor.
What is the difference between cinnamon cookies and snickerdoodles?
The main difference between Cinnamon Cookies and Snickerdoodles is that the latter is rolled into a cinnamon-sugar mixture while Cinnamon Cookies only have cinnamon in their batter.
Snickerdoodle Cookies also use Cream Of Tartar for added tanginess.
Why do they call it a snickerdoodle?
The name Snickerdoodle might come from the German "Schneckednnudeln" which are snail-shaped pastries often made with cinnamon glazing.
Are they the same as sugar cookies?
No, Sugar Cookies are much simpler recipes, normally not made with either cream of tartar or cinnamon.
More Almond Flour Cookie Recipes
I love baking almond flour cookies. Almond flour is a healthy gluten-free flour, low in carbs, and it makes fulfilling cookies high in healthy fats. Below I listed more almond flour cookie recipes for you to try.
Made these healthy snickerdoodles with almond flour? Share a comment or review below! I love to read your feedback on my recipes. You can also join me on Instagram to share your recipe picture.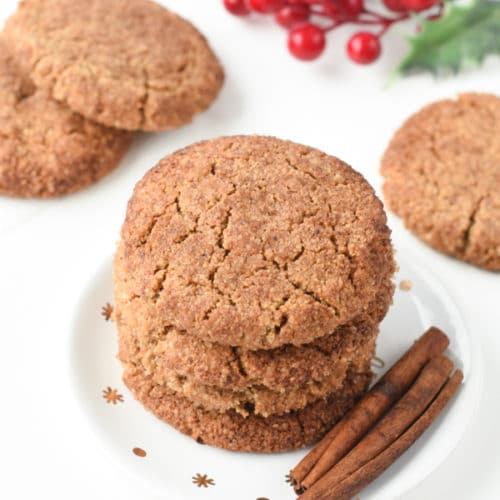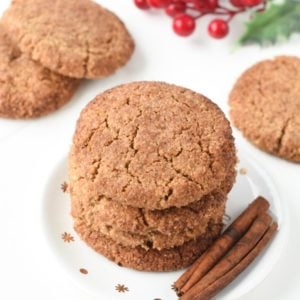 Vegan Snickerdoodles With Almond Flour
An easy, healthy vegan snickerdoodle recipe with a delicious, chewy almond flour texture and cinnamon flavor.
Pin
Print
Review
Servings: 10 cookies
Calories: 208 kcal
Ingredients
To roll the cookie dough balls
Instructions
Preheat oven to 350°F (180°C). Line a cookie sheet with parchment paper. Set aside.

In a small mixing bowl, prepare the flax egg: stir 1 tablespoon of flaxseed meal in 3 tablespoons of lukewarm water. Set aside for 10 minutes until egg-like texture forms. If not vegan, skip and use a large egg.

In another large mixing bowl, combine almond flour, coconut sugar, cinnamon, baking soda, cream of tartar, and salt.

Add in the flax egg (or egg), melted coconut, maple syrup, and vanilla extract.

Stir until it forms a thick and sticky batter. Gather into a ball and refrigerate for 5 minutes while making the coating.

In another small bowl, make the cinnamon-sugar mixture by combining coconut sugar and cinnamon.

Remove the dough from the fridge, scoop out the cookie dough, and roll between your hand to form balls, then roll them into the prepared cinnamon-sugar mixture.

Place the cookie dough balls onto the prepared cookie sheet. Repeat until you formed 10 cookie dough balls, leaving a 2-thumb space between each.

Press down each cookie ball with the bottom of a glass or your hand until about 0.5-cm thick – see the picture in the post above for tips. The cookie will keep expanding in the oven.

Bake for 12-15 minutes or until golden brown and the middle is slightly firm. The cookies are still soft when out of the oven and firm up when completely cool down.

Cool them down for 10 minutes on the cookie sheet. They are still soft, be patient, and don't touch them!

Gently slide a spatula under each cookie to transfer onto a cooling rack and wait at least 30 minutes to appreciate their best texture.

Store in an airtight container for up to 5 days in the fridge or freeze.
Notes
Flour – I didn't try the recipe with any other flour. Oat flour could work, but I guarantee that the recipe won't work with the same amount of coconut flour or all-purpose gluten-free flour. It would be a different recipe to develop. Flaxseed egg – To replace one large egg in the non-vegan recipe. Coconut sugar – can be replaced with white sugar or unrefined cane sugar. Maple syrup – can be replaced with any liquid sweetener you like including agave, rice syrup. Cream of tartar – can be omitted. It only adds a tangy flavor to the cookies, as in regular snickerdoodle cookie recipes. Coconut oil – don't replace it with vegan butter. The recipe wouldn't work.
Share on Facebook
Pin Recipe
Nutrition
Serving: 1cookie | Calories: 208kcal | Carbohydrates: 17g | Protein: 4g | Fat: 15g | Saturated Fat: 5g | Sodium: 124mg | Potassium: 27mg | Fiber: 2g | Sugar: 12g | Calcium: 49mg | Iron: 1mg