Vegan Lemon Pound Cake with Lemon Glazing
This easy vegan lemon pound cake is a moist and light vegan cake with tangy lemon flavors and a sweet thick layer of lemon icing. If you enjoy pound cakes, this is the easiest vegan pound cake ever to celebrate springtime.
Lemon lovers, this lemon pound cake has your name on it! A moist, light breakfast bread that will remind you of Starbucks' but this one is 100% plant-based.
Are classic lemon pound cakes vegan?
No, authentic lemon pound cake recipes are not vegan-friendly as they contain many eggs and butter. Luckily, it's very easy to make your own lemon vegan pound cake at home using plant-based ingredients.
How to make vegan lemon pound cake?
This vegan lemon pound cake recipe is a simple vegan cake for beginners. All you have to do is gather simple ingredients and combine the dry ingredients with the wet ingredients. The batter takes just 10 minutes to prepare.
Measure ingredients
I love to measure all my ingredients into small bowls before starting a recipe. Even if this lemon pound cake is super easy and straightforward to make, it requires quite a few ingredients.
So preparation is the key to avoid mistakes!
These are the ingredients you need:
Soy milk – or any plant-based milk you have at home, like almond milk or oat milk.
Freshly-squeezed lemon juice – or bottled lemon juice.
Lemon zest – make sure you are using untreated lemons to avoid pesticide contamination.
Dairy-free coconut yogurt – or any plant-based yogurt you love, like almond yogurt or soy yogurt.
Melted vegan butter – light olive oil works as well.
Lemon extract
Vanilla extract
All-purpose flour – you can use a gluten-free all-purpose flour blend as well. Ensure that your blend contains gum, or you will have to add 1/2 teaspoon guar gum in the batter.
Sugar – I used unrefined cane sugar. Other options are coconut sugar, watch out the cake will be very brown in color, or sugar-free crystal sweeteners like erythritol or xylitol work as well for a vegan sugar-free cake.
Baking powder
Baking soda
Salt
Prepare the vegan buttermilk
First, prepare the vegan buttermilk by combining soy milk and lemon juice. Set aside for 5 minutes until the milk curdles. This step adds an extra-moist texture to this vegan lemon pound cake.
Combine remaining ingredients
In another mixing bowl, combine flour, baking powder, baking soda, and salt. Set aside.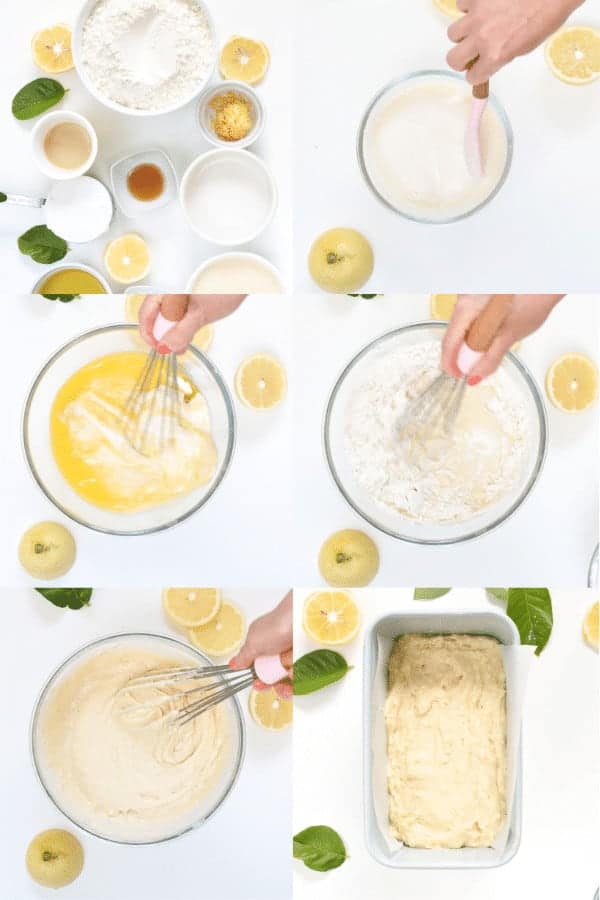 Pour dry ingredients into the wet ingredients
In another large mixing, whisk together the vegan buttermilk prepared in step 1 with lemon zest, vanilla extract, lemon extract, melted vegan butter, and sugar.
Then, pour the dry ingredients, half of it at a time, whisking between each addition to gently incorporate and avoid lumps.
Don't over whisk the batter, or the pound cake will be dense and gummy.
Bake
Preheat oven to 350°F (180°c). Line a 9-inch x 5-inch pound cake pan with oiled parchment paper.
Pour the pound cake batter into the pan and bake in the center rack of the oven for 50-65 minutes.
After 40 minutes, add a piece of foil on top of the bread to avoid browning the top too fast.
Insert a pick in the center of the cake to check the baking. When the pick comes out clean or with almost no crumb on it, the vegan lemon pound cake is cooked through.
Cool down
Remove the lemon loaf from the pan pulling the hanging pieces of parchment paper and transfer onto a cooling rack.
Cool completely on a cooling rack at room temperature. It takes about 3 hours to reach room temperature, and you must wait that time before glazing or slicing your lemon pound cake.
How to make the lemon glaze?
First, make sure that the lemon pound cake is at room temperature. In fact, adding glazing to a lukewarm cake melts the glazing. It gets absorbed by the batter and won't set on top of the pound cake.
Next, combine the ingredients below into a small mixing bowl. If your glaze is too runny to your liking, add more powdered sugar, 1 tablespoon at a time.
Powdered sugar – or powdered erythritol for a sugar-free recipe.
Fresh lemon juice
Soy milk or non-dairy milk of choice.
Lemon extract if desired – totally optional, but it enhances the lemon flavor of the glazing.
Use a tablespoon to drizzle the lemon glaze all over the top of the pound cake. If you want thicker glazing, double the recipe.
Place the pound cake in the fridge for 1 hour to set the glazing.
How to store vegan lemon pound cake?
Vegan baking recipes store very well at room temperature in a sealed container for 3-4 days.
Another option is to place the container in the fridge to make it last up to 5 days.
Finally, you can also freeze the lemon pound cake slices and thaw the slice at room temperature the day before serving.
Can I add blueberries?
Of course, you can add 1 cup of fresh blueberries into the batter to make a vegan lemon blueberry pound cake. Blueberry and lemon is the best combo of flavors!
However, to prevent the blueberries from sinking to the bottom of the loaf pan, mix them with 1 tablespoon of corn starch before adding in the batter.
Flour swaps
This is an egg-free lemon pound cake recipe, and therefore, it required starchy flour to keep its shape. It means that you can't make this recipe using coconut flour or almond flour.
Other plant-based flours that you can use to swap wheat flour are:
White whole wheat flour – swap with the same amount.
Spelt flour
All-purpose gluten-free flour blend containing gum.
Oat flour – only partially. Swap only 1/2 cup of the regular flour for oat flour.
More vegan cake recipes
I love to bake vegan bread and cakes for breakfast. Below I listed some other vegan fruit bread recipes for you to try:
Made this vegan lemon pound cake? Share a review or comment below. I love to hear your feedback on my recipes,
Your friend, Carine