This Orange Pound Cake is an easy moist pound cake with tangy orange flavors and a delicious sweet orange glaze.
Plus, this pound cake is allergy friendly, made with no eggs or dairy.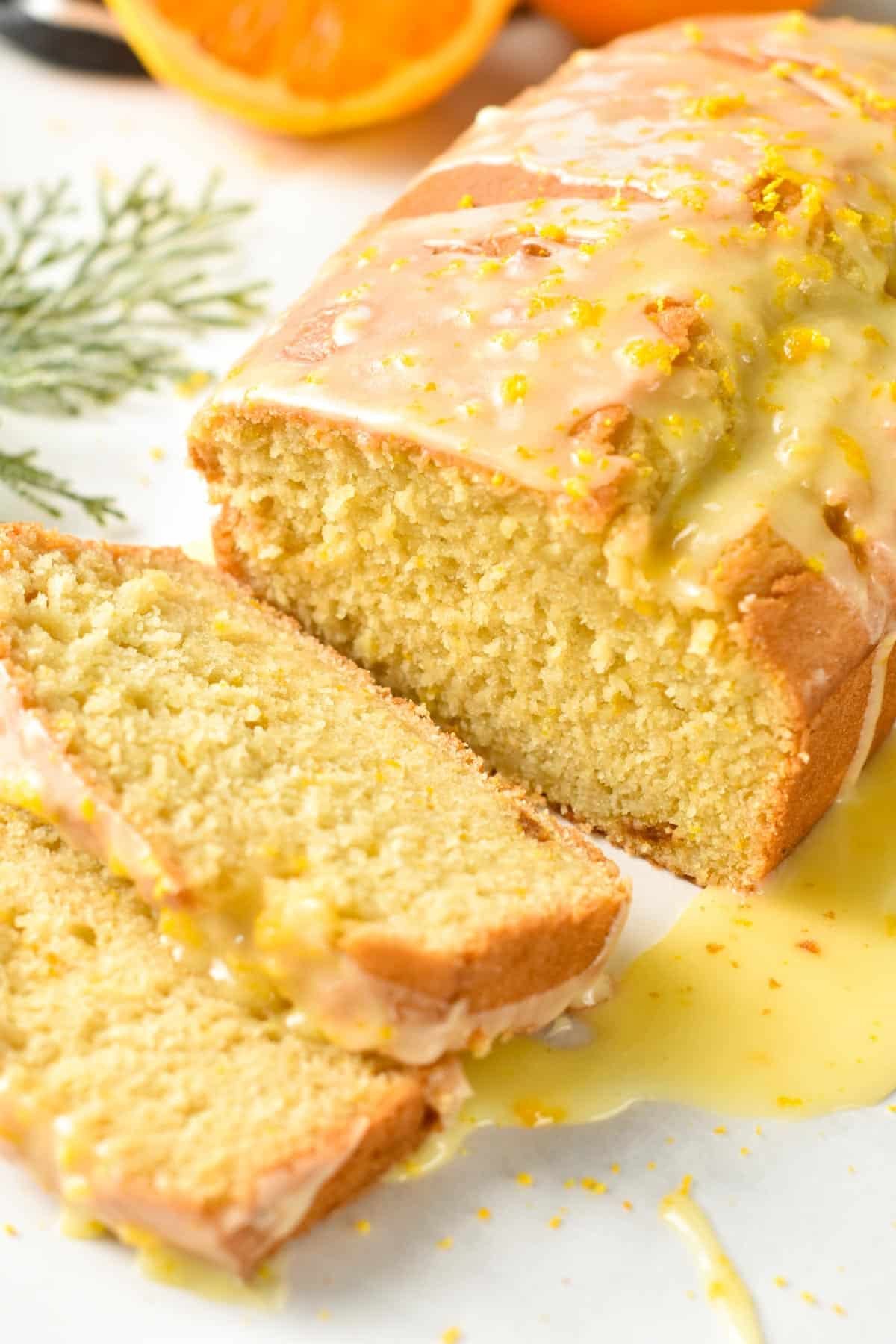 Pound cakes are the most decadent cake to share with friends and family and a cup of tea or coffee.
This orange pound cake is so moist, sweet, and delicious that nobody would guess it has no eggs or dairy.
Let me share my secrets to making the best orange pound cake.
How To Make Orange Pound Cake
This is the easiest pound cake recipe I've ever made, and you don't need to be an advanced baker to nail this pound cake the first time.
Ingredients
All you need to bake a simple pound cake are:
Almond Milk or any plant-based milk you love, including oat, soy, or coconut milk. Of course, some milk varieties are much more flavorsome, like coconut milk, and they may mask the orange flavor, so pick wisely.
Freshly Squeezed Orange Juice – For the best flavor, stay away from bottled orange juice and squeeze fresh oranges at home.
All-Purpose Flour – This recipe should work with a 1:1 gluten-free flour blend.
Baking Powder
Baking Soda
Salt
Plant-Based Yogurt like soy yogurt, oat yogurt or any yogurt you love. Alternatives are canned coconut cream, soy cream, or plant-based sour cream.
Sugar – You can use regular table sugar, coconut sugar, or a sugar-free alternative such as erythritol.
Unsalted Margarine or avocado oil or canola oil.
Orange Extract
Vanilla Extract
Orange Zest from untreated oranges to prevent pesticides on the orange skin that are not good for you.
Curdling The Milk
If you don't bake with eggs, the secret to making fluffy baked pound cake is curling the milk with an acidic ingredient.
First, stir almond milk and orange juice in a large bowl and set aside for 10 minutes until it thickens. The higher in protein the milk is, the thicker this mixture becomes.
So if you have soy milk or protein-boosted plant-based milk, it will be even better.
Making The Batter
Next, whisk the flour, baking powder, baking soda, and salt in another large bowl.
Bring bowl the bowl made in step 1 and whisk in melted margarine, orange zest, vanilla extract, orange extract, and sugar. Finally, pour the liquid ingredients onto the dry ingredients.
Use a silicone spatula or wooden spoon to combine the ingredients and form a lump-free, smooth batter. Don't overmix the batter or the pound cake will be packed and dense.
Baking
Line a 9-inch x 5-inch loaf pan with parchment paper.
Use a cooking oil spray to oil the paper and place it in the pan, leaving some hanging parts on the lengthwise side of the pan.
This makes it easier to pull the baked pound cake from the pan later. Next, pour the pound cake batter into the pan to cover evenly.
Bake in the center rack of the oven until the top is golden brown and a toothpick inserted in the center of the pound cake comes out clean and dry.
Cool for 5 minutes in the loaf pan, then use the overhanging part of parchment paper to release the pound cake on a cooling rack.
Cool down for 1-3 hours or until cool to the touch before glazing.
Glazing The Pound Cake
It's up to you to glaze a pound cake, but it always adds a delicious sweet, tangy flavor and moisture to the crumb.
To make an orange glaze simply combine in a small bowl the ingredients below:
Powdered Sugar
Orange Juice
Orange Extract
Stir the ingredients together until creamy and smooth. If too thin, stir in more powdered sugar until the glazing is thick enough.
To thin out the glazing, add more orange juice or some almond milk.
Drizzle the glazing on top of the cooled orange pound cake, and then sprinkle extra orange zest if you like.
Add-Ons
Of course, this cake is not limited to orange flavors and you can add some delicious ingredients to the pound cake batter to create a range of flavor:
Cranberry Orange Pound Cake – Stir in 1/2 cup of fresh cranberries to the batter towards the end.
Nut Orange Pound Cake – Stir in 1/2 cup of finely chopped, dry-roasted walnuts and pecans.
Orange Chocolate Chip Pound Cake – Stir in 1/2 cup of dark chocolate chips and decrease the sugar to 1/2 cup in the batter.
Allergy Swaps
Below are some ingredient substitution ideas to try if you need:
Gluten-Free – I didn't try the recipe with all-purpose gluten-free flour but I am confident it will work if your gluten-free flour blend contains added gum and it's a 1:1 blend.
Sugar-Free – You can use sugar-free granulated sweetener with great results in this pound cake recipe, including erythritol or xylitol.
Yogurt-Free – You can replace yogurt with more milk, plant-based sour cream, or canned coconut cream.
Nut-Free – Replace the almond milk with nut-free plant-based milk, like oat milk or soy milk.
Margarine-Free– Feel free to use any vegetable oil, like canola oil, avocado oil, or melted coconut oil.
Storage Instructions
This orange pound cake tastes better within 3 to 4 days, and I recommend slicing the cake just before serving it to keep it moist.
Store it in an airtight cake box in the fridge and cut it just before eating. You can also freeze pound cake leftovers, whole or sliced, for up to one month in a sealed container.
Thaw the cake at room temperature the day before.
Frequently Asked Questions
Here are my answers to your most common questions about this pound cake recipe:
Can I Use Lemon Juice?
Yes, you can replace the orange juice and orange zest with lemon to make an easy lemon pound cake.
Can I Use Almond Flour Or Coconut Flour?
No, this pound cake recipe must be made with all-purpose flour like wheat or white spelt flour.
More Cake Recipes
If you like easy plant-based cake recipes, you'll love these:
Have you tried this orange pound cake recipe? Share a comment or review below to connect with me.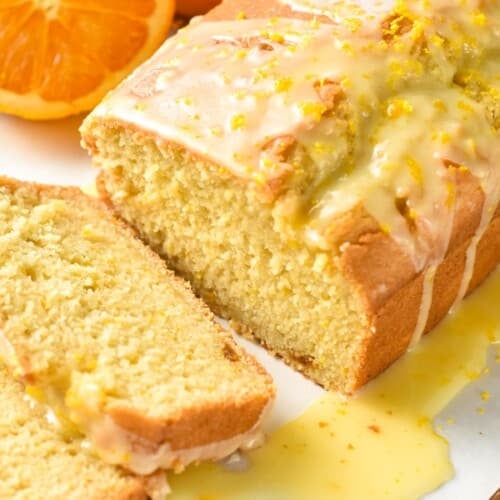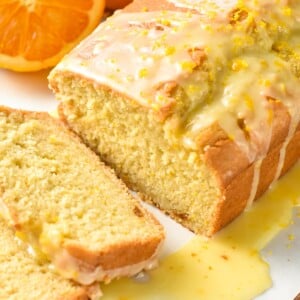 Orange Pound Cake
Instructions
Preheat the oven to 350°F (180°C). Line a 9-inch x 5-inch loaf pan with oiled parchment paper. Set aside.

In a large mixing bowl, combine the almond milk and orange juice and set it aside for 10 minutes until the milk curdles.

Mix the flour, baking powder, baking soda, and salt in another mixing bowl. Set aside.

Bring back the bowl prepared in step 1 and whisk in yogurt, sugar, orange zest, melted unsalted margarine, orange extract, and vanilla extract.

Add the dry ingredients to the liquid ingredients and combine until smooth and no lumps show. Don't over-mix the batter, or the pound cake will be heavy or gummy.

Transfer the pound cake batter to the loaf pan.

Bake for 50-65 minutes or until a pick inserted in the center of the loaf comes out clean. You can tent the loaf pan with a large piece of foil after 40 minutes of baking to prevent the top of the pound cake from browning too fast.

Cool the pound cake on a cooling rack for 3 hours before glazing.
Orange Glazing
When the loaf is at room temperature, prepare the orange glazing.

In a small mixing bowl, stir powdered sugar, orange juice, soy milk, and orange extract. The glazing must be thick and glossy. If it's too runny, stir in 1-2 extra tablespoons of powdered sugar.

Drizzle the glazing on the top of the cooled pound cake.

Place the pound cake in the fridge for 1 hour to set the glazing.
Storage
Store the pound cake in a sealed cake box for up to 5 days in the fridge or freeze the slices in an airtight container and thaw the day before eating.
Notes
Note 1: Any milk work in this recipe, including soy milk or oat milk. Note 2: Plant-based sour cream or plant-based cream also works like soy cream, cashew cream, or coconut cream. Note 3: Any granulated sweetener can be used, including sugar-free erythritol or coconut sugar. Note 4: Any melted fat, like melted coconut oil or avocado oil, can be used.
Share on Facebook
Pin Recipe
Nutrition
Serving:
1
slice
|
Calories:
236
kcal
|
Carbohydrates:
40
g
|
Protein:
3
g
|
Fat:
8
g
|
Saturated Fat:
2
g
|
Trans Fat:
1
g
|
Cholesterol:
1
mg
|
Sodium:
262
mg
|
Potassium:
77
mg
|
Fiber:
1
g
|
Sugar:
23
g
|
Vitamin A:
90
IU
|
Vitamin C:
5
mg
|
Calcium:
81
mg
|
Iron:
1
mg