Vegan Apple Streusel Bread
An easy one-bowl vegan apple bread recipe ready in 15 minutes with simple ingredients that you probably have a home right now! This moist apple streusel bread with sweet apple pieces is the best vegan breakfast to celebrate the Fall season!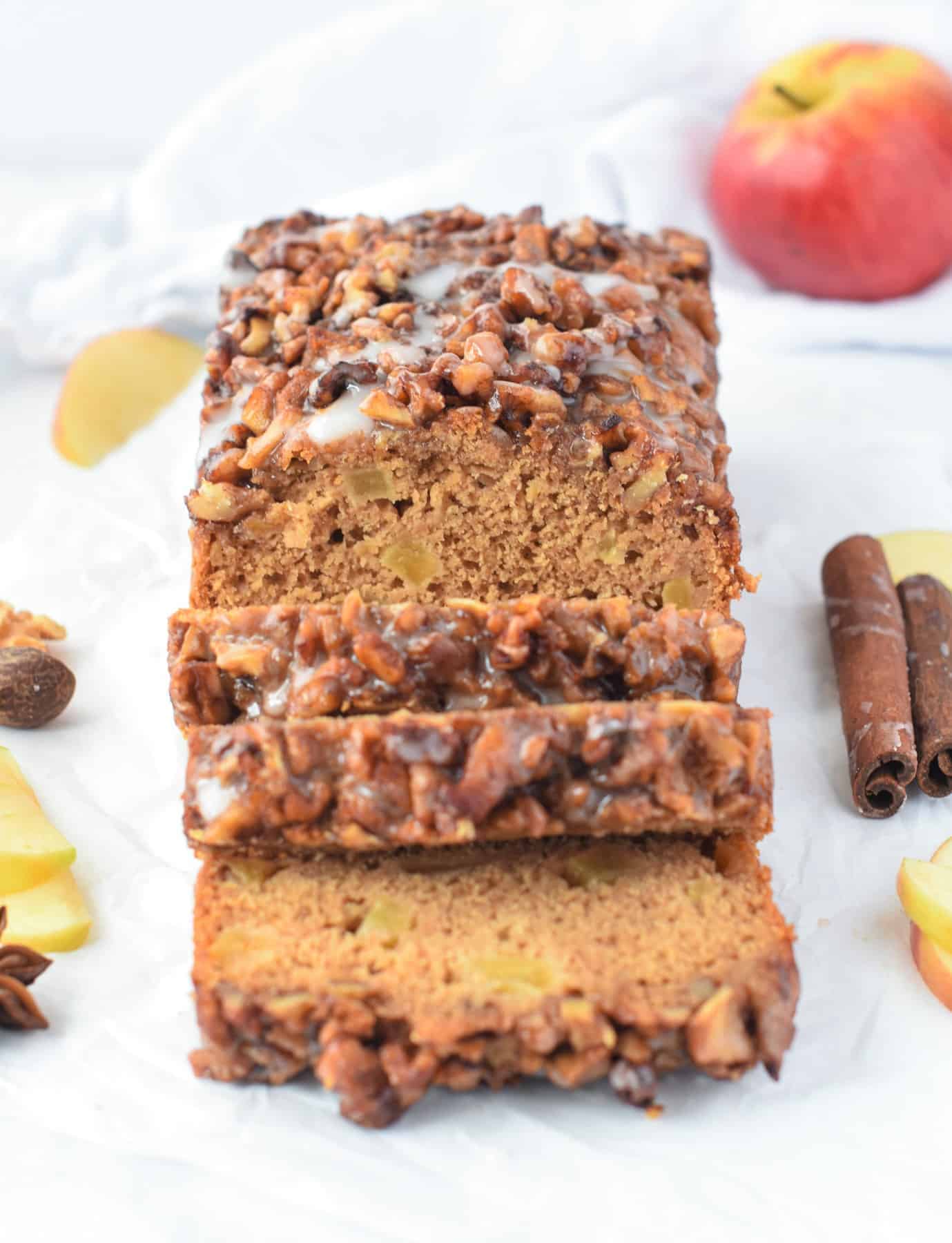 Cinnamon Apple Bread recipe is a very simple breakfast bread recipe that makes your kitchen smell like heaven! It has a moist crumb full of cooked apple pieces and Fall flavors. Let me share with you how you can make this easy vegan banana apple quick bread recipe.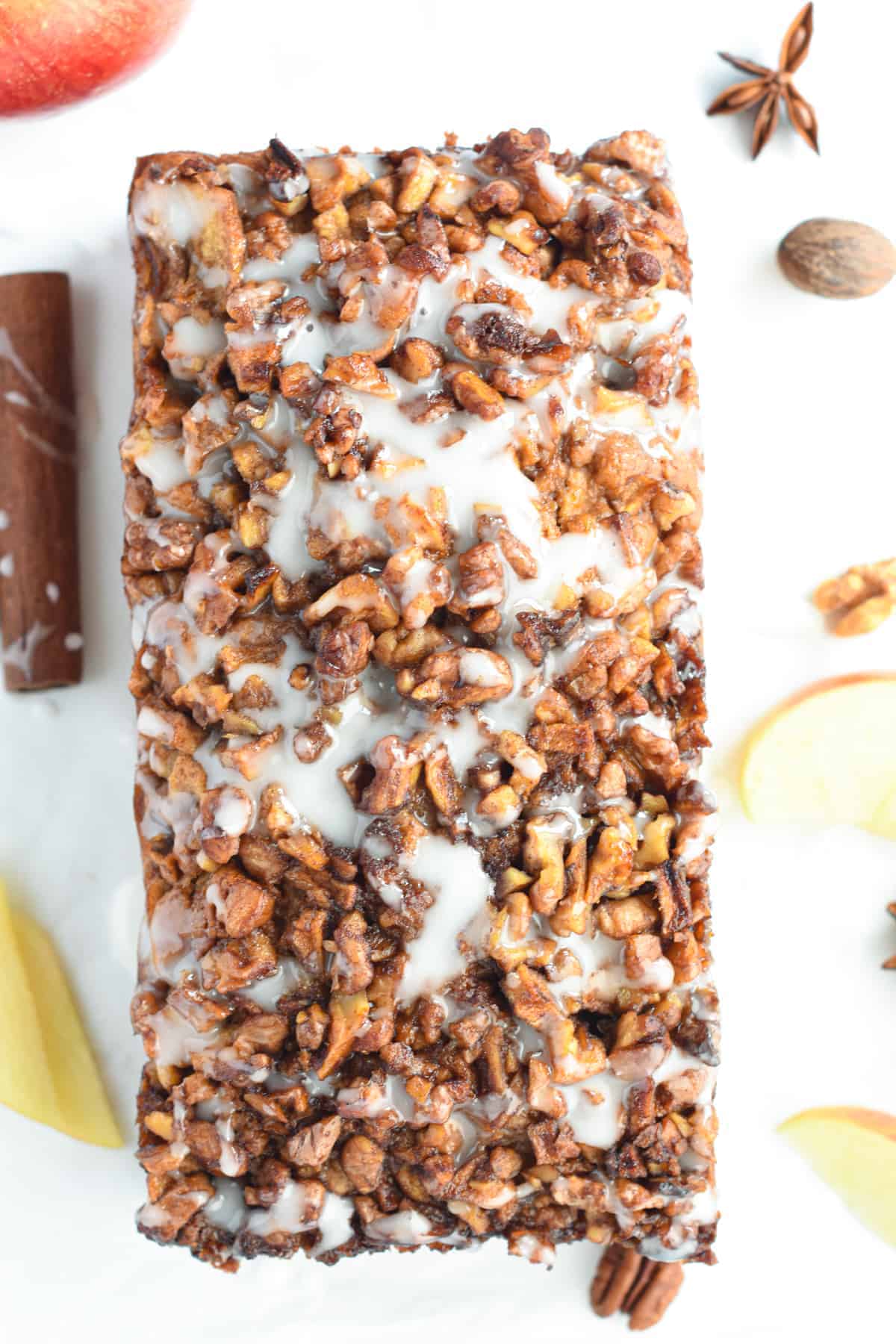 Ingredients
All you need to make the best apple walnut bread are minimal ingredients and only 1 bowl! Let's see what you need to make dairy-free apple bread at home:
All-purpose flour – feel free to replace it with the same amount of spelt flour or all-purpose gluten-free flour. I recommend sifted flour to avoid lumps and for fluffier bread.
Oil – I am using light-flavor oil like avocado oil, canola oil, or light olive oil. Melted coconut oil works too but tends to make this vegan apple banana bread chewier and denser.
Unsweetened almond milk – or non-dairy milk you love.
Unsweetened apple sauce or mashed banana
Vanilla extract
Apple chunks – you can use any apples, but I recommend crunchy apples like green apples or jazz apples. These apple varieties don't get mushy and won't release too much juice in the bread.
Coconut Sugar – or brown sugar or any sugar you have on hand.
Cinnamon
Ginger
Baking powder or half amount of baking soda, so replace the 3 teaspoons of baking powder with 1 + 1/2 teaspoon baking soda.
How to make vegan apple bread?
Grease the loaf pan
First, prepare a 9 x 5-inch loaf pan. Lightly grease the loaf pan and then line a large piece of oiled parchment paper onto the pan. This will prevent the vegan apple cinnamon bread from sticking to the pan and also will make it easier to release.
Don't over-mix the Batter
Next, in a large mixing bowl, combine all the wet ingredients, including the chopped apples. Then, stir in the remaining dry ingredients: sifted flour, coconut sugar, spices, and baking powder.
The trick to make a fluffy egg-free apple bread is to just combine the mixture. It means that you shouldn't over mix the batter and stop stirring as soon as all the flour is incorporated. If you overdo the bread batter, your bread will be gummy and dense.
Apple streusel bread topping
This bread is even better topped with a walnut apple streusel. To make the streusel of this apple walnut bread, combine in a bowl:
Chopped apples
Maple syrup
Chopped walnuts
Cinnamon
As seen in the picture below, spread the streusel on top of the bread just before baking. You can also spread half of the streusel in the center of the bread and the remaining streusel on top of the bread.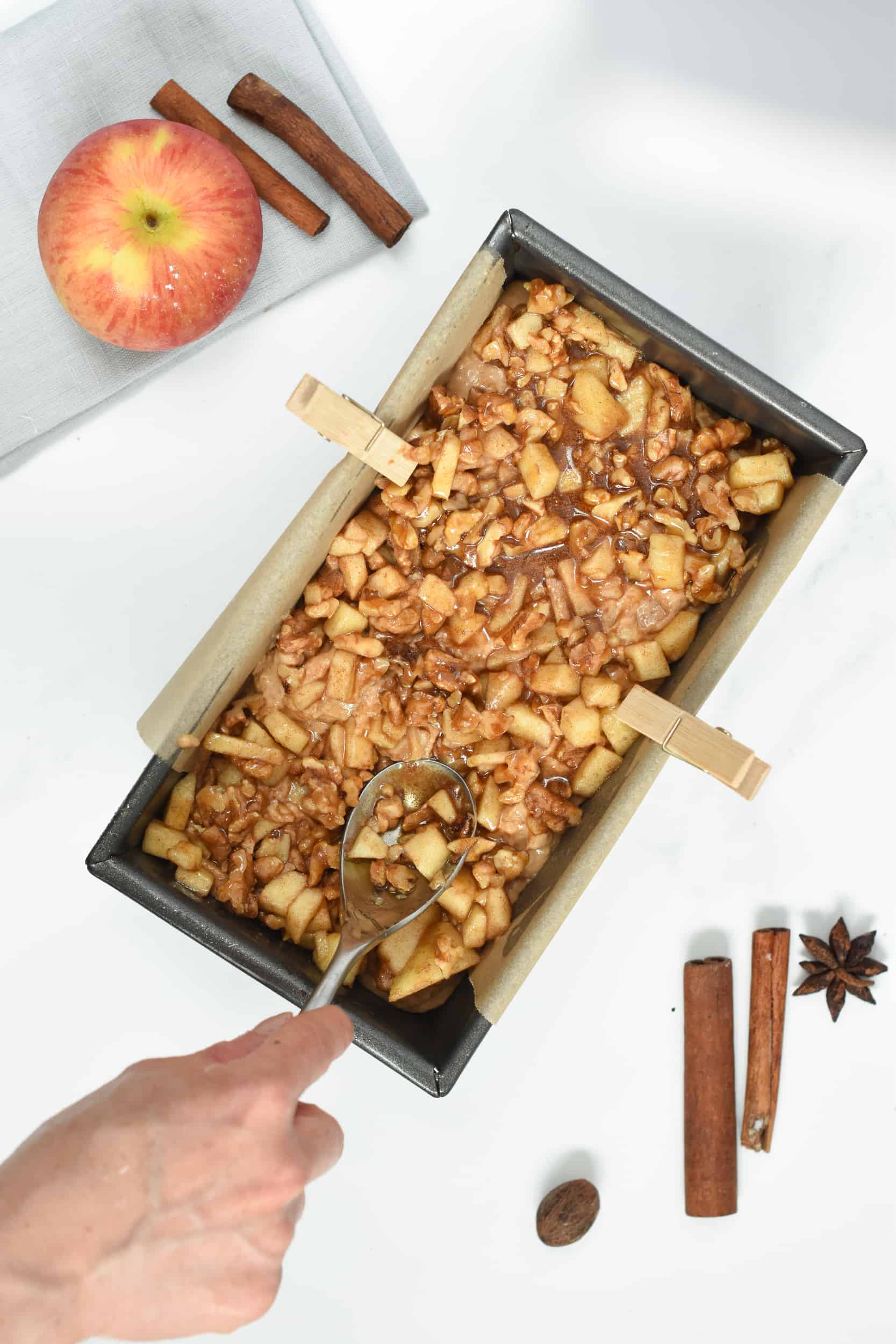 Bake
Finally, transfer the bread batter into the prepared loaf pan and bake for 50-65 minutes. You know the bread is cooked through when a skewer inserted in the center of the bread comes out clean, not wet.
Cool completely before slicing
This vegan apple quick bread recipe is easier to slice if you cool the bread completely on a rack for at least 2 hours. This prevents the bread crumb from falling apart. Plus, the flavor of the spices will have time to set and spread in the bread.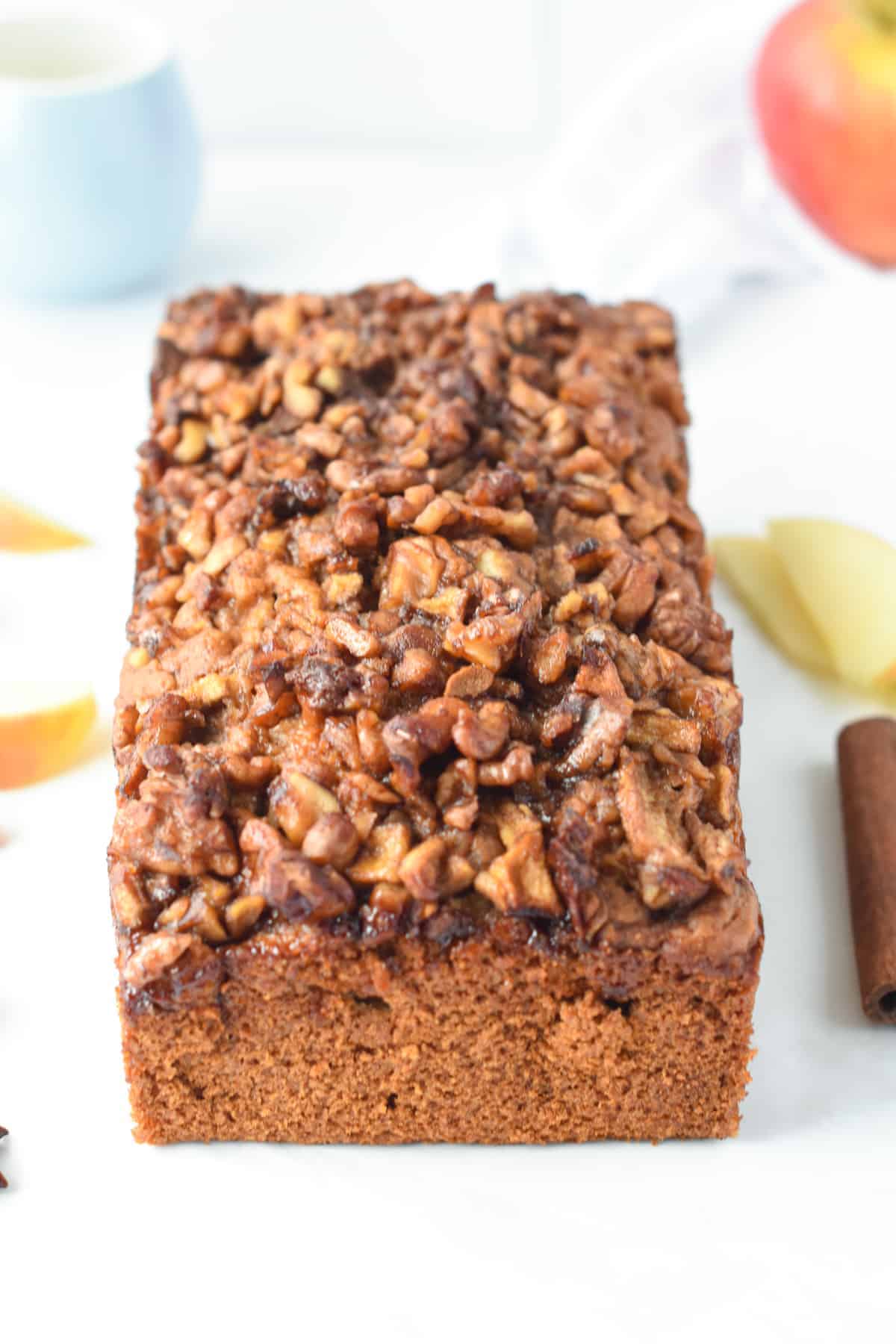 How to store?
You can store this apple bread in the pantry for 2 days or for a week in the fridge in a sealed container. Also, you can freeze the apple bread slices in a container, separating each slice with a piece of parchment paper.
This makes it easier to defrost one slice at a time. Thaw the bread overnight at room temperature on a plate.
How to glaze apple bread?
This is optional, but you can add vegan glazing on top of this apple bread recipe. First, completely cool down the bread, then drizzle on top of the loaf, as seen in my picture.
To make vegan glazing with only 2 ingredients, combine 1/2 cup powdered sugar with 2-3 teaspoons of almond milk.
Stir and adjust, adding more powdered sugar for a thicker glaze. Or add more almond milk for a thinner glaze. Drizzle the white glazing all over the apple bread. Refrigerate the bread for 15 minutes to harden the glazing if desired.
Serving
You can serve these vegan apple bread slices for breakfast on the side of a cup of tea or coffee. This bread is good with a teaspoon of almond butter or vegan butter spread and a pinch of extra cinnamon!
Play with flavors!
Like any banana bread recipe, you can add many tasty things to your vegan apple bread. Try adding 1/2 cups of one of the following ingredients to create different bread flavors:
Chopped walnuts
Chopped pecans
Vegan chocolate chips

More vegan breakfast recipes
I love baking for breakfast and I have plenty of other easy vegan breakfast recipes for you to try on the blog:
Have you made this apple walnut bread recipe? Share a review or comment below or join me on Instagram to share a picture of your creation,
Your friend, Carine