Pumpkin Banana Cookies (Vegan, Healthy)
These easy pumpkin banana cookies are healthy pumpkin oatmeal cookies perfect as a healthy Fall breakfast. Moist, lightly sweetened with refined sugar-free sweeteners and banana, these are the best vegan breakfast cookies to start the day!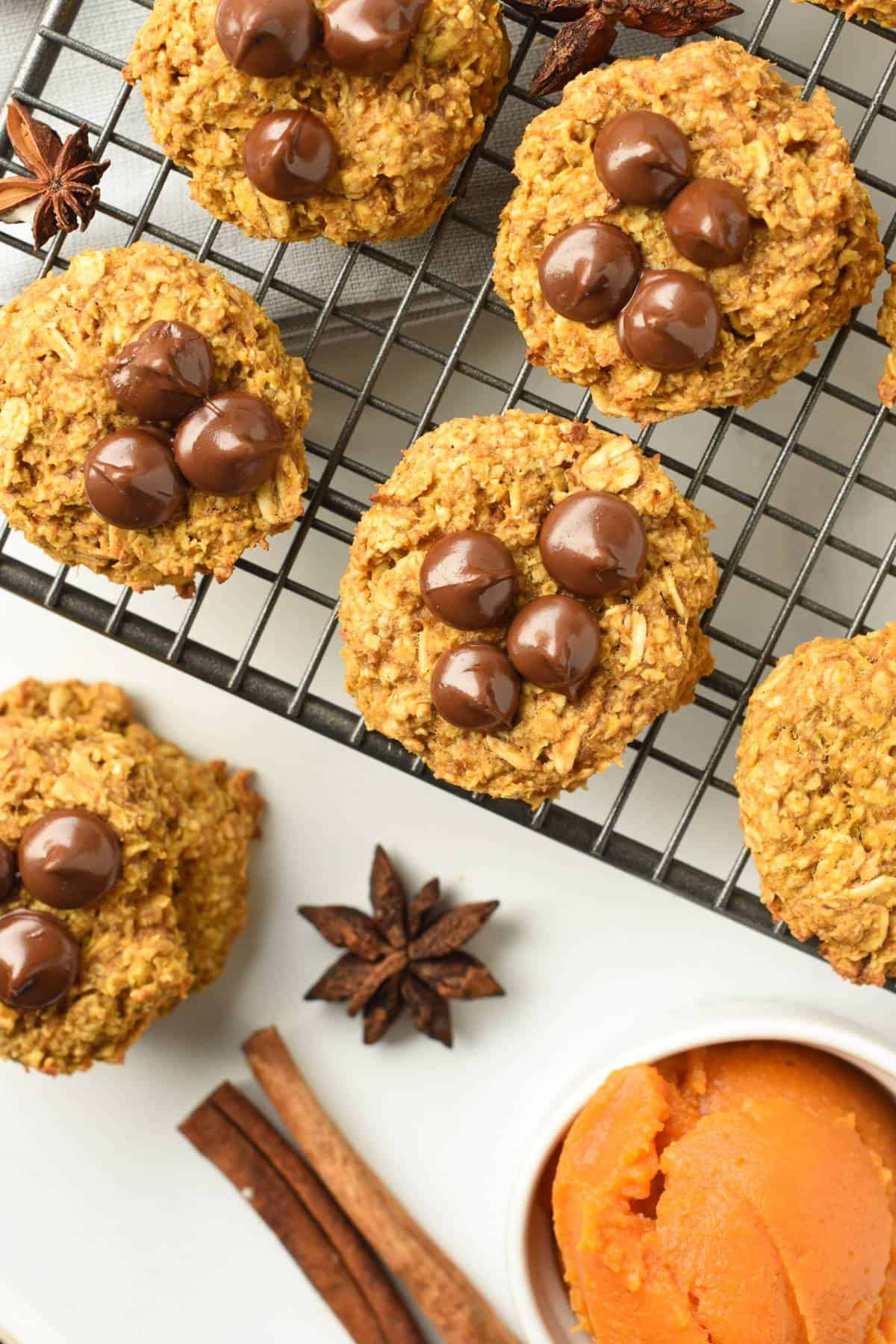 I love making banana oatmeal cookies for breakfast! They are packed with nutrients, delicious, and easy to make in just 20 minutes. Let's see below how to make the best Fall vegan breakfast cookies with pumpkin puree, banana, and Fall spices!

All you need to make these vegan pumpkin oatmeal cookies are 4 simple ingredients.
Ripe mashed banana
Pumpkin puree – I am using pure canned pumpkin puree, but you can make your own homemade pumpkin puree, peel, chop fresh pumpkin, and steam until tender. Cool completely at room temperature to steam out and then puree in a food processor. Learn how to make your own pumpkin puree!
Maple syrup – or any other refined sugar-free vegan-friendly syrup like agave syrup, brown rice syrup, or date syrup.
Quick oats – you can also use old fashioned rolled oats but I found the cookies dry with it. So the finer version of oats known as quick oats works better compared to old-fashioned oats.
Peanut Butter or almond butter
Vanilla
Pumpkin pie spices – or just cinnamon

You can make these pumpkin oatmeal banana cookies with the 4 simple ingredients below. The good part, these pumpkin banana oatmeal cookies are oil-free too.
If you love vegan oil-free recipes, these are perfect for you, no need for vegan butter or coconut oil here!
However, for a boost of flavor, you can add some extra coconut oil, highly recommended for the best fall flavors!
Vanilla extract
Ground cinnamon or pumpkin pie spice or combine 1/2 teaspoon of all-spices with 2 teaspoons of cinnamon and 1/4 teaspoon of nutmeg to make your own mix pumpkin spices.
Semi-sweet chocolate chips – not all chocolate chips are vegan-friendly. Check the ingredient list for no milk or butter. But if you can find some vegan chocolate chips, it is a must-try. This vegan pumpkin cookie recipe tastes 100% better with chocolate chips!
First, combine all the wet ingredients into a medium bowl until smooth. Make sure you are using a ripe banana for a boost of sweetness.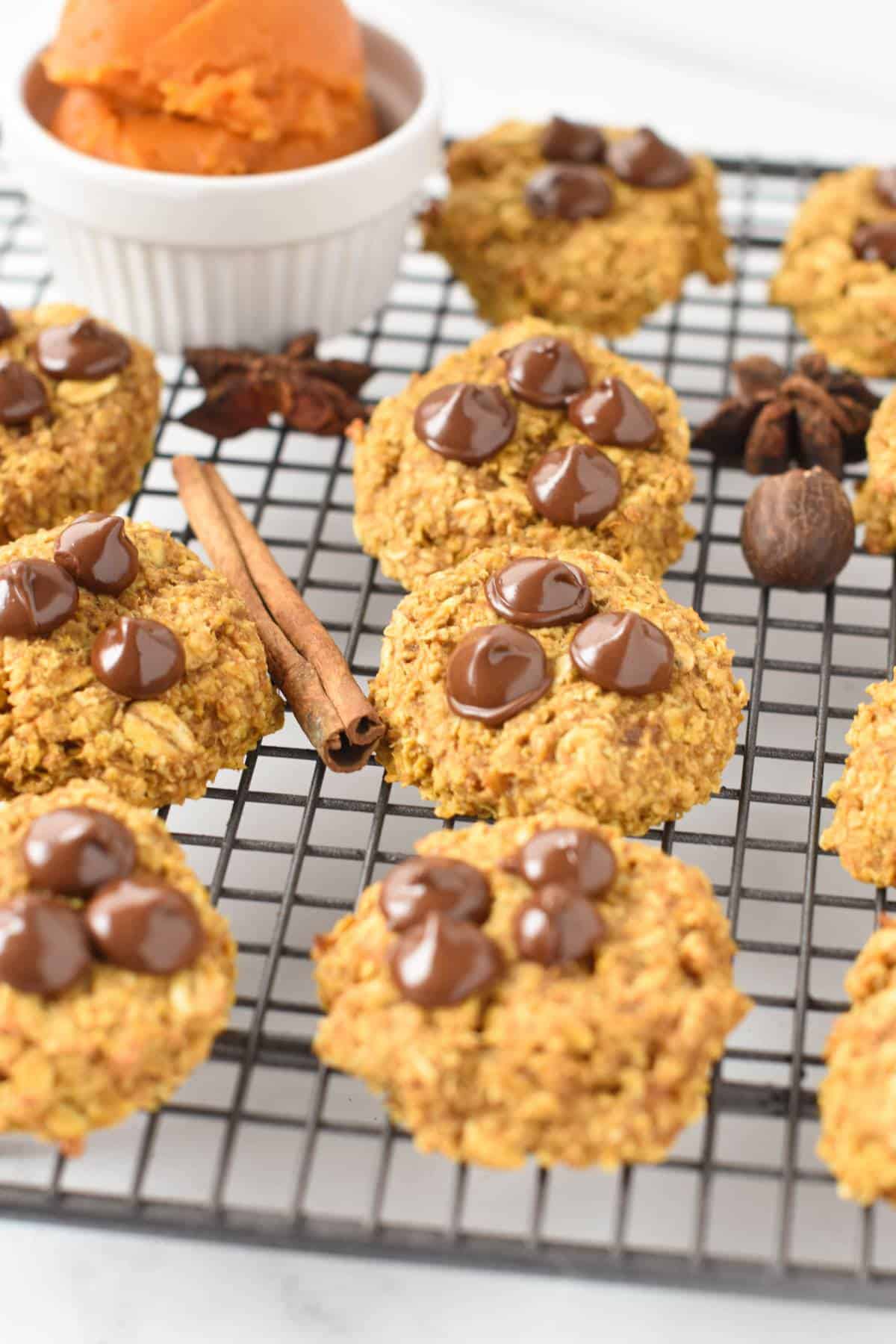 Then, add the dry ingredients until your batter is sticky and thick. Finally, lightly wet your hands with water to prevent the batter from sticking too much to your hands, and shape the cookie dough balls in your hands.
Place each cookie dough ball onto baking sheets covered with parchment paper. Leave a 1-thumb space between each ball, so they don't touch each other when you flatten the dough.
These cookies won't expand in the oven, so you must flatten each cookie dough ball with the palm of your hand. Don't make the cookies too thin, or they will be dry. Keep them slightly thick.
If you choose to make pumpkin banana chocolate chip cookies, feel free to press a few extra chocolate chips on top of each cookie! They will melt and make the cookies even more delicious.
Honestly, I recommend trying the pumpkin chocolate chip combo in this recipe. Pumpkin and chocolate match so well together!
You can add a few different toppings onto your cookies just before baking them or after they cool down.
Before baking, you can press crushed walnuts, pecans, or chocolate chips on top of each cookie. After baking, you can drizzle sweet glazing made of 1/4 cup powdered sugar (or powdered erythritol to keep the cookie low in sugar) mix with 1 tablespoon of almond milk.
Without a doubt these 4-ingredient banana oatmeal cookies are healthy! \
They contain only wholesome ingredients, healthy slow carbs from oats, and low in sugar as well!
In fact, they are mainly sweetened with ripe banana and a touch of unrefined liquid sweetener.
If you also watch the sugar closely, swap maple syrup for a low-GI option like brown rice syrup, date syrup, or sugar-free maple-flavored syrup!
These vegan cookies are soft, moist, slightly sweet with a rich, chewy texture from rolled oats.
Don't expect a crunchy buttery cookie here!
These are healthy breakfast cookies for clean-eating lovers, full of healthy carbs, low in sugar, and similar to my peanut butter banana oatmeal cookie recipe.
I love to make vegan cookies for breakfast, especially with oatmeal! They are fulfilling, tasty, easy, and so good for you, packed with nutrients, vegan protein, and fibers.
Have you made these healthy pumpkin cookies? Share a review below, or join me on Instagram to share a picture of your cookies! I love to see you making my recipes.
Your friend,
Carine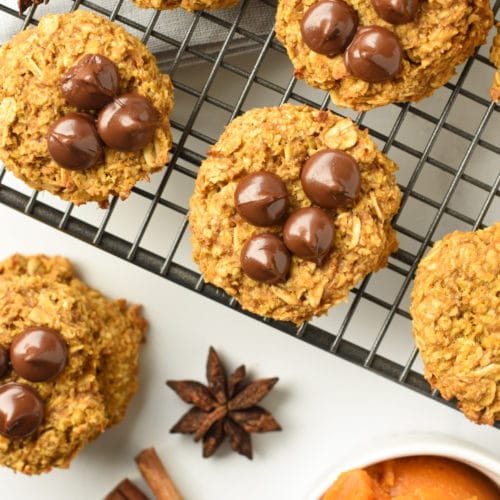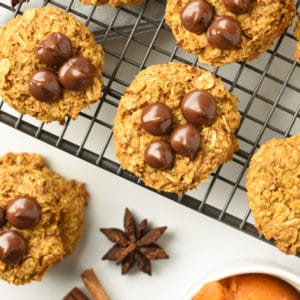 Healthy Pumpkin Banana Oatmeal Cookies (Vegan!)
Instructions
Preheat oven to 350°F (180°C).

Line a baking tray with parchment paper. Set aside.

In a large mixing bowl, combine all the wet ingredients: pumpkin puree, mashed banana, maple syrup, vanilla and peanut butter. Stir until fully combined.

Stir in quick oats, cinnamon, and chocolate chips if used. Combine until it forms a consistent and sticky oatmeal cookie dough forms.

Use your hands to shape 12 cookie balls. Place each ball onto the prepared baking tray, leaving a 1-thumb space between each ball. They won't spread in the oven.

Flatten each cookie dough ball with the palm of your hand. The thinner, the drier they will be. Keep them thick for a moist cookie.

Bake 10 minutes, they should be golden brown on top but still moist in the middle.

Cool on a cooling rack for 30 minutes then enjoy!

Store for up to 1 week in the fridge in a cookie jar. You can freeze them in silicone bags and thaw them the day before at room temperature.
Share on Facebook
Pin Recipe
Nutrition
Serving:
1
cookie
|
Calories:
85
kcal
|
Carbohydrates:
17
g
|
Protein:
2
g
|
Fat:
1
g
|
Saturated Fat:
1
g
|
Sodium:
2
mg
|
Potassium:
114
mg
|
Fiber:
2
g
|
Sugar:
4
g
|
Vitamin A:
1589
IU
|
Vitamin C:
1
mg
|
Calcium:
18
mg
|
Iron:
1
mg