Vegan Chocolate Banana Muffins with Chocolate Chips
These vegan chocolate banana muffins are moist double-chocolate banana muffins with a delicious chocolate crumb and banana flavor.
They are perfect for using your ripe bananas and make a healthy vegan breakfast or vegan snack for kids.
What Are Vegan Chocolate Banana Muffins?
Vegan Chocolate Banana Muffins are easy, healthy muffins made with plant-based ingredients and use bananas as the main ingredient.
Bananas bring a touch of natural sweetness and an almost fudgy texture to the muffins.
How To Make Vegan Chocolate Banana Muffins
These chocolate banana vegan muffins are very easy to make with few ingredients and the best recipe to use ripe bananas.
They are refined sugar-free and low in sugar, with only 8 grams of carbs per serving, mostly from bananas.
Choice of Ingredients
Ripe bananas – use bananas with many black spots on their skin to increase the muffin's natural sweetness.
Unsweetened cocoa powder
All-purpose flour – don't use almond flour, coconut flour, or oat flour for this muffin recipe. These flours won't work. The batter will never firm up. This vegan double chocolate banana recipe is not gluten-free. You must use all-purpose flour or spelt flour in this recipe to create fluffy vegan muffins that raise.
Coconut sugar – or any granulated sugar you have on hand. Don't replace it with any other liquid sweeteners like maple syrup, or your muffins will be gummy.
Vanilla extract
Unsweetened almond milk or plant milk you love.
Melted coconut oil – or any other vegetable oil like canola oil or avocado oil.
Baking powder and baking soda – you need a combination of both raising agents to create fluffy muffins.
Salt
Vegan dark chocolate chips are optional and delicious to boost the chocolate flavor and create vegan double chocolate banana muffins.
Mashing The Bananas
I won't stress this enough; banana recipes must be accurately measured! Not all bananas are equal. There are small, medium, and large bananas.
First, mash the bananas and measure the amount required by the recipe in cups or grams/oz. If you add too many bananas to muffins, they come out gummy or too wet.
Here you need about 4 small bananas to achieve 1 cup + 1/3 cup mashed bananas.
Combining Ingredients
First, preheat the oven to 350°F (180°C) and line a 12-hole muffin tin with muffin paper cups.
Next, in a large mixing bowl, combine all the wet ingredients: mashed bananas, vanilla, melted coconut oil, and almond milk.
When the mixture is well combined, add the dry ingredients, starting with unsweetened cocoa powder and coconut sugar, baking powder, and baking soda.
Stir until smooth and well incorporated, then stir in the flour in two addition until the batter is smooth.
Finally, stir in chocolate chips if used.
Baking For 30 Minutes
Bake the muffins in the center rack of your oven until a skewer inserted in the center of the muffin comes out clean with no to little crumb on it.
The muffin's top must be set but not too dark/black, or it means the top starts to burn.
Usually, you need 30 minutes to bake these chocolate banana bread muffins.
Cooling Down
Cool the baked muffins on a cooling rack for 1 hour to appreciate their best texture and flavor.
Note that the paper cup can stick to the muffin crumb if they are too hot. They are easier to release the next day when they are cold or at room temperature.
Muffin Toppings
I recommend adding a few extra chocolate chips on top of the baked muffins when they are still hot.
The melted chocolate chips are absolutely delicious and add a double chocolate flavor.
Another option is to add a drizzle of nut butter on top of the muffins. Peanut butter or almond butter marries well with banana and chocolate muffins.
If you want to turn these muffins into cupcakes, you can also prepare one of my frosting recipes:
Allergy Swaps
Can I Make This Recipe Oil-Free?
No, I don't recommend this option.
Most recipes suggest replacing oil with the same amount of applesauce, but when your recipe already contains lots of mashed fruits like bananas, the result can be overly wet, unbaked, or gummy.
Consequently, I don't recommend making this recipe oil-free. Instead, use a healthy oil like avocado oil or light olive oil.
Can I Use Gluten-Free Flour?
I recommend using buckwheat flour instead of all-purpose flour.
The muffins won't rise and be very dense, but it's the only gluten-free flour that works with the same ratio.
I don't recommend using all-purpose gluten-free flour in this vegan chocolate banana muffin recipe. I tried, and the center never baked, it was gummy, and muffins never raise.
Storing Banana Muffins
These vegan banana muffins have no eggs and dairy, so you may be tempted to store them at room temperature.
However, I highly recommend you store them in the fridge. Baked banana goods turn bad very quickly, and they store better in the fridge.
Always place the vegan banana chocolate chip muffins in an airtight box. Then, refrigerate for up to 1 week.
Frequently Asked Questions
Can I Freeze Vegan Muffins?
Sure, you can freeze vegan muffins like any regular muffins.
First, place the muffins in a sealed container. It can be a cake box or silicon bags. Then, pop them in the freezer and keep them up to 3 months frozen.
Finally, thaw your muffins at room temperature the day before eating.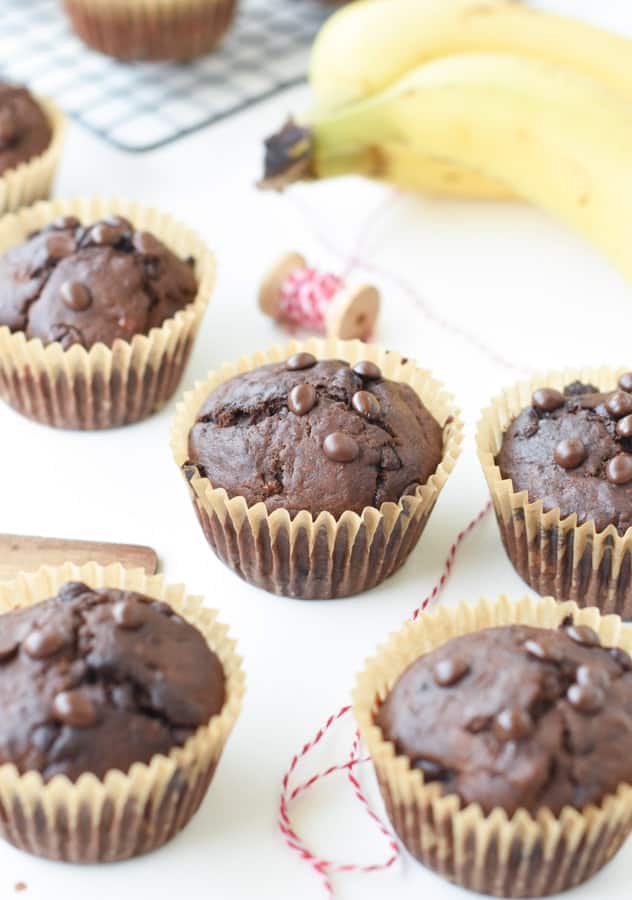 More Vegan Chocolate Recipes
I love to bake vegan recipes with chocolate. Below I listed my favorite vegan chocolate dessert recipes:
Don't forget to check all my Ripe Banana Recipes ideas for more ways to use those ripe bananas!
Have you made these chocolate banana vegan muffins? Share a review or comment below with me! I love to read your feedback on my recipes.
Your friend, Carine
Vegan Chocolate Banana Muffins
A moist vegan chocolate banana muffin perfect for breakfast or a snack.
Pin
Print
Review
Servings: 12 muffins
Calories: 147 kcal
Instructions
Preheat the oven to 350°F (180°C). Line a 12-hole muffin tray with paper cups, or grease your tray with coconut oil. Set aside.

Peel the ripe bananas, mash on a plate with a fork or potato mashed until smooth. It is ok if you still have chunks of banana. Measure precisely the amount required by the recipe and place it in a large mixing bowl.

In the large mixing bowl, combine mashed banana, almond milk, melted coconut oil, and vanilla.

Stir in cocoa powder, coconut sugar, salt, baking powder, and baking soda until smooth and well combined. Now add the all-purpose flour in two equal batches. Stir between each batch until smooth and completely incorporated. You want a smooth batter with no flour lumps – it is ok to have banana lumps!

Stir in 1/2 cup dark chocolate chips in the batter if desired.

Transfer the batter evenly into the 12 muffin holes.

Bake for 25-35 minutes or until set on top and a skewer inserted in the center of the muffin comes out clean

Cool on a rack for 1 hour before serving. Note that the muffin paper cups can stick to the batter if your muffins are still hot. They always peel off better the next day.

Store in the fridge for 7 days, in an airtight container or cake box.

Freeze in an airtight box and thaw at room temperature the day before.
Notes
Flour: this recipe doesn't work with almond flour, coconut flour, or oat flour. You must use all-purpose flour or spelt flour.
Share on Facebook
Pin Recipe
Nutrition
Serving: 1muffin | Calories: 147kcal | Carbohydrates: 25g | Protein: 2g | Fat: 5g | Saturated Fat: 4g | Sodium: 210mg | Potassium: 134mg | Fiber: 2g | Sugar: 8g | Vitamin A: 16IU | Vitamin C: 2mg | Calcium: 42mg | Iron: 1mg