The Best Vegan Matcha Latte with Almond and Coconut Milk
The best vegan Matcha latte recipe with creamy coconut milk and frothy almond milk, ready in 5 minutes in your own kitchen.
Plus, this dairy-free Matcha latte is also keto-friendly!
Is Matcha Latte Vegan?
No, a classic Matcha latte or a regular Starbucks Matcha latte is made with dairy milk. Therefore it contains cow milk, and it's not vegan friendly.
However, drinking Matcha from your favorite café on a vegan lifestyle is very easy.
Ask the barista to use your favorite dairy-free milk. I love coconut milk with Matcha.
These two flavors are made to be together.
What Are The Health Benefits Of Macha?
Matcha powder is not only delicious for flavor drinks or desserts. It's also a wonderful healthy ingredient with lots of health benefits.
Some of the health benefits of drinking Matcha latte instead of coffee in the morning are:
Energetic drink – it contains more caffeine than a cup of coffee or 3 times more than regular green tea.
Reduced stress – it contains L-theanine, an amino acid that keeps you calm.
Antioxidant – contains way more catechins, the green tea phenolic compound, than other green tea blends.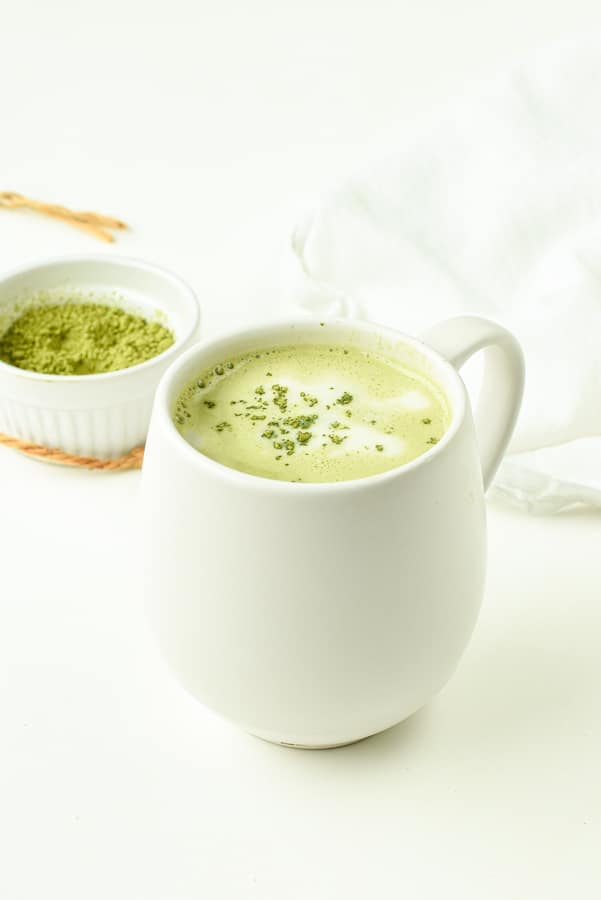 How To Make Vegan Matcha Latte
It's super easy to make a creamy vegan Matcha latte at home.
Ingredients
All you need are a few simple ingredients:
Matcha Powder
Almond Milk or any light dairy-free milk like cashew milk.
Coconut Milk – I always recommend thicker, creamier milk as a base for my vegan latte recipe. I love coconut milk with Matcha powder. It's the best flavor combo ever!
Sweetener – I love to use maple syrup because it adds a delicious maple flavor to the drink. However, you can make this recipe keto-friendly by using a few stevia drops or a pinch of erythritol to sweeten.
Lukewarm Water – not boiling water, simply hot water around 100°F (37°C).
Tools you need
You need two essential tools to make a creamy Matcha drink at home:
A whisk – some people use a Matcha whisk which is basically a bamboo whisk, but let's keep things simple and use a regular kitchen whisk or even a fork. I personally have a small whisk that I bought in the kitchen cooking aisle of my supermarket.
A milk frother – if you want that foamy texture on top of your latte, a milk frother is a must! You can use a hand frother or a stand milk frother. I have a Nespresso milk frother that I love to froth almond milk.
Dissolving The Matcha powder
First, add the Matcha powder to a small mixing bowl along with the lukewarm water.
Then, whisk the powder, forming 8 shapes with your whisk to perfectly break the powder's lumps into the water.
Adding Milk And Warming Up
Now, add the dissolve Matcha powder with sweetener, half the amount of almond milk, and coconut milk to the saucepan.
Warm the mixture over medium heat until simmering. It takes about 2-3 minutes to reach a light boil on the side of the saucepan.
Stir occasionally and remove from heat when hot.
Finally, transfer the hot coconut Matcha milk into a coffee mug and stir in vanilla extract if desired.
Set aside while you froth the milk.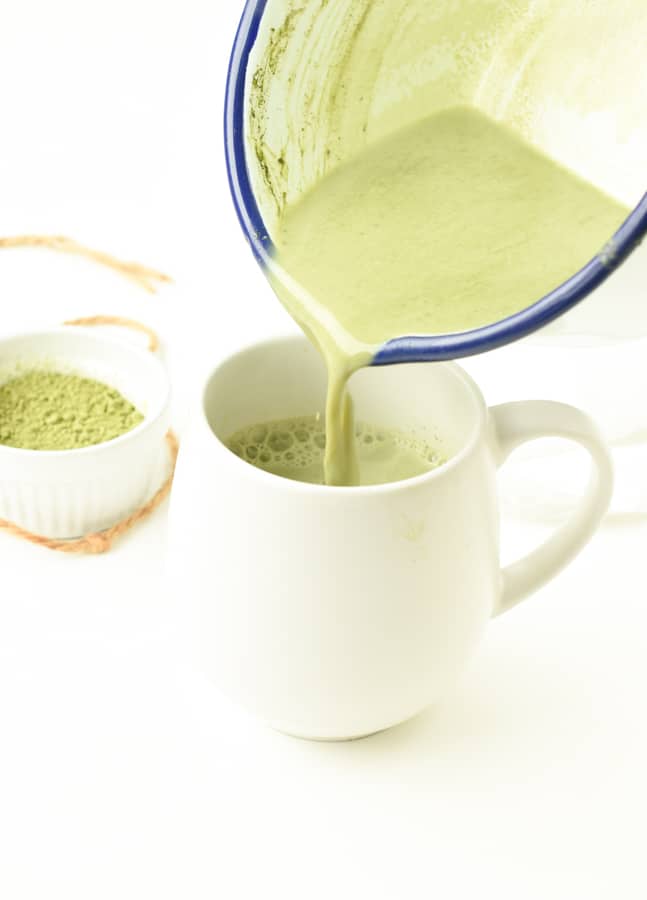 Frothing The Almond Milk
Finally, add the remaining unsweetened almond milk into your milk frother and froth until thick foam forms on top. It takes just 45 seconds.
If you don't have a milk frother, you can warm the almond milk along with the coconut milk in step 2.
It won't create a foam on top of your drink but still taste light, creamy, and delicious.
Assembling The Drink
Pour the frothed almond milk on top of your coffee mug, and feel free to add a pinch of extra Matcha powder on top to boost the flavor.
Frequently Asked Questions
Can I Make A Vegan Iced Matcha Latte?
Some of us prefer a cold drink in the morning, and the good news is you can use this Matcha latte recipe to make an iced Matcha latte.
Follow step 1 of the recipe, then transfer the dissolve Matcha to a tall glass filled halfway with crushed ice.
Top up with the combo of unsweetened almond milk and coconut milk.
Stir with a straw and enjoy!
If you like your Iced Matcha thicker, bring all the ingredients into a blender to create a frothy Matcha drink.
How Should I Store Matcha Powder?
Matcha contains a large quantity of antioxidants that deteriorate if in contact with moisture, sunlight, or high temperature.
The best way to store Matcha powder and keep all its amazing health properties is to use an airtight container or bag.
Seal the jar or bag and store it in the refrigerator.
When Should I Drink Matcha?
Matcha contains as much caffeine as a cup of coffee, and even if it also contains calming amino acids, it can energize some people too much.
As a result, it's better to drink Matcha in the morning, so it doesn't interact with your sleep.
Matcha is a great swap to coffee in the morning, but like coffee, it slows down iron absorption, so don't ever drink green tea on your vegan journey.
If you love Matcha latte, pair this with my Matcha cookie recipe!
What Are The Best Dairy-Free Milk For Matcha Latte?
Many dairy-free milk options go well with a Matcha latte. The best flavors are:
Coconut milk
Almond milk
Cashew milk
Macadamia milk
Hemp seed milk
Like oat milk or soy milk, all other plant-based milk types have a strong flavor that covers up the Matcha flavor.
That's why I don't recommend using these options.
More Vegan Hot Drink Recipes
It's so easy to make dairy-free hot chocolate or latte at home and so much healthier too.
Below I listed my favorite vegan hot drinks for you to try:
More Matcha Recipes
If you like matcha, you'll love these other recipes with matcha powder:
Made this Matcha latte recipe with vegan dairy-free milk? Share with me your favorite dairy-free milk combo or a review below. I love to hear back from you,
Your friend, Carine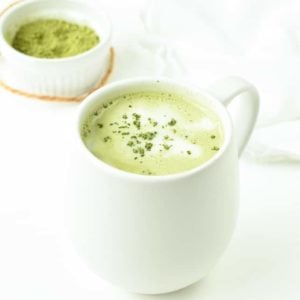 Vegan Matcha Latte
A creamy dairy-free matcha latte for green tea lovers.
Pin
Print
Review
Servings: 1 latte
Calories: 178 kcal
Instructions
In a small mixing bowl, add Matcha powder along with warm water. Whisk vigorously with a small kitchen whisk or bamboo whisk, forming 8 shapes to dissolve the powder into the water completely.

In a small saucepan, add the dissolve Matcha powder, maple syrup, coconut milk, and 1/4 cup of the almond milk – we keep the remaining almond milk to froth later. If you don't have a milk frother, you can add the entire quantity of almond milk now.

Bring the pan over medium heat, and warm the Matcha milk, occasionally stirring, until hot and simmering – it takes about 2-3 minutes.

Pour the hot green milk into a tall coffee mug, stir in vanilla extract if desired, and set aside while frothing the remaining almond milk.

Now, froth the remaining 1/2 cup unsweetened almond milk in a milk frother or another coffee mug, using a hand milk frother (not all almond milk brands froth well. See notes for my recommendations).

Top the matcha milk in your mug with the frothed almond milk and serve with a pinch of extra matcha powder on top

Taste and adjust sweetness to your taste.
Notes
Almond milk – not all almond milk brands form a thick foam when frothed in a milk frother. My favorite brand is Almond Breeze or Vitasoy. Barista almond milk or hemp milk froths well, but watch out! There is sugar added to these kinds of milk, so you may have to decrease the amount of sweetener in the recipe.
Share on Facebook
Pin Recipe
Nutrition
Serving: 1latte | Calories: 178kcal | Carbohydrates: 18g | Protein: 3g | Fat: 9g | Saturated Fat: 7g | Sodium: 329mg | Potassium: 47mg | Fiber: 1g | Sugar: 13g | Vitamin A: 200IU | Calcium: 248mg | Iron: 1mg