Skinny Vanilla Latte (70kcal, Zero Sugar)
This Skinny Vanilla Latte is a low-calorie, sugar-free version of your favorite Starbuck skinny Vanilla Latte drink.
Plus, this is a vegan latte 100% dairy-free and keto friendly.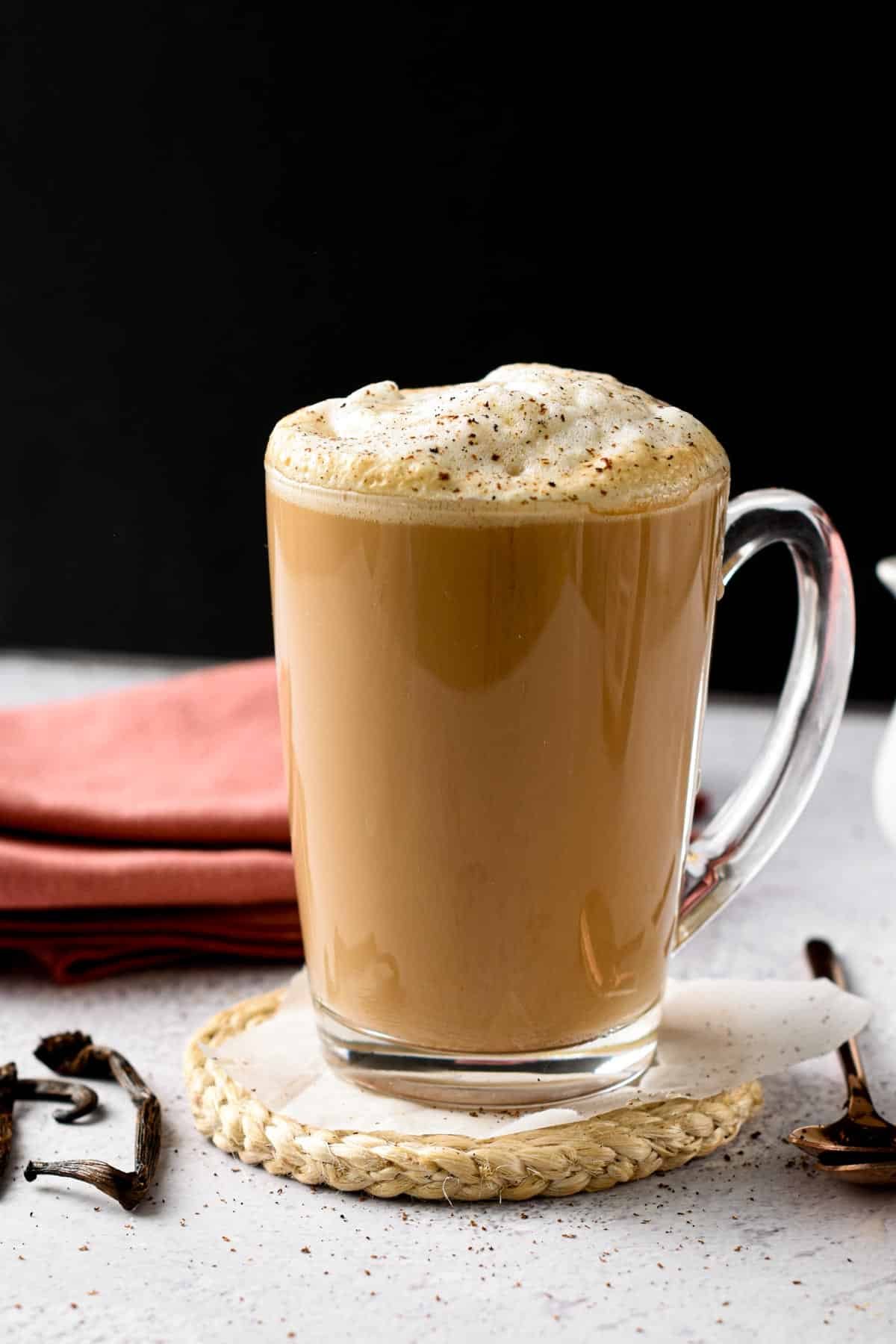 I love making my own coffee drink recipe, I share so many options with you lately, pumpkin spice chai latte, pumpkin latte, and now this!
The reason why I want to share more homemade latte recipes with you is simple. They are delicious, healthier, and cheaper.
So today I am sharing with you an easy way to make a low-calorie vanilla latte at home.
How To Make Skinny Vanilla Latte
It takes less than 5 minutes to make a flavorsome vanilla latte. Let me guide you through the recipe
Ingredients
Strong Brewed Coffee – I have a Nespresso machine so I brew 2 strong espressos to make one large latte. It's about 1/3 cup of strong brewed coffee from a coffee press or filter coffee machine.
Vanilla Stevia Drops – You can of course buy sugar-free vanilla syrup but most are sweetened with artificial sweetener. So my favorite option is to use stevia drops flavored with natural vanilla. These drops have no sugar but sweetened the drink perfectly while adding a strong and natural vanilla flavor.
Erythritol – This is another natural granulated sweetener that I add to black coffee to boost its sweetness. In combination with stevia, it achieves the same sweetness as the vanilla syrup from Starbuck coffee without the sugar.
Unsweetened Vanilla Almond Milk – This almond milk is sweetened with vanilla. It guarantees an awesome vanilla flavor in your drink.
Brewing Your Coffee
Whatever method you choose to prepare your coffee, just make sure you make strong black coffee.
In fact, a latte contains lots of milk and if your coffee is pale and light, the drink won't taste good at all.
Place the hot brewed coffee in the mug along with erythritol.
Stir to dissolve and sweetened the coffee. Skip if you don't like your coffee too sweet.
Set it aside.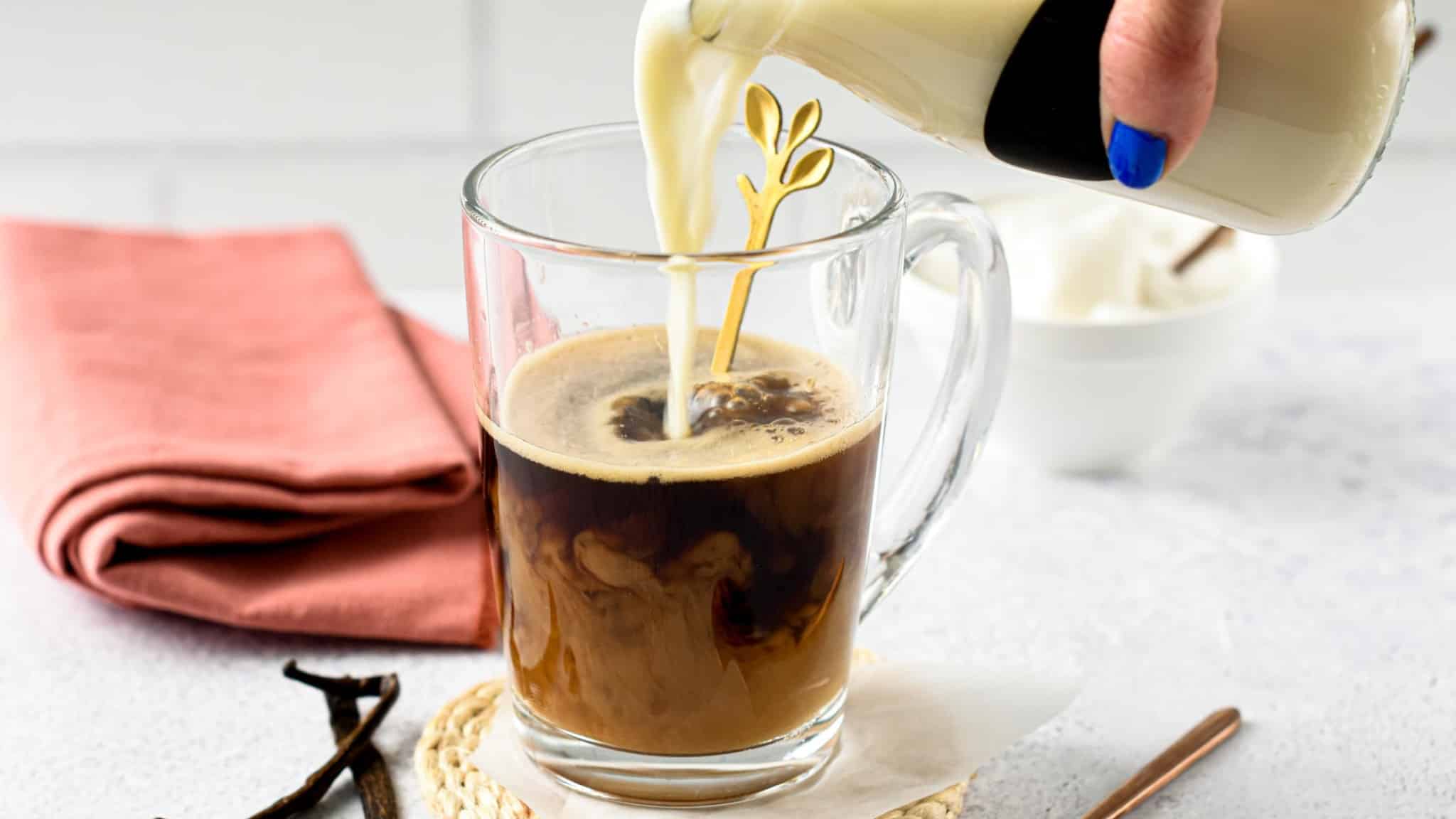 Warming The Milk
In a non-stick saucepan, warm vanilla almond milk. Don't boil, just bring it to a simmer.
Remove from heat and stir in sugar-free vanilla syrup or vanilla stevia drops depending on what you are using.
Pour the warm milk over the hot coffee.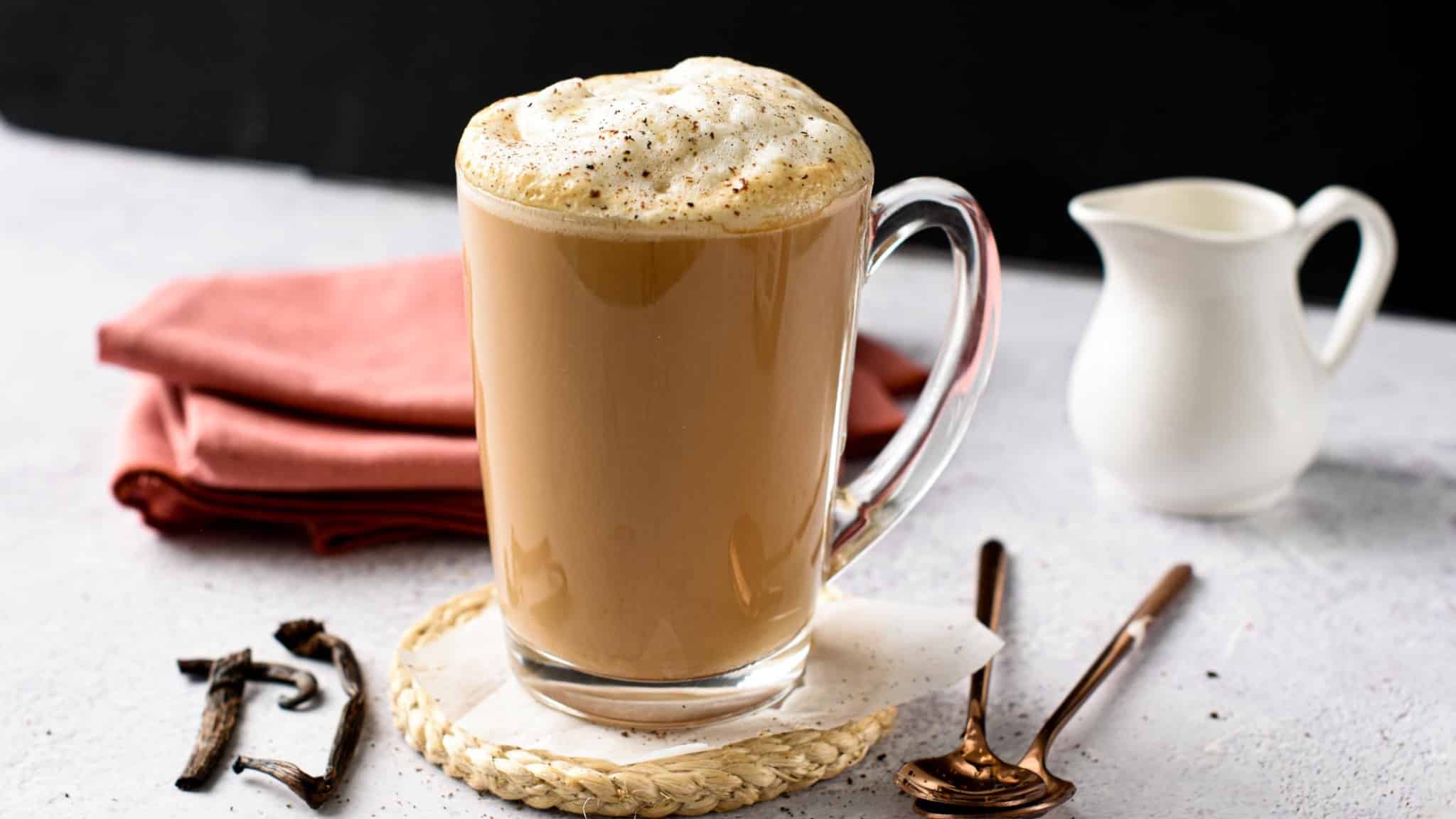 Making The Foam
To make a skinny latte, it's better to avoid sweetened whipped cream, even dairy-free, it's high in sugar and calories.
So instead, use a milk frother to froth some high-protein milk like soy milk.
Froth a few tablespoons and use the foam to top up your drink.
Serving
I like to serve my drink with grated vanilla pods on top. This is fancy, and you don't have to do so to enjoy the vanilla flavor of the drink.
Other ideas to add on the foam are a pinch of:
Allergy Swaps
Below are some allergy swaps to help you adapt this recipe if needed:
Nut-Free – You can replace almond milk with oat milk or soy milk. Both contain more calories but they are very good for you higher in protein for soy, and higher in carbs for oat so it's a perfect post-workout option.
Sugar-Alcohol-Free – You can swap the erythritol for 1 or 2 teaspoons of maple syrup. It's a natural unrefined sugar that tastes great in coffee.
Frequently Asked Questions
Can I Use Vanilla Syrup Instead Of Stevia?
Yes, you can use a sugar-free vanilla syrup made of erythritol and monk fruit as a sweetener.
Add 1 or 2 tablespoons of syrup to the saucepan with the milk and warm them together.
You may have to skip sweetener in the black coffee or the latte will be too sweet.
Can I Use Granulated Coffee?
Yes, follow the packaging instruction of your coffee granule brand to prepare 1 cup of coffee.
Then, use 1/3 cup of the prepared coffee to make one latte.
How Many Calories Are In A Vanilla Latte?
A standard Starbuck vanilla latte contains, per Grande drink, 35 grams of sugar and 250 kcal.
More Vegan Hot Drinks
If you need your hot drink for breakfast, try these:
Did you try this skinny vanilla latte recipe? Share a comment or review below to connect with me.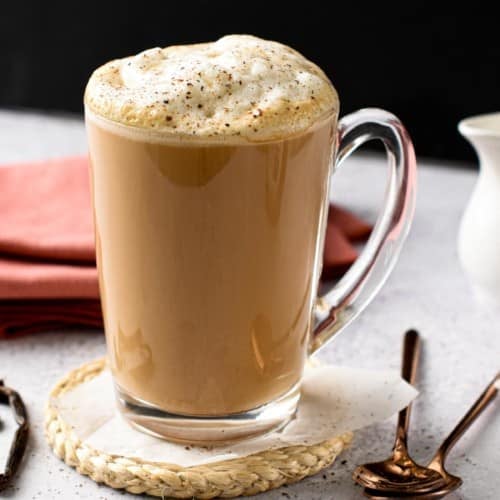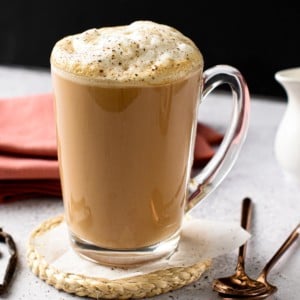 Skinny Vanilla Latte
This Skinny Vanilla Latte is a healthy, low-calorie version of your favorite Starbuck latte but healthier and dairy-free.
Pin
Print
Review
Shop My Tools
Instructions
In a small saucepan, or milk frother, warm unsweetened almond milk – don't boil – just warm up. Stir in vanilla stevia drops.

Brew 1/3 cup strong coffee in your coffee mug, stir in 1 tablespoon sugar-free natural crystal sweetener like erythritol or 1-2 teaspoon maple syrup if preferred.

Top the coffee with warm vanilla milk.

To make the foam, place high-protein dairy-free milk like oat milk or soy milk in a milk frother. Forth and scoop out the foam on top of the coffee.

Serve coffee with a sprinkle of vanilla bean paste or cinnamon.
Notes
Note 1: Erythritol is a natural sugar-free crystal sweeetner with no calories and the same sweetening power as sugar without impacting blood sugar levels. You can also replace it with 1-2 teaspoons of maple syrup if preferred. Note 2: Any milk works, but vanilla-flavored almond milk adds a lovely vanilla flavor to the drink. If you use unflavored milk, add 1/8 teaspoon of vanilla bean paste or 1/2 teaspoon of vanilla extract to the warm milk to flavor it naturally. Note 3: You can replace stevia drops with sugar-free vanilla syrup, but you may have to decrease erythritol in the coffee, or the drink will be too sweet. Note 4: High-protein milk such as soy milk foams very well in milk frother. This doesn't include almond milk or coconut milk they don't foam!
Share on Facebook
Pin Recipe
Nutrition
Serving:
1
latte
|
Calories:
70
kcal
|
Carbohydrates:
2
g
|
Protein:
2.5
g
|
Fat:
6
g
|
Polyunsaturated Fat:
3
g
|
Monounsaturated Fat:
3
g
|
Sodium:
650
mg
|
Fiber:
1.5
g
|
Sugar:
0.5
g
|
Calcium:
600
mg