Peanut Butter Hot Chocolate
This Peanut Butter Hot Chocolate is a rich, thick hot chocolate for peanut butter lovers.
Plus, this is dairy-free hot chocolate, perfect for sharing with all family and friends this winter.
If, like me, you love the peanut butter and chocolate combo, you'll love the many recipes I have that use chocolate and peanut butter, such as my chocolate peanut butter chia pudding, chocolate peanut butter, or my crunchy gluten-free chocolate peanut butter.
What Is Peanut Butter Hot Chocolate?
But one thing was missing, a peanut butter hot chocolate. This recipe started when I accidentally dropped one of my vegan peanut butter cups in my hot chocolate.
It melted in the hot cocoa delivering the most delicious peanut butter flavor.
In fact, peanut butter makes the most creamy hot chocolate without adding full-fat milk or cream.
Somehow, it's a healthier way to make ultra-thick hot chocolate because nut butter is packed with proteins, less saturated fat than dairy, and simply so tasty.
How To Make Peanut Butter Hot Chocolate
If you are a peanut butter lover, you must try peanut butter and hot chocolate together.
I can guarantee that this brings your hot chocolate to the next level of decadence.
Ingredients
It's so easy to make Peanut Butter Hot Chocolate recipe at home with just a few wholesome plant-based ingredients.
All you need are the following:
Non-Dairy Milk of Choice – Any plant-based milk like oat milk, almond milk, or soy milk would taste good. But, to decrease calories, or carbohydrates, use unsweetened almond milk.
Dark Chocolate Chips – Depending on the sweetness you want to achieve, pick from 55% vegan dark chocolate chips to 85% cocoa.
Unsweetened Cocoa Powder
Natural Peanut Butter – Make sure your jar is fresh, drippy, and made from no added salt, no added sugar, or oil.
Sugar – Any granulated sweetener works, like coconut sugar for a healthy flavor or unrefined cane sugar for a healthier twist. You can obviously use white sugar or your favorite sugar-free natural crystal sweetener like erythritol.
Vanilla Extract
Preparation
Bring all the ingredients, except the vanilla extract, to a medium non-stick saucepan over medium heat.
Warm the milk, chocolate chips, cocoa powder, and peanut butter together and whisk gently to dissolve and melt chocolate chips and peanut butter into the milk.
Bring to a light simmer – it means it should steam and form light bubbles on side of the pan but never boil.
Keep cooking until warm and thick, and all ingredients are well combined.
Remove the peanut butter hot cocoa from the heat. Stir in vanilla extract.
If your peanut butter doesn't dissolve well, you can use an immersion blender or bring the lukewarm hot chocolate mixture in a blender. Blend until smooth and serve.
Flavoring
It's optional to add spices to hot chocolate, but I truly love the addition below, from 1/8 teaspoon to 1/4 teaspoon.
Ground Cinnamon
Chili powder
Chia spice
Peppermint essence
Serving PB Hot Chocolate
Before serving, taste the hot chocolate and adjust with more sugar if you like.
Serve this hot chocolate with your favorite dairy-free whipped cream, a dust of unsweetened cocoa powder, chocolate chips, and an extra drizzle of peanut butter.
Allergy Swaps
If you are allergic to some of this recipe's ingredients, try the options below:
Nut-Free – Use dairy-free milk like soy milk, oat milk, or coconut milk. Replace the peanut butter with sunflower seed butter.
Gluten-Free – Make sure you use gluten-free plant-based milk like almond milk or soy milk.
Peanut-Butter-Free – Any nut butter works in hot chocolate recipes. Try cashew butter or almond butter to create different hot chocolate flavors.
Sugar-Free Keto Option – Peanut butter is keto low-carb friendly. To make this recipe low-carb, use erythritol as a sweetener, almond milk, and sugar-free dark chocolate chips.
Frequently Asked Questions
Below are the most frequent questions answered:
Can I Use A Hot Cocoa Mix For This Recipe?
Yes, you can use my homemade hot chocolate mix for this recipe.
Simply warm it with milk, peanut butter, and chocolate chips.
Can I Skip The Chocolate Chips?
This is a hot chocolate recipe, not hot cocoa. That's why I am adding chocolate chips.
On the other hand, hot cocoa is entirely made from cocoa powder and is less thick and rich.
To make hot cocoa peanut butter, skip the chocolate chips and use 2 tablespoons of cocoa powder to increase the cocoa flavor in your drink.
Why Won't My Peanut Butter Melt?
If your jar of peanut butter is not fresh, the peanut butter might be a bit dry and form bits and pieces in the milk.
To fix that, cool down for 10 minutes and blend or use an immersion blender to smoothen the recipe. Rewarm if needed before serving.
Can I Make Hot Chocolate In The Microwave?
It's a bit challenging, but you can warm the milk in the microwave.
Then, place the cocoa, chocolate chips, and peanut butter into a glass mixing bowl.
Pour the hot milk on top and whisk to dissolve. If it doesn't melt, return the bowl for 30 seconds in the microwave. Serve in mugs.
More Hot Drink Recipes
Below are some more hot drink recipes for you to try:
More Peanut Butter Chocolate Recipes
If you like the combination of chocolate and peanut butter, you'll love these:
Did you try this creamy peanut butter hot chocolate? Share a comment or review below.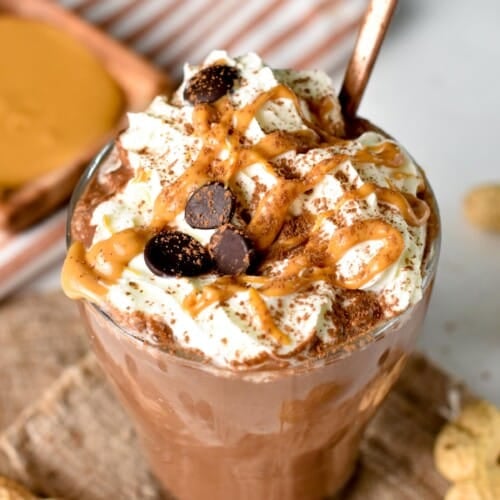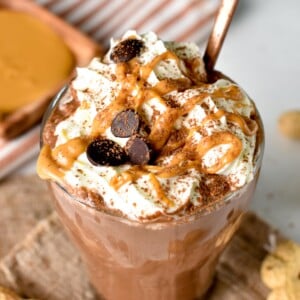 Peanut Butter Hot Chocolate
This Peanut Butter Hot Chocolate is a rich, thick hot chocolate for peanut butter lovers. Plus, this is dairy-free hot chocolate, perfect for sharing with all family and friends this winter.
Pin
Print
Review
Servings: 2 mugs
Calories: 301.1 kcal
Instructions
In a small saucepan, add plant-based milk, peanut butter, unsweetened cocoa powder, dark chocolate chips, and sugar. Start with a minimum amount and adjust later to taste.

Bring the saucepan over medium heat, gently stirring often, and cook for 2-3 minutes or until it simmers (don't boil) and the chocolate chips and peanut butter are melted. If the peanut butter doesn't melt well, cool the mixture for 5 minutes, add to a blender and blend for a few seconds to smoothen.

Remove from the heat and stir in the vanilla extract, a pinch of chili for a spicy touch, or ground cinnamon for a sweet note.

Serve immediately with a dollop of frothed soy milk or whipped coconut cream and a drizzle of peanut butter.
Notes
Note 1: The higher in protein, the thicker the hot chocolate will be. Soy milk is a great option. For a hot chocolate with fewer calories, use almond milk. Note 2: We use vegan dark chocolate chips, however, sugar-free chocolate chips also work as a low-sugar option. Note 3: Use any crystal sweetener you like. For lower calories and lower sugar, use sugar-free natural sweeteners like erythritol or allulose.
Share on Facebook
Pin Recipe
Nutrition
Serving: 1cup | Calories: 301.1kcal | Carbohydrates: 32.1g | Protein: 6.8g | Fat: 18.2g | Saturated Fat: 5.6g | Polyunsaturated Fat: 3.7g | Monounsaturated Fat: 7.7g | Trans Fat: 0.01g | Cholesterol: 0.5mg | Sodium: 399.8mg | Potassium: 260.2mg | Fiber: 4.9g | Sugar: 23.6g | Vitamin A: 44.4IU | Vitamin B12: 0.04µg | Vitamin C: 0.02mg | Calcium: 329.2mg | Iron: 2.6mg | Magnesium: 80.5mg | Phosphorus: 128.7mg | Zinc: 1.2mg