Homemade Hot Chocolate Mix
This 3-Ingredient Homemade Hot Chocolate Mix is perfect as a homemade holiday gift for the holiday season.
This easy hot cocoa mix is dairy-free, gluten-free, and not too sweet, so everyone can enjoy it this winter.
I have been making this dairy-free hot chocolate mix for years, and I had to share the recipe with you.
If you don't enjoy store-bought hot chocolate mixes, this is for you.
Commercial alternatives are often packed with additives like glucose syrup or gluten, making them incompatible with gluten-intolerant diets.
Next, most of the time, they contain too much sugar and taste, overpowering the taste of cocoa.
Finally, I like dairy-free hot chocolate mix, which is more challenging to find in store.
Why You'll Love This Recipe
This hot cocoa mix is naturally:
Dairy-Free
Gluten-Free
Sugar-Free option provided
Vegan
How To Make Hot Chocolate Mix
You only need 3 ingredients to make a jar of this gluten-free chocolate mix.
Ingredients
Unsweetened Cocoa Powder – You can use sweetened cocoa powder if you like your mix sweeter.
Granulated Sugar or powdered sugar if preferred. Note that any natural crystal sweetener would work. Use healthier options, like coconut sugar or sugar-free erythritol, for a low-carb, sugar-free mix.
Dry Milk Powder – I love coconut milk powder or almond milk powder, but any dry milk powder would work.
To make the mix, simply layer the 3 ingredients into a tall glass mason jar. Shake the jar or stir the ingredient with a stick or spoon to combine evenly.
Serving A Cup Of Hot Chocolate
To make one cup of hot chocolate using this mix, you need to serve 2 to 3 tablespoons of homemade chocolate mix in a coffee mug.
Then, top with milk or water.
Milk Option
To serve this recipe with milk, use only 2 tablespoons of dry mix for 1 cup of warm milk of your choice. I like to froth some of the milk below:
Soy Milk
Coconut Milk
Almond Milk
Oat Milk
Water Option
For a lighter hot chocolate, simply boil some water and let it cool down for a few minutes. Add about 1 cup of hot water for three tablespoons of this hot cocoa mix recipe.
Then, serve plain or top with dairy-free whipped cream, mini marshmallows, or sprinkles.
Adjusting Flavors
We all have different tastes when it comes to hot cocoa. This recipe has been developed as a healthy hot chocolate mix.
It means it's made with minimal sugar and uses a strong cocoa powder for its benefits and taste.
Next, adjust your drink, adding more sugar if you like or a pinch extra cocoa for a bitter taste.
Another option consists of adding one teaspoon of chocolate chips to the mug to make very chocolatey hot cocoa.
Storage Instructions
This mix can be stored for up to one month in a sealed glass jar in the pantry.
You can make a large batch and freeze it in zip-lock bags or fill more jars and offer them as a homemade Christmas food gift.
If so, add a nice name tag and a ribbon on the jar. It will impress family and friends every time.
Add-Ons
Feel free to customize the jar by adding some ingredients to make it cuter and fun.
Mini Marshmallows
Dark Chocolate Chips
Christmas Sprinkles
Crushed Peppermint Candy Canes
Jar Decoration
The best way to offer homemade food gifts is in a glass jar. Glass mason jars are airtightly sealed and keep the food fresh and safe for longer.
Then, feel free to use a lovely ribbon to attach a name tag with the information below:
Used-By Date – about one month from the preparation date of the jar.
The hot chocolate recipe.
Ingredient List – Useful to share with people with allergies.
Allergy Swaps
If you have food allergies, here are some options for you:
Sugar-Free – Replace the sugar with natural sugar-free sweeteners like allulose, xylitol, or erythritol.
Gluten-Free – Use gluten-free cocoa powder and gluten-free dry milk powder. My dry coconut milk powder is made with tapioca starch and is gluten-free.
Dairy-Free – Pick a dairy-free milk powder like almond, oat, or coconut milk powder.
Cocoa-Free – Use carob powder. It brings a similar taste to cocoa.
Frequently Asked Questions
Below are the answers to your most common questions about this hot chocolate mix recipe.
Can I Use Sweetened Chocolate Powder?
You can use sweetened cocoa powder, but the result will be very sweet.
You may have to decrease the sugar in the recipe.
Can I Increase The Sweetness Of The Hot Chocolate?
Yes, you can add more, up to double the amount of sugar to match the sweetness of classic store-bought mix.
The main ingredient in a store-bought mix is always sugar, meaning that their mix contains more sugar than this recipe.
Can I Make Large Batches Of Hot Cocoa Mix?
You can double or triple the recipe and add all the ingredients to a large bowl or food processor.
Blend or whisk until well combined. Serve in individual jars.
More Hot Drink Recipes
Below are some more hot drink recipes for you to try this winter:
Have you tried this homemade chocolate mix recipe? Leave a comment or review below.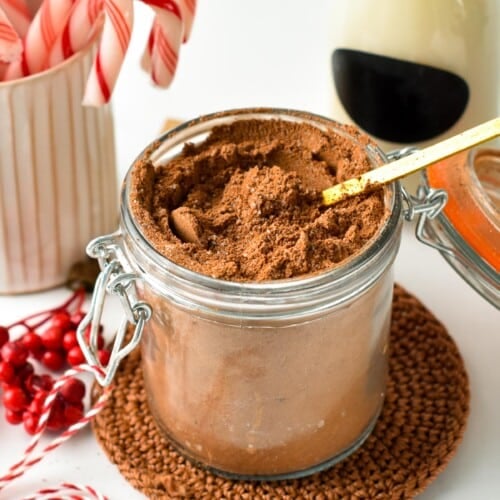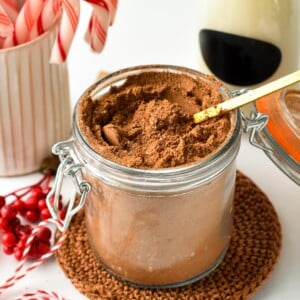 Homemade Hot Chocolate Mix
This Homemade Hot Chocolate Mix is perfect as a homemade Christmas gift for the holiday season or simply a great homemade mix to make your hot chocolate this winter.
Pin
Print
Review
Shop My Tools
Instructions
In a glass mason jar, add milk powder, unsweetened cocoa powder and sugar.

Shake the jar or stir with a chopstick to combine the ingredients.

Serve 2-3 tablespoons in a coffee mug for 8 ounces of warm milk. Adjust with more sugar if you like your hot cocoa sweeter or more cocoa powder for a deeper chocolate flavor.
Storage
Store for up to 2 months in the pantry in a sealed glass jar.
Share on Facebook
Pin Recipe
Nutrition
Serving:
2
tablespoons
|
Calories:
67.5
kcal
|
Carbohydrates:
15.2
g
|
Protein:
2.4
g
|
Fat:
0.4
g
|
Saturated Fat:
0.2
g
|
Polyunsaturated Fat:
0.01
g
|
Monounsaturated Fat:
0.1
g
|
Cholesterol:
1.1
mg
|
Sodium:
29.1
mg
|
Potassium:
132
mg
|
Fiber:
0.9
g
|
Sugar:
13.9
g
|
Vitamin A:
116.2
IU
|
Vitamin B12:
0.2
µg
|
Vitamin C:
0.4
mg
|
Vitamin D:
0.6
µg
|
Calcium:
70.4
mg
|
Iron:
0.4
mg
|
Magnesium:
17.8
mg
|
Phosphorus:
69.2
mg
|
Zinc:
0.4
mg