Vegan Mango Smoothie with 4 Ingredients
This vegan mango smoothie with only 4 ingredients is the easiest mango smoothie recipe ever. A fruity, ultra-creamy tropical drink with coconut, mango, and vanilla flavors. Plus, this easy mango smoothie is gluten-free and dairy-free!
How to make a mango smoothie?
It is absolutely easy to make a mango smoothie at home even if it is not mango season. In fact, to make an ultra-thick, creamy mango smoothie you need to use frozen mango.
Since you can easily find frozen mango in the frozen aisle of many grocery stores, you will be able to make a frozen mango smoothie at any time of the year.
Then, you need a fresh ripe banana to enhance the sweetness and balance the light acidity of mango.
Of course, you can use frozen banana too, but if you do, this will result more in a mango smoothie bowl. It will be thicker, close to mango whip and not easy to drink in a glass.
Finally, the secret ingredients that make the best mango smoothie are a combination of dairy-free coconut yogurt and unsweetened vanilla almond milk.
The combination of thick dairy-free coconut yogurt adds some creamy texture and vanilla brings out all the flavors of mango.
The best mango smoothie ingredients
So to make the best mango smoothie, with a thick texture, that is easy to drink from a glass or straw you need:
Frozen mango chunks
Ripe banana – fresh, not frozen or the mango smoothie would be too thick to drink with a straw.
Dairy-free coconut yogurt – it is a vegan unsweetened yogurt made with only 2 ingredients; coconut cream and probiotics. If you can't find this in your store, replace by dairy-free yogurt you like, coconut flavor is a must!
Unsweetened vanilla almond milk – mango smoothies with almond milk are lighter in flavor and if you can find the unsweetened vanilla almond milk in store it will add an amazing hint of vanilla to your drink.

A dairy-free vegan smoothie
This vegan mango smoothie won't be the same without the addition of dairy-free coconut yogurt.
In fact, coconut yogurt is a healthy vegan yogurt made with only 2 natural ingredients: fresh coconut cream and probiotics.
This secret ingredient not only adds creaminess, but also a delicious coconut flavor that make the most delicious mango coconut smoothie.
If you are a true coconut lover, you can enhance the coconut flavor of this smoothie by replacing almond milk by coconut milk!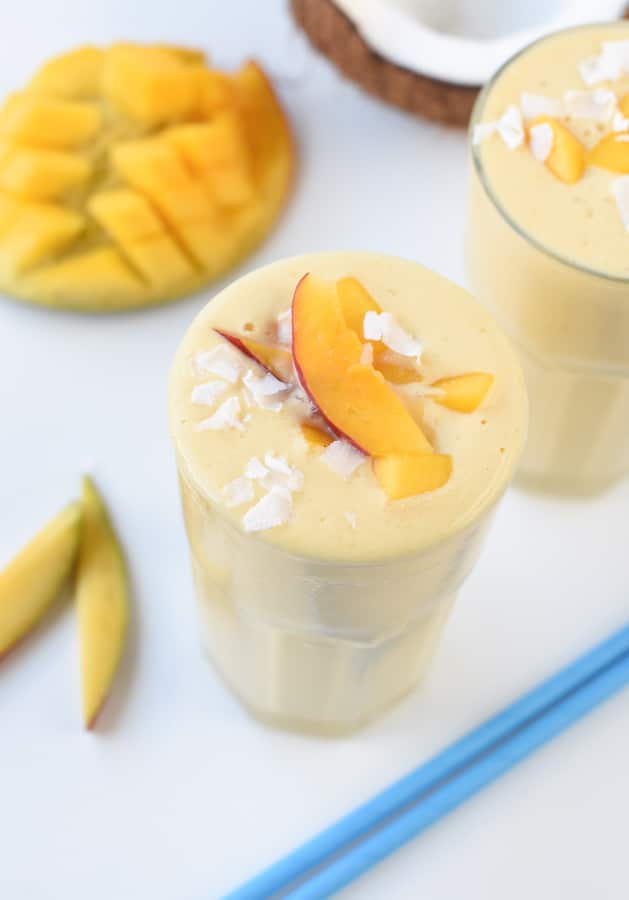 Healthy smoothie boost
There are many options to boost this east mango smoothie recipe with healthy twist. Spices are the best way to add anti-inflammatory properties to smoothies, delicious flavors and no extra calories.
The other mango smoothie versions you can create are:
Mango turmeric smoothie – turmeric is a powerful anti-inflammatory and anti-oxidant. Add 1/4 teaspoon turmeric powder into the blender and create an amazing immune booster smoothie.
Mango ginger smoothie – ginger is great to settle the stomach and calm indigestion. Therefore, mango ginger smoothies are great re-hydrating drinks if your tummy feels a bit unwell. Simply add 0.5 cm of fresh, peeled grated ginger to the drink !
Mango spinach smoothie – spinach is full of vitamins, magnesium and potassium and is tasteless in smoothies so why not adding 1/2 cup of fresh baby spinach to the mix to help you reach your 5-a-day!
I have more vegan smoothies I recommend you also try my vegan chocolate strawberry smoothie recipe.
Made this easy vegan mango smoothie yet? Share a picture with me on Instagram, I love to see what you are making!
Your friend, Carine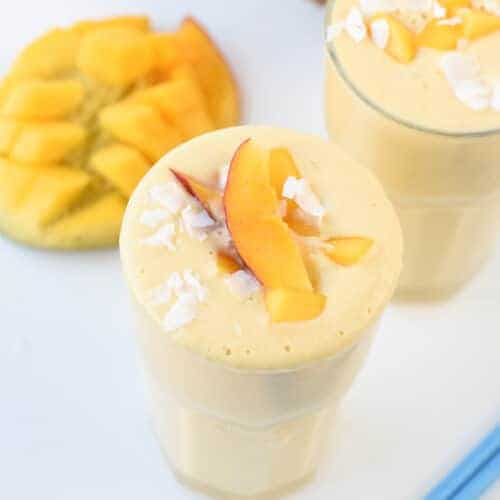 Healthy Mango Smoothie
Ingredients
1

small

Banana -

fresh, ripe, cut in pieces

1

cup

Dairy-free Unsweetened Coconut Yogurt

-

or dairy-free yogurt of choice. The coconut flavor is the best!

2

cups

Frozen Mango

1

cup

Unsweetened Vanilla Almond Milk

-

or unsweetened almond milk
Healthy addition ideas (pick one only!)
Instructions
In a blender jug, add banana pieces, yogurt, frozen mango, and almond milk. If you want a healthy boost, add one of the healthy addition recommended in the recipe ingredient above.

Blend until thick and smooth, adding more almond milk if it's difficult to blend or too thick for you.
Share on Facebook
Pin Recipe
Nutrition
Serving:
1
smoothie
|
Calories:
237
kcal
|
Carbohydrates:
48
g
|
Protein:
6
g
|
Fat:
4
g
|
Saturated Fat:
1
g
|
Sodium:
180
mg
|
Potassium:
458
mg
|
Fiber:
5
g
|
Sugar:
35
g
|
Vitamin A:
1818
IU
|
Vitamin C:
79
mg
|
Calcium:
318
mg
|
Iron:
1
mg