Strawberry Banana Peanut Butter Smoothie
This easy 5-ingredient Strawberry Banana Peanut Butter Smoothie with almond milk is packed with 9 grams of protein and perfect as a post-workout recovery drink to refresh.
Bonus, the recipe is also gluten-free, dairy-free, and vegan-approved!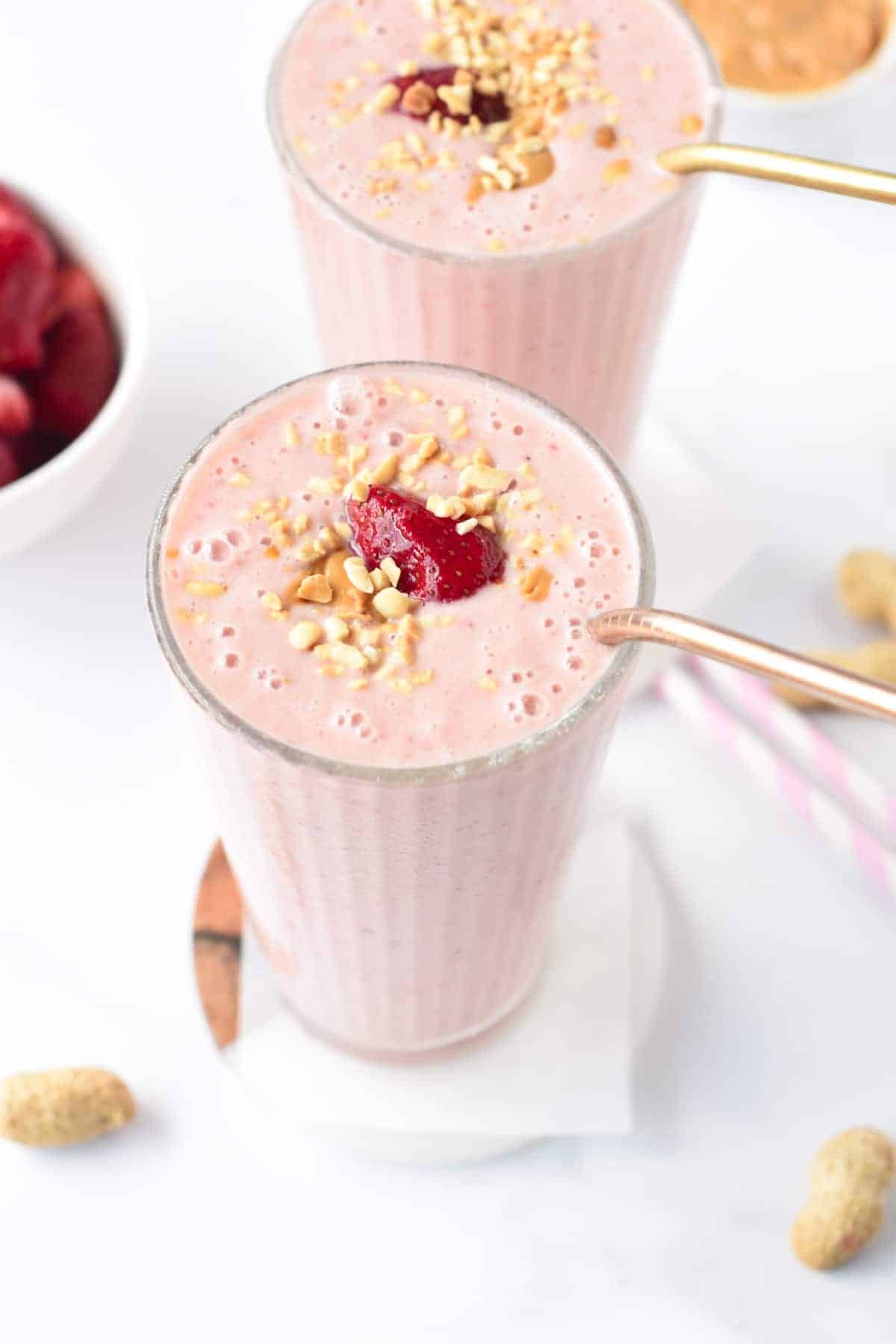 What's A Strawberry Peanut Butter Smoothie?
We love peanut butter, and if you do too, you will love this smoothie for breakfast.
Honestly, strawberries and bananas taste great but with the addition of peanut butter, it's heavenly delicious!
Plus, this smoothie is packed with plant-based proteins too so perfect as a quick on-the-go breakfast in summer. Keep reading so I can share with you my recipe and tweak it to make it even more delicious.
How To Make A Strawberry Peanut Butter Smoothie
This is the easiest smoothie on earth made with only 4 ingredients!
All you need is to bring all the below ingredients into a blender and you are ready for the most decadent drink!
Ingredients
Unsweetened almond milk or any plant-based milk you love like oat milk or coconut milk.
Frozen strawberries – you can also use fresh strawberries but the smoothie won't be as thick and frothy. For a frothy smoothie, it's a great idea to use frozen fruits or extra ice cubes if you only have fresh strawberries on hand.
Natural peanut butter – I am using fresh drippy peanut butter without added sugar or added oil. Learn why peanut butter is often vegan.
Banana – a small fresh and ripe banana is perfect and it makes the smoothie sweet enough to avoid any added sugar.
So add all the ingredients to your high-speed blender and blend until smooth.
Adjust adding sweetener, spices, or any option listed below to make this smoothie even better.

Add-ons
Of course, a smoothie is very versatile and you can tweak the recipe to infinity using some of the options below:
Vanilla extract or vanilla stevia drops adds a delicious vanilla flavor to the smoothie and a touch of sweetness.
Maple syrup – I usually don't add any sweetener to a smoothie and prefer ripe fruits to add natural sweetness. But, if your strawberries are not ripe enough to make your strawberry peanut butter smoothie sweet, add some maple syrup or sugar-free syrup to keep it low in added sugar.
Chia seeds – to add fiber, healthy fats, and proteins.
Dairy-free Greek Yogurt – like coconut yogurt or almond Greek yogurt to add a creamy texture to your drink.
Allergy Swaps
You can use different nut butter and milk in this recipe. For example, you can replace peanut butter with almond butter to decrease the saturated fat of your smoothie.
Another option is to use oat milk or coconut milk to increase the creaminess and carbs of your drink.
This is especially great if you serve this strawberry peanut butter smoothie as a post-workout drink.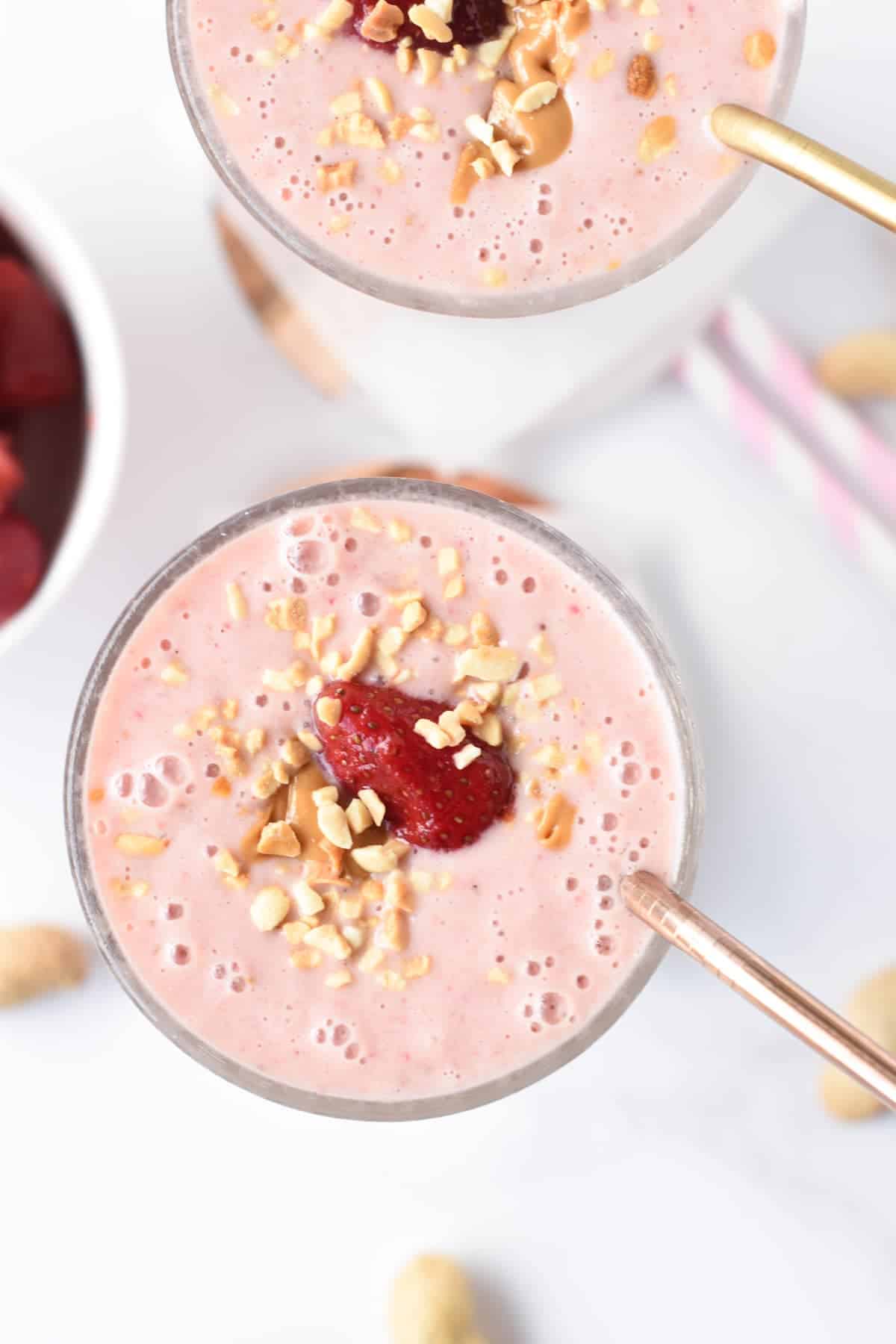 How Does This Strawberry Peanut Butter Smoothie Taste?
I know that the combination of strawberries and peanut butter may sound weird, but it's a must-try in a smoothie!
If you love peanut butter jelly sandwiches, you want to try this strawberry peanut butter smoothie! It has a sweet strawberry flavor with a creamy thick texture from banana and just a touch of peanut butter flavor to balance!
It's not overly sweet and absolutely delicious and fulfilling as a post-workout snack or vegan breakfast.
Troubleshooting
Sometimes we believe that the simplest recipes are no-fail. But the thing with smoothies is that we all have different expectations when it comes to texture and sweetness.
So below I listed my tips to fix a smoothie that doesn't taste as you expected.
This saves your ingredients and ensures that any smoothie you are making, including this strawberry peanut butter smoothie, always tastes amazing for you:
Too thin – blend it with more ice cubes, fresh or frozen banana pieces, or a few cashews!
Too thick – blend it with extra non-dairy milk, starting with 1-2 tablespoons.
Bland – boost the flavor with fun spices like 1/4 teaspoon cinnamon, vanilla extract, nutmeg, lemon juice, or flavored stevia drops.
Too much fat – replace peanut butter with powdered peanut butter! It adds a great flavor to the smoothie without the fats. Or swap peanut butter for almond butter, or sunflower seed butter to decrease saturated fat.
Not sweet – add some refined sugar-free sweetener like agave syrup, maple syrup, or stevia drops.
Too many carbs – cut the strawberries by half and swap for half-frozen zucchinis or frozen cauliflower rice. Plus, swap the banana for ice cubes and boost sweetness with 1-2 stevia drops or 1-2 tablespoons erythritol.
More Banana Smoothie Recipes
I love to create smoothie recipes for breakfast or as a quick snack. Below I listed my favorite smoothie recipes for you to try.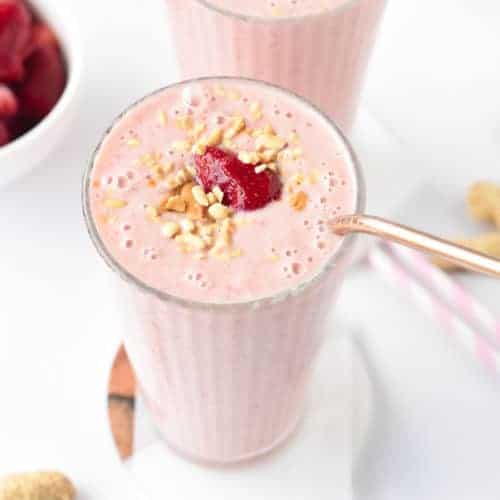 Strawberry Peanut Butter Smoothie
An easy 4-ingredient Strawberry Peanut Butter Smoothie with banana and peanut butter for a protein breakfast smoothie 100% vegan.
Pin
Print
Review
Servings: 1 Smoothie
Calories: 303.3 kcal
Instructions
Add all the ingredients to the high-speed blender and blend until smooth.

Taste and adjust the sweetness by adding maple syrup or stevia drops. If too thick, add a splash of almond milk, up to 1/4 cup, and blend again.

Serve immediately with a drizzle of drippy peanut butter on top.
Share on Facebook
Pin Recipe
Nutrition
Serving: 1serving | Calories: 303.3kcal | Carbohydrates: 39.6g | Protein: 9g | Fat: 15.1g | Saturated Fat: 2.6g | Polyunsaturated Fat: 4.8g | Monounsaturated Fat: 7g | Sodium: 356.4mg | Potassium: 737.7mg | Fiber: 7.5g | Sugar: 21.8g | Vitamin A: 81.9IU | Vitamin C: 93.5mg | Calcium: 263.4mg | Iron: 1.3mg | Magnesium: 83mg | Phosphorus: 142.7mg | Zinc: 1mg